Posts By: Ben Fellowes
Is a designer, artist, and marketing professional from the UK who lives, works, and gets his fair English skin burnt in the California sun. He current works for NextDayFlyers where he writes blog posts, creates club flyers, and generates kick-ass content!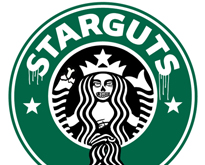 According to popular films, books, and TV shows, we are all heading for the zombie apocalypse! This Halloween season, I am celebrating some of my favorite logos of all time by re-imagining them, post zombie outbreak. Here are 10 classic company logos with a horrific twist! Playboy bunny gets...
---
continue reading