Posts By: Chris Farnell
Chris Farnell is a freelance writer based in Norwich, Norfolk. He has written widely on subjects such as jobs in advertising and, unlike Don Draper, works under his own name.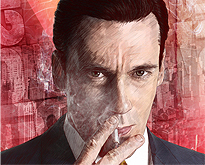 So in the last few years men have found ourselves a new idol. Don Draper, the misogynistic, alcoholic advertising executive from Mad Men. He's taken over from Gene Hunt, the misogynistic, alcoholic police officer from Life on Mars. Of course, what both these paragons of masculine virtue have in...
---
continue reading