Illustrations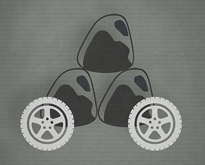 Bandopoly is a creative side project by Mark Szulyovszky. This fun spin on band posters focuses on illustrating famous band by only using icons. Originally, Mark came up with this idea while working on an icon only app which teaches users a foreign language. One night he started to entertain himself by...
---
continue reading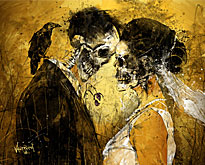 Death. That's a very scary word. Nobody want's to die. If they do, they're free to check out at any point and time. Now I'm not advocating suicide, I'm simply stating the fact that everybody wants to live. If life was so awful, this entire planet wouldn't have a...
---
continue reading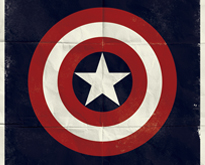 Marko Manev is a painter, sculptor, illustrator, graphic designer, writer, and wait for it… comic artist from Skopje, Macedonia. He's a man of many skills, and quality work is definitely one of them! If you are a Marvel fan, then you will love the following posters. The minimalism really gives a...
---
continue reading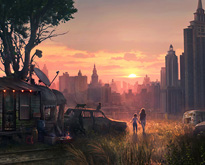 I recently discovered yet another amazing artist. His name is Jonas De RoThe. Jonas is currently living and working in London. He is a digital artist doing freelance and in-house concept art, design, and illustration for films and games. His tools of the trade are Photoshop, Sketchup, Wacom Intuos 3, and his...
---
continue reading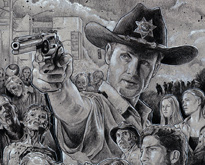 The Walking Dead is without a doubt one of my top favorite shows. I think AMC is absolutely killing it with their shows. Almost every single show they create becomes successful and they're a treat to watch. That's what happens when you have great directors, actors, writers, and costume designer on...
---
continue reading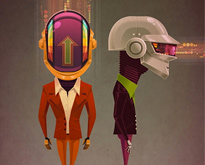 To celebrate the release of Daft Punk's first album in eight years, many artists around the web have created spectacular fan based artworks. The electro duo released their album on May 21st. Now we totally understand that we're a bit too late to publish this sort of article, however in...
---
continue reading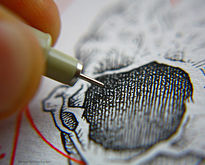 Clint Reid is a designer, an illustrator, and an avid coffee drinker, who lives in Durango, Colorado. Usually using his alias "Tillman Project," Clint creates noteworthy pen and watercolor illustrations. He has been filling up sketch books like a mad man and because of this, many great drawing have come to life....
---
continue reading