Illustrations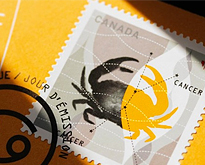 A fundamental purpose of a stamp is to show the prepayment of postage. Every country around the world is required to have its own name on almost all types of stamps. This kind of denomination is done to indicate the monetary value. To prevent counterfeiting, stamps usually have a unique graphic design to...
---
continue reading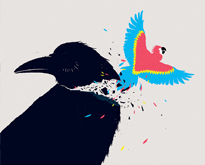 Sebastien Thibault is an accomplished illustrator from Matane, Gaspesie. He studied graphic communication at Laval University. Throughout his conceptual illustrations, Sebastien pays huge attention to objects, shapes, symbols, and colors. The multiple Lux award-winner starts every illustration with his brain, and after sketching multiple ideas he finalizes his work in Illustrator/Photoshop. He's...
---
continue reading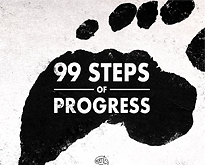 Maentis is a collective of artists from Paris specialized in graphic design, illustration, and street art. Their main sources of inspiration are anthropology, environment, and the imaginary/fantasy world. Their satirical project titled "99 Steps of Progress" demonstrates different ideas/concepts about evolution. While most of the following posters are parodying the...
---
continue reading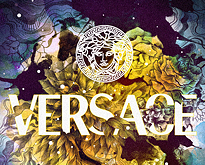 Daryl Feril is a freelance illustrator and designer based in Philippines. In 2012, he earned his bachelor's degree in Fine Arts major in Advertising Arts at a small prominent art school in Bacolod City, Philippines. His mixed media style composed of rough hand-drawn, fauna sketches, watercolors, and digital techniques. His project titled Brands In Full Bloom, showcases...
---
continue reading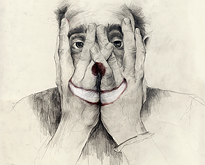 Simon Prades is a freelancing illustrator living and working in Saarbrucken, Germany. He also teaches Illustration at the Trier University of Applied Sciences. Prades loves to work with analog mediums such as ink, pencil, and aquarell. Once he's satisfied with his work, Simon uses Photoshop and Illustrator to adds a few...
---
continue reading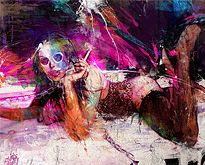 Vadi Tkachev is a Russian artist, designer, and illustrator from Moscow. I'm absolutely in love with his creative chaos paintings, which are created  using acrylic, ink, spray paint, and markers. Each painting is loaded with hidden gems to grab your attention. If you stare long enough, you'll start to notice more elements...
---
continue reading
Tom Veiga is a 31 year old art director at Midia Digital in Curitiba, Brazil. He is mostly recognized for his 'Waves' series, which was born from his need to disconnect from the daily grind at the office. During this free time he would devote his skills and admiration to surf culture. Tom's strong...
---
continue reading