Inspiration
If you're a frequent vacationer or a first-time traveler, it's likely possible that you may have heard about Airbnb. This revolutionary and social-loving website connects people who have a property to rent with travelers looking for a place to stay. The options Airbnb provide range from a spare room...
---
continue reading
8-bit and pixel art are very reminiscent of the old school computer times. In fact, I'm sure that when I started mentioning the terms 8-bit and pixel art, gaming consoles in the early '80s are what first came to mind. Don't you just miss playing old school Mario Kart...
---
continue reading
A landing page is viewed literally and figuratively as a key visual introduction to any company with an online presence. Its aim is to bolster the outstanding features of the brand and express its message to the market more effectively. For all intents and purposes, it's one of the...
---
continue reading
At some point or another, even if you swear you have no artistic bone in your body, you have doodled. This form of drawing is almost a rite of passage. You've squiggled shapes, patterns, and textures in school. You've scribbled famous characters, letterings, and caricatures at work. Sometimes, it's...
---
continue reading
Art truly comes in various shapes, sizes, and forms. Take Max Zorn's masterpieces for instance. The Amsterdam-based artist uses a different kind of tool when creating his works of art. Not the typical paintbrush and easel. Not the conventional pencil and sketch pad, either. Torn uses duct tape for...
---
continue reading
If there's one thing that could help you spark up the interest among your target audience, it has got to be the use of testimonials. The sad thing is, they are not being utilized as much today as they should be. Testimonials, when done the right way, can be...
---
continue reading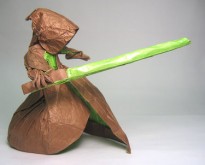 If you're enthusiastic about paper folding as a craft, it's good to know a bit more about the history of origami. While no one person can take credit for inventing the craft, the art of paper folding is nearly as ancient as paper itself. In fact, there are records...
---
continue reading