Last Updated on March 8, 2022
With thousands of applications and gadgets dedicated to any and every task imaginable, it can be a daunting endeavor to wade through them all and find the ones useful to you and your particular niche. Not surprisingly, there are several web and device applications devoted to the web design niche. Aiming to spur inspiration, up productivity, and organize brilliant ideas, these four iPad applications are great tools for a web designer of any caliber.
1. Ego – $2.99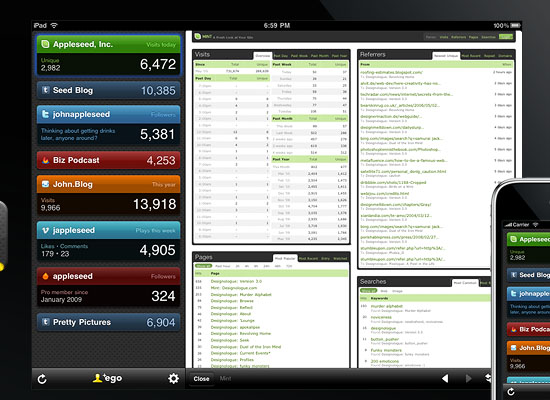 Aptly named, this application provides its users with all the information they need about the people who like them. Ego provides users with the web statistics they need. Completely customizable, you can easily view the number of visits you have to your website (in hours, days, or months), RSS feed subscription numbers, and the number of Twitter followers you have. As any good web designer knows, web statistics are a huge part of web development, design, and success. Without views, followers, or subscriptions, you are not going to get very far with your website. The internet is all about being seen and getting hits. Ego helps you track and manage the important web statistics concerning your website all in one comprehensive and easy to use interface.
Developed to make website sketching and interface making simpler, the SketchyPad iPad application makes designers and programmers lives much easier. This app is perfect for organizing and gathering design ideas. With an intuitive interface, various stencils, and numbers fonts, SketchyPad helps to inspire creative and useful website design.
Similar to the SketchyPad application, iMockups allows you to design app and site mockups in one easy-to-use interface. With numerous color options, text styles, borders, and backgrounds, iMockups allows you to make practically any design you can think up. Enabling you to export your work via email and load it directly to the designer on your desktop, this app makes things much simpler by putting it all in one location. Because inspiration can come at any time and at any location, using this app on your portable iPad is a lifesaver for your groundbreaking ideas on the go. This app has the potential to amp up your productivity, keep you organized, and boost your imagination.
4. Gusto – $6.99
Designed to help you edit programming code, Gusto helps designers build websites quickly and efficiently. With a simple and attractive interface, Gusto is appealing to use and easy to navigate. With a thumbnail based project manager that stores all of your site info, Gusto can be extremely useful if it suits your personal preferences. With Gusto you can design, create, and publish your entire website all within the app. While this may not be the easiest or best way to do things, there is certainly something useful in having that option. All documents are automatically saved when they are created, so you will not have to worry as much about losing your progress. While Gusto is not quite perfect, it certainly has the potential to significantly speed up the web design and development process.
This app provides an inspiring and intuitive interface to map your creative thoughts and ideas. With this app web designers (and the creative at heart) can easily organize their thoughts, ideas, and information in a visual form. iThoughts makes developing and organizing your thoughts simple and inspiring. With numerous features, an easy to use interface, and a clear design, iThoughts has been heralded as one of the best mind mapping tools available in the web application market. As every creative individual knows, coming up with ideas is easy, but organizing and developing these ideas into a useful and practical form is the challenge. iThoughts works to simplify this process by creating visual outlet for your most precious thoughts.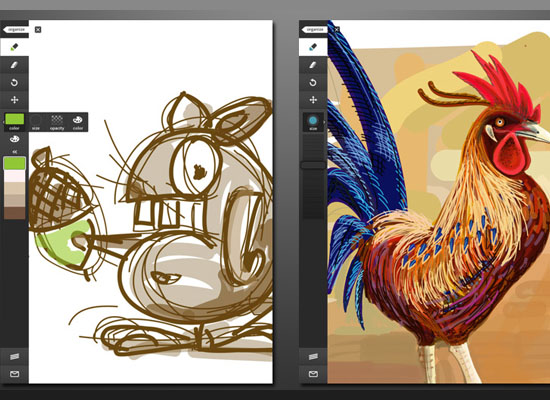 Not only is this for web designers, but for creatives of all sorts! This awesome app from Adobe allows you to get your talent on where ever you are. If you're a frequent Adobe Illustrator & Photoshop user, you will feel right at home. While sketching out your ideas, you can save and extract them as vector and raster file formats.
iFontMaker is the first font editor exclusive for the Apple iPad. With the easy to use touch interface, your original hand typeface can be done in 5 minutes or less. You can email the typography or convert it into a TTF file, thus allowing you to use in as a font.
Staying on track is a must. As a web designer you have invoices to do, bills to pay, projects to finish, and a whole lot more. Keeping all these things in your head can be overwhelming. Things will allow you to manage and stay on top of your tasks like a boss.
Look, this industry is moving fast, you need to stay updated to the latest discoveries and other innovations. By having this app you will be able to stay updated, educated, and knowledgeble web designer. The monthly title offers cutting-edge practical projects spanning XHTML, CSS, Flash and WordPress as well as hosting features and interviews with the web community's most influential people.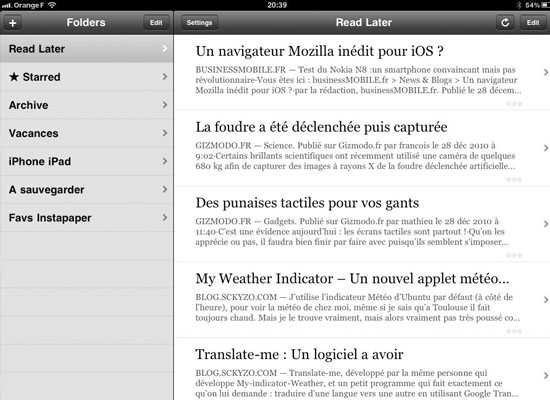 Let's be real, great new content is published daily. You want to read the article, but have to work on your projects. Only if there was some way to save the article and read it later. Well guess what? Instapaper allows you to save web pages for later offline reading, optimized for readability on your iPhone or iPod touch's screen. Featured by Apple and critically acclaimed by top blogs, newspapers, and magazines!
Know of any other great iPad apps we missed? With the App Store so huge, we probably overlooked some. If so, feel free to let us know by commenting below. Please don't forget to subscribe to the RSS-feed and follow Inspirationfeedon Twitter+ Facebook(100% Spam Free!) If you enjoyed the following article we humbly ask you to help us spread the word by sharing this article with your peers!