Every famous logo has an inspiring story. Whenever you see Apple's logo, you involuntarily think about technology. Similarly, a visual of the McDonald logo makes you think of juicy hamburgers and fries. Brands like these have a huge impact on our psychology.
Many world-famous logos were once unappealing and it took a decent amount of creative power to shape them into what they are today. The inspiring journey of these famous brands owes a great deal to their brand identities. From McDonald's to Pepsi, all these brands earn their brand reputation as a result of their logo designs that connect them to their niche audience.
In this article we will unravel the logo design history behind the world's biggest brands.
McDonald's


The first logo of this leading fast-food restaurateur featured its earlier name "McDonald's Famous Bar Be Que" where the word famous was placed between two parallel lines. It underwent a second redesign in 1948 when the company changed its name to McDonald's Famous Hamburgers. This design was retained until 1953 when the designer created a mediocre design that showed a cook.
It was not until 1962 when Jim Schindler introduced the famous arches in its design. The idea of Golden Arches was inspired from architectural design of McDonald's restaurant that resembles an M. In 1968, McDonald's logo was again revamped and this time the letter M was slightly erected and its typeface was changed to solid gold. This logo remained as the brand identity of McDonald's for the next 15 years. In 1983, the red background was added in the logo, while its typeface was changed to white. This logo is still the brand identity of McDonald's.
Pepsi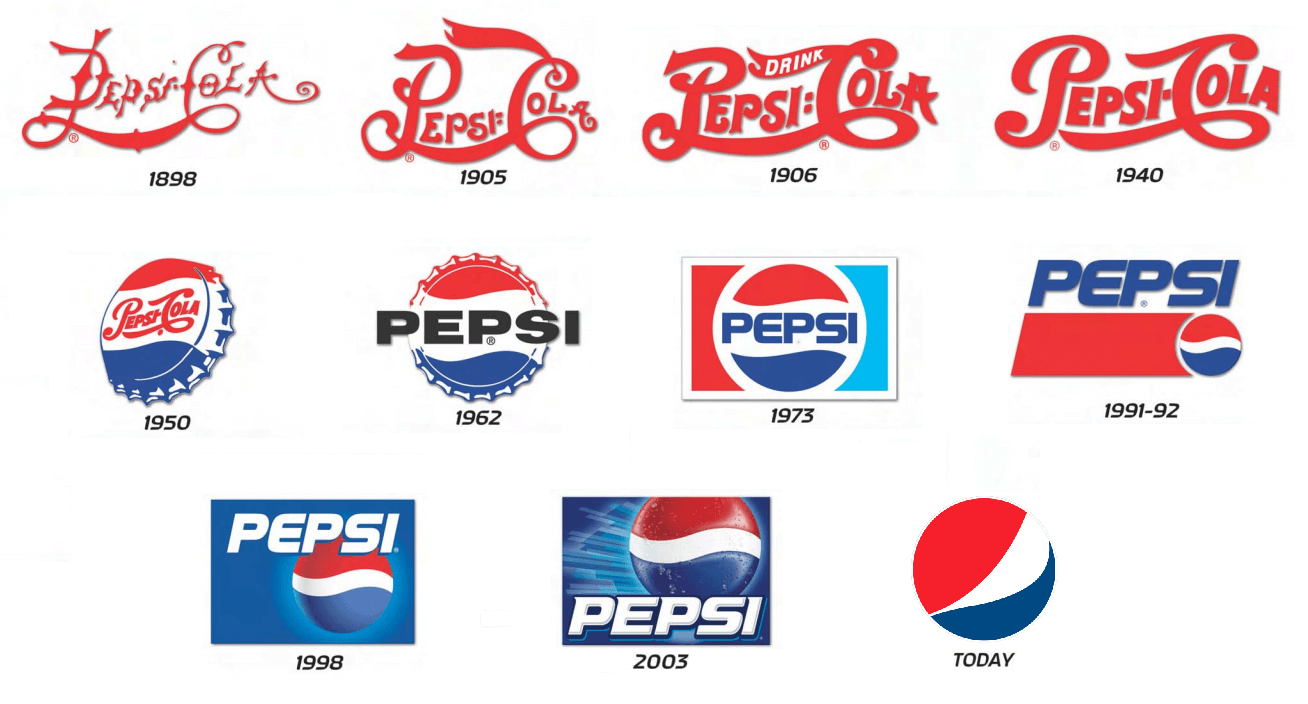 One of the oldest beverage brands, Pepsi has a history of logo makeovers. Starting from its first logo design in 1898 which was a bit of scribbling created by its owner, the company has tested various versions before it got the current design.
The logo underwent a first major makeover in 1962 when Pepsi dropped the word "Cola" from its script. It was then remade only with word Pepsi along with a bottle cap in background showing red, white, and blue colors. Since then, Pepsi's logo has undergone several redesigns with slight typeface changes before getting its final design.
Apple


Apple's logo was the brainchild of Rob Janoff who created it in 1977. However, the first Apple logo was not that cool. You had to interpret its meaning to fully understand it. The logo illustrated the famous discovery of gravity and featured Isaac Newton lying under an apple tree.
The logo was too complicated to catch attention of the viewers and it desperately needed a redesign.
In 1977, Steve Jobs asked his creative team to come up with a better idea and then Rob Janoff modified it to make a shape of an apple with a bite in it. Initially, the logo also had rainbow colors that were intended to appeal to a younger crowd.
Royal Dutch Shell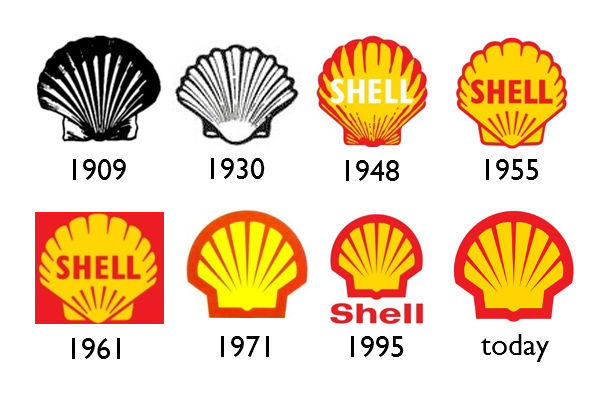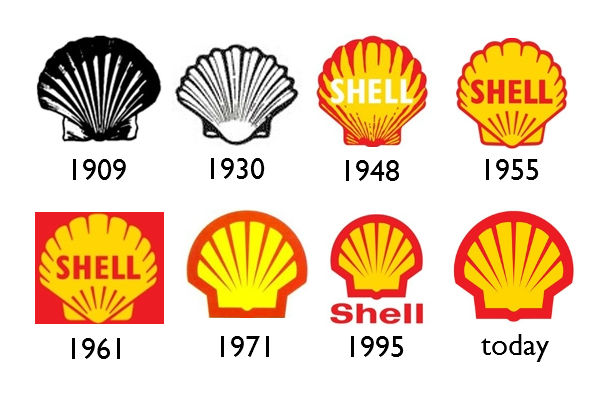 One of the most iconic logos of the 20th century, the emblem of Shell exudes its ceaseless excellence. The inspiring story of Shell's logo began in 1900 when its logo was designed in black and white. For the next 48 years, it remained as their brand identity. In 1948 Shell's logo got the iconic yellow color. Since then, it has morphed into a more refined form with slight typeface changes. The current logo shows a yellow shell.
Coca Cola
One of the most widely-consumed cola brands, Coca Cola introduced its logo in the same year it was launched. However, the logo was too basic. It contained the name of the drink in slab serif and chunky sans serif script. The famous logo of Coca Cola with Spenserian script came up in 1887 when Frank Mason Robinson revamped its first design.
In 1985, the Coca-Cola Company took a huge risk, announcing that it was changing their formula. Along with the change they redesigned their logo. After a massive firestorm of consumer protests Coca Cola retracted to the previous design.
Volkswagen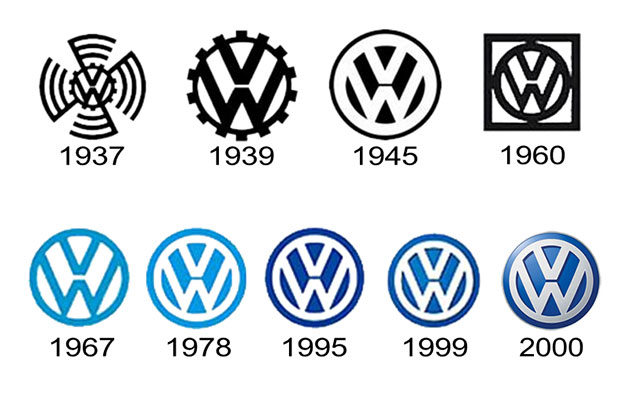 One of the leading manufacturers of the automobile, the logo of Volkswagen was first conceived in 1938. The first ever logo was made when Franz Xaver Reimspiess created Volkswagen's emblem as a result of a contest. In 1938, the first black and white emblem of Volkswagen represented the letters VW and a swastika of the Nazi party.
In 1938 the swastika was removed from its emblem. When the British army took over Germany in 1950, they changed the circle in Volkswagen's logo. In 2000, Volkswagen changed its colors to blue and silver.
Mercedes-Benz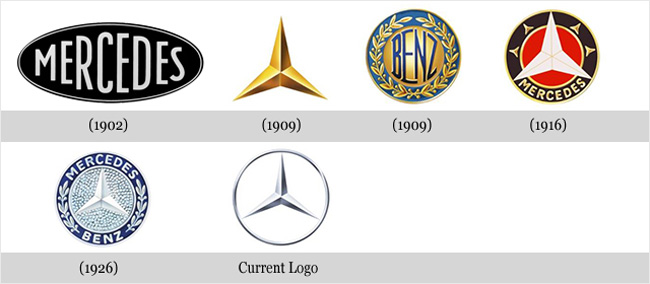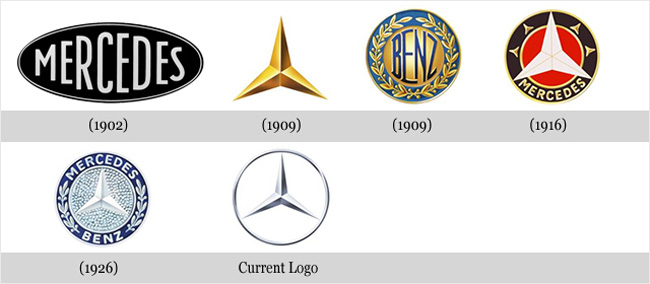 The flag-carrier of exclusive and sophisticated automobiles, Mercedes-Benz was founded in 1926 as a result of a merger between DMG and Benz & Cie. Since then, its logo has gone through several makeovers and the current design is a modification of its 1909 logo design when Mercedes was operated by DMG. However, the first ever logo of the company featured its name in an oval shape with a white typeface.
Between the years 1916 and 1921, the logo featured an inner ring which surrounded its name. After the merger of Mercedes and DMG, the logo formed the three-pointed star of DMG and the famous laurel wreath of Benz & Cie. This logo remained as the brand identity of Mercedes until 2008 when the name Mercedes was removed from it.
FedEx

FedEx has a brand identity that truly speaks for its ingenuity. Interestingly, the drastic evolution of its logo has a very short story. The first ever logo of FedEx was designed in 1973. In 1994, FedEx hired Lindon Leader to revamp their brand identity.
Luckily for them, he came up with a thoughtful idea to give FedEx a unique logo concept. The redesign resulted in merging "Federal Express" into "FedEx." The designer subtly made use of negative spacing to create an arrow that ties in with their brand philosophy.
NBC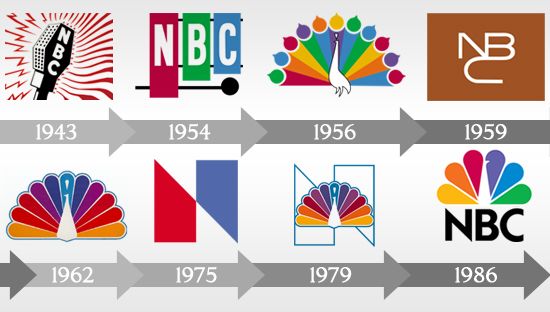 When the NBC logo was first designed in 1926, its famous peacock did not exist. The first logo of NBC showed a microphone and the letters NBC above it. In 1930 it was redesigned again. The microphone was removed while the colors were changed to black and white.
In 1942, NBC's logo was transformed into a colorful depiction of a microphone along with its three letters. The famous peacock logo was introduced only in 1956 and was later replaced by a wordmark that remained as the face of the channel for the next 16 years. 1975 saw a new logo of NBC making an abstract N only to be replaced by peacock logo in 1979. The contemporary NBC logo is a modification of its previous design of 1986.
LEGO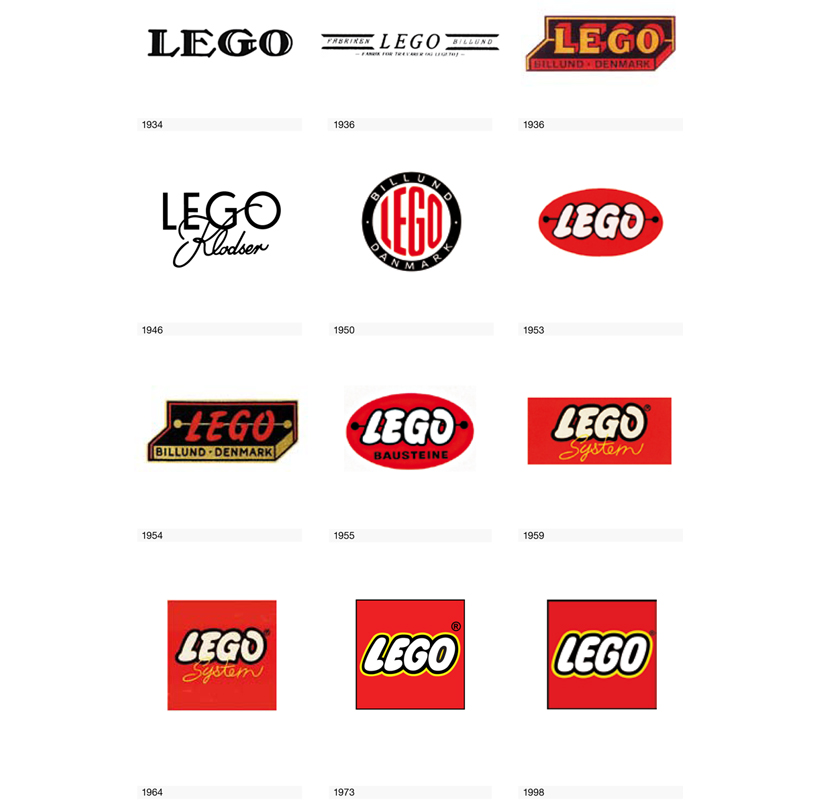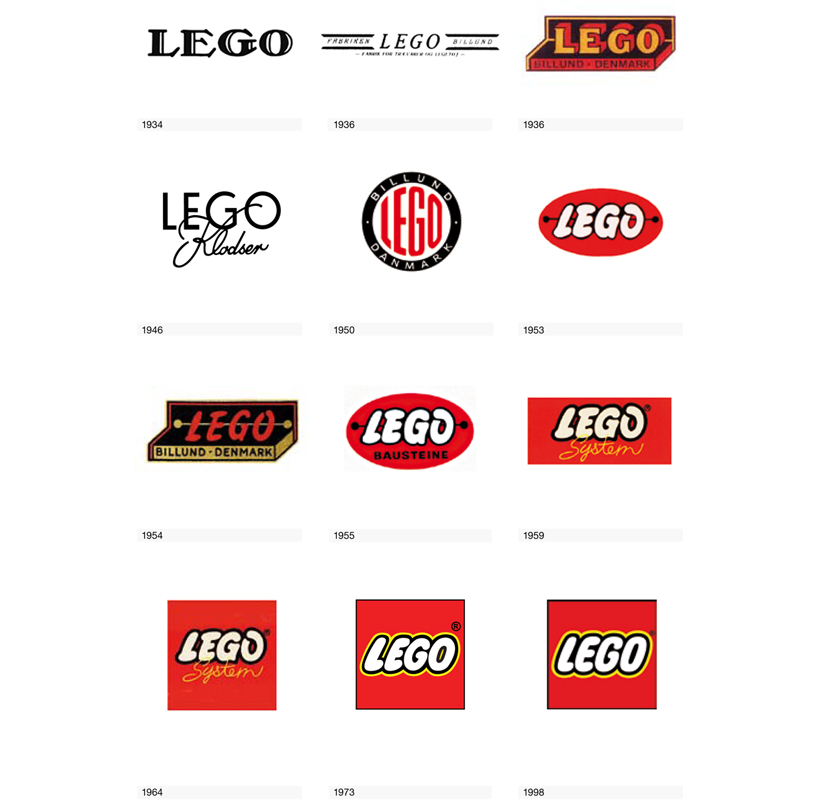 The first LEGO logo appeared in 1932. During 1946-1950, the company experimented with various designs including the famous 1946 redesign that paid tribute to its city of origin Billund, Denmark. In 1950, the company came up with a new logo design featuring the its name in an inner circle and Billund Denmark in the outer circle.
1953 saw the inclusion of the famous bubble font that stayed with them until today. Between 1953 and 1973, LEGO redesigned its logo several times. The current logo of LEGO was created in 1998.