Last Updated on January 11, 2022
jQuery is one of the most popular feature-rich JavaScript library that can be used to build interactive websites. Cross-browser compatibility and its light footprint are a few of the reasons why jQuery is considered by many to be the best javascript frameworks for web designing and development.
jQuery has made the website UX design easier and faster (thanks to plugins). With thousands of jQuery plugins available, web developers can easily integrate fancy elements into their website ranging from navigation menus, sliders, grids, buttons and so on.
Using a jQuery slider is an easy way to create a an immersive experience on your website. Slider not only look good from a visual point of view but can be a great tool to organize the content on your landing page. In this roundup I have collected over 10 awesome jQuery image and content slider plugins that will help you push out some stunning image gallery or content sliders with ease.
Storyline 3D Slider is a great plug-in for your template, which will make it have a stunning look. The S-3D-S will help you showcase your work in a splendid creative way. Your products has never been displayed so great! If you are a proud author or musician or super talented designer, blogger or photographer – the S-3D-S is just for you! It offers 19 colour schemes, 8 scroll effects, 6 slide styles, responsive design, infinite scroll & possibility to work smoothly on mobile devices. You can include your own html code and make your own styles to fit your site.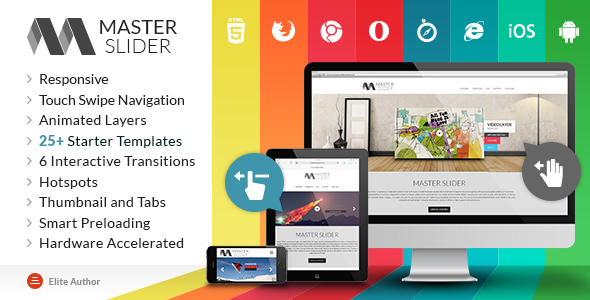 Master Slider is a premium image and content slider with super smooth hardware accelerated transitions. It supports touch navigation with pure swipe gesture that you have never experienced before. It's a truly responsive and device friendly slider which works perfect in all major devices.
Master Slider is an awesome layer slider as well, with the ability of adding any html contents (texts, images, …) in layers. It is easy to use, plus there are 25+ ready to use templates available for you. You almost have everything in Master slider which is the most complete among the best, hotspots, thumbnails, variety of effects, Video support and much more.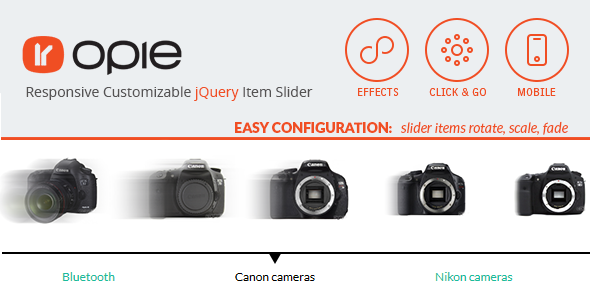 JQuery CSS3 Item Slider is an easy to edit responsive items slider that can be used to create product sliders, gallery images and much more.
mightySlider is a jQuery plugin for creating advanced one-directional slider with item based navigation support. It can be used as a simple image slider, slideshow, HTML content slider, gallery, banner rotator, video gallery, carousel or even presentation. This is achieved by a powerful & developer friendly API that provides a bunch of very useful methods giving you control over everything.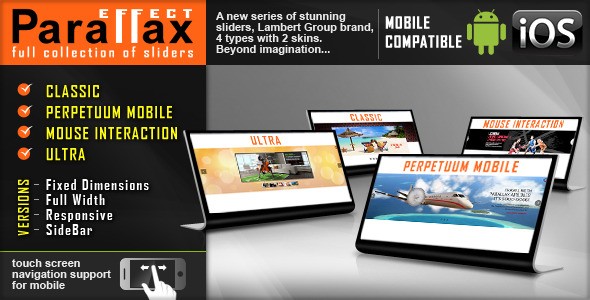 Parallax Effect – Full Collection of Sliders comes in 4 versions: Classic, Perpetuum Mobile, Mouse Interaction and Ultra. Each of these 4 versions has 2 skins (bullets & thumbs) and can be used as Fixed Dimensions or as Full Width.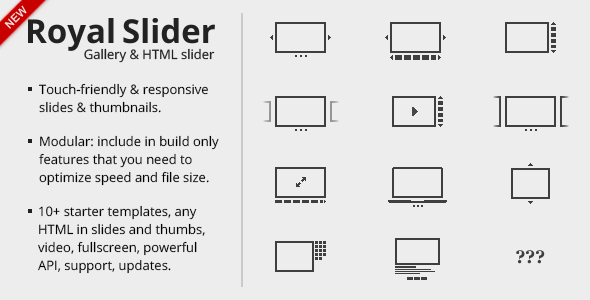 RoyalSlider is easy to use jQuery image gallery and content slider plugin with animated captions, responsive layout and touch support for mobile devices. As navigation you can use thumbnails, tabs or bullets. Use it as image slider, slideshow, HTML content slider, gallery, banner rotator, video gallery, carousel or even presentation. Developed in best practises of HTML5, CSS3 transitions are used for all animations (with fallback).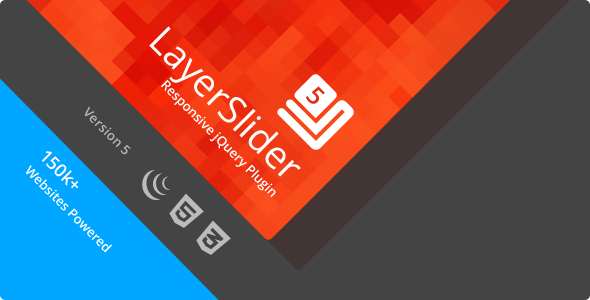 LayerSlider is the one of the most advanced Responsive jQuery Slider Plugin with the famous Parallax Effect and hundreds of transitions! You can use LayerSlider to create a breathtaking Image Slideshow, Banner Rotator or Content Slider to your site! It is SEO and mobile friendly, it has tons of features and customizable options.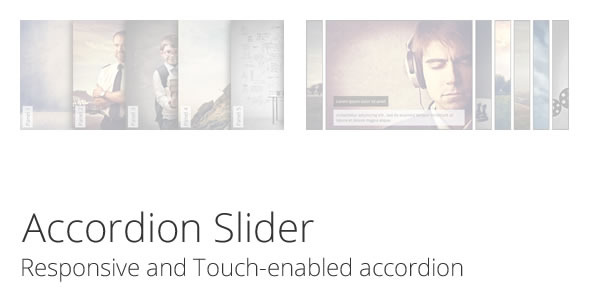 Accordion Slider is probably the best jQuery accordion slider on the market. It is fully responsive and touch enabled.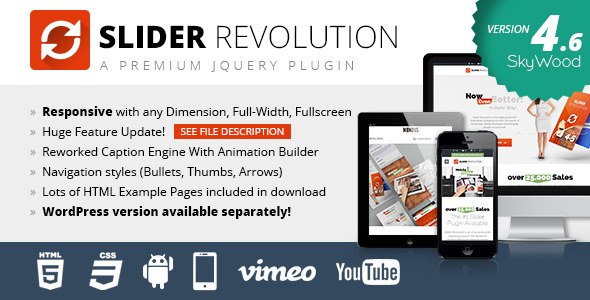 Turn simple HTML markup into a responsive(mobile friendly) or fullwidth slider with must-see-effects and meanwhile keep or build your SEO optimization (all content always readable for search engines). It offers heaps of custom transitions/animations for each object on the page! Customize this slider with just a little HTML and CSS to fit your needs.
This plugin features tons of unique transition effects, an image preloader, video embedding, autoplay that stops on user interaction and lots of easy to set options to create your own effects. All customization can be handled via jQuery Options, HTML 5 data-attributes and CSS!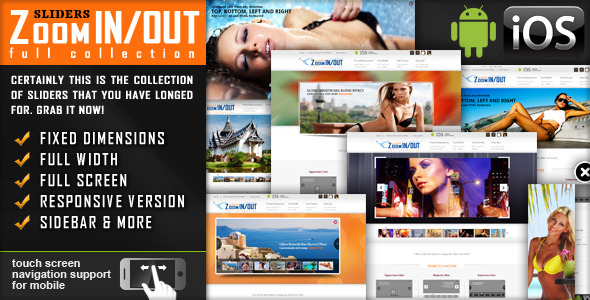 Zoom In/Out Effect Sliders Full Collection comes in 4 versions: Fixed Dimensions, Full Width, Full Screen and SideBar banners/Mini-Galeries.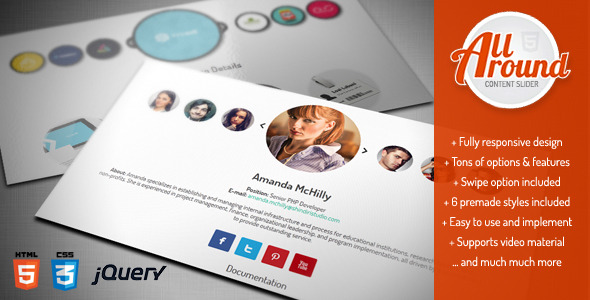 All Around content slider is a multi-purpose all-in-one slider solution for your website. It supports both images and video. It can be an easy and effective solution for your shop related website as you can display your products in an interesting and eye appealing way. All Around carousel is perfect for almost all type of websites and it can fit perfectly into all business areas. You can display your company services, personal portfolio, sport products, health services, real-estate properties, vacation/holiday offers, cooking recipes and much much more.
Lush is a flexible content slider. It uses CSS3 native transition and animations to get the best performance taking advantage of the modern browser features, without lose functionality in older browsers. It uses a semantic syntax to describe the animation timeline avoiding complex attributes and keywords. The animation system is completely extensible allowing to add more animations and transitions easily just like adding new CSS classes.
There you go folks, some great responsive jQuery sliders for your website. Do let us know what you guys think about it and if you have come across a good jQuery slider, feel free to share it in the comment section below.