Last Updated on January 20, 2022
Finding the best of anything can take time. We've done much of the hard work for you by compiling this listing of the best WordPress themes for 2016.
Here you will find something for just about any web designer, from multipurpose and eCommerce-related themes, to one dedicated to portfolios, and one for creating one page websites.
Some have been on the market for more than a year and have gone through several upgrades. Others have been on the market for only a few months to a year. Each is a premium theme, and each (except for one theme that is free) comes at an affordable price.
Enfold is a best-selling, responsive multipurpose theme that has everything you need to build a top-of-the-line website. This premium ThemeForest WordPress theme is an ideal choice for novices as well as for professional website builders. Predefined content demos in combination with Enfold's user-friendly editor and its many other powerful features makes building a website an easy and straightforward task.
A content demo takes but a single click to install, and once that has been accomplished you can immediately begin editing and customizing. Different elements from different demos can be combined to get you off to a quick start, or you can create your own layout from scratch if you wish. However you choose to proceed, Enfold makes creating a website you can take pride in, and doing so quickly, will be a simple task.
Enfold is also an excellent choice for anyone planning to set up an online store. It's SEO, WooCommerce, and retina ready, three must-have features for anyone planning an eCommerce oriented site.
Another outstanding choice for anyone looking for a premium multipurpose WordPress theme is BeTheme. This website-creating theme is also an ideal selection for both beginners and experienced users. Be's claim to fame as the biggest WordPress theme ever is justified. In addition to 40+ website-building core features, Be provides more than 160 pre-built websites to get your project of to a fast start. Select one of these pre-built websites that features multiple pages, and your project can proceed at an even faster pace.
Since each pre-built website is completely editable, it's possible to create websites ranging from the simplest to the most complex in a relatively short time. Users love the page-building capabilities of Muffin Builder 3, but if you happen to be a confirmed Visual Composer devotee, you can use it with BeTheme as well. Visit the website, browse through the pre-built websites, and view a demo.
When a multipurpose theme has for some time held the distinction of being ThemeForest's fastest selling product, it's an indication that its authors are doing a lot of things right, and a lot of things well. X Theme is therefore high on our list of best WordPress themes for a good reason. The selection of valuable plugins introduced in Version 3.0 boosted sales even more, as did the incorporation of the innovative Cornerstone, the front-end page builder that highlighted Version 4.0.
In addition to being the right choice for building virtually any type of website, X Theme is also an excellent choice for creating blogs, one page websites, eCommerce sites, and portfolios. No matter what you web building plans may be, we recommend that you pay a visit to X Theme's website and give it your careful consideration.
If you like the idea of working with a theme that is powerful, and easy and fun to use, you'll love The Core WordPress theme. Everything in each of its 10 built-in themes was done with a specific purpose in mind, whether that theme is Corporate, Creative, Portfolio, or One Page oriented, or one of the others. These themes are not simply variants of a base theme. Each is a complex theme of its own. The main features include the Unyson Visual Builder, a customized Shop 'till You Drop WooCommerce plugin, and a special SEO feature designed to draw visitors to your shop.
Many if not most WordPress themes claim to be either WooCommerce compatible or come with the plugin, Shopkeeper goes a step further. This theme was designed with eCommerce functionality in mind, and this theme's own functionality specifically addresses WooCommerce's operations.
As you would expect, Shopkeeper is fully responsive, and since the results that can be achieved with it are pixel perfect, mobile shoppers will definitely be in for a treat. This theme and its two sister Get Bowtied themes are totally committed to eCommerce use, so you can expect nothing less than excellent support.
Uncode is brand new. At year's end it will be barely two months old, yet it has already gained an enthusiastic following and has in fact become a ThemeForest best seller. A brief visit to the Uncode website will show you why this WordPress them is included in this list.
Its main features include WooCommerce, Visual Composer, Revolution Slider, and iLightbox. If you have set your sights on an innovative theme that is modern in every respect, take a closer look at this one.
Despacho is yet another premium theme that you can use to build a great eCommerce website for your business. You will like the features is offers, and you will like the price as well. Despacho is free! You don't get a limited version either. The theme you can download is the premium version. It works with WordPress 4.0 or higher. Despacho has what you need to get a high-quality online store up and running, but you might want to check out the free demo first. In doing so, you may find it to be a near-perfect solution for your eCommerce needs.
Mr. Tailor is one of the newer themes on our list. It will be a superb choice for anyone planning on becoming an online shopkeeper, as the nearly 4,000 copies of it that have been sold attests to. Version 2.0 is heavily based on feedback from web designers and online storeowners. The authors have taken a premium WordPress theme and practically reinvented it to make it even better. Check it out.
Kallyas has on the other hand, been around for a while. Its current version is 4.0, and it enjoys worldwide use by entrepreneurs, small businesses, and multimillion dollar corporations. This latest version includes a new frontend page builder you can use with a large selection of customizable home pages, blog layouts, and portfolio layouts.
This is a WordPress theme you will find in many of the "best" WordPress theme lists. It is a well-established, exceptionally complete theme that is definitely worth a closer look.
If you want to attract customers to your website, it first must draw in visitors, and it also has to provide a great customer experience to keep them interested. SEO-WP makes both easy to accomplish. This theme was designed with digital marketing experts in mind.
SEO-WP is also more than simply being SEO ready. Within its multiple features, pre-made page templates, drag and drop builder and live customization you will find ready-to-edit SEO content and SEO images. A visit to the website is recommended if you want to take a closer look at a WordPress theme that is more SEO ready than you will find anywhere else.
There are many things you can do with Hipsta, but where this WordPress theme really shines is the creation of modern and elegant portfolios that give you a platform to showcase your products or your work.
The demos take but one click to install, Visual Composer is your page builder, and the layouts are fully responsive. If you are looking for the right solution to your portfolio-creating needs, your search could end right here. Just to make sure, check out the videos before you buy.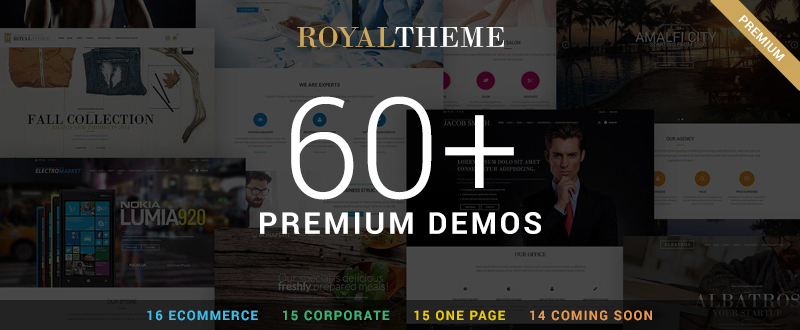 The standout feature of Royal Theme is how it has been organized. Although it is a multipurpose theme, it is specifically designed for use as an all-purpose theme. Royal Theme focuses on several business-related user groups, eCommerce, corporate, one page websites, and web agencies and digital studios.
The more than 60 customized and customizable demos are somewhat equally divided among these groups. If you are considering websites that are in any way business related, see for yourself what this premium theme brings to the table.
Kleo is still another top pick for those looking for eCommerce solutions. Where this theme really stands out is its use in building membership or community-type websites. Not too many WordPress themes provide the necessary features that allow these types of websites to be easily built. Valuable features include responsive pricing, BP profile search, Sensei eLearning, and GeoDirectory.
This theme also has what you will need to produce mobile and company presentation websites. It's fully compatible with the latest WordPress and BuddyPress versions.
Lecco is a highly affordable theme and a good choice for anyone specializing in one page websites or who only wants to build one or two. One page websites are particularly useful for displaying portfolios, publishing blogs, or showcasing products.
Creatives, readers, and designers will like the way in which Lecco's Admin Panel makes it so easy to customize the layouts that are provided. This is by far one of the best one page website builder out there. It fully deserves a place among the 14 best WordPress themes for 2016.
To conclude
There is a little bit of everything in this list, including a premium theme that can be downloaded for free. Whether you are looking for a multipurpose or a more specialized theme, we've tried to narrow things down to a manageable number.
Hopefully we've succeeded, and you've been able to find just the right WordPress theme for your purposes. Let us know.