Last Updated on January 20, 2022
Fall is a beautiful season! Fresh air, bright-yellow leaves all around, and the scent of the upcoming holidays. There's no time for the doldrums or sad thoughts. Do something cool and creative you've always dreamt of. Like start your own business and take it online.
This collection presents you hot and beautiful HTML5 templates. They include themes for all types of business and field of interest. One of the best things of the most of them – is their multi-purposeness. It means you can use one template for any business goal.
All these themes are based on the HTML5 language. But that doesn't mean you have to learn coding or web development. with modern pre-made themes you can create a website in a day without using help from professionals.
The advantages of Ready-Made HTML Themes
Most business owners think they can get a good website only if they order it from a web studio. But many modern start-upers and entrepreneurs choose the other way. They buy a theme from a reliable marketplace and launch a perfect website without spending time and money for custom designs. How can a ready-made theme be a better choice than a custom-ordered one? Let's check it out.
Unique design. Despite ready-made themes come with a kit of stock images and a set layout, they offer a wide range of technical means to change whatever you want. You can customize a template anytime you need it and make it look absolutely unique.
Time and money. Of course, it take time to tweak a ready-made theme to make it look different from other websites. Hours, may be days… but it still less time that a web design studio takes to create you a website from scratch. And it doesn't guarantee you will be satisfied with the result.
Money is one of the most vital questions when it comes to a website creation. Web studio makes a website for you for about $1000 or more. Not the best news for your pocket. But a ready-made theme saves you many dollars because you can get a template for $100 or less.
Responsive and cross-browser. Ready-made themes are made with the latest trends in mind. So you don't need to specially mention that you need a mobile-friendly theme. They are all mobile-friendly out-of-the-box. So, when you change something in a desktop version, you can be sure it will be adjusted to look perfectly on a tablet or smartphone one. And all templates are proved to be cross-browser compatible.
Online support. When you buy a custom website from a web studio, your collaboration ends right when you get a ready product and pay the bill. It's your trouble what you do to it after that. Ready-made themes marketplaces offer a tech support with every template you buy from them. And many of them, like TemplateMonster.com, provide an absolutely free technical help 24/7 to all customers. It's a good bonus.
Now let's check out the Fall collection of the best HTML5 templates for any type of website.
Powerful Multipurpose Business Template
Outstanding theme that includes multiple page layouts for creating a really unique website. it includes additional templates for creating Lawyer, Insurance, Financial Adviser and even Ecommerce website. Novi builder allows tweaking the theme without digging in the code.
Imagery-Based Theme for Garden Design Studio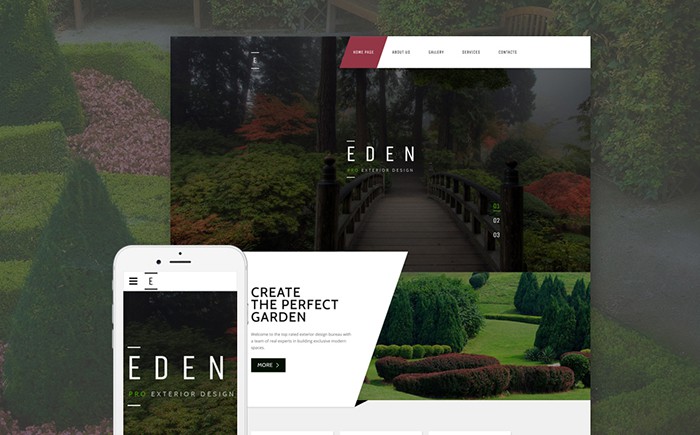 Responsive theme with cool elements like parallax and slider that take your website to the highest levels. Semantic coding allows creating a website with better optimization for search engines and faster loading.
Intense – The Most Complex Web Template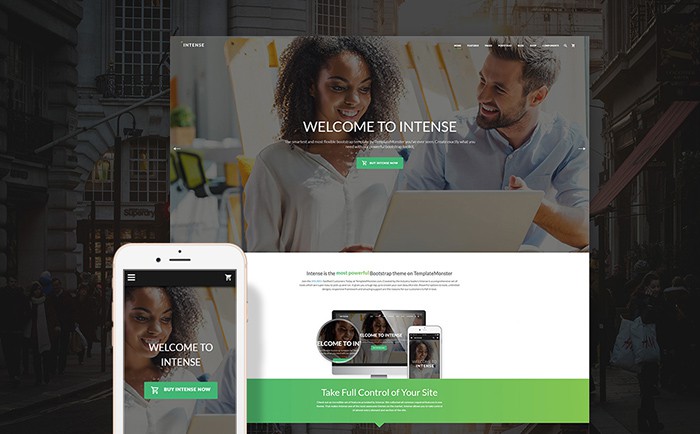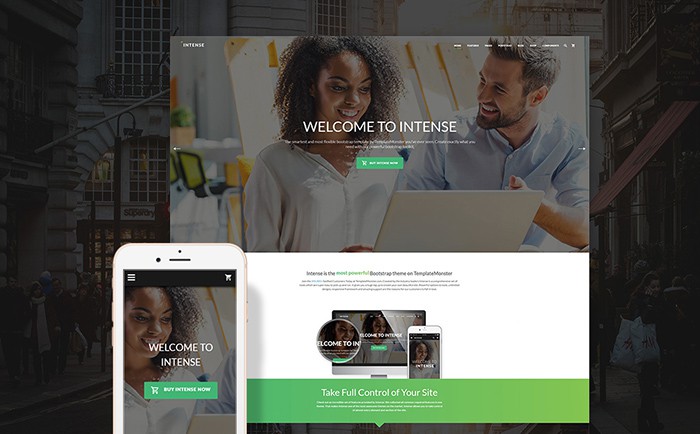 This template has outstanding opportunities for website creation. It includes a huge number of child themes for blog, Ecommerce, portfolio website; Home page layouts, header and footer styles etc. Multiple design elements and font icons help in making a unique website. As a nice bonus you get lifetime updates for Intense.
SEO Agency Template in Flat Style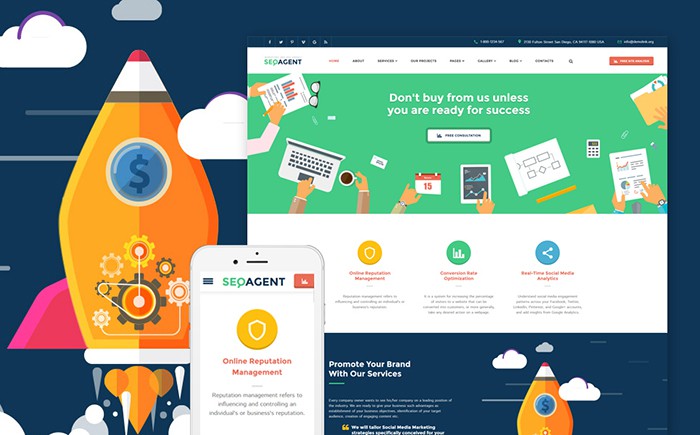 Flat design provides many additional benefits to the website. It allows adding various custom elements like icons, images, changing color palette etc. This template is built with Bootstrap framework and includes many layouts for header and footer. It means you get a responsive, fast loading and original website.
Medical Services Website Template in White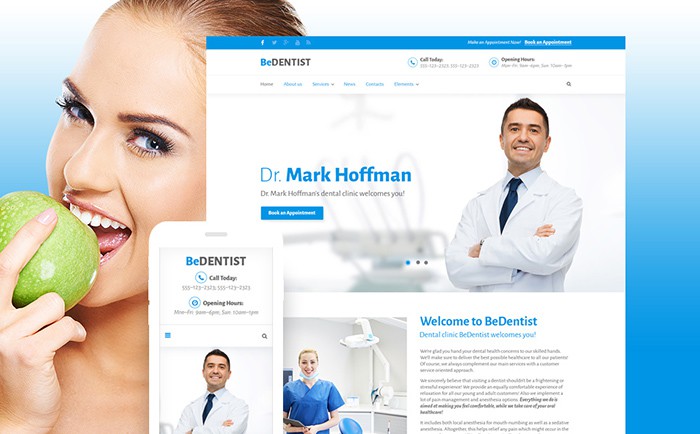 This pristine-white template with blue accents makes a great choice for a doctor's website. With a multipurpose focus, UI kit, versatile header and footer layout, blog templates, it becomes a good base for creating a stunning and functional website for any kind of business.
Multipurpose Template for Business Website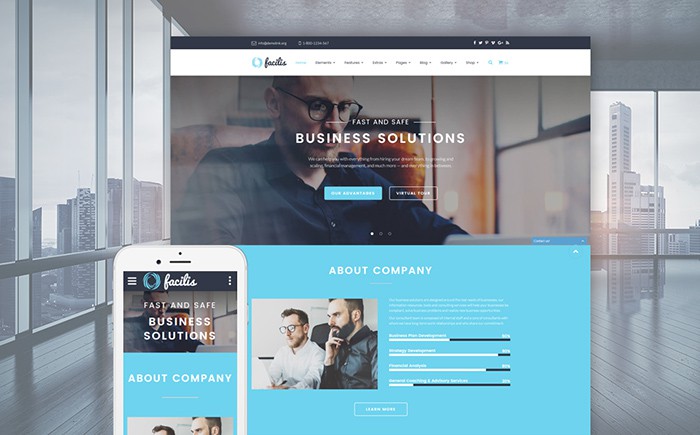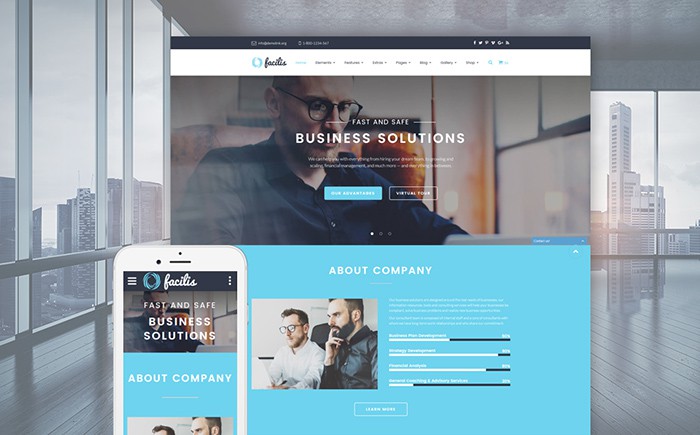 Elegant responsive template built on Bootstrap with implementation of the latest trends of web design. It includes Ecommerce page and multiple header and footer layouts for better customization. Counter allows creating events and showcasing them on a page to attract users. Grid layouts and blog themes help presenting your content the best way.
Photographer Portfolio Theme in Black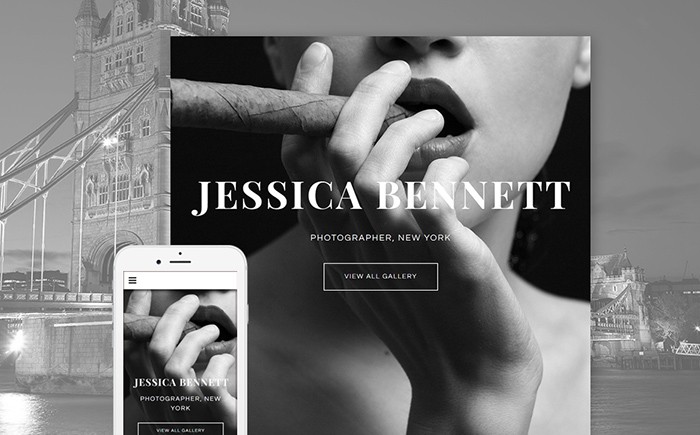 This sophisticated template has all design features that help photographers to get the coolest portfolio website. 9 extra skins allow changing the website design fast and effortlessly. UI kit, Ajax functionality, and PSD files help with creating functional and user-friendly interface of an artist website.
Gym Equipment Theme with Red Accents
Energetic theme in dark colors with red accents will make a perfect fit for gym or fitness equipment website. Powerful functionality allows creating one of the coolest websites on the web with over 9 additional skins for better look. Pure CSS provides you with limitless opportunities for tweaking the design as you wish.
Rental Services Template with Hero Images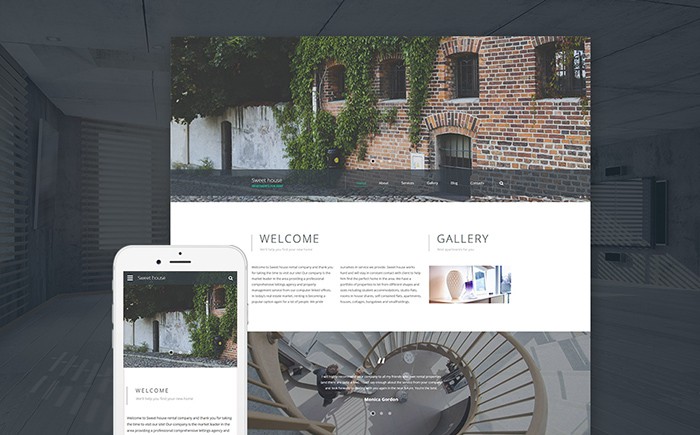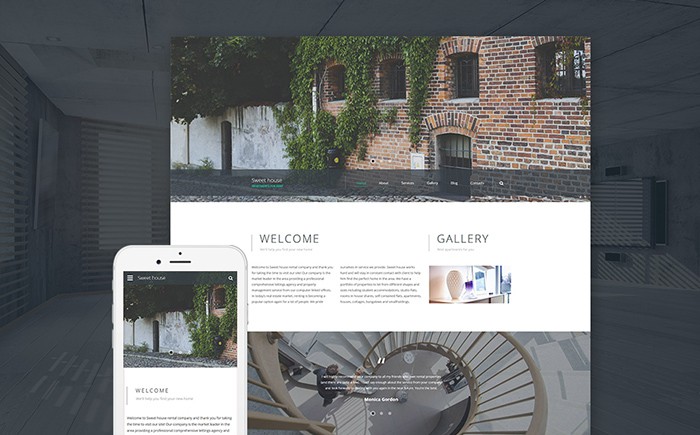 Bootstrap framework makes this rich theme mobile-ready and allows presenting your services in full bloom. Cool customizable mega menu helps making your website surfing effortless and quick. Slider, comfy contact form and social sharing icons make your website user-friendly.
Dark-Grey Template for Local Cafe Website
This elegant theme is focused on imagery and helps presenting the restaurant or cafe menu the most favorable light. it has a huge collection of handy gallery types, UI elements and blocks what makes this multipurpose theme suitable for many imagery-based websites. 13 blog templates allow getting your brand story in front of your audience.
Law Firm HTML Template with Minimalist Design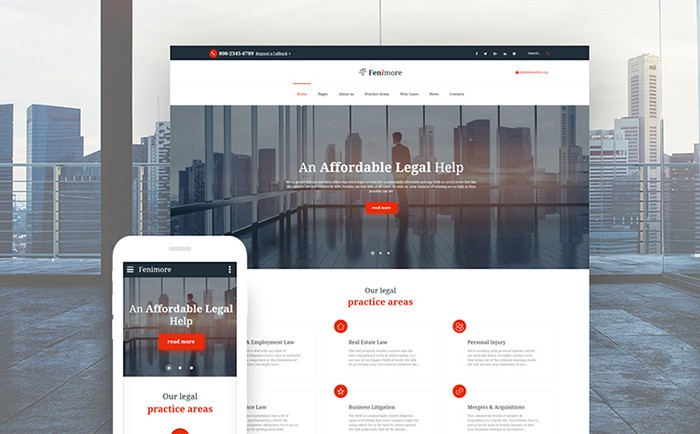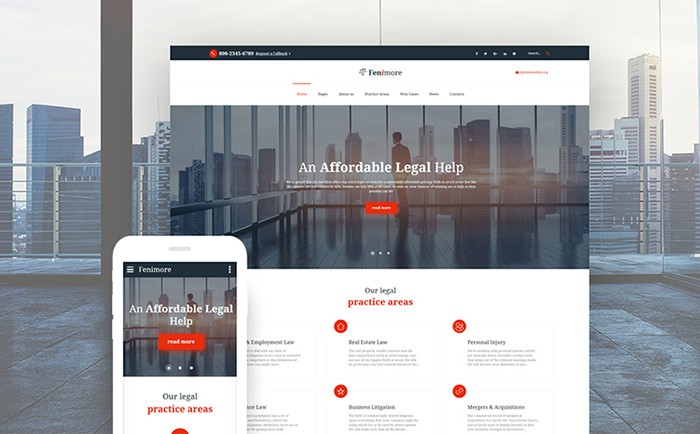 This law services website template will be a great base for creating a sophisticated business website. Its amazing functionality includes rich UI kit with multiple widgets and elements, a huge collection of ready-made pages along with various header and footer layouts.
Charity Organization Theme in Pastel Colors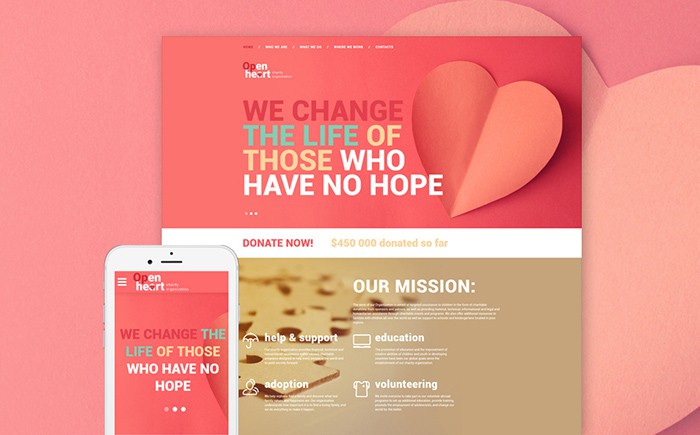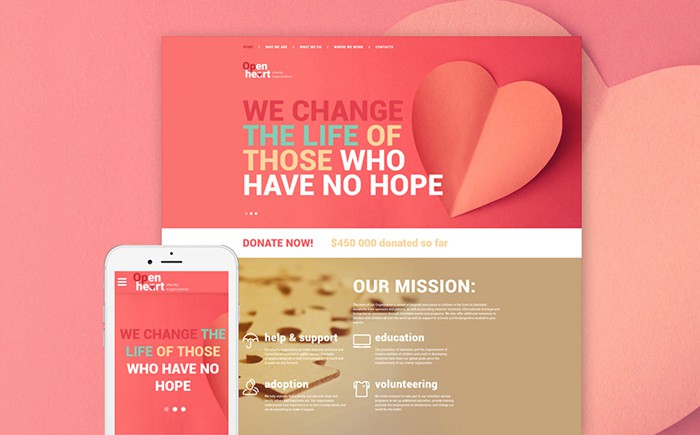 Delicate-looking design of this charity organization web template will melt many hearts. Its responsive layout with mega menu and slider allows showcasing various projects right on the home page. All PSD files come in the package, so you will tweak this theme with ease.
Multipurpose Theme for Power Engineering Company
Another multipurpose theme that offers huge opportunities and powerful functionality for creating a business website. It includes over 20 page templates for various website categories. Ecommerce functionality allows turning the website into a cool online store. With well-written code, the website will be SEO-friendly and mobile ready from the beginning.
Food Website Template with Creative Layout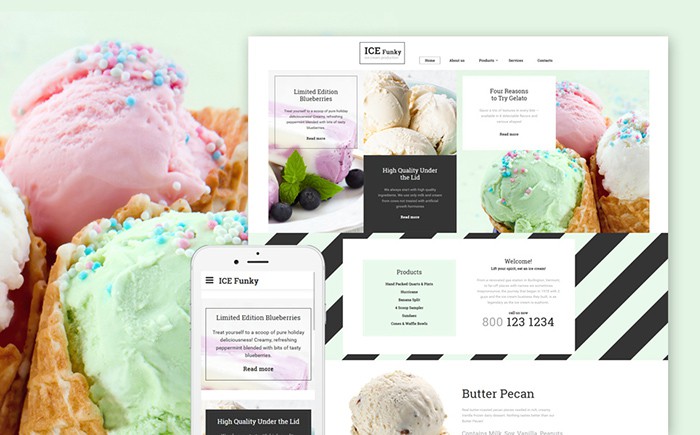 This theme incorporates a grid layout what helps presenting products and services in the most creative way. Aimed at food websites mostly, this template includes nice UI elements that help turning the theme into an attractive and user-friendly website. Google map and contact form make this theme suitable for local cafe or restaurant.
Car Firm Template with Parallax Effect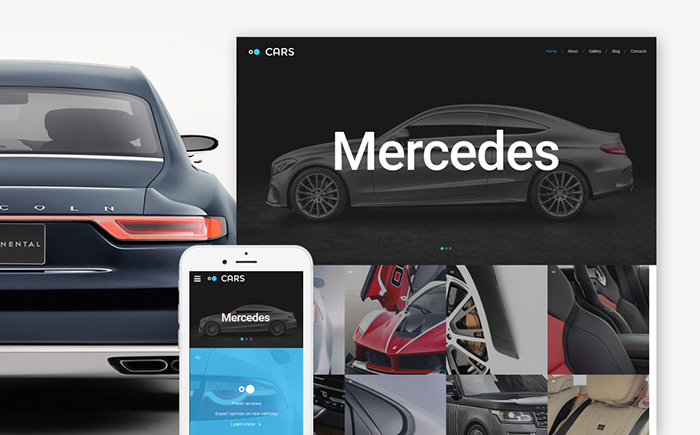 Imagery-focused, this theme is a real gift for car company owners. It allows keeping all the attention to the cool photos of vehicles. Grid layout allows showcasing more products on the home page. Blog functionality will add a lot to the website in terms of SEO and content presentation.
That's all for this time. Hope you have found a theme for your future website here. To help you make it more powerful and attractive, we offer you this cool bonus: a book about getting your first 1000 customers fast.