Last Updated on January 20, 2022
Technology has definitely brought manna falling down from heaven for photographers who have always found exposure (their own, and not their pictures', pun intended) a challenge. In the past, photographers needed to fund their own exhibits, or hunt for willing capitalists who can fund the process of spreading word about their art. You can also rely on word of mouth, but we all know that's an entirely long process in itself.
Then, technology happened.
Now, there are so many platforms available online for those who wish to share their beautiful images. So grab a cup of coffee and let's get started. 
Finding the Right Platform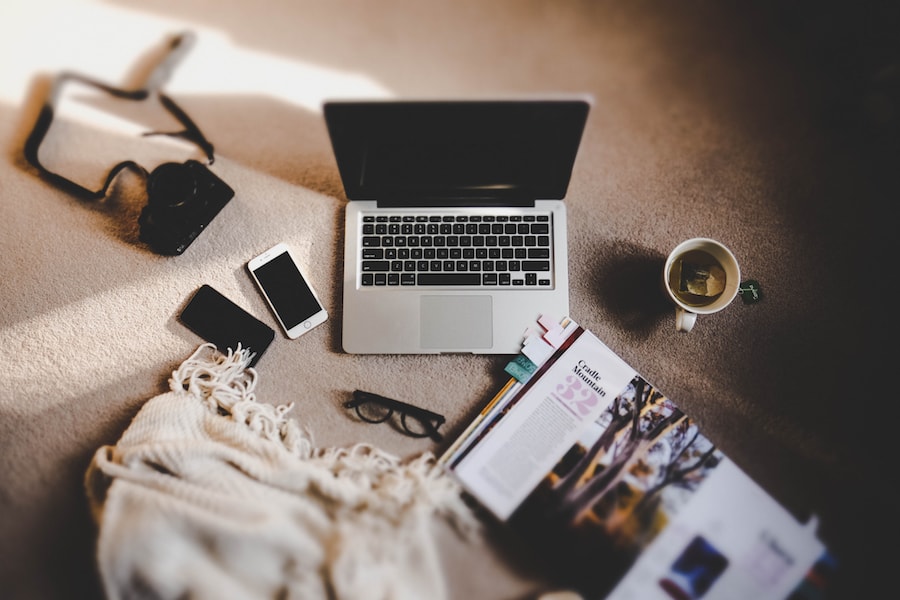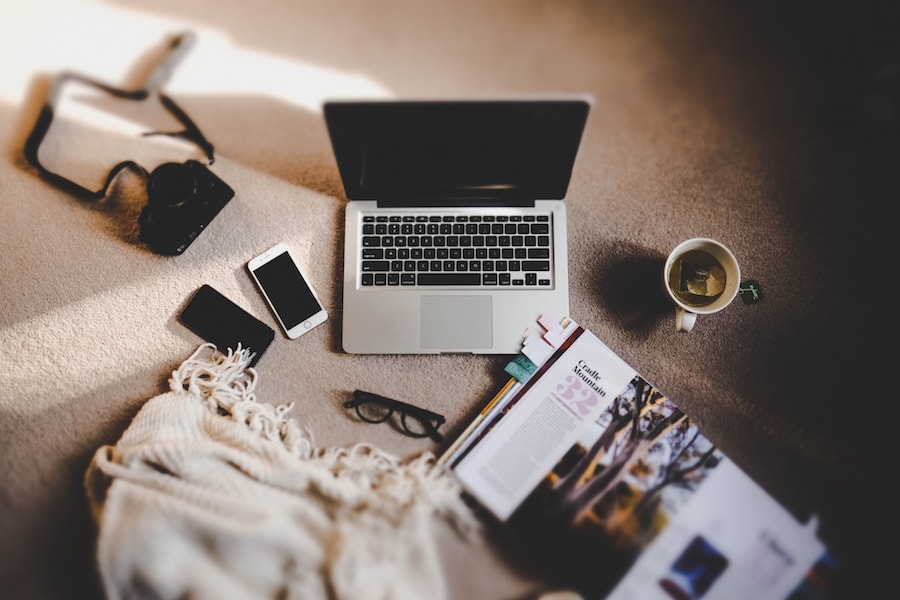 So how do you find the right platform where you can upload your work and show them to the world?
Note that this is not always an easy feat. Uploading photos may only require you to click a few buttons, but it does take time sometimes. You would also want your work to be seen by the right people. Because of this, you have to think about what kind of platform you'll be using.
Here are a few things you should consider:
Ease of use
You're just uploading photos, it doesn't have to be complicated. Complicated platforms can waste a lot of your time. Choose a site that's easy to use both for you and for your potential audience.
Cost
Although some sites are free, there are also sites that would charge you to post your work. You're just starting out and are on a budget, we get it. But sometimes, it's also worth the investment if any of the paid websites have the kind of audience your work needs.
Storage space
You can't start uploading photos then end up not being able to showcase the number of photos you need just because the platform has storage restrictions. Choose a platform that would allow you to maximize your work's exposure.
Ease of access
Does the platform allow you to access the page via mobile? Are there certain conditions that will limit your access to your page? Make sure your chosen platform can be easily accessed no matter where you are. As a photographer, it's understandable that you're on the road most of the time, so you have to make sure you can also upload photos anywhere.
Resolution
What's the maximum resolution allowed for the photos to be uploaded? Resolution, as you probably know, greatly affects the way people will see your photos. And if you're planning to sell your photos, or at least, let people download them, it wouldn't be as appealing if they can't download it at the right resolution.
Audience
Use a platform that attracts the kind of people you would want to look at your work. Although it's good to spread your work around every possible website you can find, remember that the places where your work is seen can also influence your reputation.
Stability
There have been countless platforms that have failed in the past, bringing down all the work that has been uploaded with them. If you're going to choose a site to display your work, make sure you look at how many people are using it and how successful it is.
Don't set aside any new platforms though, just because they still have a relatively slow following. If the platform shows promise, then it would also be beneficial for you to establish a strong foundation there and be part of its growth.
It's not just about signing up for every new photography site you hear about. It's about choosing the right ones that would allow you to prosper in your niche.
Choosing the Right Photos to Display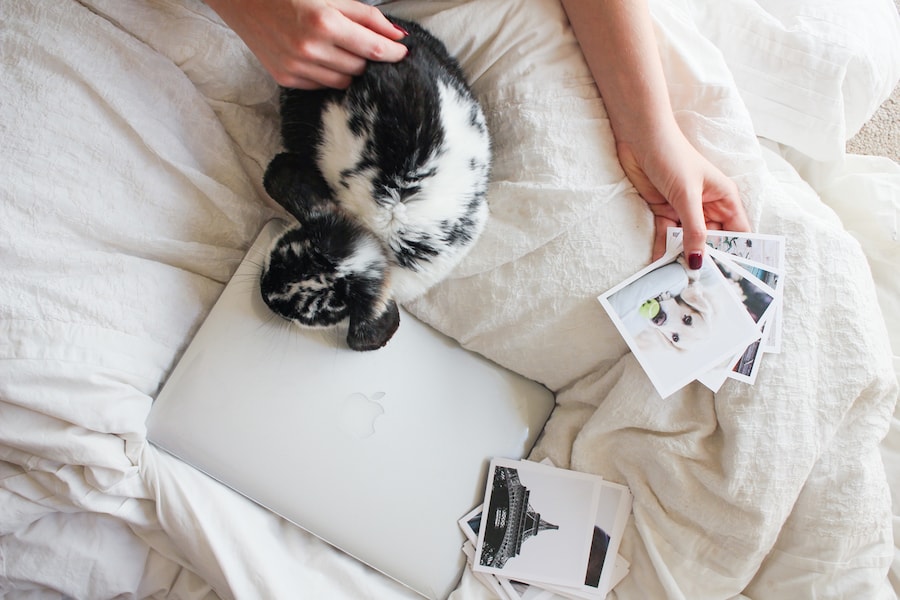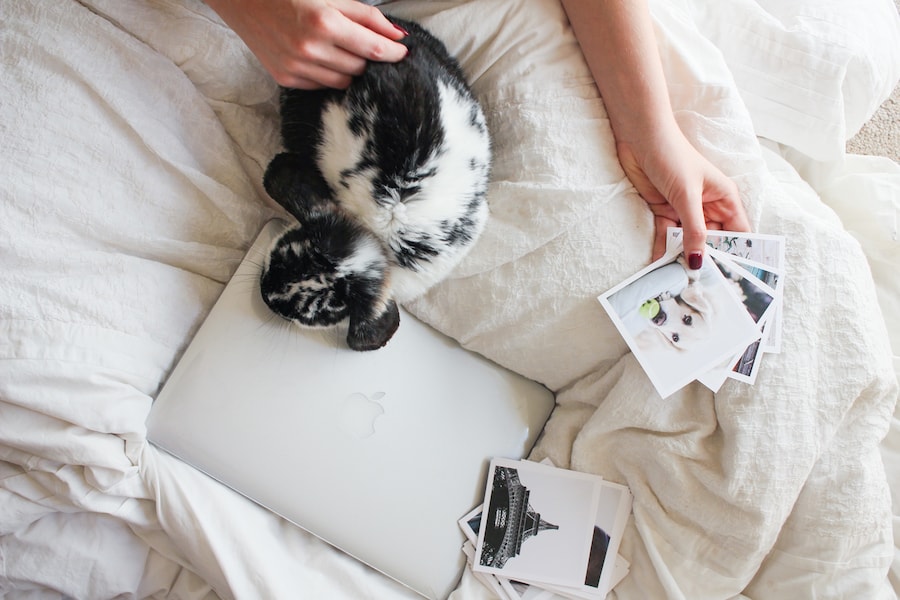 Just because you have a platform for your work does not mean you're free to just post everything you've taken throughout your entire career. There are so many risks, especially if you want to be known as an expert in your niche.
How do you decide which photos deserve a place on your portfolio?
Here are a few tips:
Consider your best work.
Through the course of your professional career, you've definitely gone through a few shaky moments where you were still trying to find your own signature. As much as possible, don't include these in your portfolio (unless you want to show the story of how you progressed as an artist).
You want photos that show you as a professional, the best of the best among your work. Find photos that you think would entice people to see more. Consider your portfolio as your very own museum – you need to curate your collection well to make sure your target audiences appreciate it.
Think about your audience.
Speaking of your audience, picking the photos worthy to be displayed should have a lot to do with the kind of audience you want to reach. You have to think about what's appealing to them, not to you.
There's also a huge chance that you've experimented with different forms of photography. If this is the case, then you should know that not all audiences appreciate all forms of photography. So think about the audience you want to reach and focus on shots you took that cater to their taste.
If you want to have a diverse portfolio and reach a wide variety of audiences all at once, then make sure your photos are organized properly into different categories so that people will know where to look.
Do some research about your chosen platforms.
Find out what your chosen platforms are all about, because this could affect the way people look at your portfolio in so many ways. For one thing, different platforms have different audiences. There are platforms where a lot of the people you'll reach are pros who have been in the field far longer than you have been. There are places where you can find mostly beginners like you. There's a place for serious clients, and a place for mere display and appreciation. Depending on what kind of people you'll reach, that's when you can decide what kind of photos to upload.
It's also best if you find out about other people's experiences in choosing the platform. Be wary about work being stolen as well. Some platforms have very limited security features, which means that you may want to make your watermark harder to remove or cover.
Display work that shows your signature.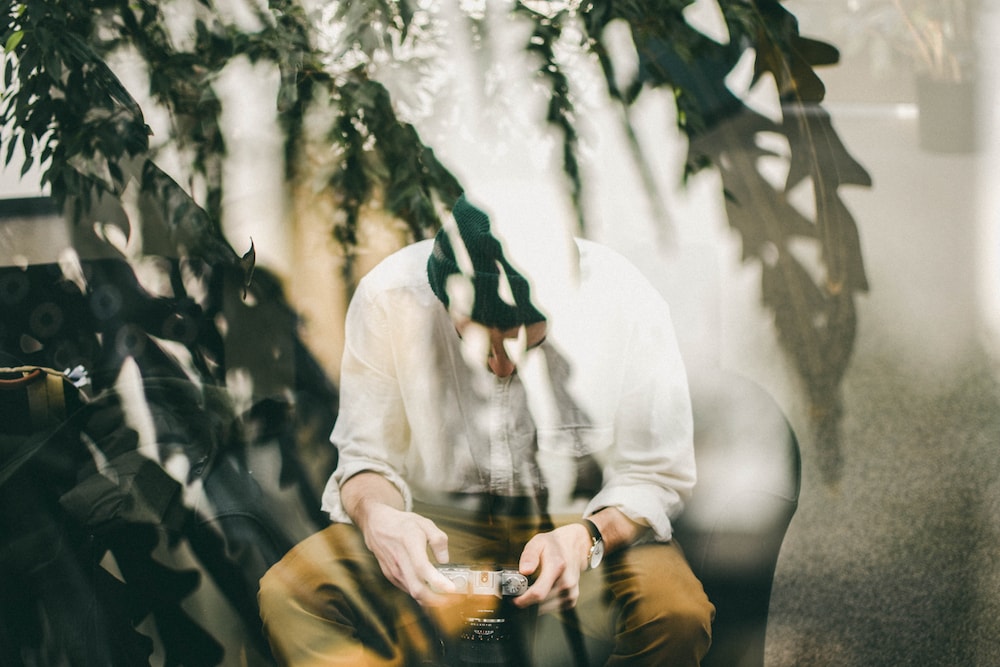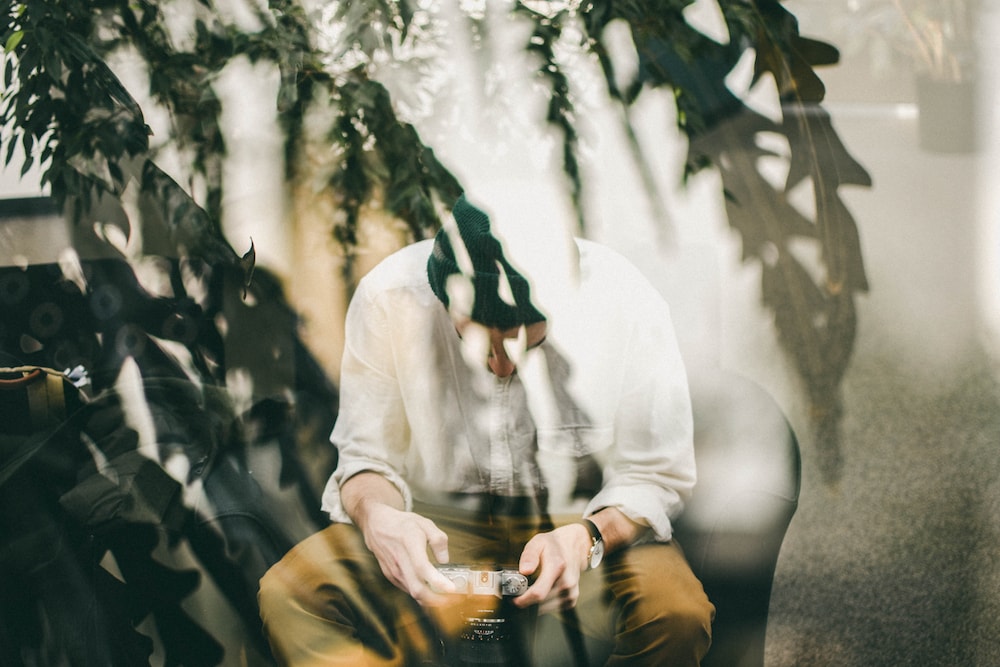 You know how you recognize the work of your favorite photographer at a glance, even if you haven't seen that image before in your life? This is because every artist has a signature – an approach and style that not a lot of people will be able to replicate. Once you've formed your own special signature, it's easy enough for your followers to start picking out your work amidst an array of other images.
If you want to be seen as a serious photographer, then it's best to work on your own signature shots and use those in your portfolio. Remember that it's this signature that people will remember. It's what's going to make them remember you every time they see work that's remotely similar to yours. It's what makes your work your own.
Choose photos that are near your heart.
Most of the time artists show their best side when they're working on things that matter to them. This is where the passion is highly evident. And when there's passion in the project, there is also a higher level of excellence as compared to work done half-heartedly.
Browse through all your work and choose the ones that sends tingles up and down your spine. Choose the ones that make you laugh, smile, or cry. Pick the moments that are memorable, the ones that are included in your favorite experiences as a photographer. Through these photos, your audiences will also see a part of you that could very well describe who you are as a professional. And from there, it will be easier to see if you're the type of photographer potential clients want to work with or not.
Ask for other people's opinion.
Don't take on the entire responsibility of building your portfolio. Most of the time, we are blinded by our own biases when we look at our own work. An outside perspective would be the best way to balance it all out.
Make sure you talk to a variety of people. You can choose people who have very little interest in photography, as this would give you a view of what a general audience would be looking at. Spread your work in front of them and observe how they go about the process of choosing a few pieces of your work that they believe is better than the others.
Of course, it would also be great if you can ask a few fellow photographers to look at your work and choose images that they think would work well for your portfolio. This would give you a technical perspective.
Look at your competitors' work.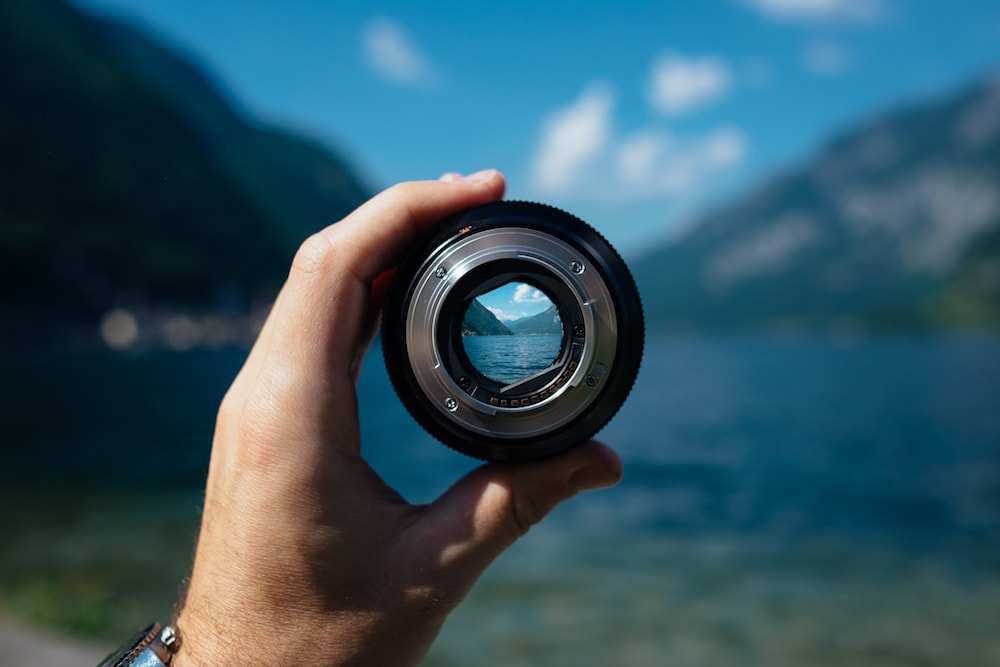 In any business, looking at your competitor's work is normal. It's the best way to figure out what you can offer to your audiences.
Simply look at the kind of work they do. Look at their style, and look for similarities and differences from your work. Look at what their audiences like most about them. Also, look for angles that you feel your competitors are unable to offer. This could be your way in, especially if the competition has been established in this field far longer than you. Figure out what they aren't offering, and see if this is what you can give to your audience.
With the right collection for your portfolio, nothing's going to stop you from dominating the scene.
Great Photo Sharing Platforms for You to Use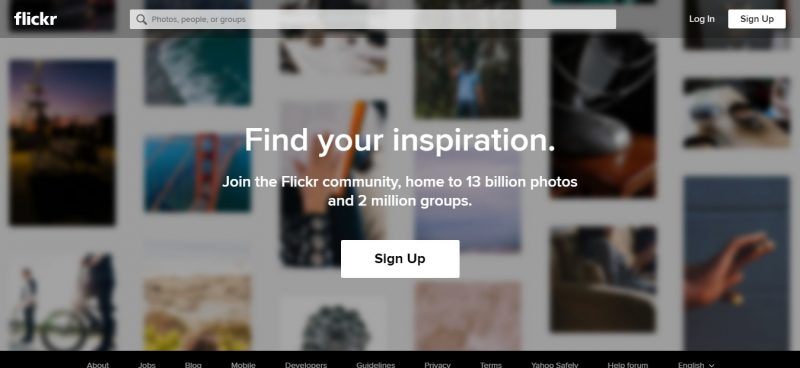 Flickr could be, hands down, one of the most popular place for photographers to gather, post their work, and appreciate each other's eye for beauty. Of course, the content here is not curated, so there's a huge chance you'll come across a few disappointments as you search for information. However, if you join the right groups and follow the right people, you can gain access to some of the most beautiful pictures in the world.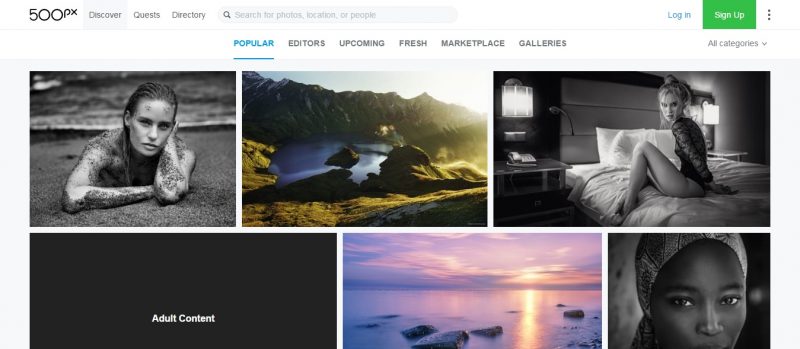 On the homepage alone, you'll realize why this has become one of our go-to sites for inspiration, photography-wise. 500px gathers some of the best work you'll ever see, a premier photography community that highlights real art. Knowing this, it's not only a source of inspiration during those times you need it, it's also a great way for your work to be discovered and ranked amongst the pros.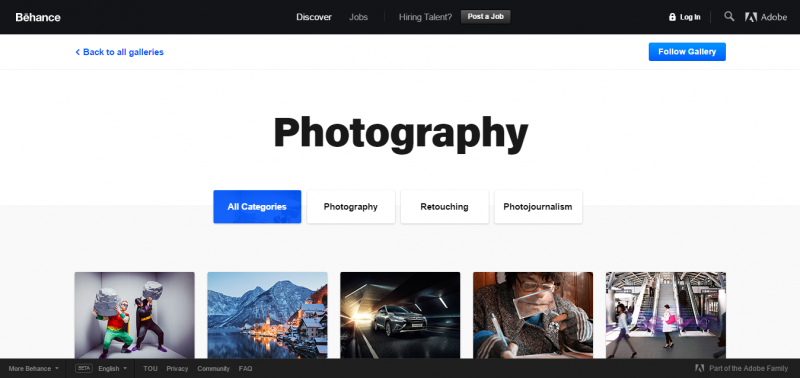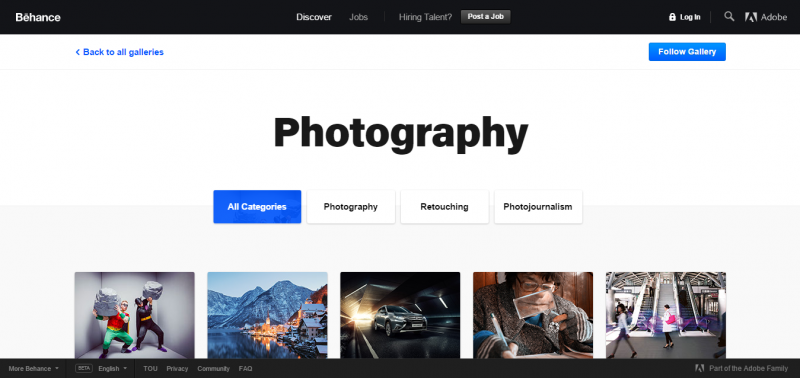 A Behance website, Photography Served is one of the best curated sites to visit if you're hoping to get your work of art exposed to potential clients and photography enthusiasts. Anything that Behance thinks is interesting imagery usually ends up here. Of course, you'd have to prove your work worthy before being considered as a contributor to these pages.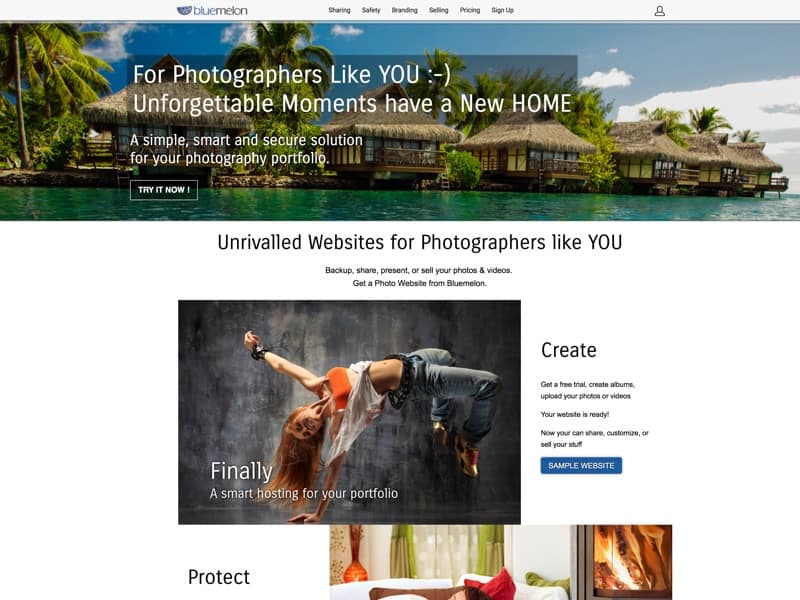 Photographers can use bluemelon as a file backup, presentation of their work, contact with clients and / or sell downloads of images and videos. Bluemelon supports deep-level of customization, web-based upload, FTP, and selling is linked directly to photographer's paypal or 2checkout account. Bluemelon does not take anything from sales which makes it different from its competition.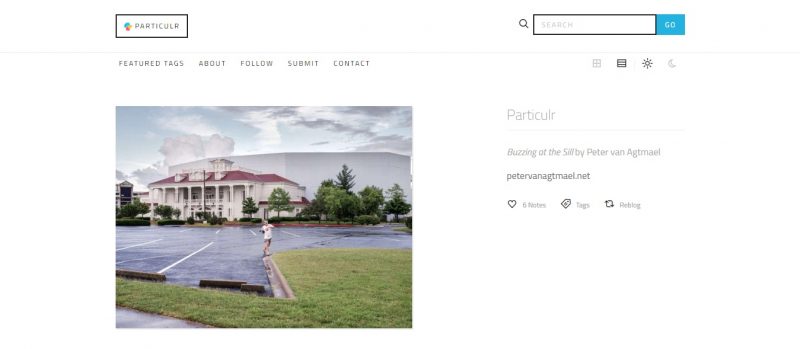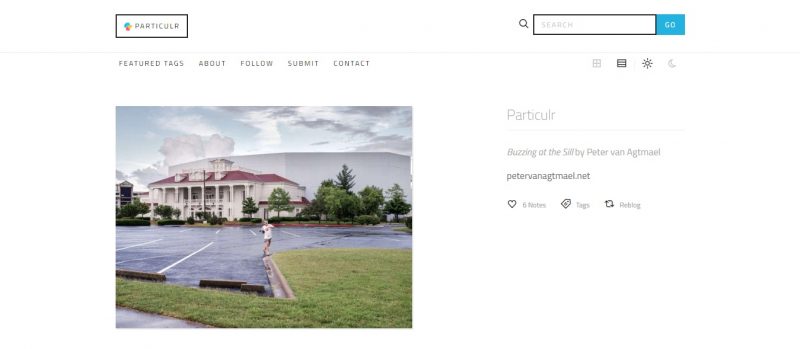 Particulr is run by Jenna Garrett, who is a photo editor, writer, and visual artist. As editor of WIRED Photo, she's definitely someone you'd want to impress with your work. On Particulr, she displays some of the photography she believes is amazing enough to be shown to the world. And knowing what kind of following she has in the photography and design community, this is a place you'd want your work to be shown if you want to establish a name in the field.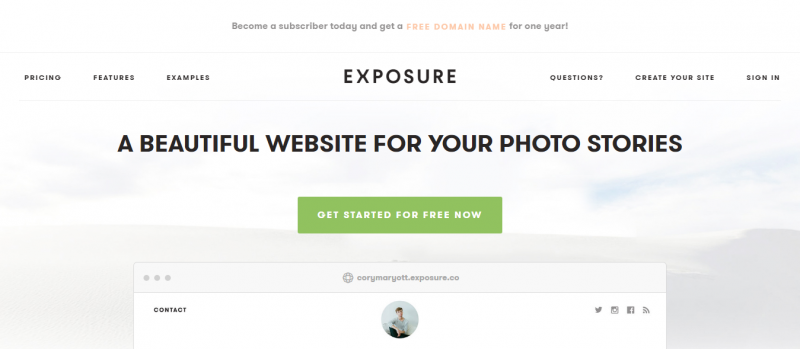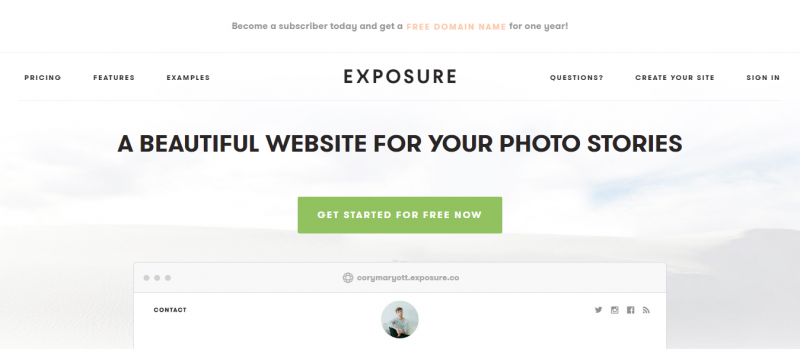 Exposure lives up to its name as it provides a lot of exposure for the work of talented photographers around the world. It's a fairly new site, but it has already attracted quite a number of artists because of the interesting way they display your work. It lays out your photos is a way that tells an interesting story, making it more interesting to view.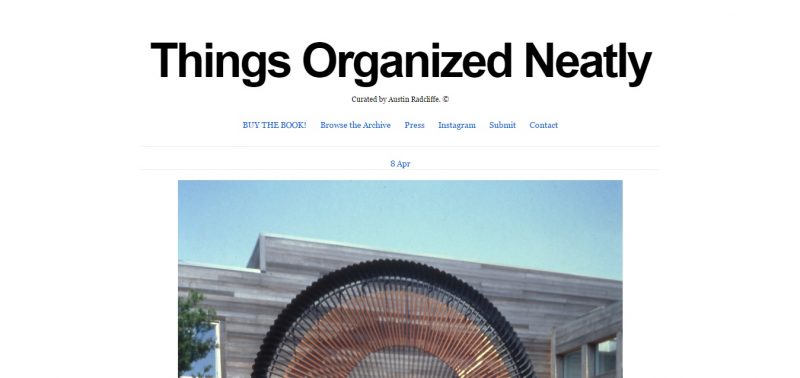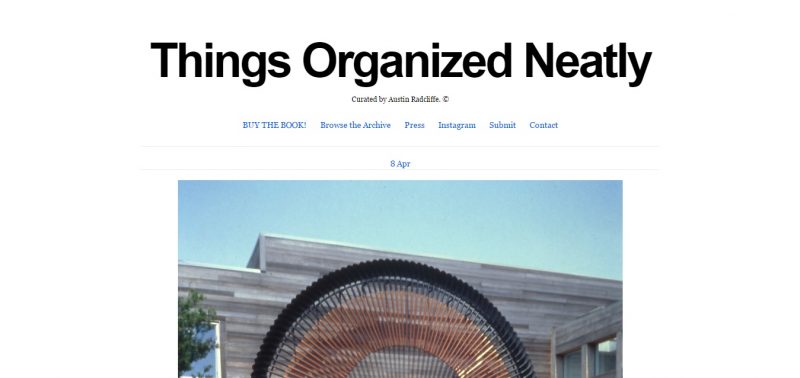 Yup, the title alone is interesting enough to lure people with a keen eye for organized photography. It's a great place for your work if you're a bit critical about the way things are laid out when you shoot pictures. A few photographers have also admitted that this site changed the way they organize things when they do photo shoots, so this could be an interesting source of inspiration for you, too.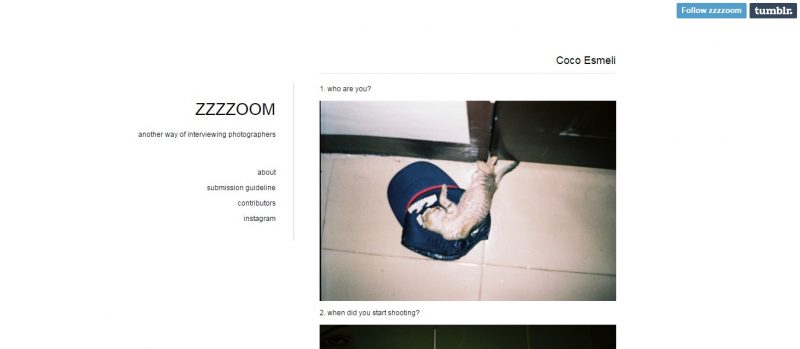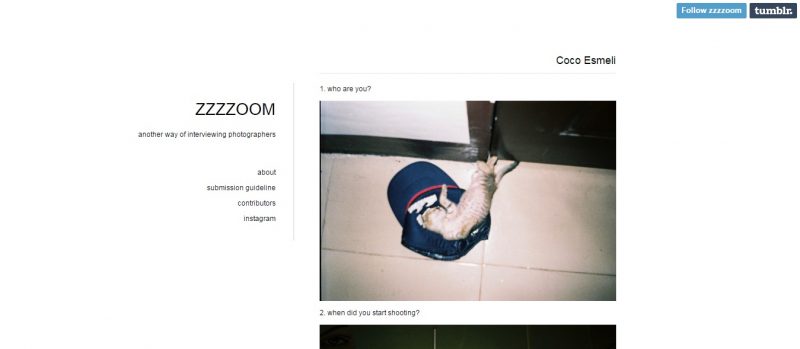 This tumblr page puts together a few interviews of photographers in the most interesting way. Where a regular interview featured on any printed or online publication usually involves a series of questions and answers using words, zzzzoom takes a different approach by allowing the photographers to use photos as answers. This is an awesome way for people to discover who you are while showcasing your photography at the same time.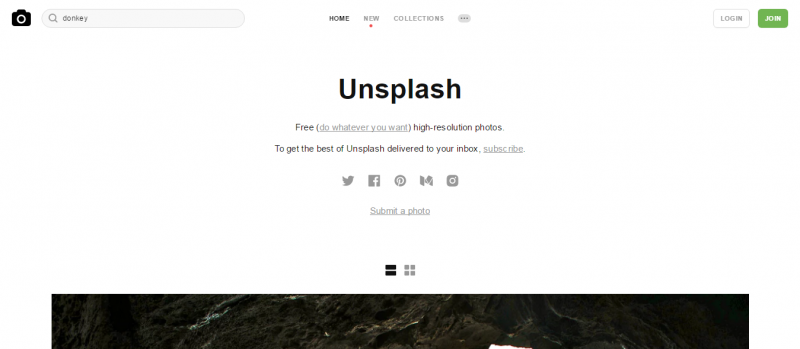 Unsplash has quickly become one of the most popular sources of royalty-free, copyright-free, do-anything-you-want-to photos. Now a lot of you are probably wondering – why would I post my photos, only to be downloaded and used by strangers without giving me the proper credit? Well, guess what. Sometimes, you need to give something before getting something back in return. Besides, Unsplash is known for their high quality, tasteful and artistic images that a lot of stock photos will never be able to compare to. Because of this, potential clients also look around the site to hunt for potential photographers they can hire in the future.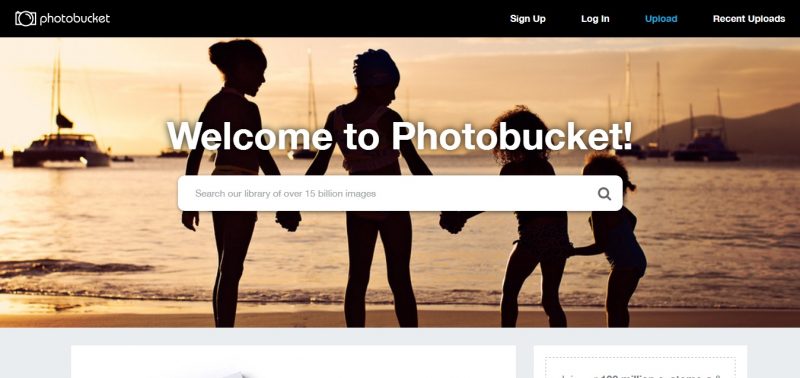 Photobucket is home to over 10 billion photos, and for a very good reason. The site lets you do almost everything, from displaying your work to having people buy them. And that's not all. The site also lets people use your photos for gifts, with the option to order calendars, books, and other memorabilia with your photos on them, that's more exposure than other sites can give you.
You're probably wondering what the biggest social media platform is doing on this list. Well, that's precisely the point. It's THE biggest social media network in the world, with millions of people who can see your work and share it with their own networks. Facebook is also a great place for you to follow other photographers and interact with them, earning you a few brownie points in the photography community. Just don't forget to add your watermark to your work, as this is also a place where you risk having other people download your shots and take credit for your work.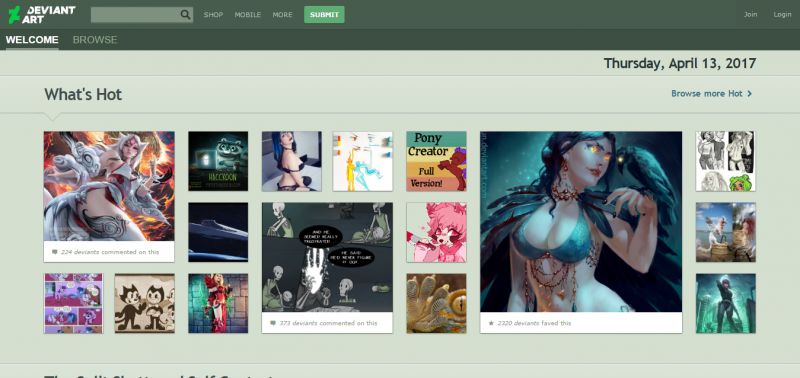 DeviantArt has gained quite a reputation for being a place where talented graphic artists gather and share their work. But you know what, photographers also have quite a following here to. If anything, this is a great place for you to showcase your work simply because it gives you a bunch of creatives all in one place.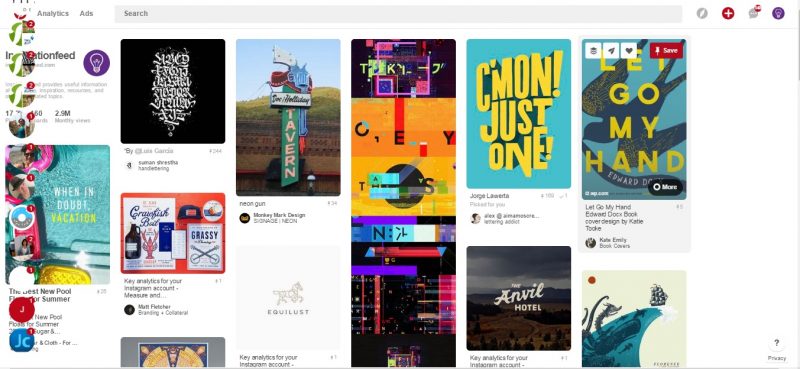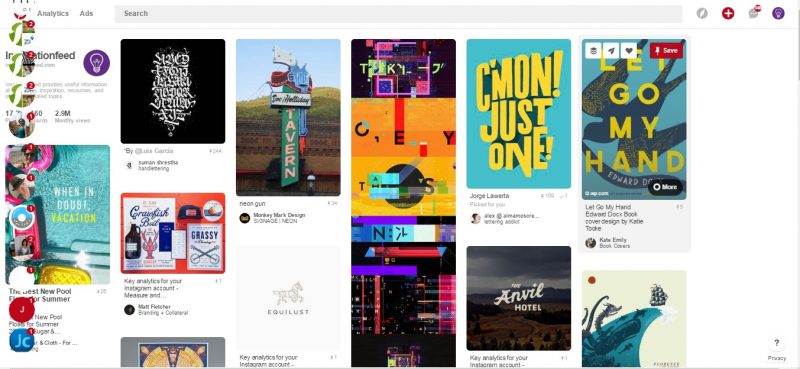 When people hear the word "Pinterest", they immediately think about fashion look books and DIY ideas. What you may not realize, however, is that Pinterest is also home to a lot of photographers who wish to showcase their work. After all, what's not to like about the content sharing platform? It's image-based, and it has quite a huge following. Check out some of the most popular photography boards, and you'll see what a big market you have here.
We've already added Facebook and Pinterest on the list, so don't be surprised that Instagram is here as well. After all, it's one of the most popular image-sharing sites around. Instagram is a great way for you to let followers take a peek at what you see as beautiful, something that will be evident in the work you'll be showcasing.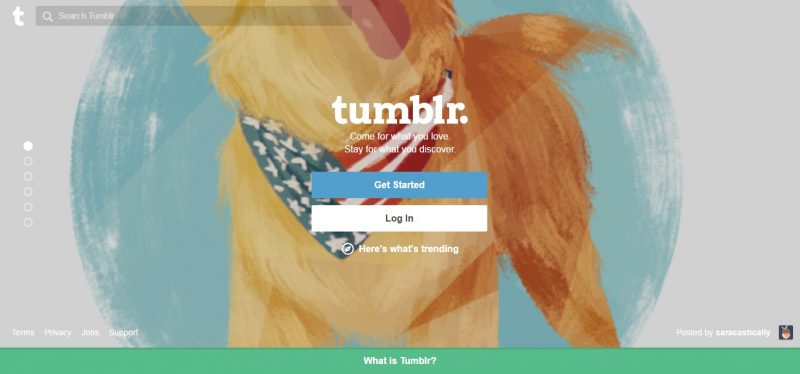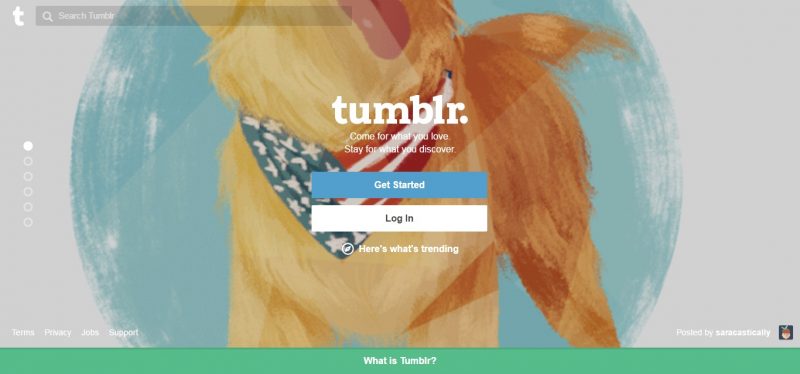 Tumblr is one of those places online where you can do anything – post a picture, feature a blog, create your own content – the possibilities are endless! And it's because of this flexibility that it can become one of your most effective tools to share your work to the world. Follow other photographers on the site to see how they showcase their work here. From there, you can create your own approach and make your page your own.
YOUR OWN WEBSITE!
Nothing beats the fact that your own website gives you all the creative freedom in the world. It's your own – so you can do anything with it. Consider it your online portfolio – a place where people can look around and discover your style and approach. You also have to keep in mind that people see photographers with their own websites as more professional. This earns you a few plus points if you're hoping to increase your client list.
If you are looking to build your photography website, look no further than Pixpa – an all-in-one platform for photographers to create and manage their portfolio website, e-commerce store, client proofing galleries and blogs easily without any coding knowledge.
With these many platforms out there for you to use, there's simply no excuse for your work not to be put out there. Start choosing your prize-worthy work, and start impressing the audiences with it through any of these channels.