Last Updated on March 3, 2023
Today we have an awesome roundup that will make you jealous, or not. We have found some of the best workstation setups. The setups include more computer power, monitors, and bunch of cool accessories. These are some of the most outrageous setups i have ever seen! There is thousands if not more dollars invested here. I don't know about you, but these really make me want to build my dream workstation. Then again with all those toys its very easy to get distracted. Thats the reason i stay with a minimal setup.
Please note that all of the workstations were collected from Desktopped.com. Desktopped.com is a blog featuring computer case mods, desk mods, and multi-display setups. Without further a due, please check out the following setups. All the images have been resized, to see the original just click the image.
1. Sick Dorm Room Media Center Setup and Workstation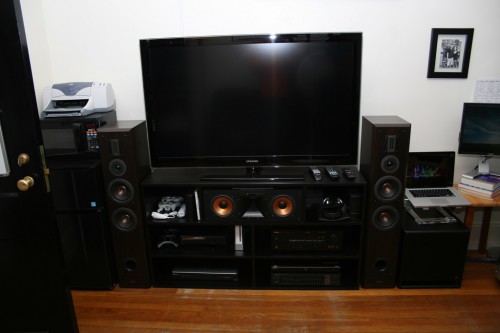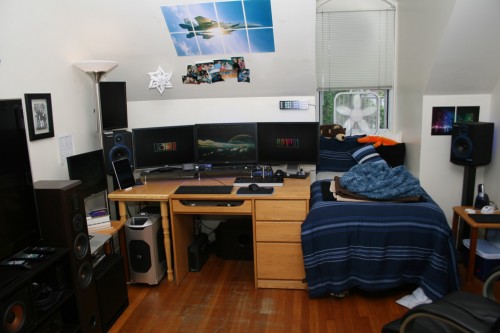 PC specs:
– Core i7 2.66 GHZ on and Asus Rampage II Extreme
– 6GB RAM
– 128GB SSD and 160 GB, 320 GB, and 500 GB HDDs
– 2x Evga GTX 260 Graphics Cards
– CMSStacker Case
– 2x 24" Dell U2410, 1x 24" Dell 2408WFP, 1x 19" Dell 1907FP Monitors
Laptop specs:
– 15" Apple MacBook Pro
– 3.02 GHZ Dual Core
– 4GB Ram
– 19" Dell 1907FP Monitor
Media Center:
– 52" Samsung LN52A
– 2x Technics Floorstanding Speakers (L & R)
– Yahmaha HTR-5940 Receiver
– Wii and Xbox 360 Elite
– Sony Blu-Ray Player
– Onkyo Equilizer
Other Goodies:
– 32GB iPad Wifi Model
– 16GB iPhone 3GS
– 2x WD 500 GB Passports
– Razer Mamba Mouse and Logitech G7 Mouse
– Logitech DiNovo Edge and Logitech Illuminated Keyboard
– Samson Resolve 65a Studio Monitors
– IKEA Dioder backlighting
– TIX Clock
2. Multi-Display Setup With Four Systems And A Whole Lot Of Screen Space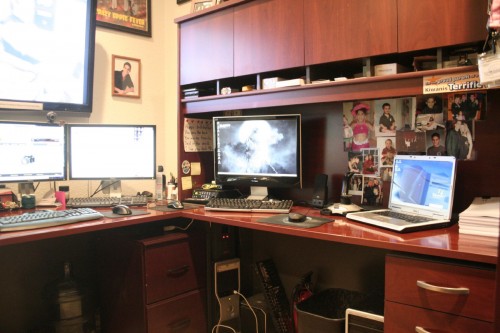 System One
– Dell Precision 380
– Dual Monitors
– Used to display camera feeds from 32 Cameras throughout the home and office.
– 53? Sharp 1080p FlatScreen TV that also doubles as "Monitor 2? of a Dual Monitor system.
– Dell 22? (left of the TV) is "Monitor 1? of a Dual Monitor system.
System Two
– Dell Precision T3400
– Quad Monitors
– The main system, consisting of the four front-and-center monitors on the desk.
– 2x Dell 22? displays on each side and x2 Dell 19? displays in the middle.
System Three
– Dell Precision T3400
– Single Monitor Gaming Machine
– ViewSonic 22? display
System Four
– Dell Inspiron 6400 Laptop.
3. Home Design Studio Of A Graphics/Video Guru And Photographer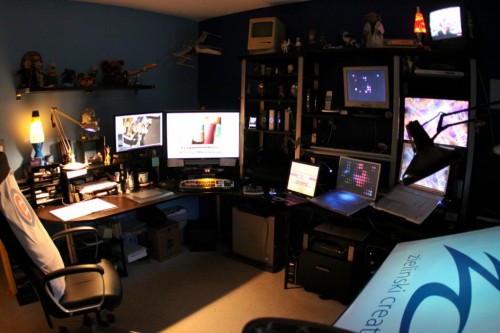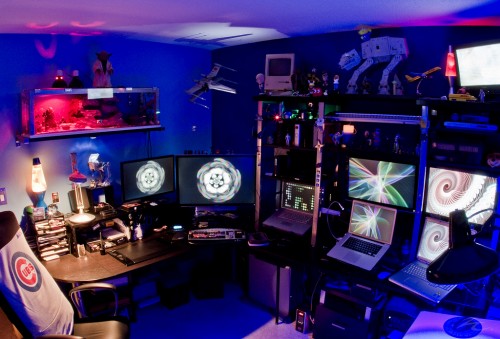 Computers
– Power Mac G5 Quad Core 2.5Ghz with 30? Dell Monitor and 22? Secondary Display
– 17? PowerBook
– 15? MacBook Pro with 24? Secondary Display
– 17? Dell Laptop with 22? Secondary Display
– 15? HP Laptop
Other Items
– Wacom Intuos 4 Pen Tablet
– Western Digital Backup HDDs
– IKEA Desk
– Staples Shelving
4. Nine Monitors that Almost Completely Surround the User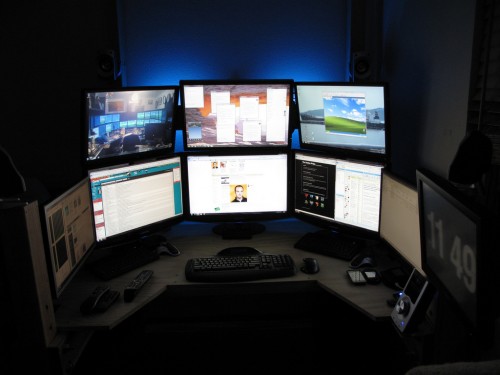 The muscle behind these nine monitors comes from three computers, which are stored in a custom built cabinet. The primary computer is an Intel core i7 965 4GHz with 12GB DDR3 RAM, three nvidia 285's
, and a 1TB WD hard drive. The other two computers are a core 2 quad 3GHz with 8GB DDR2 RAM and a core i7 920 3.2GHz with 12GB DDR3 RAM.
The monitors pictured above are three Samsung 2433bw 24? LCD monitors
, three Hanns-g Hi221D 22? monitors
, one Velocity Micro 22?, and a generic Westinghouse 24?. The clock monitor is used for the server which carries a whopping 18TB of storage.
5. Computer Completely Built into Desk with Some Creative Features
Cases aren't the only ways to mod the external look of a computer system. Unless you consider this entire desk one massive case mod. This is our first of many featured desk mods where we highlight someone who has built their computing experience right into their desk.
The modder, Pyro, built his Lian Li PC-A09B Computer PC Case
into his desk, adding features such as a built in headphone stand with on/off and jacks, an in-desk DVD burner, a quick connect HDD system, an in-desk USB hub, and a beautiful Raptor lighting system.
Some of the computer hardware specs include an AMD Phenom 9600 Black Ed
, 4GB RAM, XFX GeForce 9800GTX
video card, Logitech Z-4 2.1
speakers, and much more.
6. Ultra-High Resolution Six Monitor Setup For Work And Play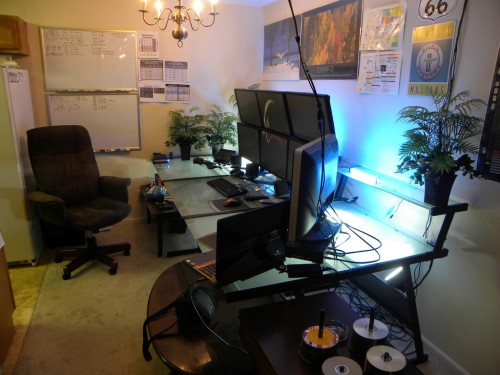 Computer Specs
– Intel Core 2 Quad Q6600
– 8GB RAM
– 3x ATI Radeon HD4670 GPUs
– 6x Asus VE245TL-P 24? Displays
– 3x MonoPrice Dual Desk Mounts
Server
– Core 2 Quad
– 12TB Storage
– 8GB RAM
– Vizio 26? HDTV
Other Goodies
– Asus Eee PC T91MT-PU17-BK Tablet PC
– Gateway P-6831FX Gaming Laptop
7. Red Home Office With Two Samsung And Two LG Monitors
Computer Hardware
– CoolerMaster Stacker 830

– XFX 780i Motherboard

– Intel Core 2 Quad Q6600

– 8GB RAM
– 2x 320GB RAID1, 2x 80GB RAID0
– SLI GTX 260 and GT 210 Video Cards
– Edifier E1100 Multimedia Speaker

– Pinnacle 510 Studio MovieBox
– Philips SHP2500 Headphones
8. Clean and Fresh Home Setup: iMac, MacBook, Two Monitors, and Mic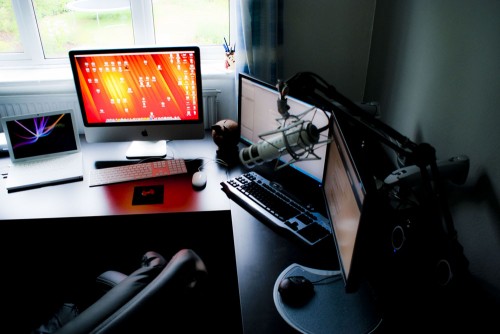 This home office is set up to serve the purpose of web design and blogging. The computers are a MacBook 13?, and an iMac 24?accompanied by two 23? Samsung SyncMaster
monitors. The keyboards are a slim Apple Keyboard and a Logitech G15
. The mice are an Apple Mighty Mouse and a Logitech G9
on a Nova Mouse Mat.
Some of the extra pieces of hardware include a Rode Podcaster
microphone, a WD 1TB HDD
for the iMac, and a WD 500G HDD
for the MacBook. The chair is a Black-Back Leather-Faced Executive Chairfrom Staples.
9. Small Home Recording Studio Showing Off Some Nice Equipment
Computer Equipment
– iMac 27? with 8GB RAM
– Apple 24? cinema display
– Apple Mighty Mouse
Recording Equipment
– Native Instruments Maschine

– Korg microKORG Portable Synth/Vocoder

– Rode Procaster Microphone

– Novation 25-SL MIDI Keyboard

– PreSonus Faderport Controller

– Apogee Duet FireWire Interface
Extras
– LG HDTV 32?
– Sony 30?HD display
– Blackberry 9600 Tour
– iPhone
– Nixie tube clock
10. Home Computer Desk With An Unconventional Monitor Configuration
– Dell Studio XPS Core i7
– 2x 24? Dell S2409W Monitor

– 20? Dell Monitor
– Logitech diNovo Media Desktop Laser

– Bamboo Pen Tablet

– VESA 75/100 mount

– Monoprice USB Adapter
Extras
– Netgear ReadyNAS Duo 1TB Network Storage

– Onkyo 7.1 A/V Receiver

– PS3 Slim
– TiVo
– Palm Pre
11. Stunning Eyefinity Setup With Three 30 Inch Monitors at 7680×1600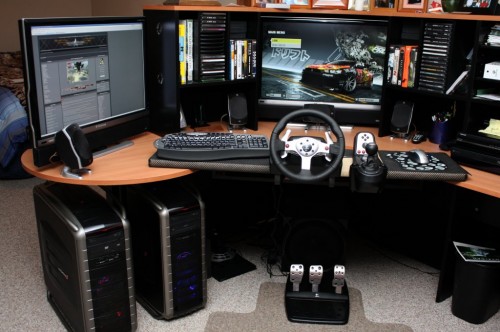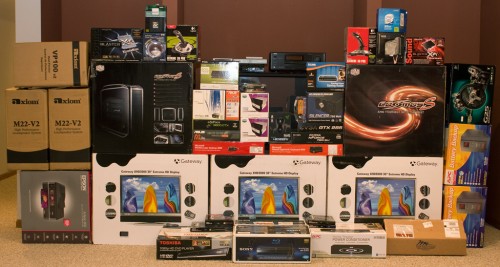 Computer Specs
– Intel i7 960
– EVGA E760 X58 Tri-SLI Classified motherboard
– 6GB RAM
– 128GB SSD
– 2x 1TB Western Digital Caviar Black HDDs
– 2x XFX 5870 XXX Crossfire
– Nvidia 9800GTX used for PhysX
– X-Fi Fatality Titanium sound card
– 3x 30? XHD3000 at 7680×1600 in Eyefinity
– Axiom 7.1 Speakers
12. Performance Car Enthusiast's Custom Built PC and Multi-Display Setup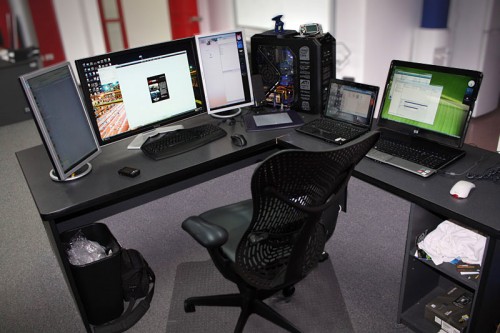 Computer Specs
– Intel Core i7 920
– 2x Radeon 4850 Extreme 1GB
– 1x Radeon 4650 1GB
– 12GB RAM
– 2x 160GB OCZ Apex SSD (RAID 0)
– 2x 1TB Western Digital (RAID 1)
– 30? Dell Ultrasharp and 2x 20? Samsung 205BW monitors
– Antec 900-2 Case
Laptops
– HP Netbook
– HP Pavilion HDX "Dragon"
13. It's A Mac Attack! iMac, Macbook, iPad, iPod, iPhone Setup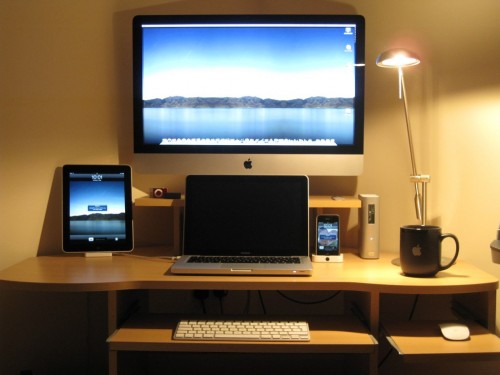 Products Seen
– 27? iMac
– 13? MacBook
– iPad 64GB WiFi
– iPhone 3GS 32GB
– 3x iPod Shuffles
– iMac Remote
– Apple Wireless Keyboard
– Mighty Mouse
– Western Digital 1TB MyBook
Not Seen
– Apple TV 160GB
– 1TB Time Capsule
– Airport Express
14. Bright, Open Home Office For Both Work and Play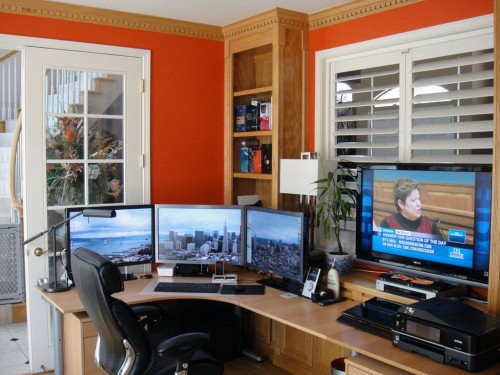 Computer Specs
– Intel Core i7 920 at 4.2GHz
– Intel 160GB SSD, 2x 1TB Western Digital Caviar Black
– 12GB RAM (6x 2GB Corsair Dominator DDR3)
– EVGA Classified
– Radeon 5970
– Creative X-Fi Titanium

– 3x Dell 3008WFP 30? LCD

– Logitech Z-5500 5.1 Speakers

– Logitech Illuminated Keyboard

– Logitech G9X
Gateway Laptop Specs
– Intel Core 2 Duo P8400
– 9800M GTS 512MB
– 4GB RAM (DDR3)
– Hitachi 320GB HDD
Macbook Specs
– 17? 2.8GHz
– 4GB RAM
– 256GB Samsung SSD
15. Tidy Workspace Designed for Productivity and Entertainment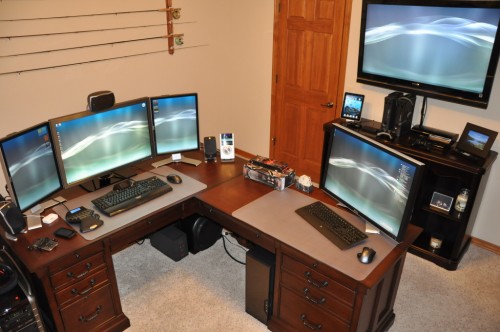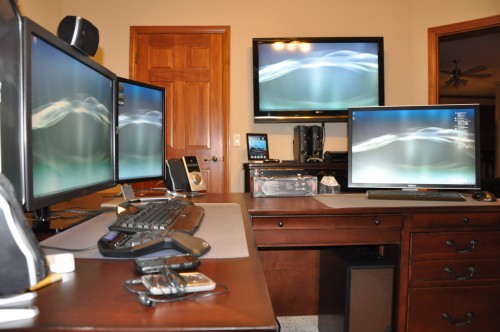 Main Computer:
– Intel Core i7 920
– 6GB Corsair RAM
– 2x XFX Radeon 5870
– Dell 30? 3008WFP, 2x Dell 20? 2007FP
– EVGA x58 SLi motherboard
Secondary Computer:
– Intel Core2 Quad Q9550
– 4GB RAM
– GeForce GTX 285
– Dell 30? 3007WFP
– EVGA 780i motherboard
Server:
– Intel Core2 Quad Q8400
– 4GB RAM
– 3.5TB total storage
Other Goodies:
– Sony KDL-46V5100 HDTV
– Intel Core2 Quad Q6600 HTPC
– Macbook Pro
– iPad, iPhone 3GS
– 2x XBOX 360, PS3
So did you drool all over the keyboard?