Most people will argue that the 1970s were simply an extension of the 60s. Those were indeed challenging times, when there were massive political, ethnic, and environmental movements. But despite tumultuous situations, it was still a decade worth remembering.  
Who could forget The Brady Bunch, roller skates, Abba, and the Star Wars – all products of the 70's. Disco Fever was definitely on a roll then, and almost everyone you know was sporting an Afro. Let's not forget glam rock and the ubiquitous Tupperware.
Another mark of the 70's was the hot summers. Playing all day outside, drinking out of a hose, sleeping over at a friend's house for days, and building backyard forts – these are what childhood memories are made of.
Want to relive the decade that changed it all? Use your creative skills and these 1970s style fonts to give others a glimpse of the past.
Bold 1970s Style Fonts
1. Flight
Recount the Golden Age of travel in this 1970s style font that's perfect for making tickets and worksheets. Clean, sleek, and functional, this one will have your imagination jetting off to first class.
2. Manicuore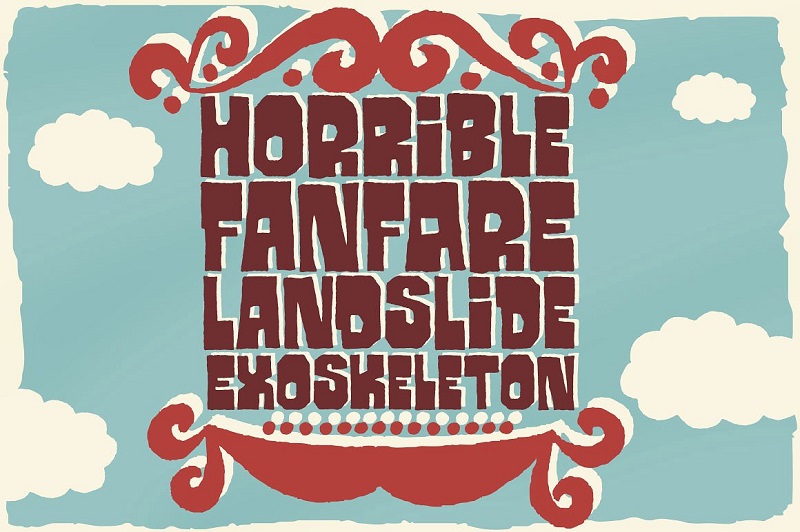 This hand-drawn typeface is taken from Italian movie posters by the prolific movie poster artist Symeoni (a.k.a. Sandro Simeoni). With handy alternates and 89 graphic elements, you can keep creating remarkable designs until the wee hours of the morning.
3. Crocante
Now you can bring back those bold, all caps lettering designs from the hip 70's in this fun and quirky typeface. Perfect for lightening the mood, or just to keep things light-hearted.
4. Ziclets
Looking for a font that's bold, juicy, and totally far out? This 1970s style font is definitely for open-minded folks like you.
5. JAF Peacock
Simple and uncomplicated, this is for modern designers who just need to get business done. Unassuming but still pleasing to the eye, get this font and get right down to work.
6. CA Magic Hour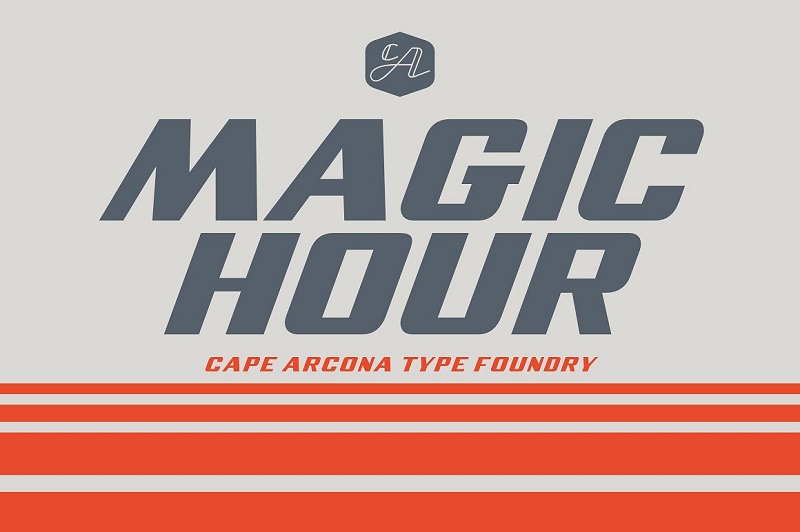 This 1970s style font will remind you of times when the Concorde was flying proud in the skies and cocktails tasted awesome. Speed up your projects by downloading this straightforward typeface today.
Download CA Magic Hour Typeface
7. Kirimomi Swash
Though this display typeface has its roots in classical styles, the sharp edges give it enough attitude to stand out from the noise. Functionally graceful but also proudly aesthetic, let this beautiful font tell your story to the world.
Download Kirimomi Swash Typeface
8. Callista
Inspired by the works of Francois Boltana in the early 1970s and those of Milka Peykova in late 1970s, this font is perfect for headers and logo designs that demand attention.
9. SOLID70
This balanced 1970s style font is perfect for artists looking to create amazing designs in just a few clicks. The stylish look will fool anyone that it's taken you hours to make – but no one has to know your secret.
10. Funkydori – Bold
Is it possible to combine the funky styles of the 70's with the modern vibe of today? This typeface says you can. Rock out to the bodacious letterforms enhanced with extravagant swash capitals, alternates, and endings.
11. Addington CF Steadfast Serif
Maybe you're not really into all those funky fresh fonts from the 70s, but you still want something similar in case you need it. The solution: this charming serif that can be counted on for traditional artworks to more classy projects.
Download Addington CF Steadfast Serif Typeface
12. Cooper Black Swash
Created in the spirit of Oz Cooper's work, this 1970s style font would look great on any modern or digital artwork.
Download Cooper Black Swash Typeface
13. Punk Machina Typeface
You didn't have to be alive during the 70's to know how big they were on cars. If you want to pay homage to this transportation marvel, take a gander at this retro typeface.
Download Punk Machina Typeface
14. Authority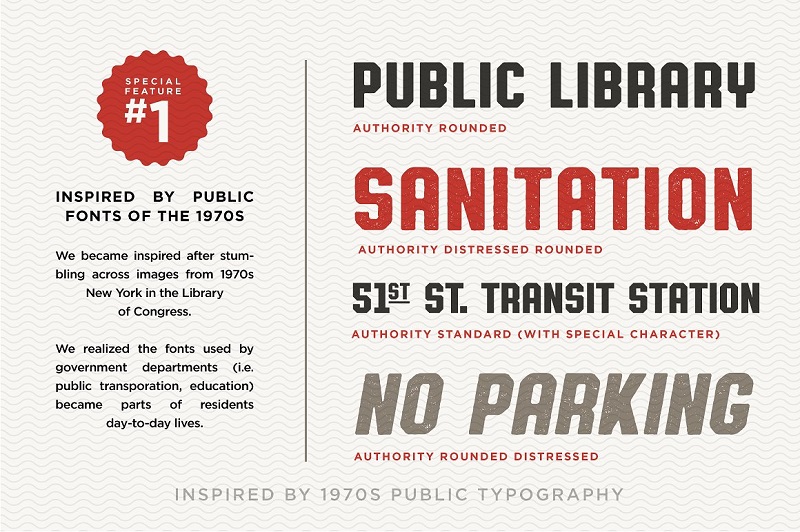 Can't get enough of those public fonts in New York during the 1970s? Now you can communicate your message in a way that makes you feel like a true authority.
15. Superfruit Font
Hot 70's summers wouldn't be complete without delicious fruit popsicles. Capture that tasty and healthy memory in this bold and fun typeface.
16. Lemonade Font
What do you do when life gives you this fresh font to work with? You create stunning artworks, of course!
17. Kara
This 1970s style font is perfect for projects that require decorative text, as well as on cartoons, brand identity, signage, on print, and web design.
18. Mega Fresh Font
The quick, yet fluid lines of this typeface are reminiscent of labels they used to put on delivery containers. Photogenic and looks handmade, this one will be delivered fresh to you right after purchase.
19. Striped Vintage Label Typeface
This is a classic 1970s style font that's a constant favorite for any designer or visual artist. Looks great from any angle, and will serve any purpose.
Download Striped Vintage Label Typeface
20. CA Viva Las Vegas
Inspired by the signage of concert halls in the 70's when Elvis was playing in Las Vegas, this typeface features two different styles and four weights for endless combinations to your heart's delight.
Download CA Viva Las Vegas Typeface 
21. Nelson – Friendly Sans Serif
A friendly and fun sans serif, Nelson is ideal for any type of project, so don't delay and make your brand stand out right away.
22. Wanderlust Soft Vintage Typeface
Made to stand out from the crowd, Wanderlust is perfect for anyone hoping to create gorgeous type for a project that is easy to read. well spaced out, full of glyphs and alternates, and ideal for use in print or media design, what are you waiting for?
23. Nestor – Quirky Typeface
This is Nestor, a quirky and groovy typeface perfect for a host of different projects or designs. It is big, bold, and vintage, exactly what you need if you want to give off a 70s style vibe.
24. Boardley Script – Layered Font
There is a really cool retro vibe to this design that we think is attractive. With a 70s themed style and a lovely dark background, Boardley is great for ease of editing and will work on any OpenType program.
25. Your Groovy Font – Retro Psychedelic Font
If you are looking to use a slick font that stands out and looks professional, then here you are, the groovy font is just what you need. Perfect for print design and great for use on social media, download it today!
Download Your Groovy Font right here
26. Soul Daisy
A stylish and organic typeface design, Soul Daisy is all about finding your groove and standing out from the crowd.
Get a hold of Soul Daisy right here
27. Kendric – Display Typeface
A beautiful retro-inspired typeface, Kendric has many minimalist qualities to it that we love and think will work really well with any design. The typeface does not look to take itself too seriously, and has fun as well as more serious and professional elements to it.
Download the Kendric Display Typeface here
28. Jassin – Groovy Typeface
Groovy, slick, and inspired by the Middle-East, this typeface is most certainly unique, and will make any design of yours stand out for all of the right reasons.
29. Citro – Sign Painter Typeface

Citro is a bold typeface based on retro hand-painted paper signs primarily seen in grocery stores from the 1920s through the 1970s. Its inconsistent baseline makes it a little unpredictable, but the retro flare that it exudes more than makes up for this. A fine choice.
30. Pineberry – Cursive Script Typeface
Pineberry is handmade cursive typeface inspired by 1960-1970s graphic design. The font has a playful/lighthearted personality which shines when used in packaging, book covers or logos because of its legibility, and minimalist design. With OTF and TTF versions available for use, it is a great choice for anyone serious about levelling up their designs.
31. Kenzo – Psychedelic Typeface
It doesn't get any more psychedelic than this. Kenzo is groovy, fun, and unpredictable. Ideal for magazines, headlines, subheadings, media design, and printwork, it is a versatile and fun typeface to utilize.
32. Local Groceries – Handwritten Font
Simple, effective in its design, and versatile, the Local Groceries Font Duo is ideal for brands, businesses, or companies looking to add a little duality to their work by using different styles of typeface.
33. Moonlight Groovy Disco Typeface
As you can see from the template above, it doesn't get any groovier or more retro in design than with Moonlight. The dualtone colour/shadow scheme adds a 3D effect that we think is excellent and will make any design where Moonlight is featured stand out for all of the right reasons.
34. Wonderland Psychedelic Typeface
Psychedelic, fun, and varied in size and scope, Woderland is a great option for anyone looking to create something weirs, wacky, and wonderful. Perfect for media designs inspired by the 1970s, posters for 1970s-style events, or flyers, there is a lot to love about Wonderland.
Download Wonderland Typeface here
35. Strikeout Bold Script
Inspired by the classic 40s and 50s era of baseball, Strikeout includes stunning upper and lowercase lettering, numerals, punctuation, and special characters for good effect. It has a gorgeous hand-drawn effect to it and we think that it is ideal for sports designs in particular. It fits the 70s theme due to its evergreen popularity, even after the 50s, and due to its groovy and curvy rounded edges.
36. Rolla – Soft Vintage Typeface
A stunning soft retro typeface, with Rolla, you have endless possibilities and can utilise a range of different styles, alternates and ligatures to create a fun and interesting design. So whether it is a print of a media design, with Rolla, you have tonnes of scope to make your work unique.
37. CA Magic Hour
Simple, effective, and, of course, vintage in its design, we absolutely love Magic Hour because it is easy to use, easy to read, and perfect for a range of design types.
38. Summer of 76 – Multi-Line Font
This modern, yet vintage multi-line fot is giving Miami Vice vibes and we love it. Perfect for small and medium text blocks, the typeface will give a perfect retro look to any design.
Summer of 76 Font is available right here
Grab your set of 1970s style fonts today!
The 70's weren't perfect – but it was indeed a time of great change. Looking to spice up your font collection from this memorable decade? Put any of these gorgeous 1970s style fonts to the test by downloading yours now.