Last Updated on January 24, 2023
This article is your choice to get an absolutely marvelous eCommerce website created for any type of business, as we are going to talk about WooCommerce themes that will definitely assist you during the prosperity of your company.
Have you ever dreamed about the building of your perfect website with no effort? I'm sure you have, so go and take it, because today is your time.
How can you do it?
For these simple reasons, we propose you to learn some information about templates, WooCommerce themes and the provided service at all. Are you ready? Let's go!
To begin with, a template is a package full of ready-made features that will undoubtedly help you during the process of website building. Easy in installation, templates let you to become the owner of a long-awaited online shop with no effort, even if you have never worked with such structures before. Thus, you may build an amazing, popular and powerful website just out-of-the-box with the help of different practical features. Such as, MegaMenu, parallax effect, Google fonts, blog, swiper slider, social block, client notification, Owl carousels, etc. All the options are helpful and easy to use. In addition, the package includes detailed instructions about its' unboxing and modifying the website with the help of the templates in question.
To summarize, below are the list of 5 reasons telling you why choosing the template would be a wise and an advantageous decision for starting and further development of your online business.
1. As it was said, our ready-to-use themes include all the needed functions for the creation of a strong and worthy web store and even more. In a word, they are multifunctional, so you don't need to waste your time on a boring search and look for each feature individually. Remember, all the best, most modern and helpful functions were already found and combined in out templates for your comfort.
2. Without a doubt, saving extra money is another important thing about starting your business. I mean, nowadays you don't need to spend a mint of money for the services of a professional web designer or developer in order to get an online shop that would be worthy of your potential customers' attention. All in all, from now choosing a suitable template will certainly be your hardest issue. Talking about website creation, let WooCommerce care about you.
3. Needless to say, all the themes were professionally designed by TemplateMonster. Still, each of them is completely unique, so your page will definitely look attractive and qualitative in one package.
4. Moreover, aside from mentioned features there is a huge list of newest and brightest options that you will get for the creation of your eCommerce website.
.5 By tradition, we provide our customers with free 24/7 Technical Support, so all your questions will be answered as well as the issues reserved.
So what is WooCommerce?
Originally, WooCommerce is the most popular eCommerce platform that powers nearly 40 percents of all the existing online stores. As you may see, it's not just a simple platform but rather a productive and full-fledged shopping cart plugin that helps you to get any kind of online store powered by WordPress.
Let's take a closer look!
1. Would you like your online shop to look brilliant in all the browsers and on all the devices? Well, responsive shop designs are here to serve. With its' help people are able to access your website from literally any point of the world. Just think about it!
2. Let's leave some place for creativity! Attract your customer's attention to testimonials, advertisements, news, services or team introduction notes with the help of our unique post types. Therefore, the post types and formats were diligently designed in order to meet the requirements of any case. As you may see, all is made for the beauty of your project.
3. Would you like to see all the changes of your site in a real time? In this case the package includes Theme Customizer. This awesome and truly convenient feature accumulates all options from Theme Options, so no transformations will be made until you approve them by saving.
4. Are you bored with those standard variety for theme appearance? Stay inimitable in the gorgeousness of your website! Since, WooCommerce templates allow you to change the look of your online shop's theme, replace its' logo, improve typography, update slider, modify navigation, portfolio and blog pages or page footer until all the changes fit your vision.
5. Finally, with the help of responsive layouts you will be the owner of a website that is able to change dimensions according to the device screen it's viewed on. In a word, this function guides the visitor to one and only online shop as it automatically improves user experience and boots your Search Engine Optimization.
Need more information about the great variety of WooCommerce themes? On the assumption, feel free to visit TemplateMonster Service Center for creating the website of your dream!
In addition, check out our YouTube channel, which was made in order to tell you more about website building and help you during this process. Have a nice viewing!
Master Chef Cooking School – WordPress Theme
Bright and tasty, this WordPress template depicts all the charm of cooking. Be sure, the theme will catch an eye of your visitor with its' amazing details.
Italica – multipurpose restaurant WordPress theme with 6 skins
As all of our best themes, Italica is featured with social options, tag cloud, tag cloud and other useful options. In addition, this wonderful template brings you a bundle of 6 extra skins and demo content, which helps to create niche restaurant sites just out-of-the-box.
Hidalgo – Mexican Food Restaurant WordPress Theme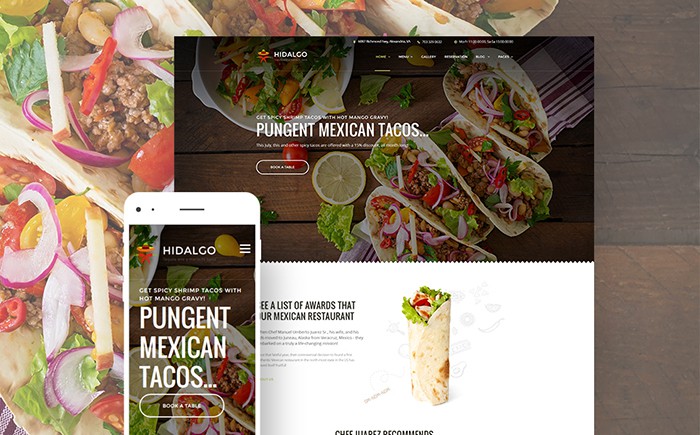 Are you the one who is mad about juicy, delicious tacos? Here is your choice! Don't hesitate to show all the beauty of Mexican food with the help of Hidago.
GutenBerg – Beer Pub and Brewery WordPress Theme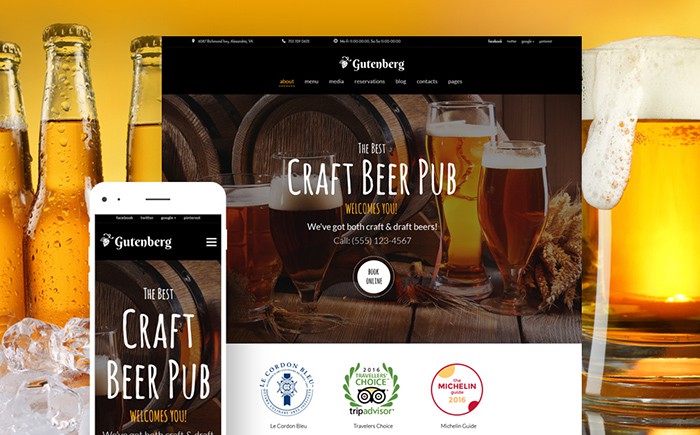 Powerful and easy in customization, GutenBerg is a good idea for bars, pubs and restaurant owners. As you may see in 'Details' field, the theme is based on a powerful builder plugin, so you are able to add or remove sections and modules with no effort.
Burger Palace – Fast Food Restaurant WordPress Theme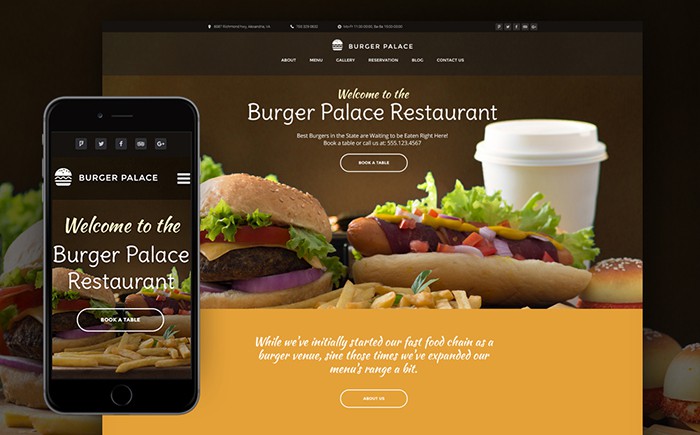 Meet Burger Palace – a new WordPress template that was diligently designed for real burger lovers! Moreover, incredible fonts, cute images and high-quality pictures will be a great addition to the remarkable menu of your website.
Greenville – Organic Food Restaurant WooCommerce Theme
Do you prefer a healthy life style? It fits you! Just take this easy and intuitive theme to share your ideas all around the world.
Organica – Organic Food, Cosmetics and Bio Active Nutrition WooCommerce Theme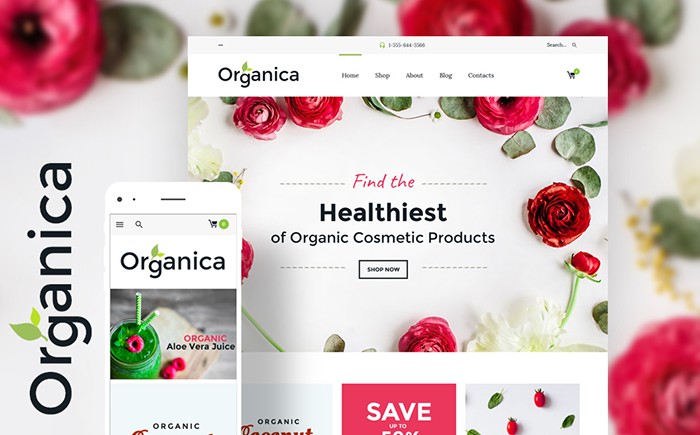 Romantic and elegant, this colorful template has a full package of helpful features for the creation of a perfect website about organic products. Stay healthy!
Tanaka – Japanese Restaurant WordPress Theme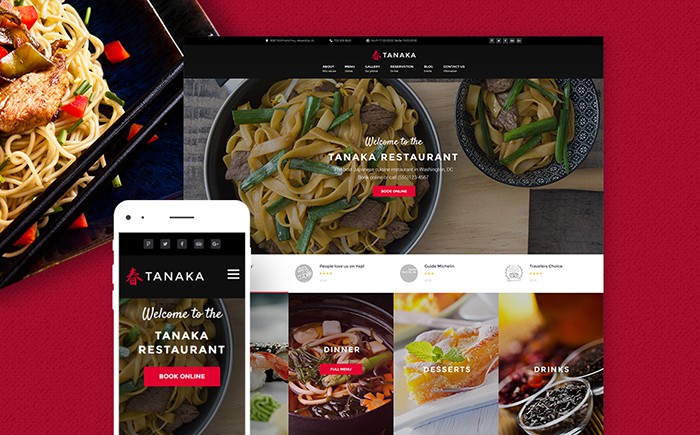 Here is your chance to build a colorful site dedicated to Japanese food without touching a single line of code. Built with love, Tanaka theme gives you more than 25 modules, drag-and-drop functionality, library of presents that will certainly help you to customize the design of your template. Take control over your site with power.
Chateau – Bakery and Receipts WordPress Theme
Sugary, soft and yummy! Chateau is the best choice for the cute and simple website about your sweet business.
Duval – Wine Restaurant WordPress Theme
Featured with a great gallery, astounding fonts and qualitative pictures, Duval is a vital decision for the most charming and noble drink.
Bettaso – Café and Restaurant WordPress Theme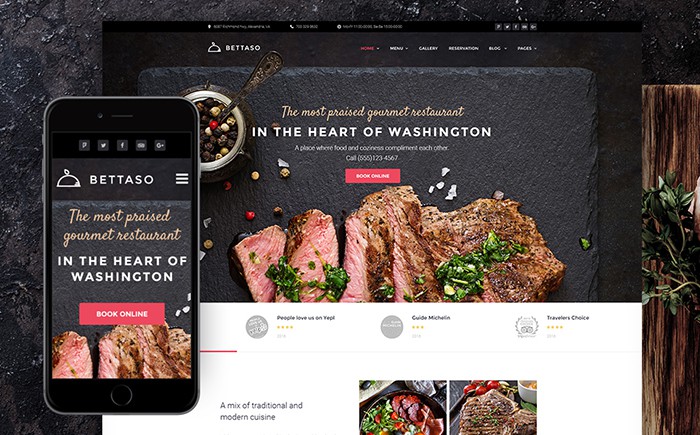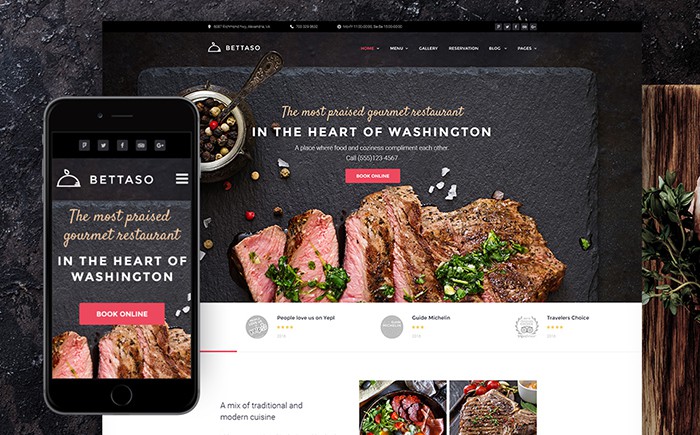 Made in dark tones, Bettaso will unquestionably emphasize the subject of your online store. As you may see, today you don't have to be a guru of coding in order to get an authoritative and worthy of attention website.
Vegetarian Restaurant Blog – WordPress Theme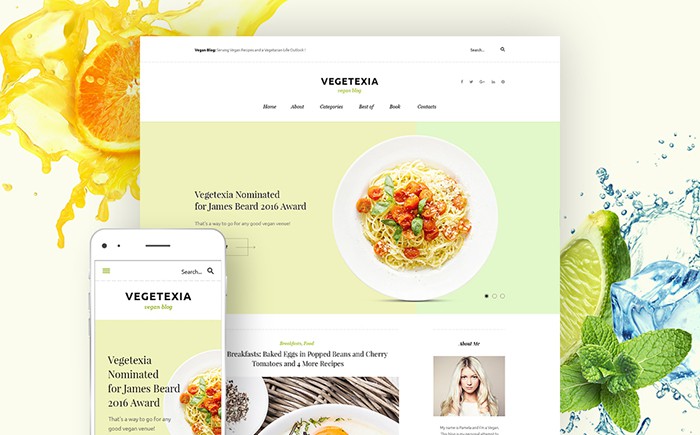 Easy to use and install, this template was made in a flat style. Be sure, your visitors will be amazed by a pleasant palette of theme colors as well as by the power of its' work.
Coffee Shop – WooCommerce Theme
Designed in warm colors, Coffee Shop is a wonderful template, created for your convenience. Additionally, the theme allows you to view any changes made to your site, so with its' help you may avoid some possible mistakes during your online shop modifying.
Chinese Restaurant – Responsive WordPress Theme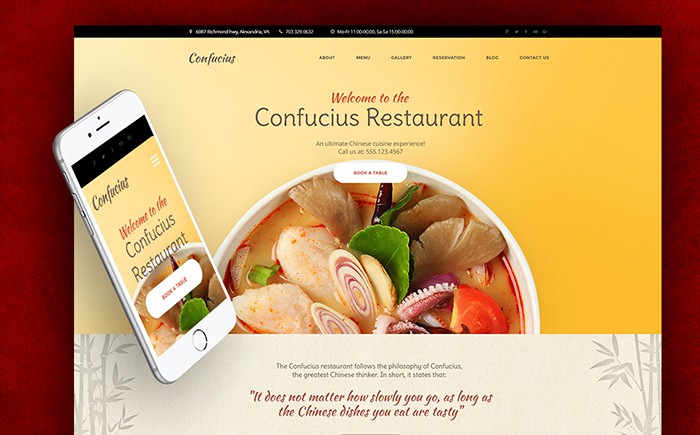 This neat and cozy template is an ideal choice for a related to a Chinese food project. All in all, the theme will positively impress your potential customers with its' unusual structure and design.
Pastries – WordPress Theme
Well structured and documented, Pastries gives a real fast start to your ideas. Welcome to your own bakery!
Natural Foods – WooCommerce Theme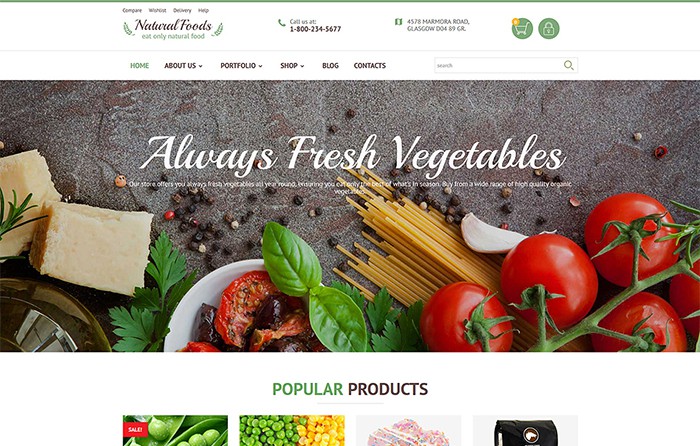 Here is another light and clear template for natural food related website. Please note: price-quality rates may surprise you!
Blogetti – Restaurant Blog WordPress Theme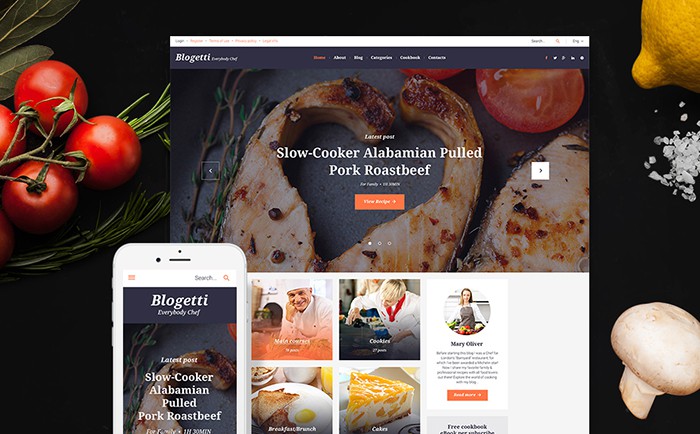 Are you looking for a multifunctional template for creating of a sparkling restaurant blog? Well, Blogetti is a gorgeous WordPress theme with unusual readable fonts, high-quality pictures, inimitable composition and a huge pack of different useful items that will help you to realize all of your brave thoughts into an unbelievable website.
Little Italy – WordPress Theme
Just take a look at these cute signatures, bright colors and modern design of this new WordPress template! Gee, Little Italy seems to be an excellent example of a thematic appearance of an Italian food related theme.
Premium Cuisine – WordPress Theme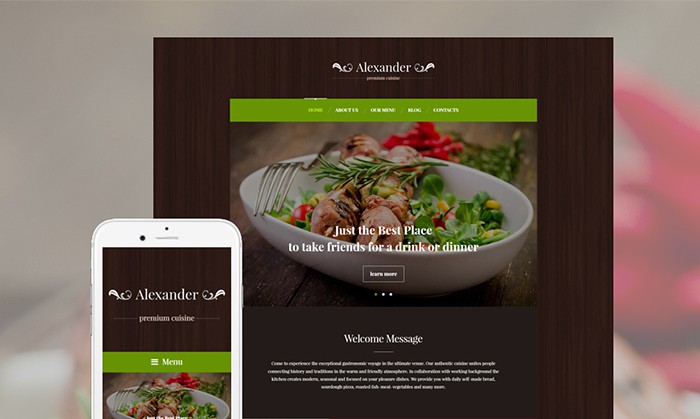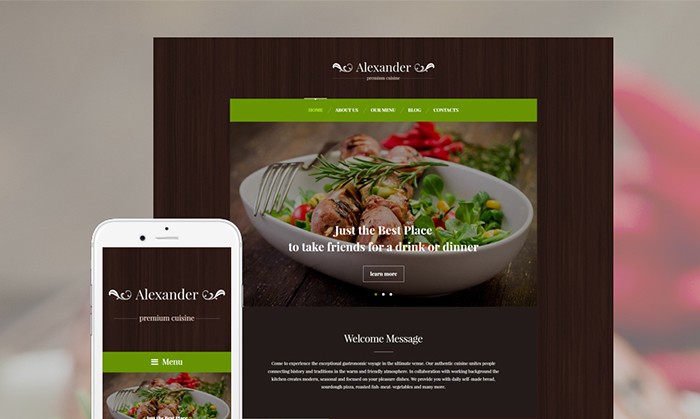 Need more variants for the beginning of your online store creation? And you are right! For this simple reason, below is another multifunctional template that was made for your needs. Old-fashioned but stylish, Premium Cuisine includes blog, commenting system, sample content, Google web fonts, crossbrowser capability and other useful features added to the package.
White Whale – Seafood Restaurant WordPress Theme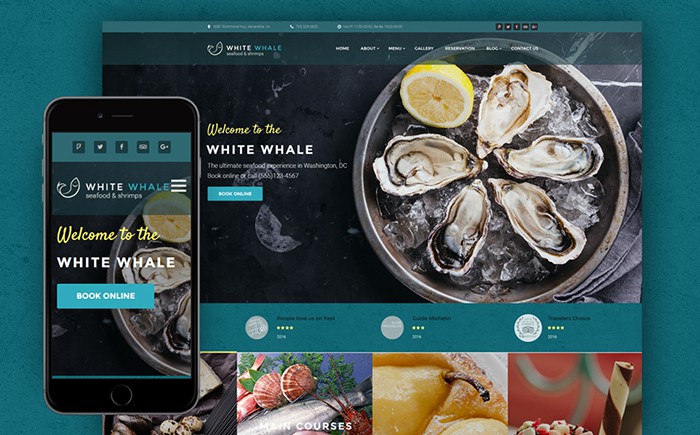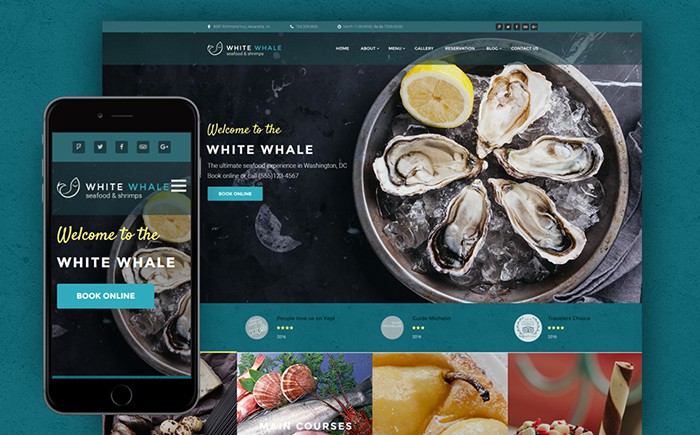 Hey, are you the one who owns a seafood restaurant? Don't hesitate to check this complete and fashionable WordPress theme!
Gulliver – WordPress Theme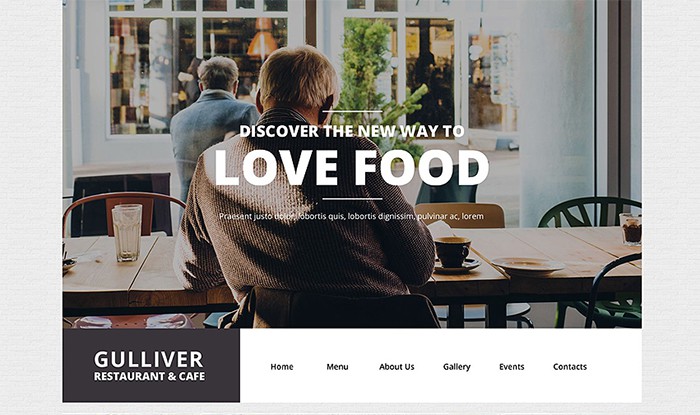 Extremely effective and eye-catching, the template was made in lovely pastel colors. Without a doubt, with the help of the provided theme visiting of your website will be a good time for your guests.
Gourmet Cuisine – WordPress Theme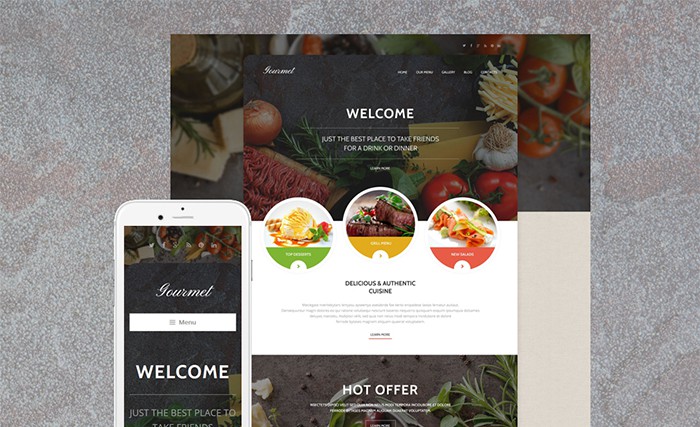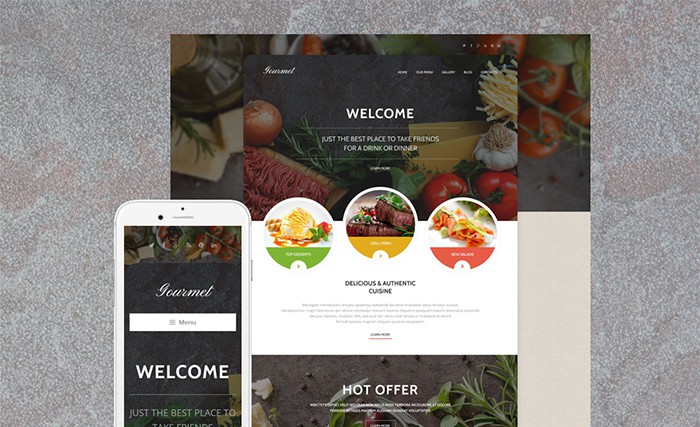 Modern, neat and cozy, Gourmet Cuisine will interest your potential customers with its' beauty and functionality. Traditionally, this WordPress looks and works great in all browsers and on all devices.
Mexican Food – WordPress Theme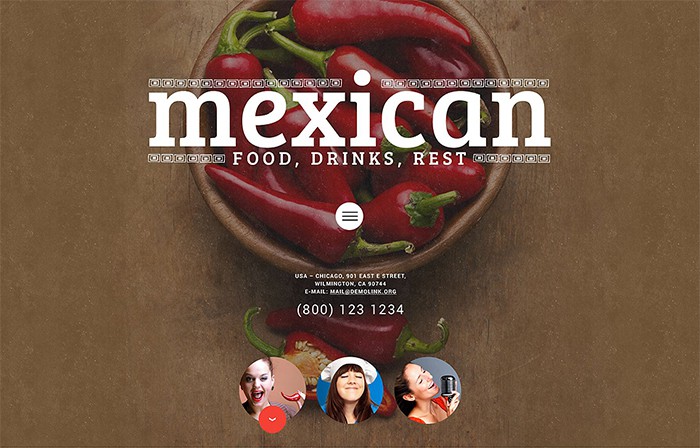 Still looking for a perfect simple template introducing Mexican food services? Multicolored, notable and easy to modify, the template below is definitely your choice!