Last Updated on March 2, 2020
User-generated content (UGC) is a great way to engage and grow your audience.
More importantly, a well-developed UGC strategy can help drive revenue when running marketing campaigns!
In fact, a study says that 41% of consumers purchase a brand's offering after seeing a UGC.
In this article, we'll help you create a UGC campaign that's in line with your content marketing strategy.
At the end of this post, you should be able to develop a strategy that will improve your conversions and elevate your brand to greater heights.
Determine your goal
Your main goal dictates your content marketing strategy direction using UGC.
Obviously, you want to gain a positive return on investment (ROI) from the campaign. To get started you need to ask yourself this question:
What should I do with the content generated by users?
You have the unique opportunity to use the content from participants for the good of all parties involved.
That said, you should identify the core goal of your UGC efforts:
Spread brand awareness
Let's face it – you won't grow your sales and profits if people don't know your brand exists.
For new brands, it's best to focus first on making people aware of your brand.
UGC is the perfect technique to help spread the word.
By encouraging people to promote your brand on social media and other marketing channels, you will gain more exposure for your products and services.
Take Starbucks' #RedCupContest as an example. People started sharing creative photos of them holding Starbucks' limited edition holiday cups.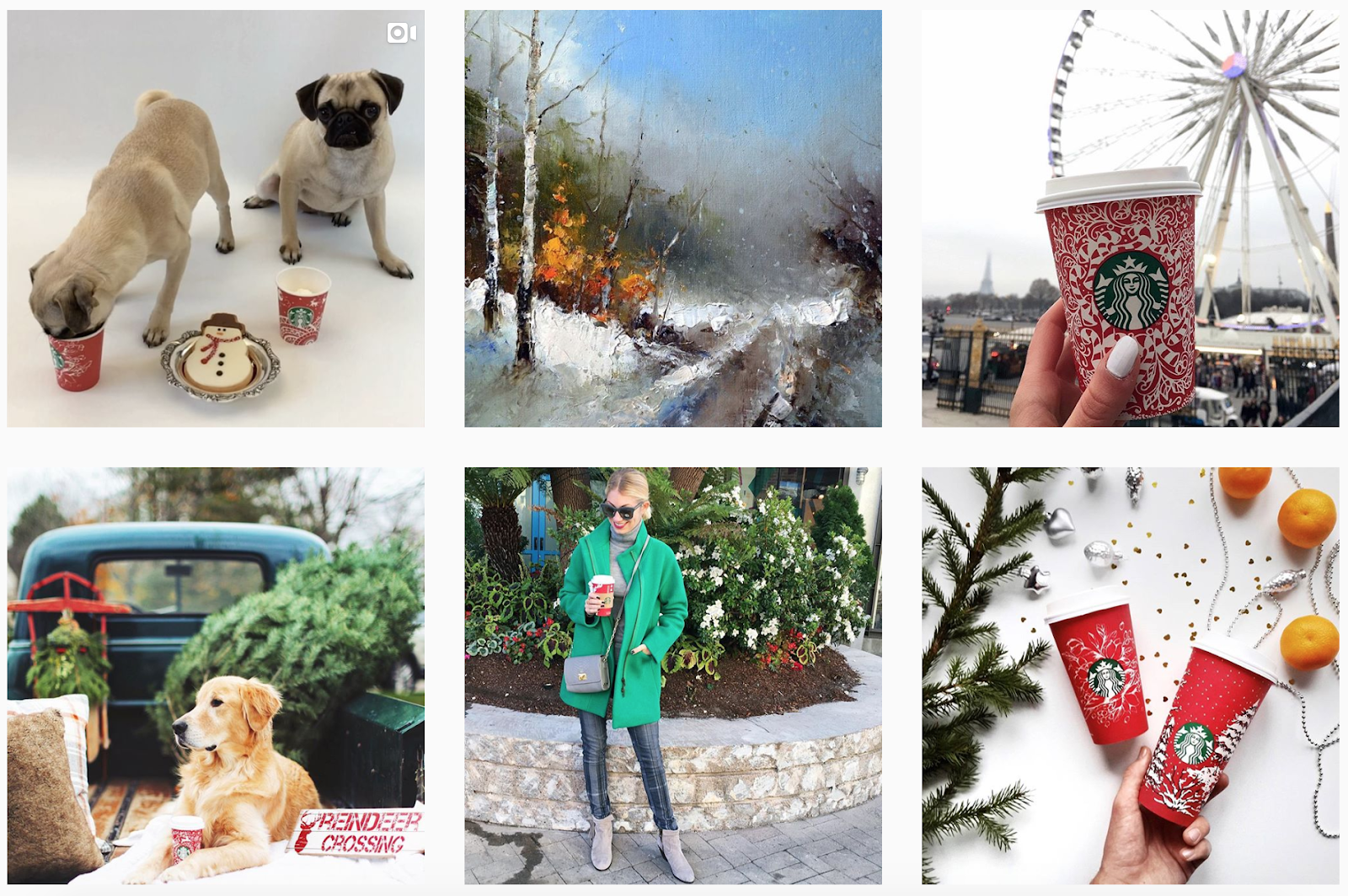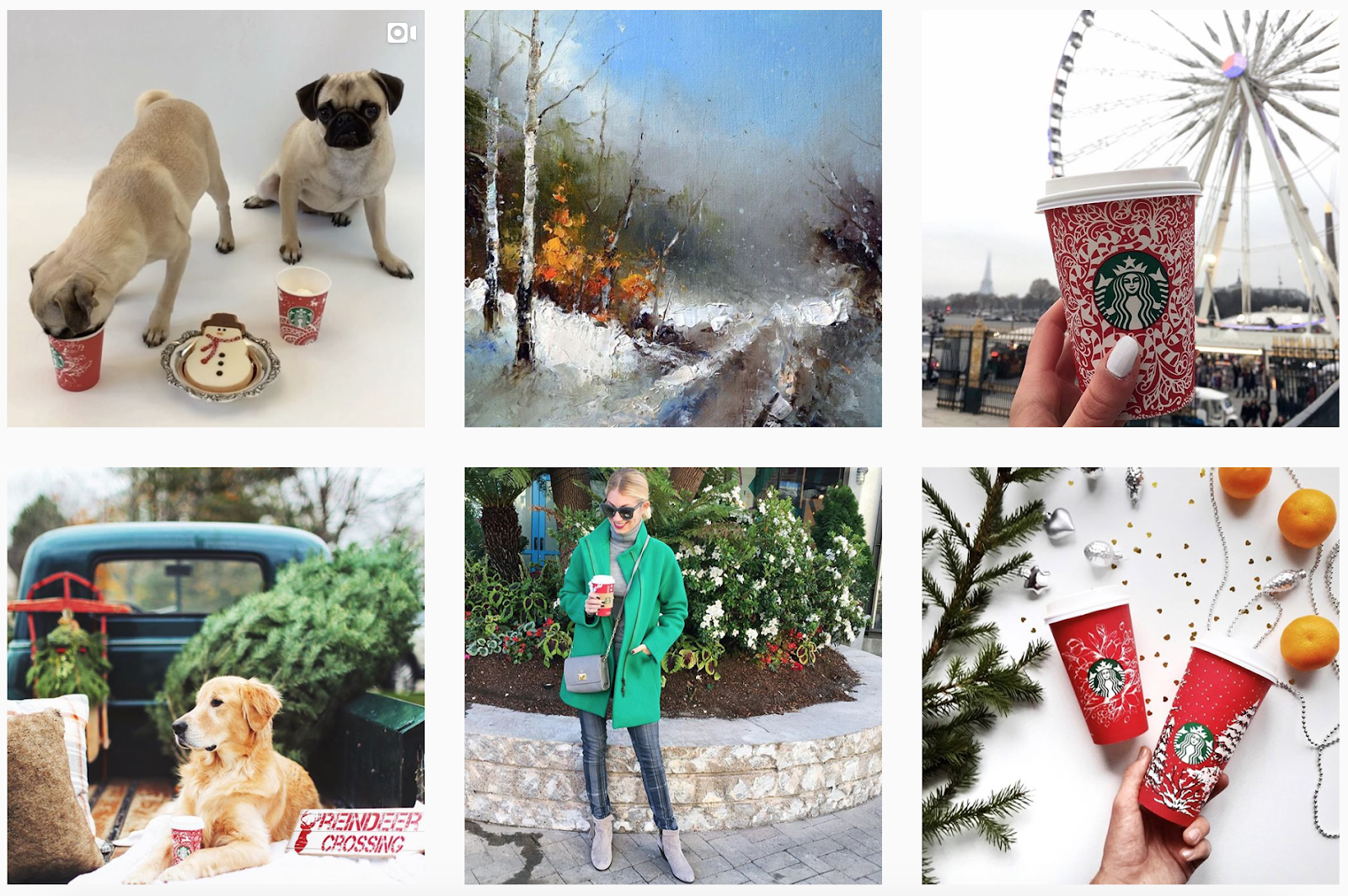 Not only is the campaign a great way to build brand awareness, but it's also a fun way for your audience to engage with your company!
Ask for feedback
If you want to launch a campaign to help get to know more about the needs of your target audience, asking for feedback is the way to go.
Customers feedback is valuable because you're relying on what your audience wants to help grow your brand.
Using their feedback to improve your business helps you give people what they're looking for.
Want to launch a new product? Looking for ways to get more people to buy your current products?
Then crowdsource for answers!
As a result, you can expect more engaged followers and potentially greater sales.
By launching this type of campaign, you also need to develop the criteria for the best answers and the rewards for the winners.
But more on this later.
Put the spotlight on users
When running a UGC campaign, it's hard not to ignore the users.
Their submissions are what will make your campaign successful.
So it's only right to give them the stage and showcase their submissions to more people!
Going back to the #RedCupContest, Starbucks gave users a platform to show how creative and fun people can be with their holiday cups.
In this case, the brand is able to share stories by spotlighting users as they both benefit from this exposure.
The brand gets to show the kind of followers it has, while the users get to show off his or her personality.
In the end, your brand can nurture customer relationships by communicating with the people who have supported you all this time.
Attract the right people to join
Now that the goal is clear, you need to know how to mobilize users into participating in your campaign.
At this point, you should already have a buyer persona so you can target the right people for your UGC campaign.
Part of the buyer persona is determining what they love about your brand.
Using this information, you can craft a UGC campaign that yields the best possible level of engagement.
Because you will be using their passion for your brand as leverage.
For example, winners of your campaign will get one of your best-selling products for free.
If not a product, then maybe a free tour to your office or any of the events you're holding.
The reward should point back to your brand and remind them of how awesome you are!
Doing this should encourage people to send their best entries and help collect high-quality submissions.
It's a win-win for both your brand and users!
Lay down the groundwork for your campaign
Most UGC campaigns require them to declare a winner.
The situation is tricky because you have to plan for the contest rules that all participants much observe to fairly determine who wins.
Below are questions you must ask yourself to determine how you must proceed with your contest:
What are the rules of the campaign?
Hosting a contest needs rules such as the grand prize and participant requirements.
For the submissions, you need to explicitly state the type of kind of content they must submit to be eligible to win the prize.
There are other campaign guidelines you need to clarify such as multiple entries, the deadline for submissions, criteria for winning, and others.
What format will the UGC be (image, video, GIF, etc.)?
Images work best because it's easier to receive photo submissions from users.
Meanwhile, videos are harder to get but assure better quality. Users sending videos spend more time preparing and creating videos.
The format depends on what you want to achieve out of the campaign.
What's the mode of submission and social media platform?
Consider the mode of submission they'll use in sending UGCs.
Make sure that your UGC portal is mobile-friendly to avoid failed submissions. Heavy-mobile user audiences can ideally send UGC through Instagram.
But older demographics can do better on emails as they're not very much into social media.
Again, it all boils down on who you are appealing to with your campaign. Make it easy for them to send in their submissions.
How many submissions are you looking to achieve? If the submissions are below the minimum and the campaign has elapsed, what's the best course of action?
The number of submissions you look to achieve depends on your campaign's duration.
Look back on your past campaigns to get a clear sense of what to expect with this upcoming one. If you don't have any basis for your UGC campaign yet, play it by ear.
Don't worry about setting high goals because you can always extend the campaign if submissions are low.
How do you plan to promote the UGC campaign?
Blogs are one of the best places to promote UGC campaigns. However, you need a planned approach to publishing content about the campaign to also inform your audience of the progress. In particular, creating guest posts can give your campaign a boost in exposure because of your ability to use others established audience.
Also, the goal is to not simply bring awareness to your campaign. Ensure the sites you write for already have an engaging community by viewing social shares and comments on past articles.
Once you settled with websites to promote the campaign, find other channels to leverage for extra exposure. Use your own social media and email list to drive additional traffic to your blog.
What is the prize for the campaign, or what will participants get in exchange for joining?
Clearly, state the prize they can win or what they get in exchange for joining.
As mentioned earlier, a free product or access to an event related to your brand is a sufficient prize for the winners.
You can also use money as a medium for exchange. Though you can give freebies, money is still the best choice as this encourages more people who want to earn a quick buck.
According to Grant Deken of Spark CMS, "Most blogs generate income through ads and affiliate links. To level up and take your UGC campaign to the next level seek to partner with affiliates who have established audiences. Some influencers will do sponsored blog posts and social media posts along with sharing affiliate links."
When it comes to managing relationships I recommend using a vetted customer relationship management tool (CRM).
Conclusion
As you can see, launching a UGC campaign requires lots of planning and ironing of details.
More importantly, the campaign should reflect on how well you know your audience.
Therefore, use this opportunity to not only grow your sales but to also give your loyal fans a place to shine.
Just as much as the campaign is about your brand, also make it about your customers.
Without their support, you won't get to where you are now and what to be in the future.