Last Updated on
UI kits save time and money – when working with an UI kit you have the real picture of the time you need to invest in a particular project. Design is already in place, and all that has to be done is to structure the kit's elements in a way that suits your brand. Once you have a sense of how your project is about to look or how much it will last, you will also be able to estimate the expenses and to save your client's money.
Working with UI kits means that you won't have to think of separate solutions for every design problem, because you will already have a framework for your layout, and a number of interesting interface elements which will make interaction more understandable and functional.
Of course, you're still allowed to use your creativity on the drawing board, and to design elements from scratch, but is it really worth to do it for every project? A unique interface paradigm is undeniably a great success, but with them you're risking to go beyond the commonly accepted expectations of your users.
By definition, UI kits are sets of interface resources that can be transformed using development tools (Photoshop, iOS apps, etc.), and they are named this way because of the fact they combine several interface elements in a single set: layouts, widgets, buttons, modules, typography settings, etc.
Technically observed, UI kits are compilations of graphic files (both PSD ones and sketches) that can be used as UI elements for fast and professional projects, which is why they offer check boxes, navigation bars, progress bars, buttons, sliders, switchers, and so on. According to the rule of thumb, paid and premium kits have a more advanced library compared to their free counterparts.
The biggest plus UI kits have to offer is saving time, since the designer has everything he needs, and he is not supposed to look for components for every project, or to create them from scratch.
Unit Kit is popular by its over 200 blocks, categorized in three versions to serve the landing pages of mobile, desktop, and web applications, and to respond to the needs of multiple companies. The designer is only supposed to check the blocks, choose the relevant ones, and add images and text.
Dashboard UI Kit is the most robust pack of dashboard elements for web applications used to prototype and to create amazing interfaces for various clients. There are 60 different screens with beautiful layouts, and two separate versions (Free Google Font Source Sans Pro and Proxima Nova).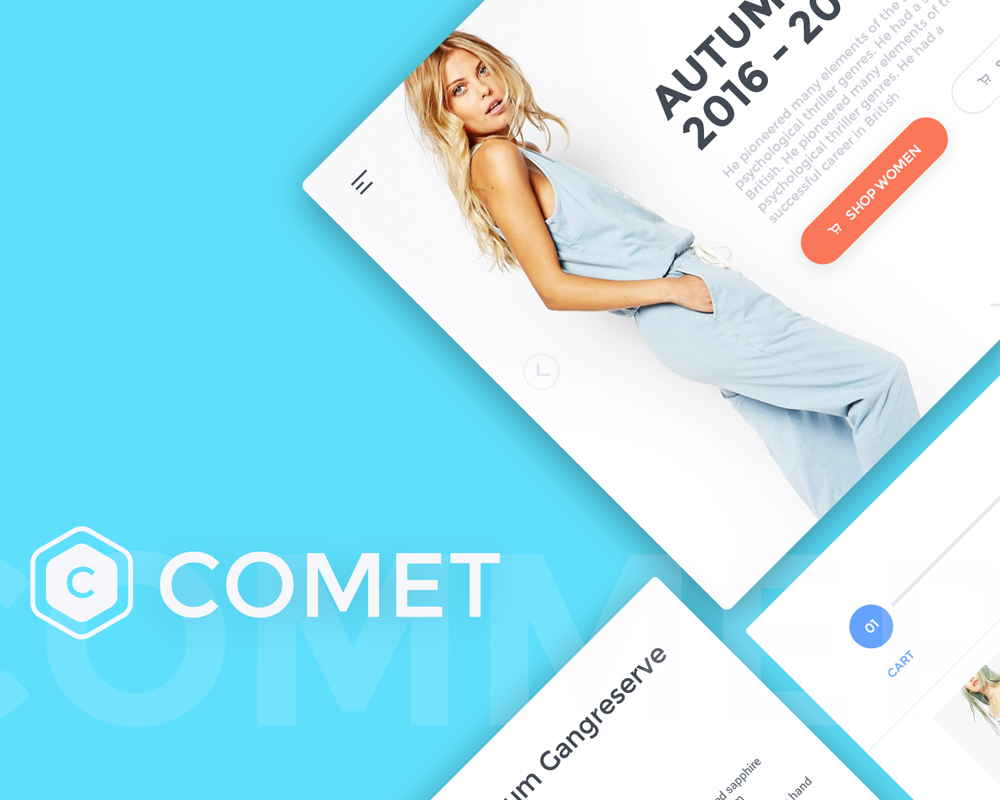 Comet can boast with 1000 carefully categorized elements, all of them divided in 7 layer sections which are invaluable for e-shops and similar websites. The kit has 9 product showcasing options to offer, together with endless cards, slider options, 10 ecommerce headers, and the common navigation + forms + articles layouts.
Kauf is a Photoshop-crafted UI Kit in charge of making your next projects even more awesome. You can count on more than 200 vector-based elements divided in 7 categories (Forms, Articles, Headers, Ecommerce, Widgets, Navigations, and Elements) to ensure a super-duper kickoff for your workflow.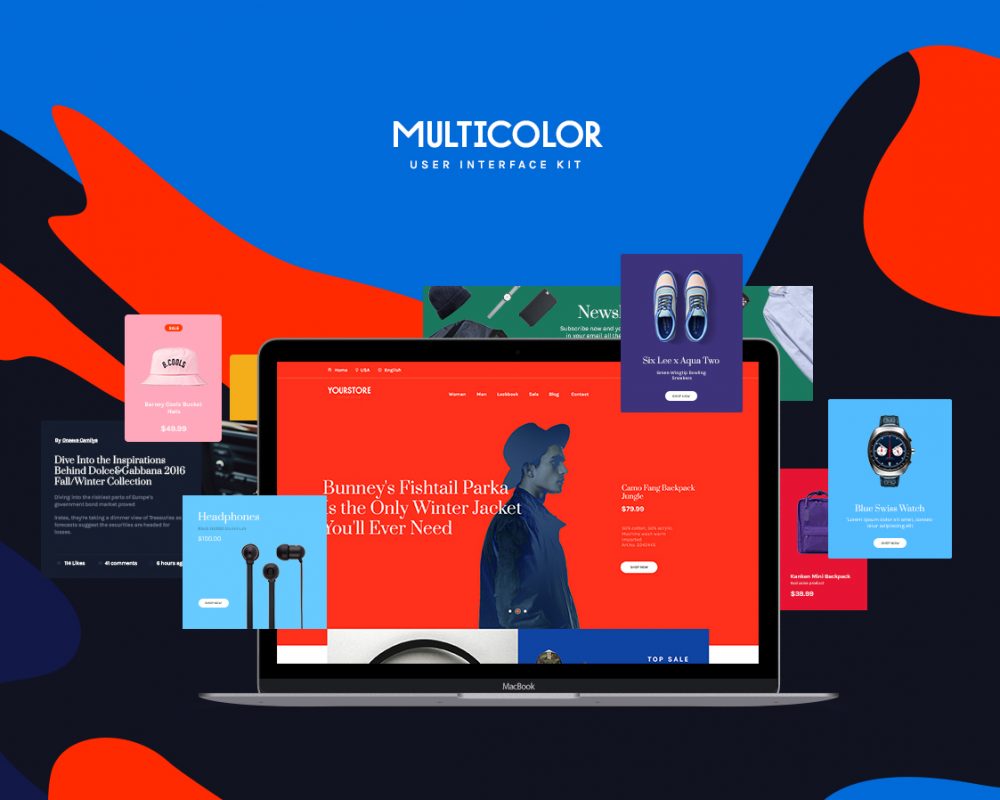 Multicolor is a bright and stylish kit with 100+ well-executed design elements. The kit's strongest side is diversity which helps designers facilitate prototyping and to save time.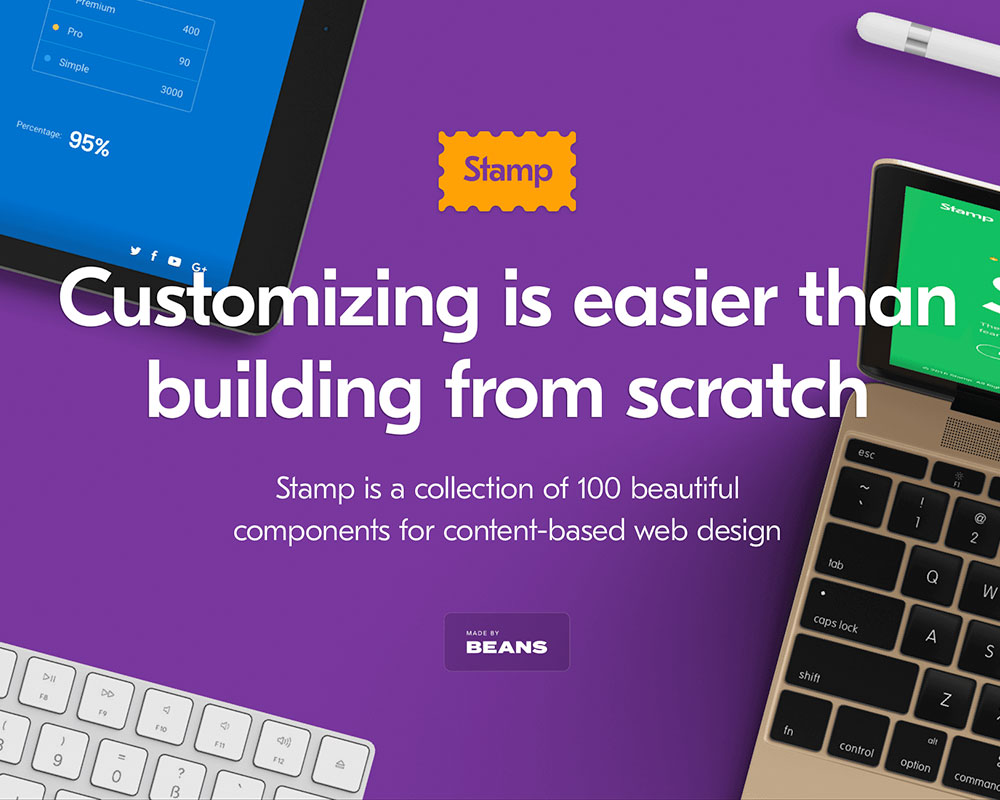 Stamp is a compelling and very diverse solution consisting of 74 different UI cards, each of them containing hundredths of elements to transform clients' ideas into breathtaking design solutions. There are 9 categories of cards, all of them rich with Sketch/Photoshop source files and their headlines, headers and footers.
The creators of Platforma are proud of 200+ wireframe layouts categorized in 15 content groups (each of them assembled carefully for Photoshop, Sketch, and Illustrator). Platforma is one of the best rated instruments for interactive prototyping as it can be used with many popular tools (UXPin, Invision, Marvel, and so on.).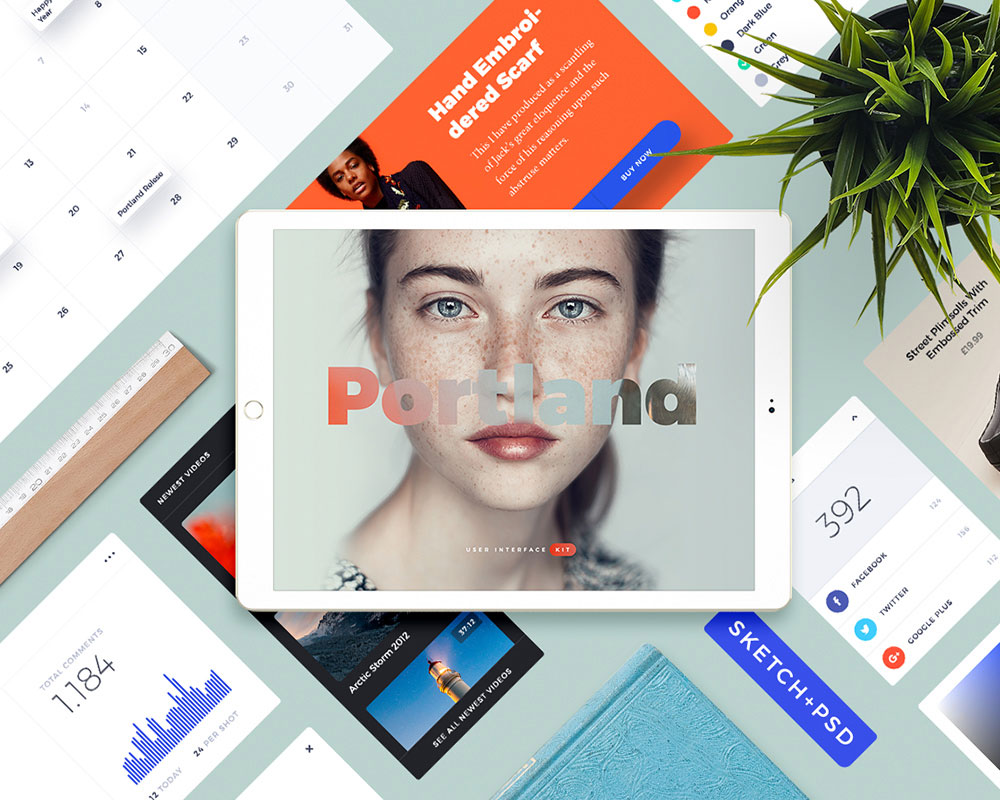 Portland stands for an elegant, radiant, and idealized design solution, which is both beautiful and useful for every collection.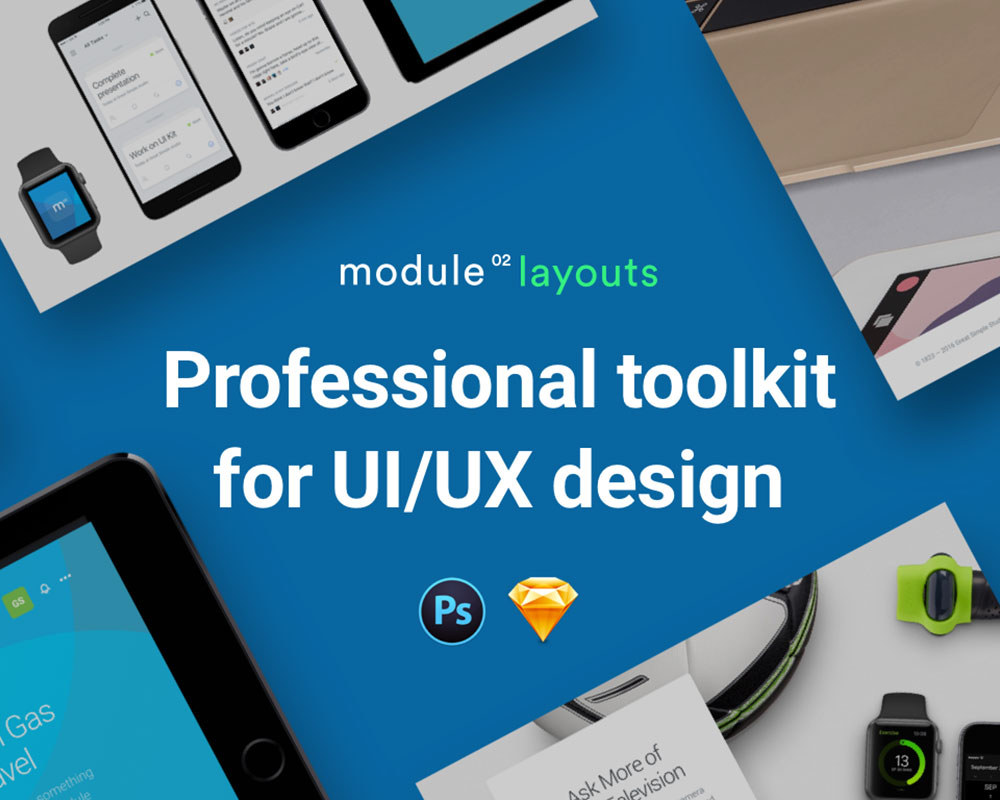 Module 02: Layouts' designers have elaborated over 100 design components and original website templates. The kit allows for unlimited customization, exceptional simplicity and ease, and careful assembling in both Photoshop and Sketch formats.
Here comes another contemporary and sophisticated kit which allows you to choose from 10 different categories, namely over 450 pixel-perfected elements. Customization and simplicity are once again at stake, probably more compared to similar products which don't have such well-organized and thoughtfully named layers. Besides, the kit uses only free Google fonts.