Last Updated on March 8, 2022
Clean websites usually demonstrate a perfect use of colors, typography, illustrations, and space. The content arrangement should be accurate and well structured; whitespace is an obligatory condition too – the visitors should feel free while browsing a webpage and not be overburdened with too much info. You must also remember that these conditions are impossible to fulfill without a clear navigation. I don't affirm that creativity is inadmissible, but simplicity should be preserved.
Modern day websites are divided into many different categories more and more individuals such as businessmen, designers, actors, models, athletes, and photographers all strive to have their own unique webpage. Today I would like to explore  interior design websites. I was curious how many interior designers had clean, minimal, and simple websites. I've browsed hundreds of different web designs and decided to share some of my top picks. Enjoy!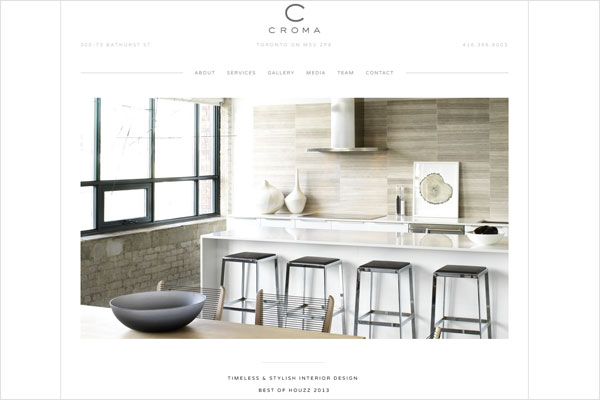 Absolutely cozy design in white.
Delicate lilac background, which charms.
Minimal design with a smooth sliding gallery.
Perfect portfolio presentation with a neat pictures' arrangement.
Slight use of geometry in a clean design.
Easy-to-navigate website with a stylish look.
Fresh and plain design.
Royal background design.
Nice ornaments on the background, colorful blocks in the slider.
Cute typography in black-and-white design.
Wonderful design made in pastel tones.
Just clean and simple site.
Large image slider on a simple layout.
Cool portfolio structure.
Soft gray background featuring white content pages.
Easy navigation system, well-defined portfolio.
Gentle white website with tiny pink accents.
Stylish gray frames for the content sections.
Minimalist dark design with circles.
Interesting blue decorations on white layout.
Original two-column page design.
Home page design broken into varicolored sections.
Details colored in red look awesome on white background.
Pleasant shade of brown as a primary color.
Non-standard form of a content page.
Appealing gray design with sliding photo galleries.
Illustrated navigation menu.
Fascinating blue design.
Extensive portfolio gallery with text descriptions to images.
Creative photo gallery design.
Restrained black and white design.
Placement of the images on this layout is attractive.
Super modish white website with a handwritten designer's name.