Last Updated on
Vintage used to have a different appeal. You mention vintage in any crowd and they think old, tired, and uninspiring. People were in such a rush to move into the future that anything related to the past was considered as a hands-off zone.
It's a good thing that design trends evolve through time. Otherwise, vintage designs would never have received the kind of attention that it deserves.
Mention vintage nowadays and a different impression comes to mind. People hear the word 'vintage' and they see something classical, something that's handpicked and considered superior, something that has been tested through time, something that will never go out of style.
It is this definition of vintage that has inspired so many designers all over the world, allowing them to make the most out of what the earliest designers created. It is this kind of inspiration that is seen when you use different vintage fonts, showing you that the forefathers of design definitely knew what they were doing.
The Impact of Your Font Choice
What does your font choice have to do with anything?
Well, vintage design is not just about faded images and rough textures. It's not just about the use of old photos and neutral colors. It has to be about the design as a whole, with each small element having that vintage touch.
You want your audiences reading the text on your design as if they were back in the Old West, waiting for the next carriage to come along. You want them remembering milk shakes and burgers at the diner with all those roller skating waitresses moving around in time with the boogie music. You want them walking around when skyscrapers barely reached half of the tallest buildings today.
This is how huge the impact of your font choice is. Everything else behind and around it may look vintage, but applying a modern font on top of it all could ruin the daydream for most of them.
Beautiful Vintage Fonts
Below are 35 beautiful vintage fonts that you can use for your design.
Look at how well they work with your design ideas and see how big if a difference they can make on your overall design. These fonts disprove the belief that written content is not exactly part of the design team's problem. These fonts show that when it comes to creating impact in design, the words do have it as well.
Morning Glory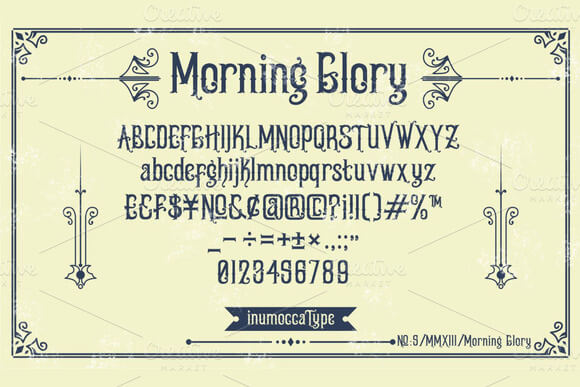 Morning Glory inspired from Victorian age, take a culture of fashions, politic and art its really great font for your band, company, label, clothing company, vintage or classic stuff, etc.
National Currency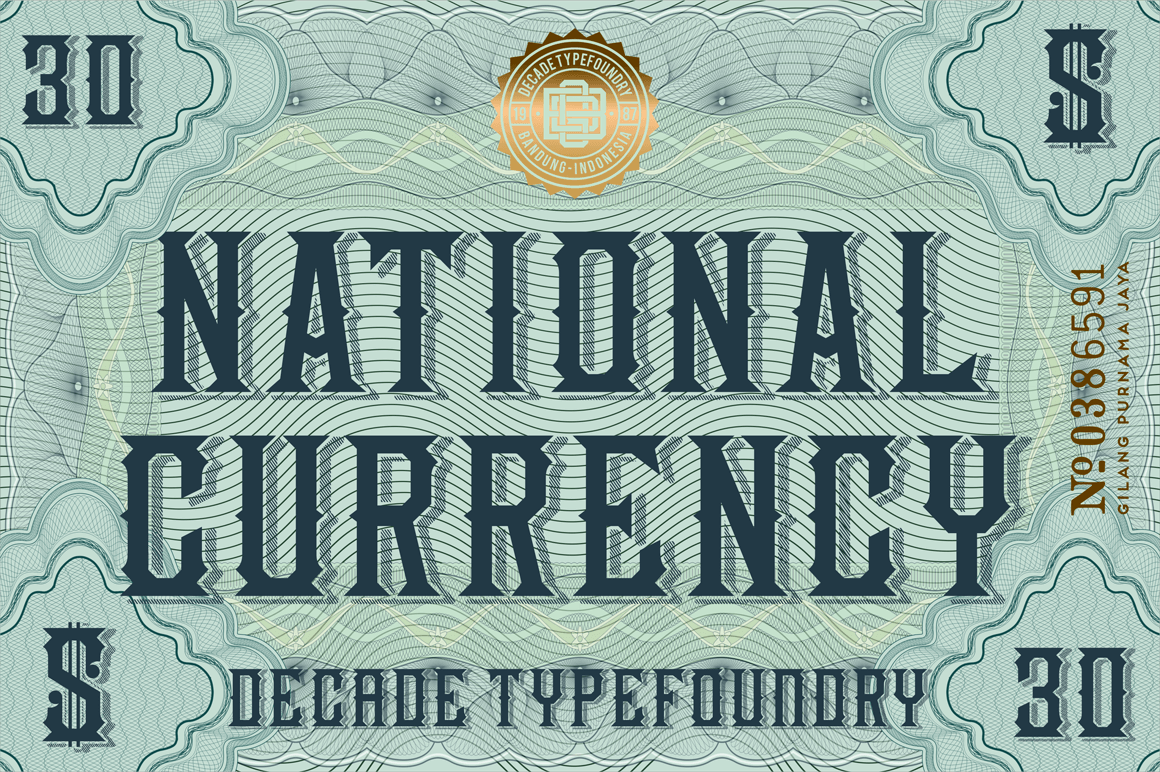 This font was inspired by lettering found on old stock certificate on the 19th century and comes with two guilloche borders, which makes national currency very useful.
Gin by Fort Foundry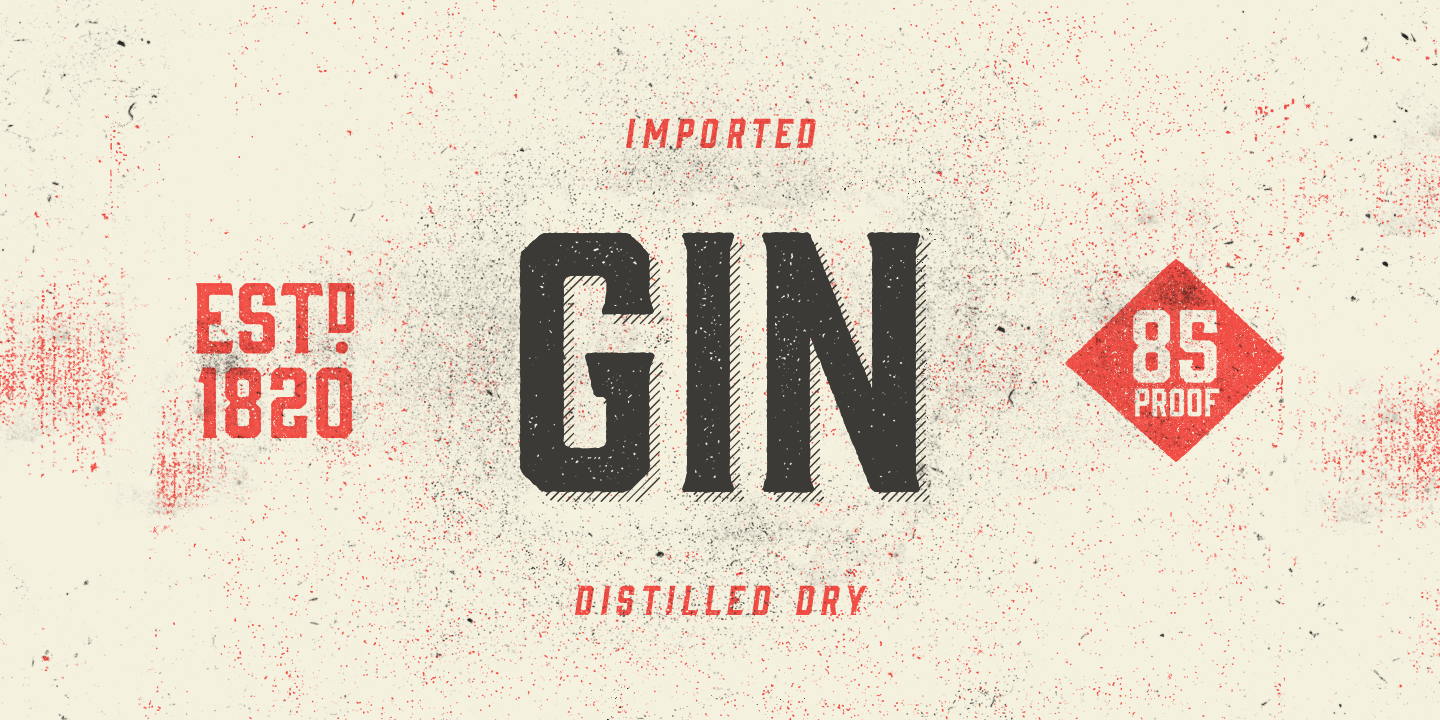 Gin is a vintage display typeface was inspired by the likes of old serifs and classic bottles of whiskey and gin.
Baker Street by Kimmy Design
Baker Street delivers a multitude of Opentype features, primarily including hundreds of discretionary ligatures that connect letter pairs through varying flourishes. These distinct ligatures are used in combinations between two capital letters, two lowercase letters, uppercase to lowercase pairs and specific number combinations. For a number of capital and lowercase letters, large swashes expand above and below the characters. Contextual swashes are also applied to some characters when placed at the beginning or end of a word.
Enigton
Enigton is a revival monogram typeface based on virkotype combination monograms issued by the American Type Founders in 1920's. Once dominated the printing industry, the typeface is now in the hands of public domain due to the defunct of ATF decade ago & lacking of active descendants.
MB Picture House by M-B Creative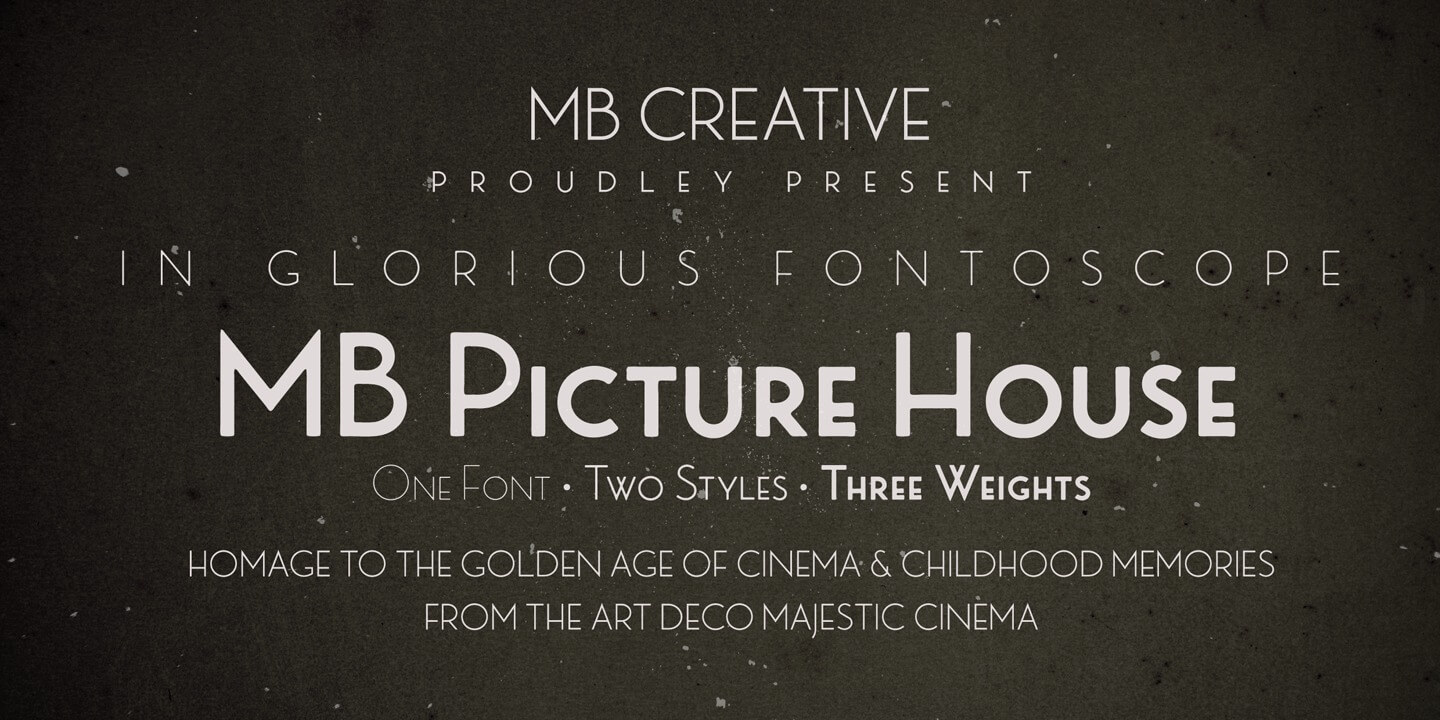 Small caps art deco font inspired by the golden age of Hollywood and childhood trips to the Majestic Cinema. Two styles, each with three weights. Picture House One is sharp and crisp, Picture House Two has a slightly 'Out of Focus' look to it. Both come with extended language support and oldstyle numbers, giving a lot of scope for may uses.
Journal Sans New by ParaType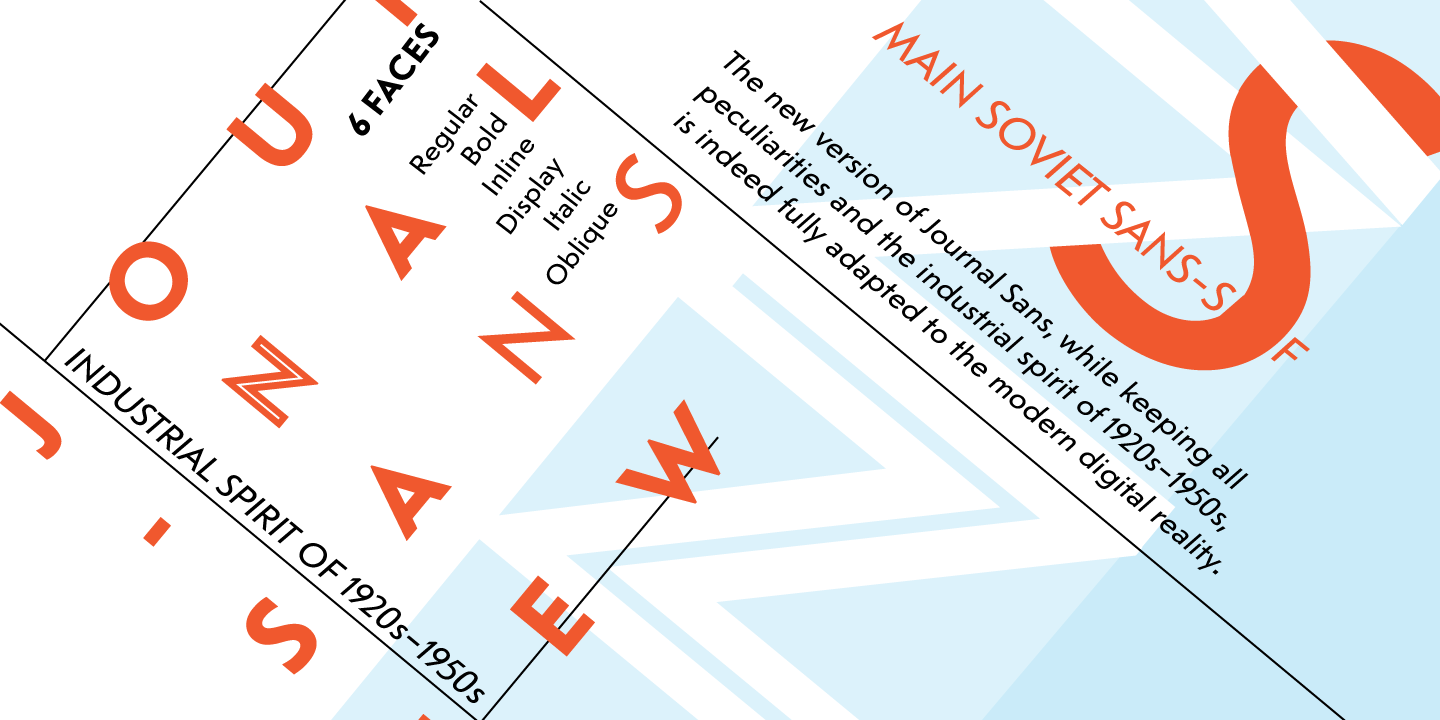 The Journal Sans typeface was developed in the Type Design Department of SPA of Printing Machinery in Moscow in 1940–1956 by the group of designers under Anatoly Schukin. It was based on Erbar Grotesk by Jacob Erbar and Metro Sans by William A. Dwiggins, the geometric sans-serifs of the 1920s with the pronounced industrial spirit. Journal Sans, Rublenaya (Sans-Serif), and Textbook typefaces were the main Soviet sans-serifs. So no wonder that it was digitized quite early, in the first half of 1990s. Until recently, Journal Sans consisted of three faces and retained all the problems of early digitization, such as inaccurate curves or side-bearings copied straight from metal-type version.
Multazam Typeface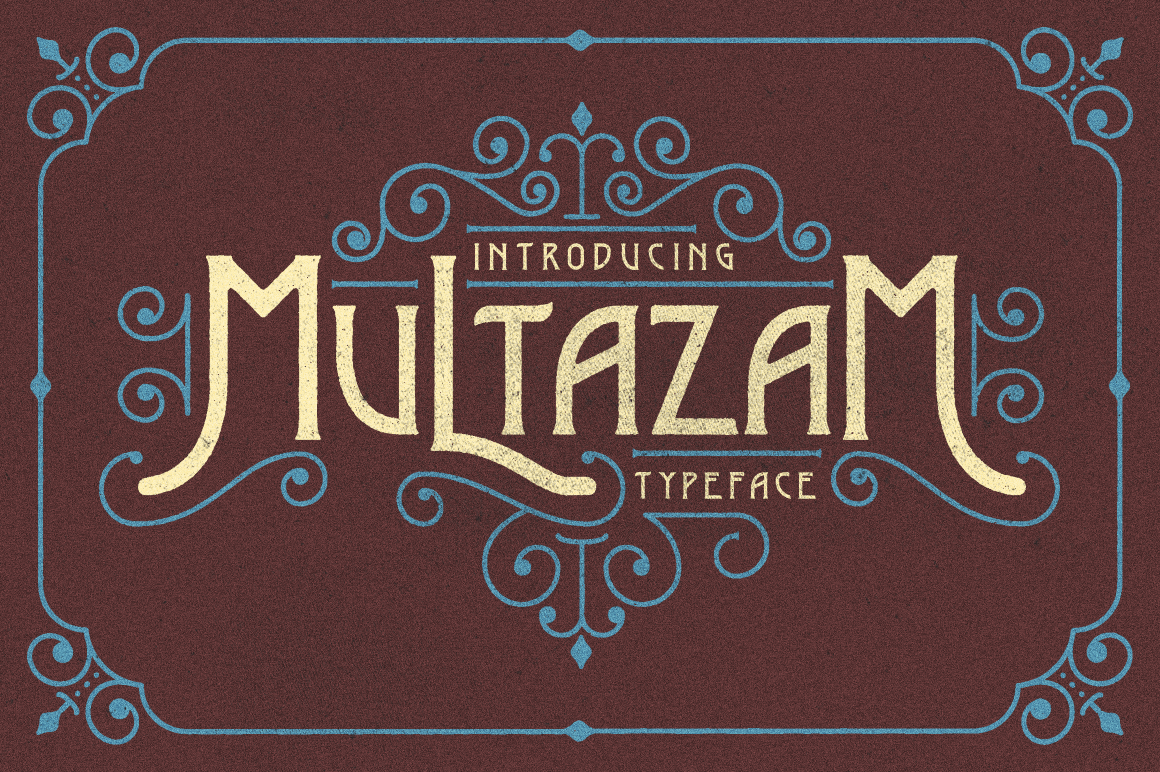 Introducing the new Multazam Typeface, another display serif font with handdraw style. Handdraw style and a touch of ornament makes this font look old and stylist. Plus OpenType features with Stylistic Alternates in some characters that allows you to mix and match pairs of letters to fit your design. This font good for vintage design, t-shirt, logo, labels, posters and etc.
Caston
Caston is a revival typeface based on Morris Fuller Benton's modified litho – initially designed and issued by Inland Type Foundry back in 1907, later modified and issued by American Type Founders in 1917 after the merge. Not only the typeface is now in the hands of public domain due to the defunct of ATF decade ago & lacking of active descendants – no known digital font was found in the web, until now.
Magnifika
Magnifika inspired by the vintage lettering with lowercase and also a bit taste of victorian. This fonts especially for the display, but it's still good when you use for long wording. Magnifika best use for the Posters, Headlines, Logos and with vintage design.
Alitide Typeface
An all caps font with modern western style. You can use this font for various purposes. such as logo, t-shirt, posters, lable, letterhead, book cover and etc.