So many design trends have come and gone, giving way to new ones. In the recent years, for example, we have seen the rise of flat design and have marveled at how simple and minimalistic it can be, but still appear stylish and inspiring.
There are times however, when simplicity and minimalism is not the solution in creating your dream design. Sometimes, there is also a need for you to go back at the weight that 3D design adds to the final output.
Three-dimensional design paved the way to the future, and was actually seen as the trendiest design ever seen when it was first launched. The moment designers laid eyes on them, it all suddenly seemed as if the entire 2D experience that came before it was oh so boring, and completely devoid of life.
With the dawn of 3D, life changed quickly.
And it wasn't just about design, it was about 3D as a whole. People started to realize that we are, in fact, three-dimensional figures walking the fact of the earth, and not just 2D images that would make us seem like we are drawn on paper.
This realization was exciting. All of a sudden, illustrators and designers had the power to bring things to life, regardless of what they are and what the setting may be.
Simple shapes for example, could suddenly be seen as something that is more realistic, with the shadows, and beveled edges giving them that 3D look. So you can probably imagine what a huge impact the 3D effect has on letters.
When 3D fonts were first used in design, the effect was astounding. Posters now had more life in it, and the effect was overwhelming. Webpages used 3D to give emphasis to headlines and page titles, shedding more drama into its overall appeal.
Below are 29 3D fonts that every designer should have. These will prove to be very useful for any design projects that you may have at the moment, as well as projects that you will be working on in the future.
Regardless of the whole focus on flat designs, these will still come in handy. In fact, being the creative designer that you are, you can try mixing a little bit of both elements (flat and 3D) to come up with a bold design that could make your name bigger in the specialization you have chosen to excel in.
Beautiful 3d Fonts
1. Lulo Clean
Lulo Clean from Yellow Design Studio is the non-distressed version of the original textured Lulo family. It's friendly, retro, and amazingly 3-dimensional.
Endless effects can be created by adding different colors to each of the 5 stackable layers. Lulo Clean is all-caps and includes regular and bold weights and extensive language support.
2. 3D by Turtle Arts
3D is a hand-doodled font with irrational perspective and skewed characters. The detail in each of this alphabet's letters makes it look especially cool when printed or stamped BIG. This unique alphabet makes excellent titles for journal and album pages, or can be used for all paper arts projects.
3. AZ Postcard 3D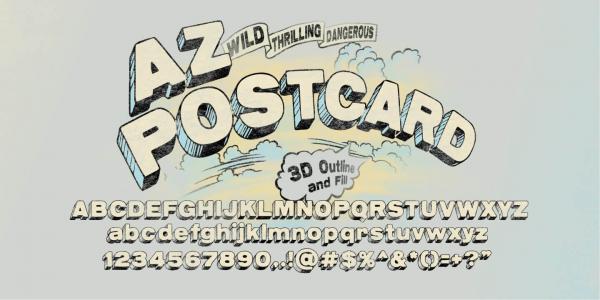 AZ Postcard was inspired from a need to develop a sans serif 3D typeface with a vintage hand drawn feel to it. This font was designed for use as a fun bold headline or sub headline.
4. Dolce Caffe 3D

Dolce Caffe was a handwritten font designed in the 2011 inspired in some berliner menu. Now it has been updated to a 3D, 3D Rough and a Shadow version. They are very legible and high in style and carefully constructed all-uppercase letters.
5. Core Circus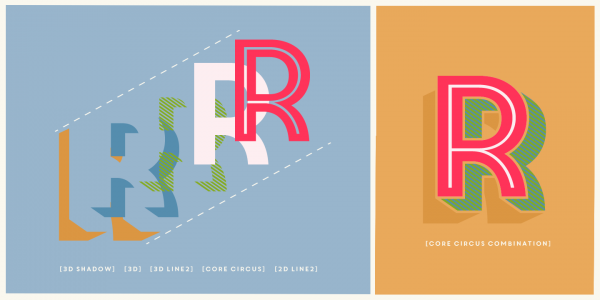 Core Circus is a layered type family consisting of seven 3D effect layers, eight 2D effect layers and one shadow effect layer. Uppercase and lowercase letters are separated by such features that counters are opened or closed.
6. Festivo Letters
Festivo Font Family is a handmade layered font which includes several textures, shadows. Different font types can be created using various combinations of Festivo Fonts and colors.
7. Core Escher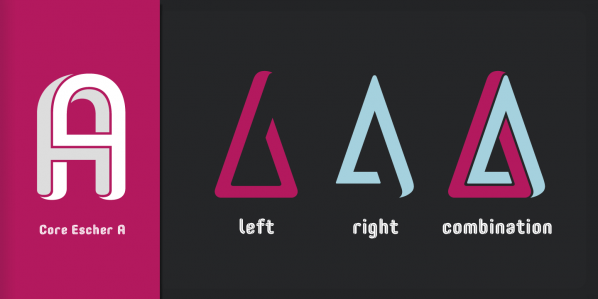 The letterforms in this type family are structurally twisted and complicated but it looks simple because of its simple strokes. And for easy color variations, it split into two fonts, Core Escher A Left and Right.
Core Escher B has a different kind of optical illusion. The letters of Core Escher B look like three dimentions by just putting thin lines on bold letters. Also B has two sub-families that have different viewpoints.
8. Elise
Elise is a sweet natured, layered display typeface, with a few layers but a wealth of options. From the feminine to the fun to the nostalgic, Elise is a capable and personable set. Best used BIG and with color, you'll always find an occasion for Elise's charm.
9. Bizzle-Chizzle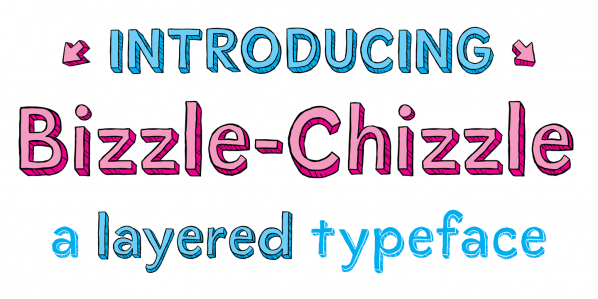 Bizzle-Chizzle is an expansion of lettering sketches initially made for my personal website. Each glyph is drawn by hand and inked by brush to simulate the texture of letters chiseled out of stone. Bizzle-Chizzle is meant to be used for dynamic layouts and prefers to be as large as possible.
10. Sparhawk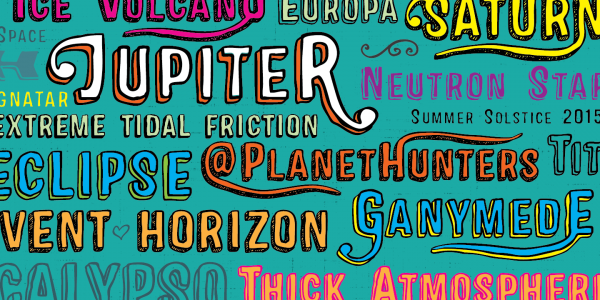 Sparhawk in its obvious form is a 3D layered display font, but it's packed with over 300 swashes, extremely rare in the 3D font world. Every single swash is hand-drawn for extreme organic realism.
The lowercase are small caps and the swashes are designed to be used mostly with the lowercase letters (top and drop swashes), but the drop (bottom) swashes also work well with all caps. Sparhawk's large character set and plethora of alternates makes it perfect for logo type, birthdays, weddings, bands… the list goes on.
11. Volume
Volume is a 3D font, with interlocked characters, inspired by vintage wooden block capitals! Superimposed weights bring light and shadow on the structure and allows many coloured combinations.
12. Core Bandi
Core Bandi is a grunge 3D font supported by equivalent 'flat' styles named Core Bandi Face. This typeface is very cute and has rhythmic flow line, but not distracted.
And you can easily make various color combination with CoreBandi & CoreBandi Face. Its really hard to find doodled 3D Korean(Hangul) fonts even in Korea because Hangul has as many as 11,172 characters.
13. Burford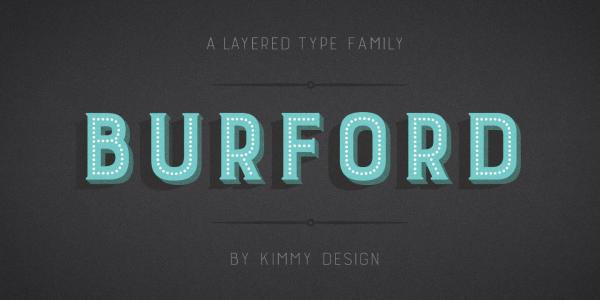 Burford Pro package comes with all 18 layering fonts including 5 base layers, 3 top layers, 5 bottom layers and 2 sets of graphic elements. They are strategically made to build on top of each other, creating a cohesive and easy to use layer-based family. Each font also comes with a set of Stylistic Alternatives for letters A C E F G H P Q R.
14. Frontage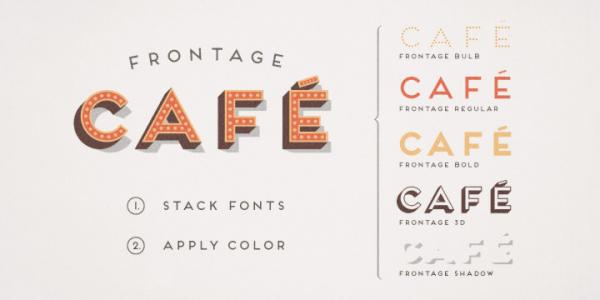 Frontage is a charming layered type system with endless design possibilities using different combinations of fonts and colors. Achieve a realistic 3D effect by adding the shadow font or just use the capital letters of the regular and bold cut for stark artwork.
The typeface's design is based on a simple grid, which creates the friendly, handcrafted look of facade signs. It is generously spaced for maximum impact of your message.
15. Bron
Bron is based on Zelek, designed in the 70s by Polish type designer Bronislaw Zelek. This typeface was originally made for dry transfer lettering sheets.
It has been drawn following the principles of impossible geometry and is derived from simple geometric forms (perfect circles, triangles and squares). It has been carefully redrawn and updated and is now available for contemporary technology and design.
16. CA Spy Royal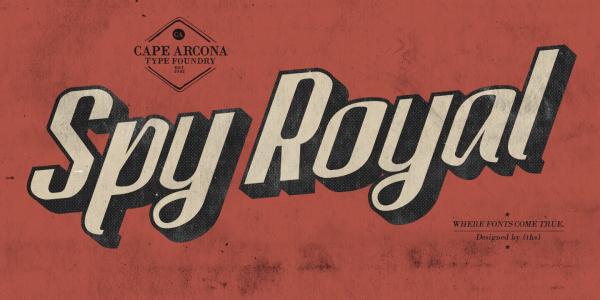 Spy Royal is a junctionless script typeface and comes in 6 styles. It's a hybrid between script and so called streamline fonts. The origins are based on an advertising by Japan Airlines, dated around 1954, offering flights to San Francisco, Honolulu and Okinawa in the new DC-6B "Pacific Courier" airplane.
Only the letters for the words "JAPAN AIR LINES" were used, so that the creative part was to reimagine a full font out of just a handful of uppercase letters.
17. Cuba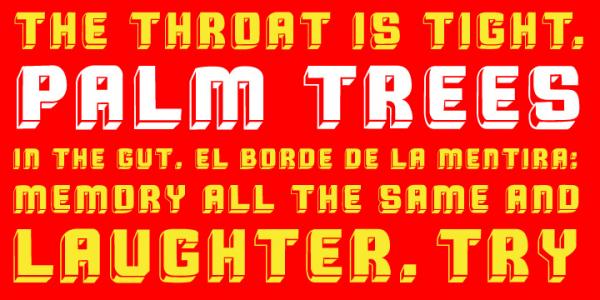 The inspiration for Cuba comes from a sign for the restaurant "La Flor de Cuba" on Bergenline Avenue in Union City, New Jersey. Its blocky, dimensional forms are reminiscent of letterforms seen in signs throughout Latin America from, Colombia, to Mexico, to Spain, to Union City. Its quirky forms are meant to evoke a sense of hand painted signage.
18. FT Scandinavian Titan
19. Meshuggeneh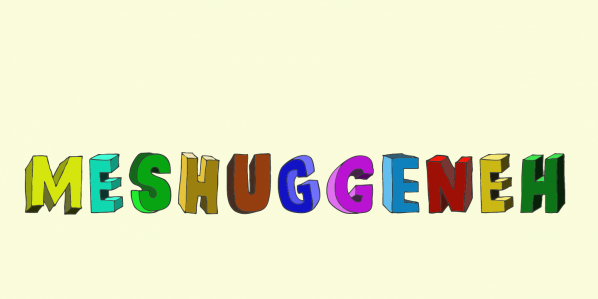 Meshuggeneh means 'crazy fool' in Yiddish. The typeface before you is kind of crazy as well: it is 3D, twisted, with light and shadows in all directions.
20. Paper Cube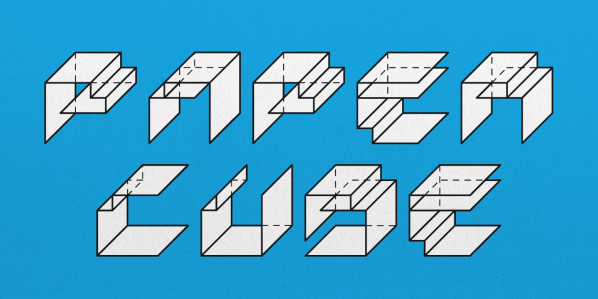 Paper Cube font family contains letterforms with straight horizontal and vertical lines contained in a square. What started out as an experiment became a 3d outlined display family of 3 weights, each one of them gaining depth and articulating into planes.
21. UGO Typeface by Valeria Santarelli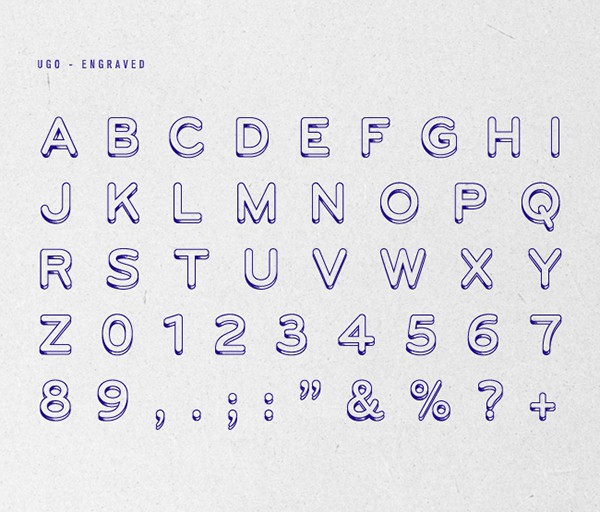 UGO is a free font with 6 different combinations engraved, 3D, rain, shadow, line, and pois.
Free for personal use only
22. Helveti3D by Herki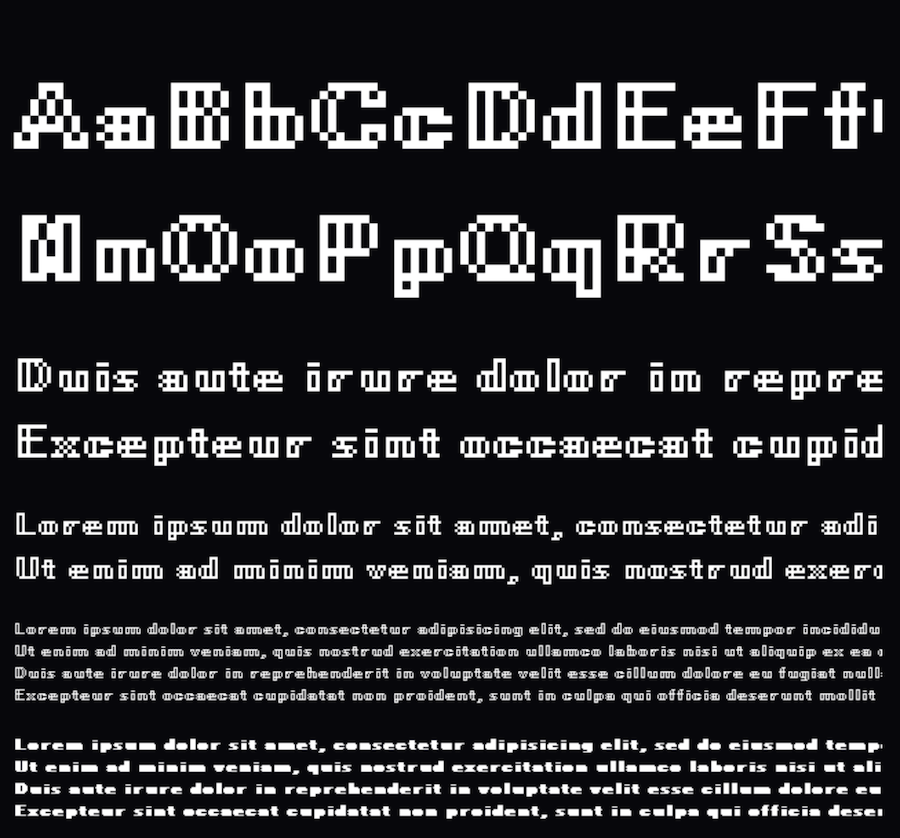 A great bitmap font for pixel designs.
Free for personal & commercial use
23. Buba Typeface by Genilson Lima Santos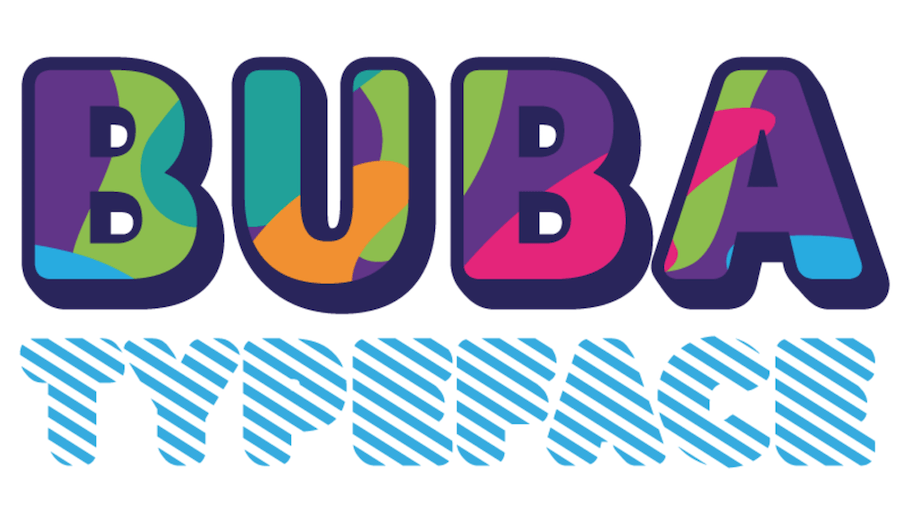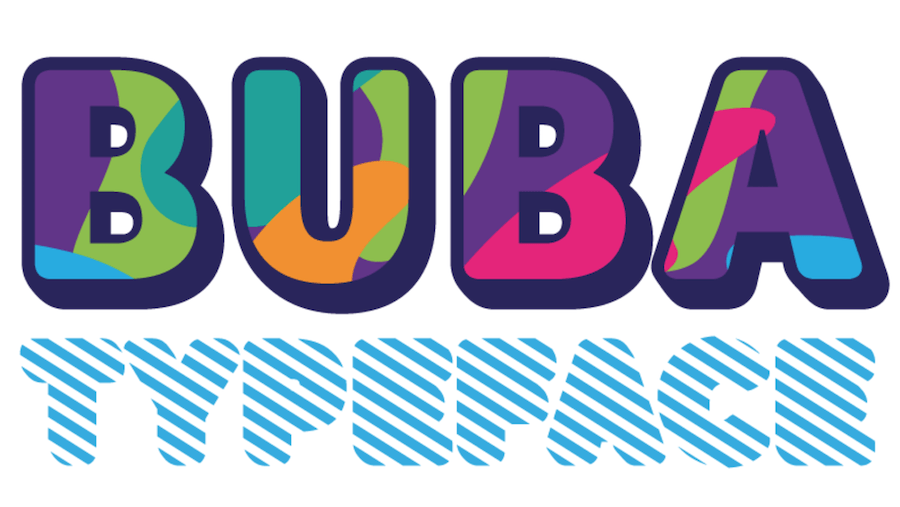 Buba is a sans serif font with rounded terminals. Buba come with 6 unique fonts (Outline, OutlineEroded, Shadow, ShadowEroded, Stripes and StripesEroded) that can be combined in layers. It is great for display use.
Free for personal use only
24. Mexcellent by Typodermic Fonts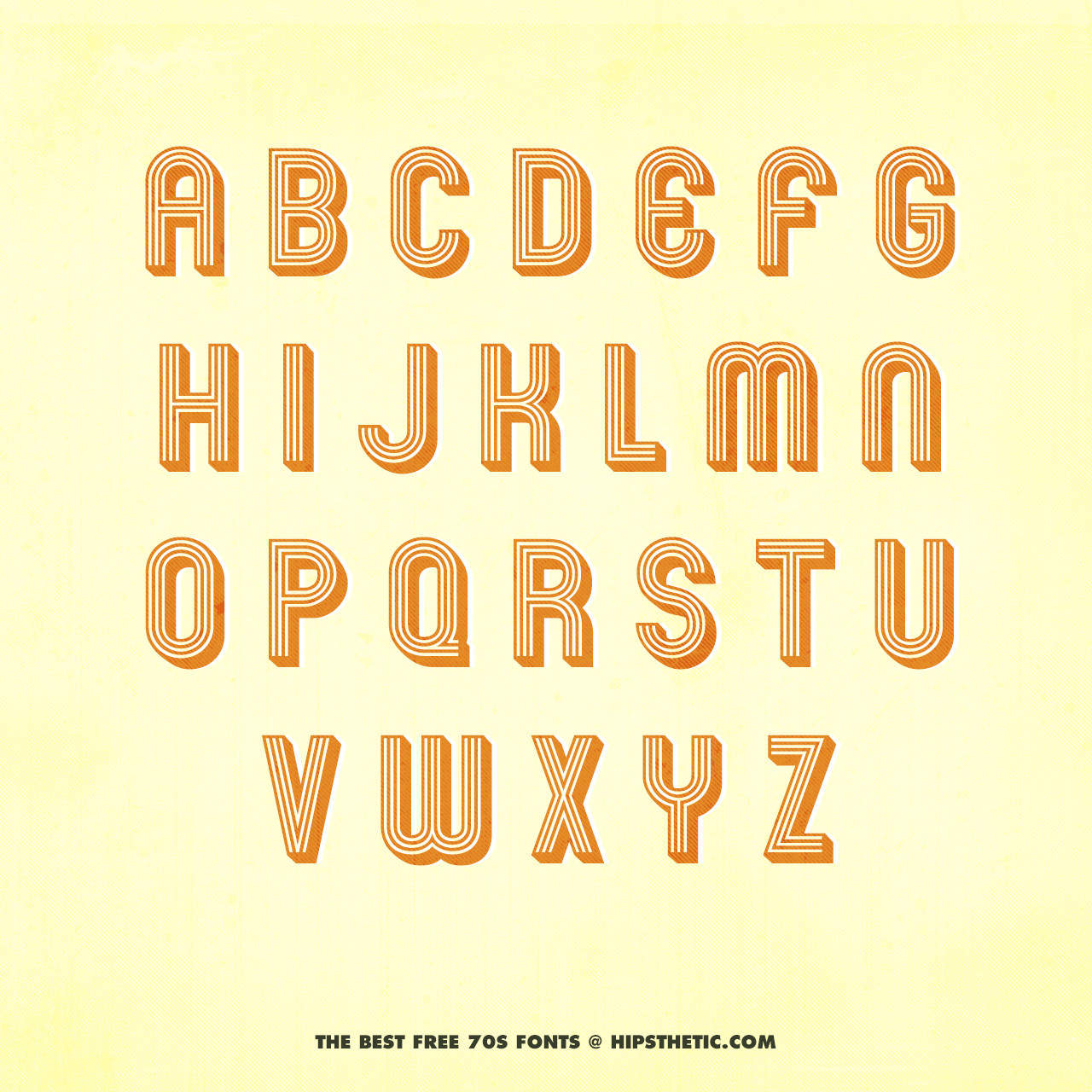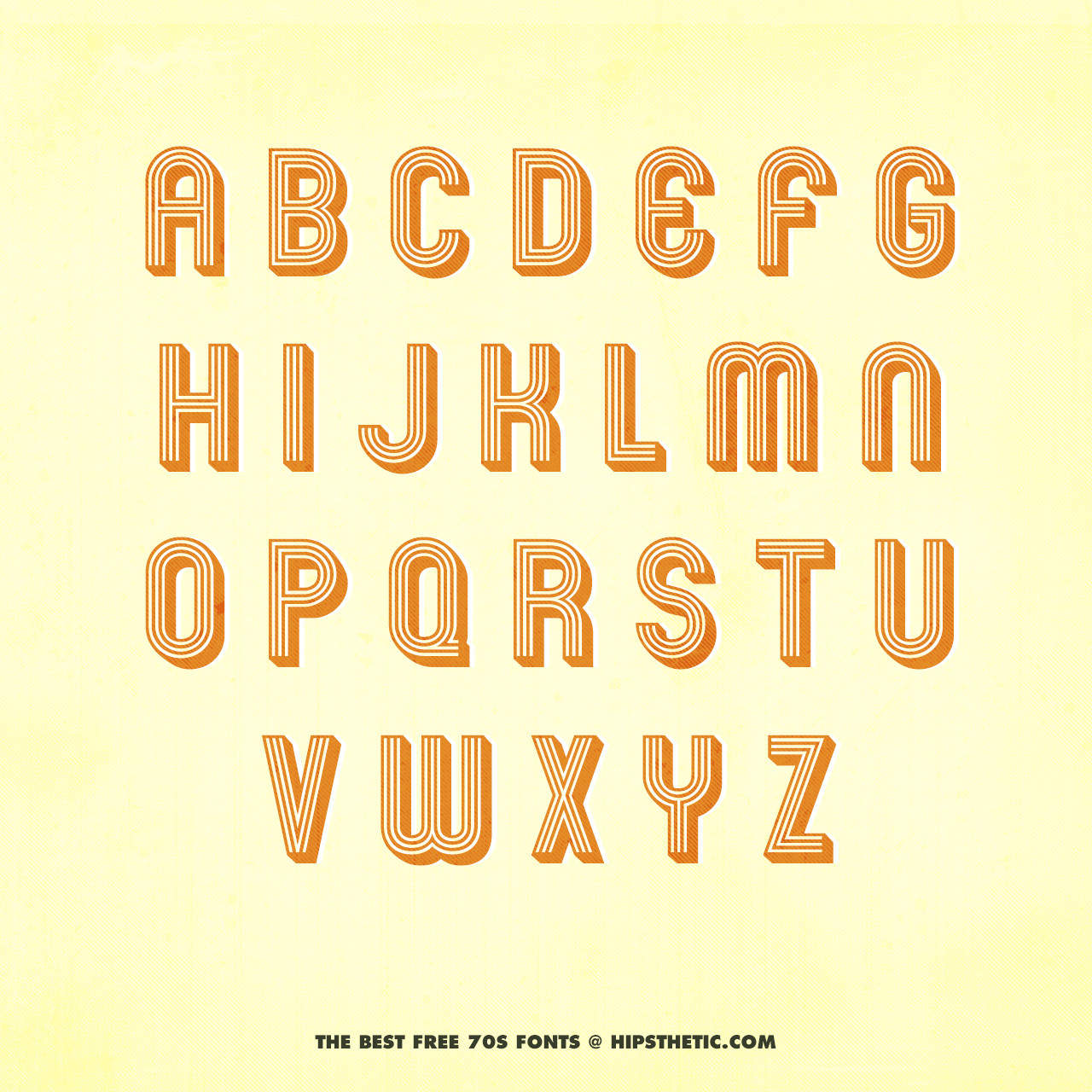 Mexcellent is a tri-linear stripe font designed with tighter spacing & vertical metrics than the other layers. If you want to stack layers on Mexcellent Back, use Mexcellent Middle and Mexcellent Outside instead.
Free for personal & commercial use
25. Polya by Adrien Coquet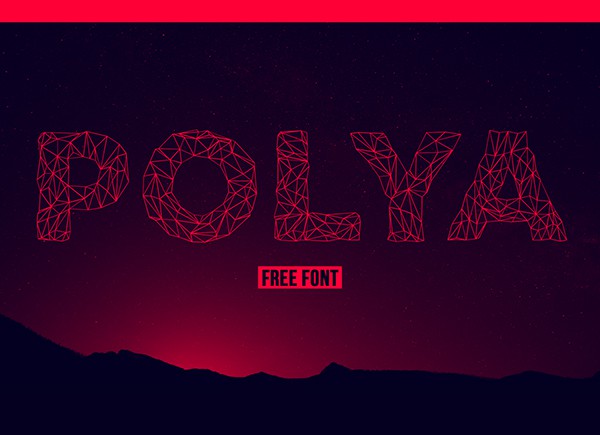 POLYA is a free triangular 'low poly' font from Adrien Coquet. The typeface has a futuristic/tech-y vibe which is perfect for eye-catching web designs, print designs, and advertisements. This is a great free low-poly hipster display font.
Free for personal & commercial use
26. Urbe by Andy Sousa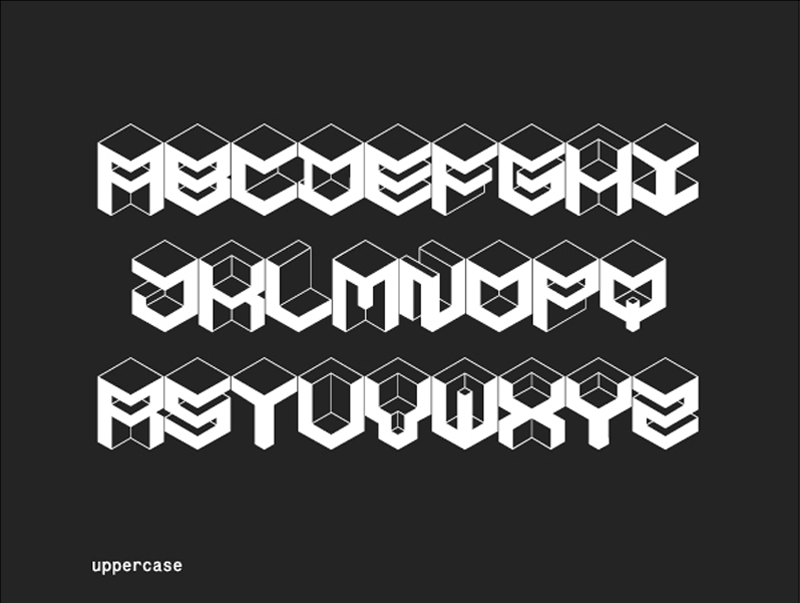 'Modular font developed on FontStruct and redesigned afterwards with FontLab Studio. The volumetric shapes were inspired from cities.
Free for personal use only
27. Sahara by Upper Type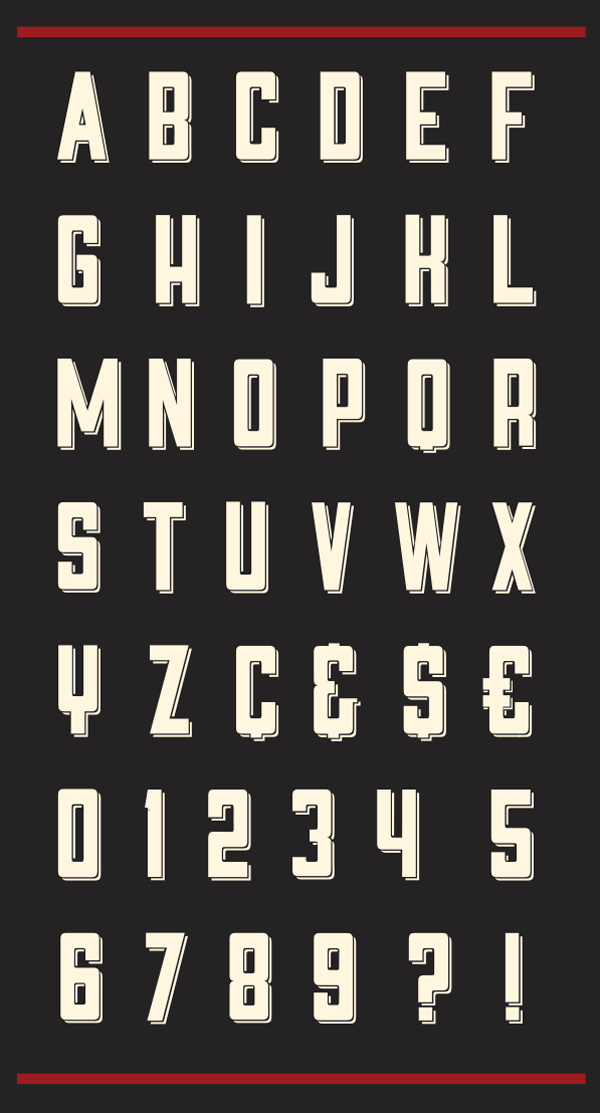 Sahara is a sans serif display font with a shadow/3D effect added to it. The font was based on film titled from the late 1920's.
Free for personal & commercial use
28. Extrude by Nic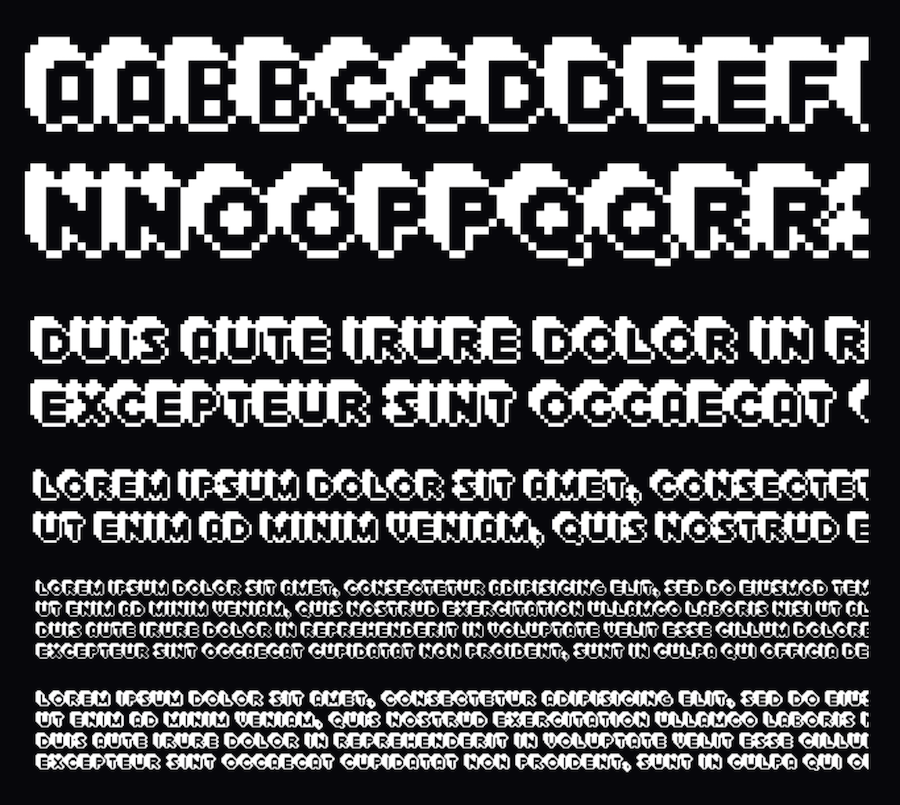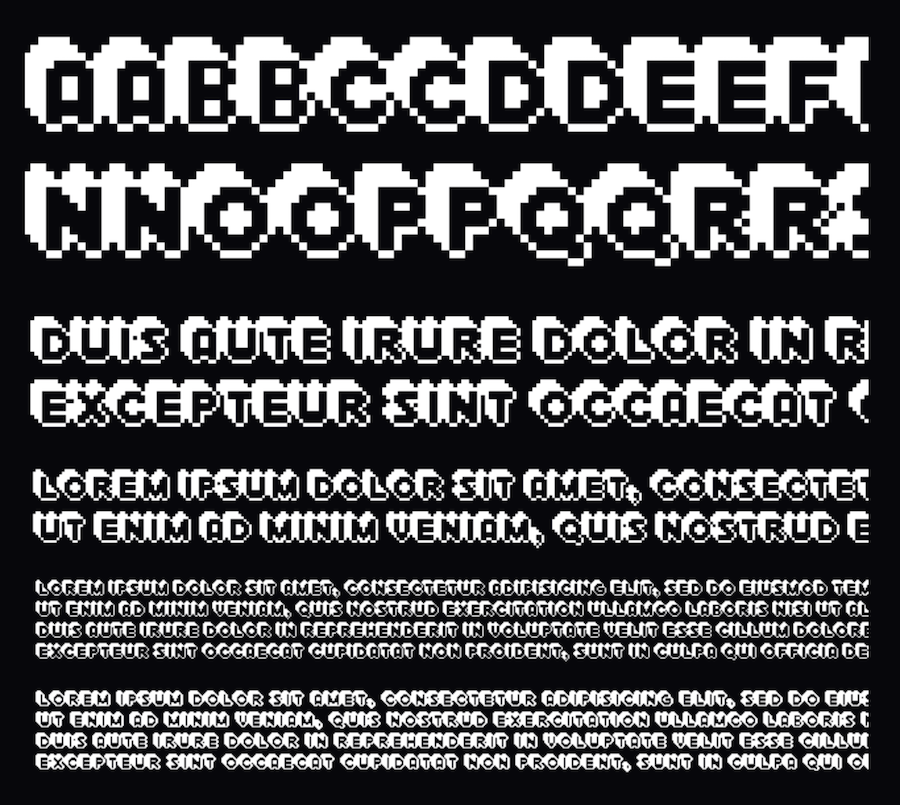 Free for personal & commercial use
29. Ridge by Erika Noel Mackley
RIDGE is a free typeface inspired by 3D Folded Paper Font.
Attribution required if used commercially