Last Updated on March 8, 2022
Choosing the best 3D printer model for you is arguably one of the toughest purchase decisions to make. That's because there are plenty of things to consider and questions to settle.
One of the fundamental questions you should ask yourself while shopping for a 3D printer is, what do you intend to print in 3D? There's a long list of things that you could print on a 3D printer. These range from household items to graphic design, building models, product prototypes, education materials, to mention but a few.
Other questions you'll need to settle while choosing a 3D printer include;
1. What's the build size of your printer?
Also known as build volume or print area, the build size of your 3D printer denotes the maximum size of the object that you intend to print on the machine.
While the 3D printing technology has evolved significantly in terms of their build volume, experts advise starting off with a small volume. It's also worth noting that 3D printing takes time. So, the larger the prints, the more time they'll take to be ready.
2. How sophisticated (in terms of color and detail) should the 3D printouts be?
If you're a creature of detail, your best bet is to buy a 3D printer that's equally designed for detailed printing needs. In that regard, you'll need to go for top-of-the-range 3D printer models.
3. What's the technology used?
When it comes to 3D printer technology, you have two primary options – resin and filament (also known as Fused Filament Fabrication, or FFF). The technology that you choose depends on what you intend to print on the machine.
Generally, FFF 3D printers are more effective for printing plastic parts from various materials. On the other hand, Resin 3D printers deliver detailed prints, making them suitable for printing small and intricate objects.
But while you get high-quality prints with Resin 3D printers, there's a small price to pay. The machines give off some odor, thanks to the use of resin. That means you'll need to clean them after every use. Also, the prints developed from Resin 3D Printers must be cleaned using an alcohol-based reagent and then dried under sunlight or UV light to allow them to harden.
4. How fast is the printer (especially if you're looking for bulk printing)?
When comparing the speeds of Resin 3D printers, the general rule is that printers with a higher resolution on their LCD screens print faster.
For FFF 3D printers, insist on machines that come with the highest speed range. But when it comes to the actual printing work using FFF 3D printers, you're better off working with speeds of about 60 or 80 mm/second.
5. What's your budget?
Finally, you'll also need a 3D printer that can fit into your budget. The printer may score highly in all the other aspects. But if it isn't affordable, you simply won't be able to buy it.
The following is a rundown of the top 5 printers that score fairly high across the various parameters we've discussed here.
Size: 11.8 x 11.8 x 17 inches
Weight: 12.04 pounds
Pros
Full auto-leveling functionality speeds up the printing process
Wi-Fi enabled
Compact design
Cons
Some users reported issues with the puny filament holder
Product Description
The Monoprice MP Cadet 3D Printer is a compact machine that features a small footprint, making it ideal for use in the office, dorm, classroom, and even at home. The printer is incredibly easy to install, as it comes fully assembled. By following an easy step-by-step online installation guide, you can have your printer ready for use in less than 30 seconds. The QR code for the printer's manual is actually embedded on the machine, hence difficult to lose.
Monoprice MP Cadet 3D Printer also uses Wi-Fi, which makes it ideal for on-the-go printing, provided you have an internet connection nearby. Another great thing to love about this 3D printer is its full auto-leveling feature that takes away the hassles of manual adjustments during printing.
The Package Also Includes;
1 x Package of filament
1 x Platform sticker
1 x AC power adapter
1 x AC power cord
1 x USB cable
1x microSD card reader
1 x microSDTM Card
1 x Quick-start guide
1 x Stick of glue
1 x (1.5, 2.0, and 2.5 mm) hex wrench
1 x 8 mm wrench
1 x Philips screwdriver
1 x M6 brass nozzle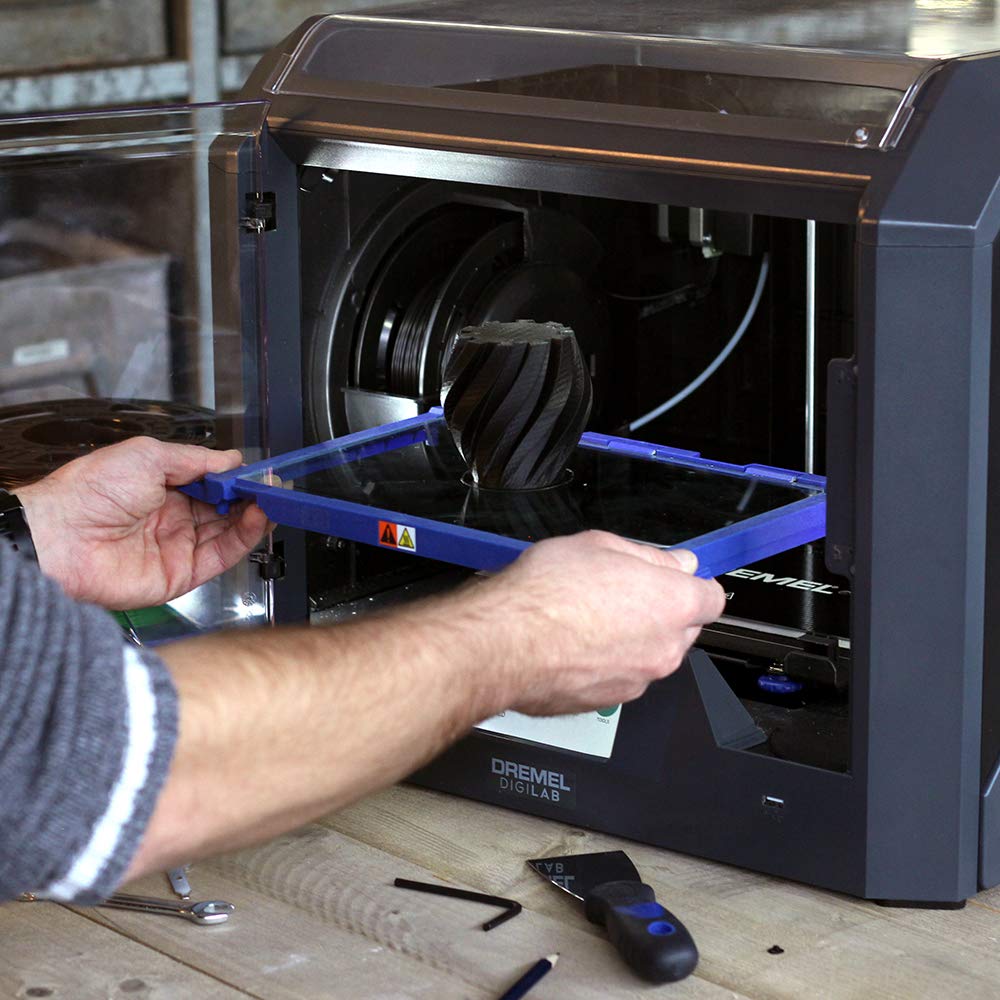 Size: 23 x 18.8 x 18.8 inches
Weight: 42.8 pounds
Pros
Compatible with many operating systems
Easy to set up
Works both online and offline
Cons
Product Description
This is another powerful 3D printer on our list that comes with the convenience of Wi-Fi connectivity. Besides, you can also print offline using USB, or over a local network. Other convenience features include a built-in HD camera as well as remote printing software that allow you to monitor your prints remotely.
Dremel Digilab 3D45 also sports a 5-inch full-color touchscreen that comes complete with intuitive icons, making it remarkably easy to install and use. The printer is compatible with Windows (7, 8, 8.1, and 10) and MAC OS X Version 10.9+.
The Package Also Includes;
1 x (Nylon and eco-ABS filament roll)
Free (Cura-based desktop and cloud-based) slicing software
1-year warranty
UL safety certification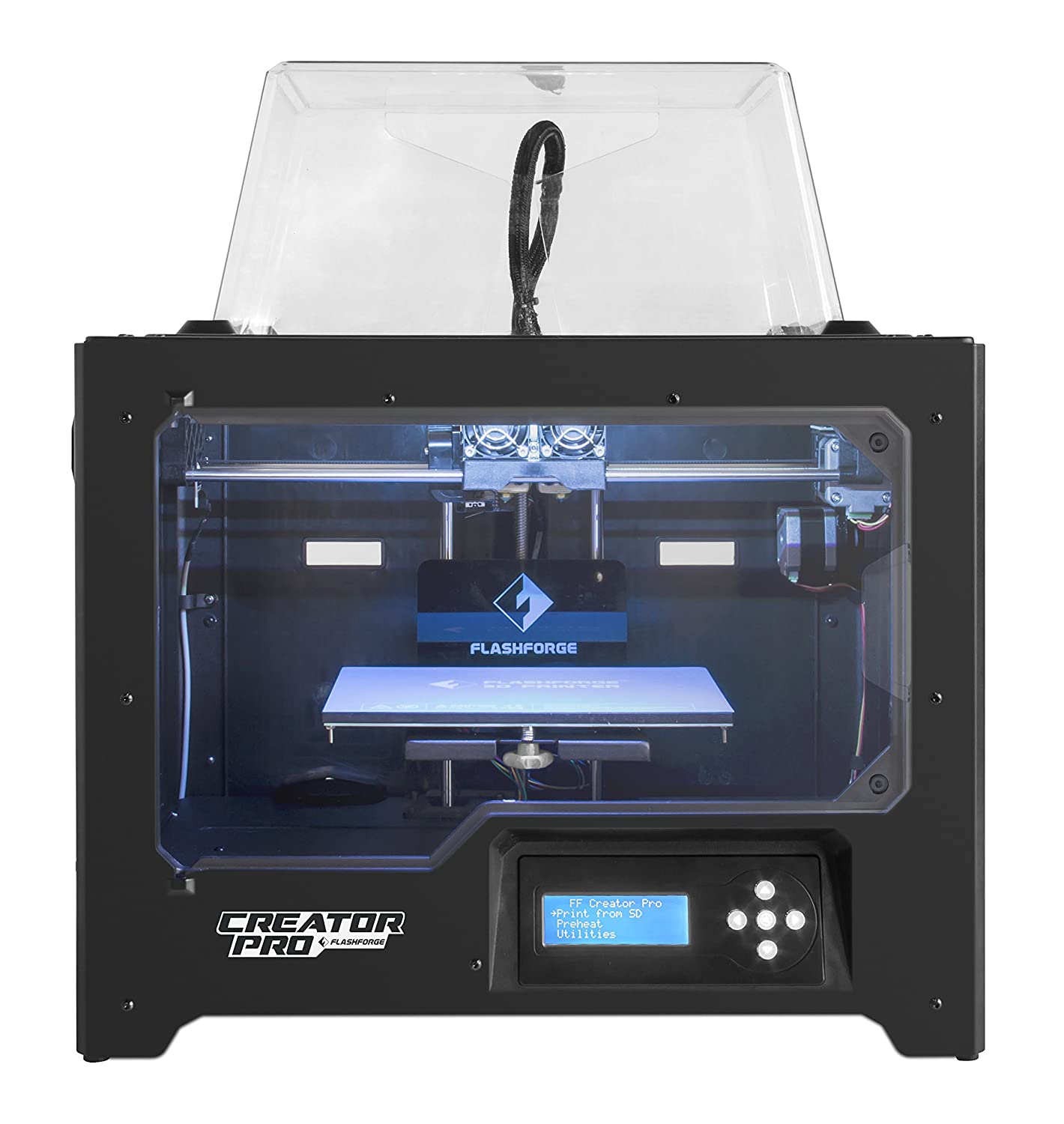 Size: 17 x 19 x 22 inches
Weight: 24.2 pounds
Pros
Filament is compatible with numerous materials
Full manufacturer's warranty and free email support
You can either print from USB cable or SD card
Cons
Problems with some default hardware
Product Description
Some of the striking features of the FlashForge 3D Printer Creator Pro are its compact design and stable build volume. The machine also sports a 6.3 mm Aviation-level aluminum plate that ensures the printer can withstand high temperatures without warping.
The manufacturer included a metal platform support as well as a 10 mm guide rod that prevents deforming while also ensuring precision with Z-axis movements. The printer's filament is compatible with different materials, including PLA, ABS, Pearl ABS Pro, TPU, TPE, PVA, etc. FlashForge 3D Printer Creator Pro supports Windows, Linux, and Mac OSX.
The Package Also Includes;
2 x Spool holders
2 x Filament guide tubes
2 x Spare blue platform stickers
2 x Spool filaments
1 x USB cable
1x Power cord
1 x 16 GB SD card
1 x injected PC top cover
2 M3 × 8 screws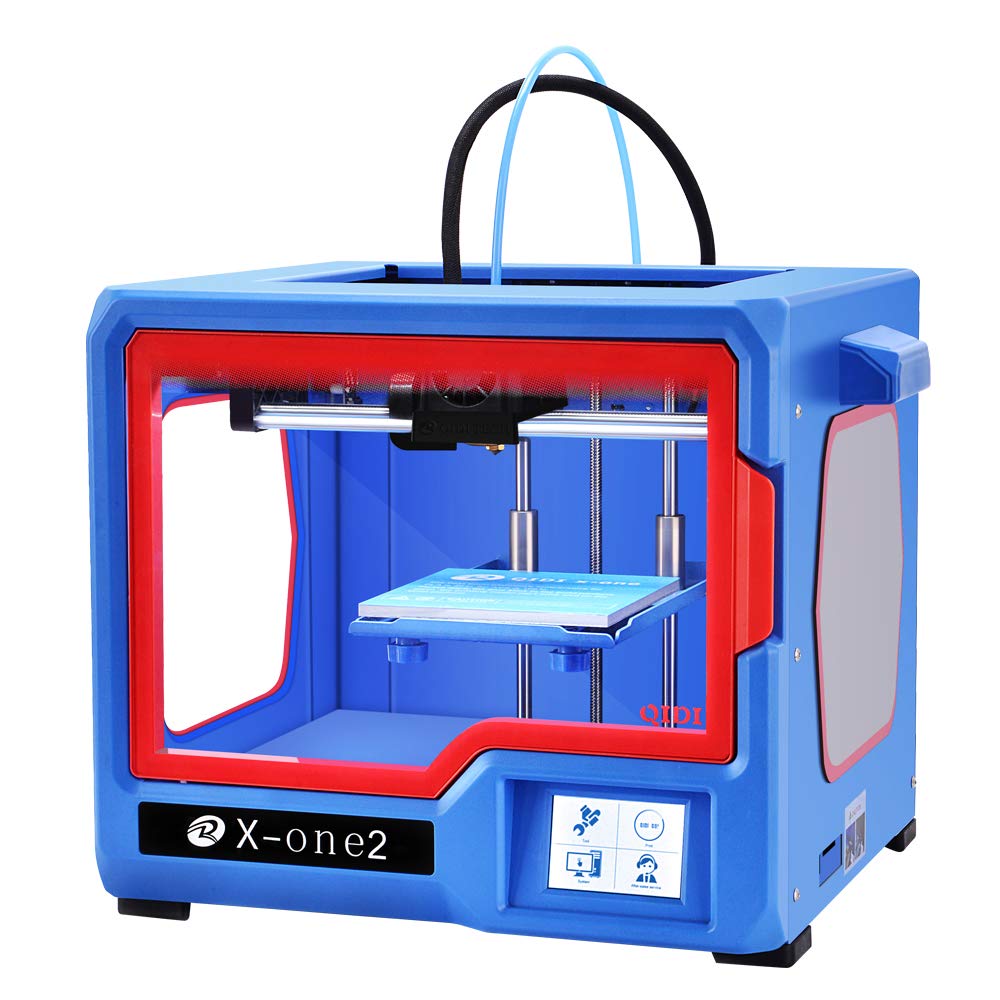 Size: 5.5 x 5.5 x 5.5 inches
Weight: 43 pounds
Pros
UI interface LCD touchscreen
6-months warranty (covering repairs and replacement parts)
Free customer support
Cons
May be unideal for bulk printing needs
Product Description
Qidi Tech X-One 2 features a small build volume and an intuitive LCD touchscreen, making it a perfect recommendation for beginners. With the touchscreen's UI interface, you can easily adjust the print settings, ensuring a fast and efficient printing process. Another thing that makes this printer beginner-friendly is that it arrives fully assembled and is calibrated for enhanced installation.
Like the FlashForge 3D Printer Creator Pro, Qidi Tech X-One 2 also comes with Aviation-grade aluminum platform that prevents warping even at temperatures of 110 degrees C. Plus, its upgraded 10 mm guide rod delivers high precision printing, while also preventing deforming.
The Package Also Includes;
1 x Power cable
1 x SD card
1 X SD card reader
1 x PLA filament
1 x filament guide tube
Size: 21.5 x 19 x 17.3 inches
Weight: 40.3 pounds
Product Link: https://www.amazon.com/BIBO-Extruder-Engraving-Printing-removable/dp/B01LNADH8M/
Pros
Laser engraving feature
Filament detection functionality
Copy printing feature
Cons
Product Description
BIBO 3D Printer Dual Extruder sports a full-color, user-friendly touchscreen. The 3D printer also works with Wi-Fi, allowing you to monitor your printing through your PC or smartphone. The integration of a copy printing functionality makes the machine able to print two copies of the same object simultaneously. Therefore, the printer is an excellent recommendation for high-speed bulk printing.
BIBO 3D Printer Dual Extruder also has filament detection feature where the machine pauses as soon as it detects the filament is about to run out, allowing you to load another spool. Another noteworthy feature of this 3D printer is that you can use it to laser-engrave on various materials, such as leather, paper, plastic, and wood.
The Package Also Includes;
1 x pre-installed Wi-Fi module
2.2 LBS PLA filament
1 x SD Card
1 X USB cable
1 x Acrylic cover kit
Allen wrenches
1 x Glass rod
1 x Glue stick
Conclusion
Shopping for a suitable 3D printer may be a daunting process, especially if you don't know the features to look out for in the machine. Thankfully, you can leverage this buying guide and our top product recommendations to choose a 3D printer from a point of information.