Last Updated on March 3, 2023
Building an attention-getting online portfolio is not the easiest of web design tasks you can tackle. If you give enough thought to what you are doing however, and have the right tools for the job, building a great portfolio doesn't take a great deal of effort.
People working in the online sector, especially web and UX designers, and creative industries representatives, take particular care when putting a portfolio in place, since the work they do tends to be all about image. Their skills and accomplishments are more appreciated, and better understood, when presented through imagery rather than with lengthy, descriptive text.
A portfolio must have a professional look. If your portfolio gives the impression it has been designed by a professional, it makes clients trust you. Your portfolio also needs to tell a story. A random accumulation of your best works might be impressive, but doesn't necessarily prove you are running a genuine business.
How a Well-Designed Portfolio is Good for Business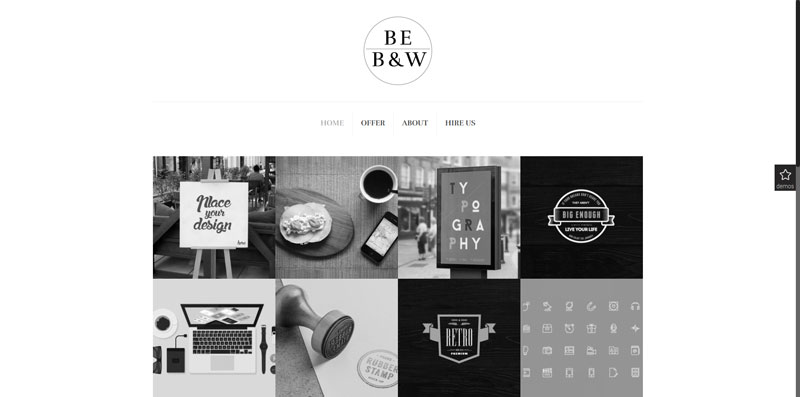 Image Source: Be Theme B&W Pre-made portfolio
It wasn't always that way, but in today's world having a portfolio is imperative for the professional web designer, the UX designer, creative industries representatives, and for many online businesses as well. You need to have a good set of tools to create a portfolio that will attract clients or customers and gain their trust.
We will explore the tools you will need shortly, but first, let's take a brief look into some important things you need to take into account.
Having a portfolio is important; having a rock-solid one is even more so. A "rock-solid" portfolio is one that gives the viewer a clear picture of your skills, your business practices, and the results that can be expected from you.
Include your best work, and only your best work. 15 to 25 portfolio items are about right, but if one or two items are mediocre or substandard, guess which items will receive the most attention.
Make your portfolio easy to navigate. You need to know something about your audience because you only have about a minute in which to show a viewer what he or she is looking for.
Include your most persuasive testimonials. Find something better than "nice job".
Keep the layouts simple. Excessive clutter will do you no good.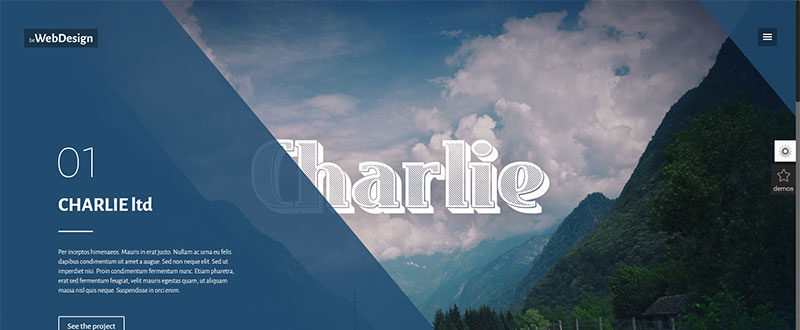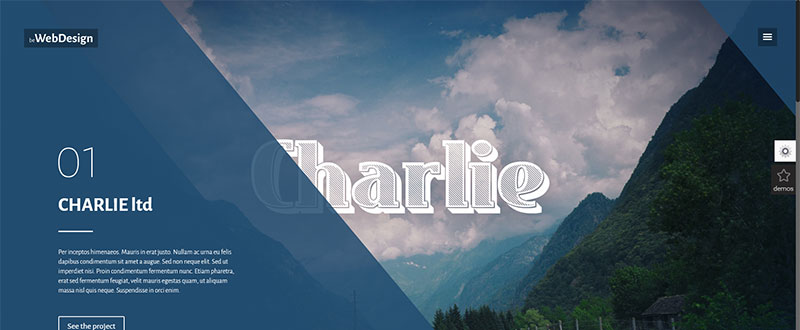 How you utilize space has a lot to do with achieving elegance in design. These two examples of Be Theme pre-built websites, together with the following two, illustrate creative ways to allocate space. Adequate space is provided for a business's unique value proposition (UVP), which can be a name, brand, logo, or a promotional statement. The way space is used can draw visitors in, and encourage them to further explore what you have to offer.
What do Clients Expect?
While different businesses have different customers or clients, they have certain key things in common; things you will want to address in your portfolio.
Your portfolio needs to tell a story. When a client is impressed with your work, it's a good thing. Most clients also what to know how you did what you did.
Highlight elements you expect clients to be most interested in. Navigation is important, but try to organize your portfolio so that the elements that should be of greatest importance practically jump off the screen.
Focus on detail. Attention to detail in creating your portfolio suggests you will follow the same approach when doing an assignment for a client.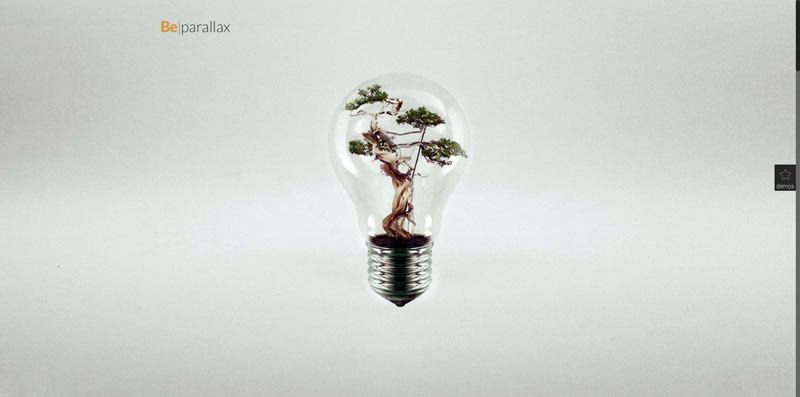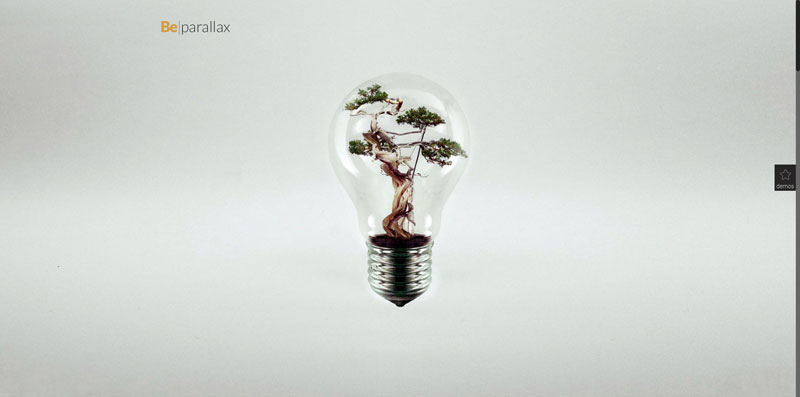 The use of parallax is both an attention-getter and an aid in telling a story (think of infographics in motion).
This is an example of why creating a solid, professional portfolio should not be a problem, and the importance of having the right tools to do so.
You've seen these examples of how stunning pre-built websites can work for you. This leads to the obvious question. Where do you gain access to pre-built websites such as these, and what functionality do you need to put them to practical use?
The answer is this.
The Growing Popularity of Be Theme's Pre-Designed Websites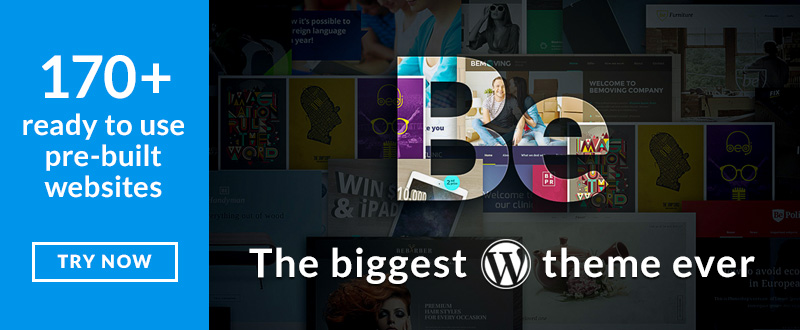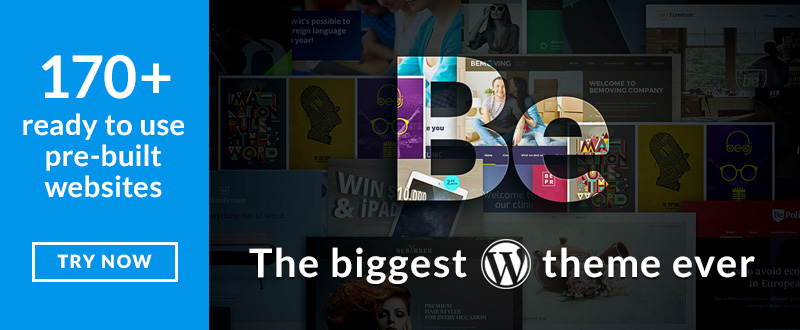 You've witnessed how effective Be Theme pre-built websites are, but you've only seen a small fraction of what is available. Be Theme is the biggest WordPress theme on the market, and part of that reason is the more than 170 pre-built websites that are ready and waiting for you to choose from and put to use.
The bulk of these websites are multipage affairs that will enable you to put together an awesome online portfolio in even less time.
Check out how easy it is to install and edit a Be Theme pre-built website:
Browse Be Theme's website, examine Be Theme's core features, and you'll quickly realize just how powerful this theme is. It has the tools and features you need to get the job done. These include full-width, sidebar, and single project portfolio options, the portfolio content builder, and video and slider portfolio applications.
Visit the Be Theme website, browse through the pre-built websites, check out the core features, and you'll quickly see why over 27,000 copies of this premium theme have been purchased to date.