Last Updated on March 8, 2022
Before we jump in this roundup, we would like to let you know a little bit about the creator. Adam Benton is an award-winning illustrator based in the UK, producing high quality digital images using both 2D and 3D tools. He has a broad range of international clients in advertising, corporate media, education, editorial, film and TV.
Adam is also a regular contributor to a number of magazines aimed at helping budding artists and illustrators master their own skills in the exciting world of digital art, for whom he generates original imagery, and attempts to dissect the processes and tools needed to help others get there.
Adam's interests and skills have also wandered into the realms of animation and film, with recent and diverse CGI contributions to a couple of independent sci-fi film productions that sent waves across the world for their shear scale and creative achievement, one of which bagged two major accolades including a prestigious award from George Lucas himself.
1. Apple iDesk Concept
Imagine if this was a reality. By using technology like, Microsoft's Surface technology, Apple will create an interactive table concept that would unite hardware and software like magic. The entire desk would be a touch-sensitive display capable of running several simultaneous apps, such as a calendar, phone, and digital Post-It notes.
What's that, you need to switch to the crop tool in Photoshop? Just quickly press the toolbar located on the flat surface. Potentially the desk would have a Mac built-in, and all you would need is a monitor. With seamless integration, you would be able to transfer files quickly by placing your iPhone, iPod, or iPad on the table.
Unique applications could be downloaded to enhance the user experience. Having an active background/wallpaper could be a nice distraction to have. Oh, and don't forget the instant pop-up tweets, Facebook updates, and Youtube videos. Who knows, maybe this gorgeous aluminum gorilla glass beauty is in the works. Overall the idea is very pleasing, but the potential pricing might not be.
2. Apple Tribook
From a first glace it will not take a genius to figure out how this works. The two outer screens would essentially fold out and serve as the beneficiary space. In theory the main screen will be used to work, while the two side panels would display productivity/leisure apps.
When the triBook's lid is closed, the two side screens tuck in neatly, sandwiched between the main display and the keyboard/touchpad. Portability is achieved and would fit into any ordinary backpack. Then once you are ready to kill some bugs, an ultra wide landscape display of 21 diagonal inches is there to serve you.
This concept is very attractive. Our only concern is the battery life. With all the screens eating it constantly this baby needs lots of juice.
3. iCom
Finally, we get to see how SIRI looks…not too shabby! Is this a necessity? No. But is it a lustful gadget? Hell Yeah!  The iCom is a stationary command station that uses your Wi-Fi connection to provide content. The touch-controlled display allows you to see your calendar, daily tasks, weather, and much more.
The basic touch screen gestures, apps, and functions are present. However, one incredible feature separates this from Sony Dash…just kidding. The holoscreen is a realistic holographic 3D display experience. In March 2008, Apple filed a patent application. Who knows, maybe they're on to something.
4. iCar
Without jumping into a flame war, the following statement is based on my observation. Audi is the Apple of Cars. From their attention to detail in design to outstanding marketing execution, Audi is a luxury product just like Apple. What if a partnership spawn from the two? Can help from Apple create a dent in the car industry? Audi's gene-splicing experiments with Apple DNA could be a splendid success. By providing an ideal iCar option package, buyers will get the latest and greatest.
The iCar cockpit redefines traditional automotive controls. The tach/speedo cluster is an LCD that can be customized using the center console's settings menu. Whether you want numerical readouts or a traditional analog look and feel, the choice is yours, with skins and color options galore. Controls for music, driving directions, communication, and climate will be accessed via SIRI.
Controlling home appliances via your car, to do tasks like pre-heating the oven prior to getting home. The car would determine via GPS how long it will take you to get home according to real time traffic. Then the home uses that time and preheats the over according to the analytics received, enabling it to have the temperature beep as soon as you open the door. This kind of imagination is bound to be the way our kids and grandchildren live.
5. Flexible iPhone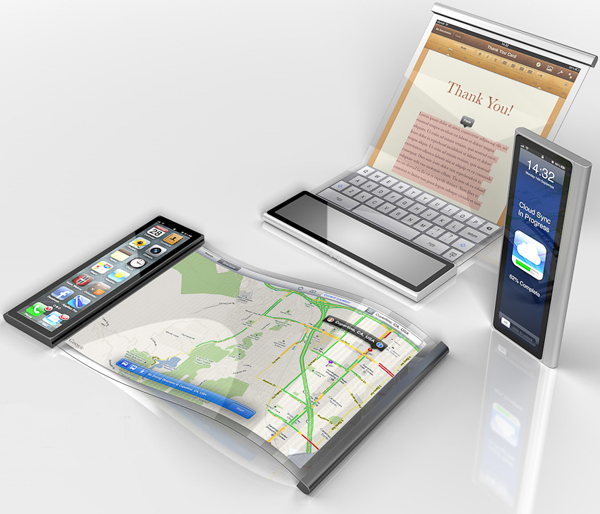 This concept is much closer to reality than you think. With the recent advancement of flexible touch screen technology, we are bound to experience this in the next few years. Samsung has been on the verge of this discovery with their AMOLED Display that was first showcased at the 2011 Consumer Electronic Show. The displays are bendable, can be rolled all the way up and can even withstand direct hits from a hammer. Massive screen sizes that are too big to fit in your pocket will be able to fold.
Starting to get cool ideas flowing inside your head? Considering the current unpleasant relationship between Apple and Samsung creates a foggy road. I'm sure Apple is quite aware of the latest technological advances and are planning for the future. Once these kind of phones see life on the market, patent trolling is guaranteed.
Conclusion
Are the following concept perfect? Of course not. By combining our brilliant minds, ideas for perfection will multiply. Apple has showed/taught us all to think about every encounter possible when designing a product. By embracing this new era of perfectionism, the sky is the limit for what we can accomplish. The concepts above are called concepts for a reason. Most of the things mentioned will probably never see the day light.
We would love to hear your thoughts, so don't be shy and comment below! Please don't forget to subscribe to our RSS-feed or follow Inspirationfeed on Twitter, Google+ and Facebook! If you enjoyed the following article we humbly ask you to comment, and help us spread the word!