Last Updated on March 3, 2023
Also known as electronic commerce, this business model essentially involves transactions taking place on the internet. The rising popularity of eCommerce has been a result of the growth of the internet, increasing entrepreneurial aspirations, advancements in telecommunications, combined with rife competition in the pursuit of providing the best quality goods at low prices.
Reasons to start an eCommerce business are pretty clear cut. The fact that worldwide eCommerce is expected to grow by as much as 13 to 25% and this year the industry is expected to hit $3.5 trillion in sales, it would seem that now is as good a time as any to start an eCommerce site.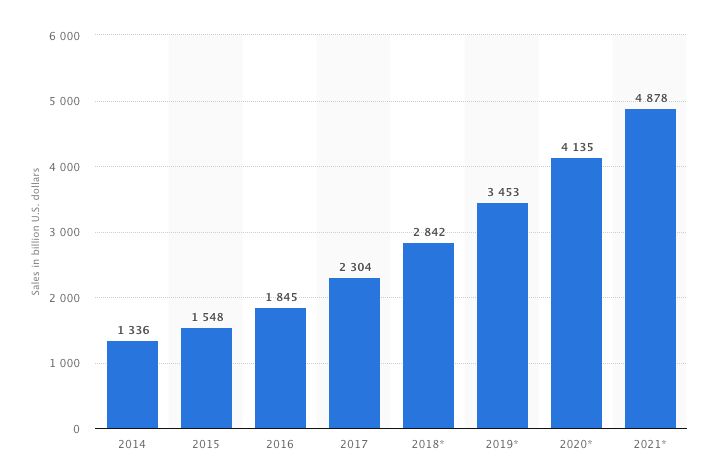 (Image showing e-commerce worldwide sales. Image Source: Statista)
A recent study found that 79% of the web population has made a purchase online. Our natural movement toward a more technological world is gaining momentum by the second, and this is only expected to grow.
E-commerce stores give you the ability to earn as you sleep. The key here is to establish trust and credibility with leads and customers- but we will get to this in a moment.
Before launching your eCommerce Store
The first thing to consider when launching an eCommerce store is the platform on which you will build it. WordPress offers hundreds of themes with compatible plugins to give your store the legs and voice it needs to shout out and dance amongst the rest. The plentiful premade themes that are suitable for an online storefront makes WordPress particularly useful here.
From product display to shopping cart and checkout, featured plugins can add complete eCommerce functionality to your site.
Don't jump the gun. Before making a store from which people can buy your products, you must grow an audience first. Introduce them to your brand, its ethics and how exactly it will meet their needs or solve their problems.
Build suspense and announce your store launch. A great way to do this is to create a blog and actively post on issues around your product or brand. From here, you can get a feel from your audience engagement as to whether this will be a good investment.
Especially if your products are tangible (i.e. clothing, tech, and accessories) as opposed to software. This way, you can ensure your inventory supply aligns with your demand.
With this in mind, the following guide will illustrate exactly how to get your store up and running.
Launching your eCommerce Store
1. Kick start your SEO nice and early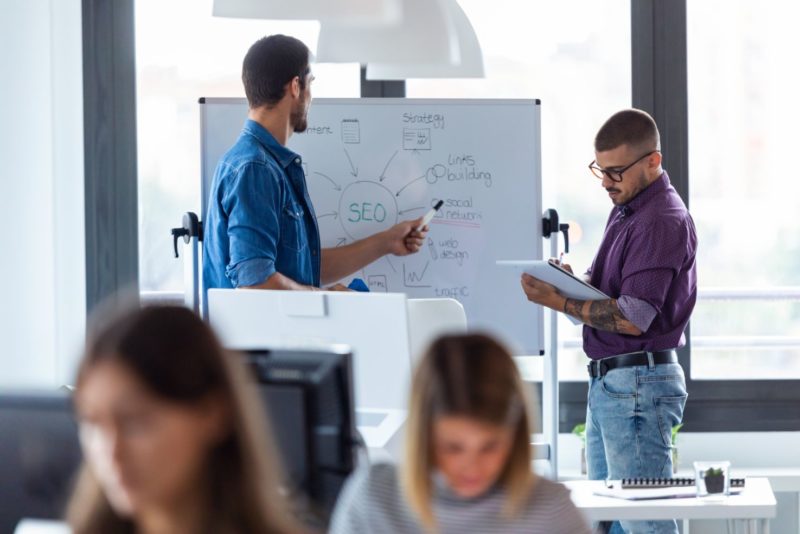 Think about the frustrations that would come with having a perfectly functioning site and business model, only to find no organic traffic flowing your way. Kill two birds with one stone and use the time prior to launching your eCommerce store to focus on SEO strategy.
During the time of your eCommerce store development, pay special attention to generating traffic and boosting the rankings of your blog or website. You can later use your profound online presence to redirect users to your store.
Conduct in-depth keyword research to find the types of keywords your potential customers are searching for. These should be used to mold your present blog posts and future eCommerce site architecture. This is an important part of helping your customers find you online and generating a healthy flow of organic traffic.
2. Purchase a domain name and hosting provider
WordPress allows you to register your own domain name. This is one of the most defining features of your eCommerce store with WordPress. The fact is, most blogs that exist are utilizing the free service offered by Blogger.
This means that there could potentially be millions of the same subdomain crawling the web. To avoid looking like everyone else and to differentiate your site from the rest, it is now time to purchase your own domain name.
The consequences of using a standard subdomain from the likes of Blogger, on your eCommerce store, could be detrimental to the success of your business. While WordPress itself is free to use, you will have to pay for your domain name. This investment could make all the difference, as having your own domain name comes with connotations of credibility, professionalism, and a polished finish.
3. Set up WooCommerce
WordPress provides a powerful foundation for your site. WooCommerce transforms it into an eCommerce powerhouse. It is built on WordPress – the software that runs 26% of the web, so you know you're in good hands here. No matter what your product, you can sell it with WooCommerce.
Anything from tangible products to digital downloads, subscriptions, and appointments.
Your biggest limitation with WooCommerce is your own imagination. It is an entirely open-source which means you can customize anything you want. With this level of freedom and control, you can add unlimited products and users and take unlimited orders.
Present your online store to an international community and gain access to global markets.

(Image showing the popularity of different platforms. Image Source: Kinsta)
Using WooCommerce to set up your online store is simple to do. Simply select a host for your site, compatible with WordPress, download and install the WooCommerce plugin, customize your theme, and add your products. Fret not, it will guide you through the entire process.
4. Think carefully about your theme
Small sellers will not have the same infrastructure to support wide-scale sprawling websites as established retailers do. Therefore, one of the ways they are able to stand out from the crowd is by paying particular attention to the theme of their online store. Depending on the type of website, and the purpose of your store, some themes will work better than others. It is important to look around and make the right choice.
For a minimal and modern eCommerce theme, Jayla is built around the WooCommerce WordPress plugin. Along with the standard functions that allow you to sell your products or services is a modern and stylish design, Jayla also provides you with many customization options. It incorporates WPBakery Page Builder for easy customization using drag-and-drop. It also lets you personalize your store with its header and footer builder tool. With this, you can easily create a custom header and footer layouts for each page of your online store.
Shopkeeper, another theme compatible with WooCommerce, is striking in its simplicity and bold design. Incorporated within this theme are additional plugins that bolster your design. The Slider Revolution is provided for the option of full-screen homepages to make a wowing first impression.
If that style isn't for you, Shopkeeper comes with 10 different home page layouts from which you can choose. Additional niceties of this theme are its provision of dozens of layouts for shop pages, product demos, portfolios, blogs, and wishlists. Each of which are optional yet kits you out with everything you will need to create the best online store.
There are typically hundreds of WordPress eCommerce themes that provide different solutions, so make sure you do your research before selecting one.
5. Think Content and SEO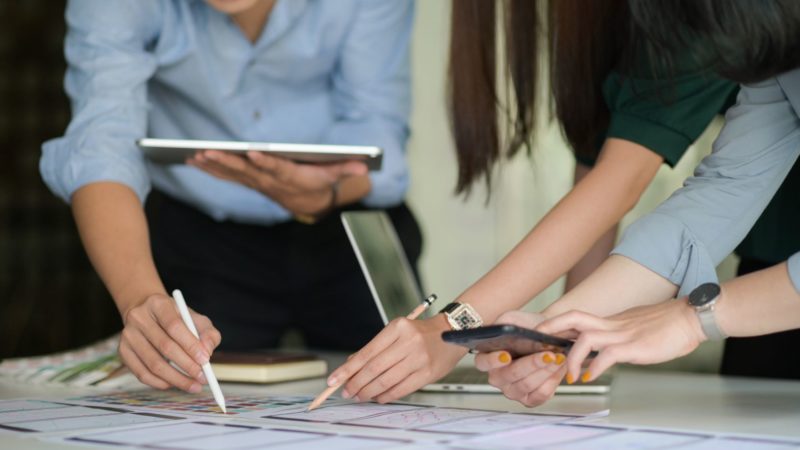 Once your site is up and running, it's not time to kick back and relax. In fact, it never is. Your content strategy is a powerful tool for marketing your business and requires a commitment to consistently updating it.
It allows you to stand out from your competition and helps to drive sales and works wonders for your SEO.
Offering high-quality products and targeted services is all well and good, but many eCommerce businesses fall behind when it comes to creating relevant and engaging content. When a customer visits your site for the first time, they are automatically making a snap judgment on how your site stacks up relative to others. Your design and content play a vital role in establishing trust and credibility.
Create high-quality content to increase traffic, build a relationship with your consumers and boost sales.
With your goals set and plan in place, there is little stopping you from following this ultimate guide to creating your eCommerce site and building a reputable online business.