Last Updated on January 20, 2022
There is no denying the fact that content marketing is one of the cornerstones of every successful online business. It is also not surprising, because, in this day and age, people are more informed, which means it's next to impossible to rely on the age-old marketing tactics and sell them something they don't find much value in. Instead, they are looking for useful content and solution to their problems, and are much savvier in their purchases than ever before.
Every good content marketer knows this, but what they also must know are the answers to these questions:
What is Content Marketing?
Content marketing is the creation and distribution of content to a targeted audience which is looking for useful, actionable, and relevant information on a particular subject. Content marketing also involves strategies through which all of this will be carried out, with the ultimate goal of turning your loyal readers into loyal customers. Mind you, there will be some competition in the process:
"You are competing with every piece of content ever made for every person's attention. You need to be entertaining. Don't outsmart. Out entertain." – Dolf van den Brink, President & CEO – Heineken USA
How to Measure Content Marketing Efficiency?
Calculating the efficiency of your content marketing effort involves some pretty complex metrics, such as website traffic, search rankings, page views, and social media shares, likes, and mentions, among other things. These are your bread and butter when it comes to content marketing metrics.
However, all of the above would be next to impossible without some tools designed to make your content marketing efforts easier. You have probably heard, and hopefully, have used Google Analytics, Kissmetrics, and SEMrush, which is why we will focus on 5 additional content marketing analysis tools you can benefit from. More details below.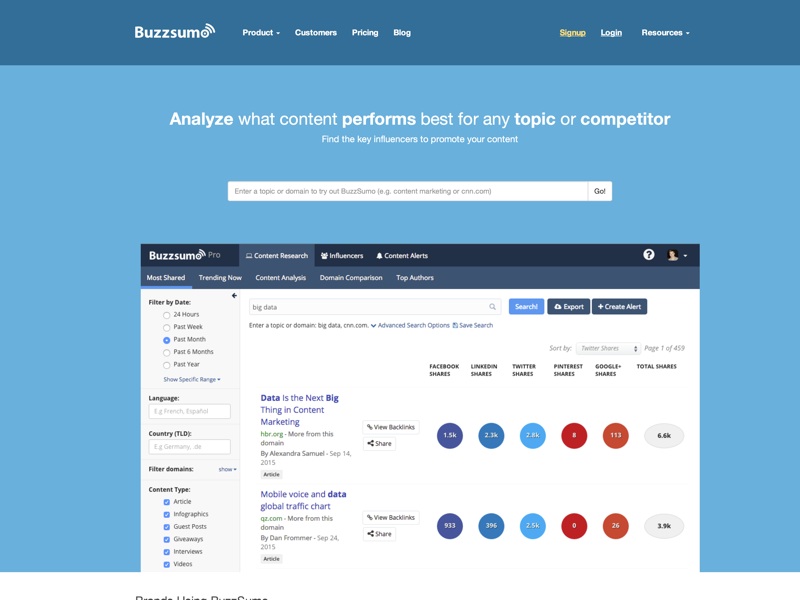 Figuring out what sort of content your audience is after is often complex, which is why you may want to rely on BuzzSumo to help you out in that regard. This application works, because it is able to quantify the success of a particular post, by calculating the total number of shares it has received across all major social media platforms. You can analyze not just your own posts with it, but your competitors' posts, as well.
You can also analyze the way your posts have been doing over a particular time period, as well as which type of content fares the best among your target audience, and which country they come from. More than enough stats to indicate what you should do to improve your marketing strategy.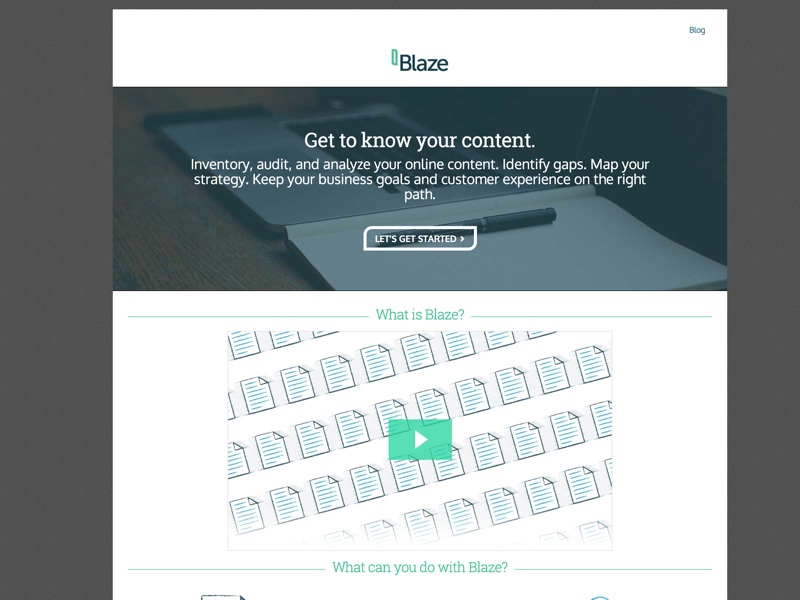 Content inventory and audit comes in handy, especially on large projects, but sifting through mountains of data and hundreds of articles can be incredibly time-consuming. Blaze Content can help you attack this issue on several fronts. Start by entering your website's URL to allow Blaze to crawl all of the pages of your website and gather useful data.
It is also capable of retrieving information from multiple analytics accounts that you might have and matching the audience data with the appropriate content. Another benefit of Blaze Content is that you can sort, organize, combine, and export all that data in different ways. Best of all, Blaze Content allows you to collaborate with other members of your team on your content inventories and audits, because it is designed to work with multiple users.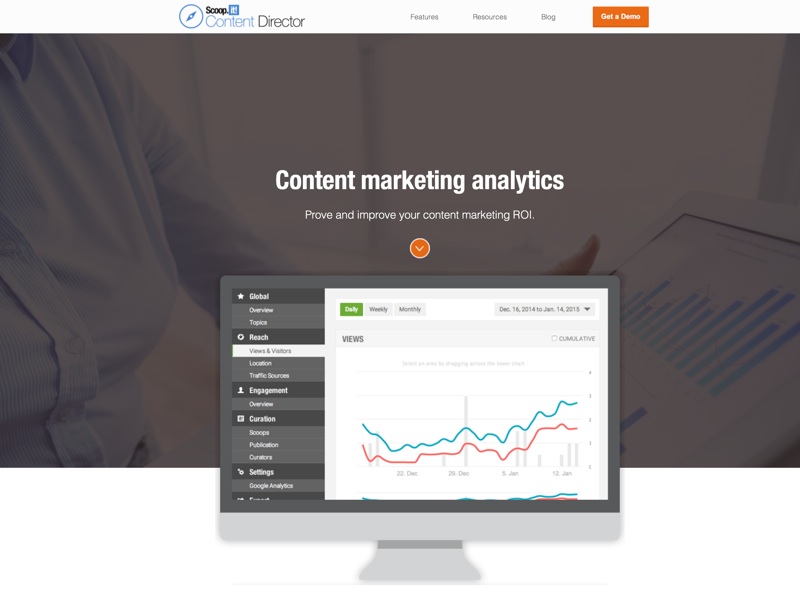 Scoop.it is a content curation tool that enables you to find outstanding content in two different ways: through use of its search feature, and through its active community. This way, you can count on finding the most relevant content for your online platforms and distribute it a series of different ways, including email, social networks, or even your own personal network of associates and collaborators.
As a content marketer, Scoop.it will allow you to create and document your business goals and objectives. By using its Smart Calendar feature, you can schedule and publish content for your social media outlets automatically. And you can rest assured that you will never run low on content to curate again, because Scoop.it is capable of crawling over 20 million pages.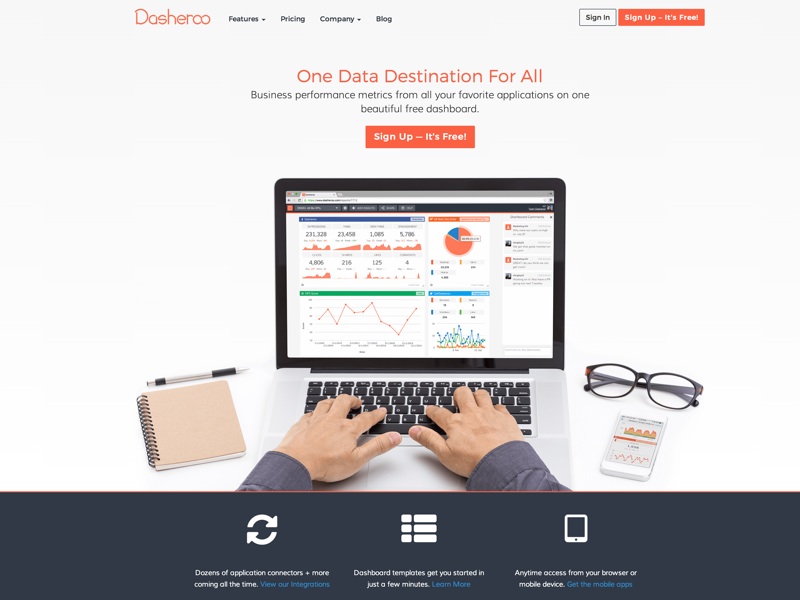 Viewing statistical data can be a tiresome process, which is why you may want to consider using Dasheroo. Dasheroo is a cloud-based app, which will enable you to display all of your data in the shape of charts and graphs that are shown on a cleverly-designed dashboard. You can create up to four different ones, or more, if you decide to go for the paid version of the service.
Dashboard also has a variety of different dashboard templates, which means you will be able to create your own custom dashboards without much hassle. Another feature you might find useful is the Data Insight Mashup that will enable to display two different plots on the same chart, which can help you discover a connection or correlation between two different data sources.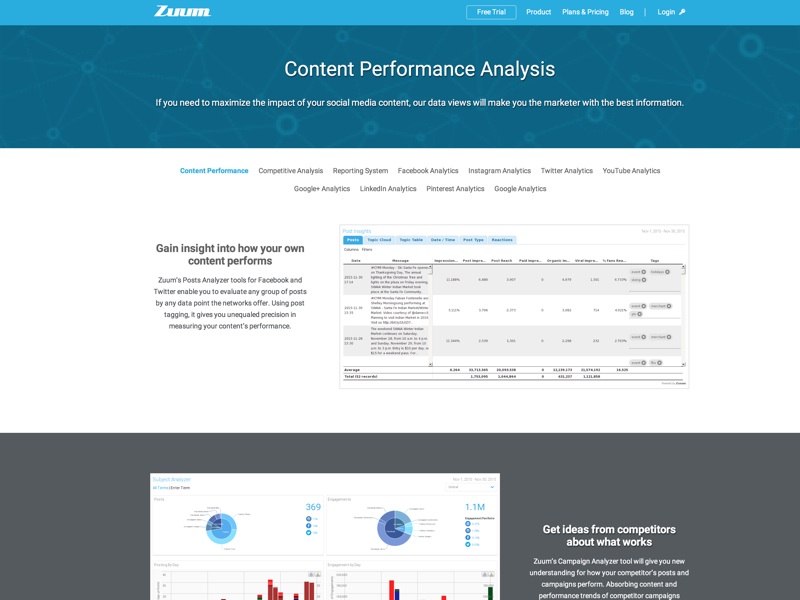 There is no effective content marketing strategy that doesn't rely heavily on social networks, which is why we recommend Zuum. Zuum is an app that is designed to work with different social media sites, by pulling relevant analytics data from services such as Google Analytics, in order to help you focus on the kind of content your audience will be most interested in.
Another plus of using Zuum is that it can help you identify major influencers in your niche, by focusing on the content that gets the most views by your target audience. Influencer marketing is all the rage these days, and it's no surprise, because it's one of the ways to build your audience and credibility at the same time.
Use these tools to further improve your content marketing analysis, or to create a brand new strategy for your online business. We invite you to share your experiences using these incredible tools with the rest of the world. Don't be a stranger and share your opinion with us.