Last Updated on January 20, 2022
You can be the best wedding photographer in the world, in terms of your skill, your personal brand and your passion and dedication, but if you're not careful, all of your hard work can easily be undermined. Make sure you're aware of the easy mistakes that many photographers make, and take our advice on how to avoid potential disaster.
1. Botching the schedule
Every good wedding photographer knows that a schedule is key. Not only will it help you plan out your day and ensure you get the right shots, it also serves as a guideline to the bridal party and wedding family. However, without proper communication, it's easy to miss some of the key elements on the timeline and, in the excitement of the day, many photographers veer off track. While there is some room to add a few minutes here and there, especially to special, unplanned events, it's important to stick to your schedule as religiously as possible.
For example, if you find that a group of excitable bridesmaids are really enjoying the shoot – that's fantastic, but you'll need to gently bring it to an end once you see it's time to move onto the next group. Having trouble getting the message across? Let them know in advance that this section of the photography is drawing to an end, i.e. "5 minutes until the next group". This will give them some forewarning and help you keep your timing on track.
2. Going it alone
While it may seem tempting to try and do everything yourself, mitigating the costs of an assistant or second shooter, it's never a good idea. You'll need assistance with everything from shot styling to lighting, and it's crucial that you have additional shots for in case something goes technically wrong with your equipment.
An assistant can also backup your images during breaks or when they aren't needed, ensuring that you don't lose any of the images you can never take again. Paying a small percentage of your fees to an assistant (preferably one who can also photograph) will be worth its weight in gold to ensure that everything is covered and that you have the help you need.
3. Neglecting to direct
Most people aren't used to being in front of a camera in a formal setting. While they may be fantastic at taking selfies or feel relaxed in front of a camera in a leisurely setting – a wedding can be different. For the bride, it's her time to shine and she wants to know that she's going to look as beautiful as possible. This is a lot of pressure for those who are camera shy or not used to being the center of attention. In order to get the best shots possible you'll need to direct your subjects.
Make them feel comfortable and give them ideas on what to do with their hands, for example. Also, tell them how beautiful they look in a certain light or position to help boost their confidence and guide them.
4. Using your camera's internal flash or inadequate lighting
Some wedding photographers (both professional and casual) tend to rely on the internal camera flash, which can create a harsh contrast between the foreground and the background. In some instances, they might go as far as to rely on limited natural light without compensating – just to avoid harsh, white light versus a dark background. This is a common mistake for beginners but there are relatively easy ways around it. You'll need to create "external" light.
When natural light doesn't suffice, you can use a reflector (if you don't own one, use a car windshield reflector). You also have the option to use an external flash. This will help brighten up the picture without the unprofessional look of the in-built flash, and it makes editing far easier too!
5. Losing focus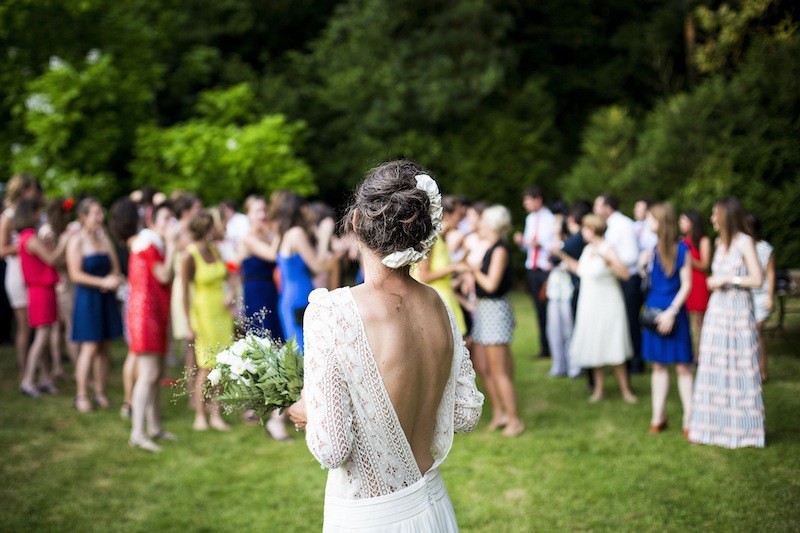 One of the worst things you can do as a photographer is to shoot in the wrong focus mode. You won't be able to fix this up in post-production, which could mean you'll have to discard most of your images. The easiest way to tell if you're in the wrong mode is if you can see that your camera is constantly attempting to adjust the focus.
This is also true for automatic focus settings. Instead, opt for the manual option. You can also use the single-shot auto-focus in some instances but this can be too time consuming during a shoot, as you need to wait a few seconds between each shot. Take the time to perfect the art of getting a sharp photo by studying up on the specific settings that come standard with your camera and avoid .
6. Bypassing an engagement shoot
The best way to put the bride and groom at ease on their wedding day is to have an engagement shoot before-hand. This will give them an idea of what to expect and take some of the nerves out of being in front of the camera.
As a result, you'll be more familiar with the couple (if you weren't already) and they'll be more relaxed and easier to photograph. The shoot will also serve as a nice reminder when they think back on their engagement and wedding. In many ways, it's just as important as the wedding shoot and helps tell put the pieces of their story as a couple together.
Make sure you avoid these three major mistakes and plan accordingly to ensure that all your preparation and hard work on the day don't go to waste. Interested in more wedding photography tips? Check in on the blog for regular event industry info.