Last Updated on March 8, 2022
Hundreds of blogs gets started every day, but only a handful of them become successful. Blogging is fun but it does require a lot of hard work and patience.
To become an authority in your industry, your blog must have three things – attractive design, high quality content, and a game plan to generate traffic.
You can get a nice looking theme from WordPress.org (free) or ThemeForest (paid). Personally, I prefer to go with Genesis Theme, which is what I am using on my business website. Some of these posts are worth checking out:
Once you have a great design, the next step is to create a content strategy.
You should stick to a strict editorial calendar to make your life easier. Have a specific amount of articles you wish to publish on a weekly basis. Are you looking to publish 10 articles per week? Great! Devide those ten articles among the weekdays. If you did the math correctly, you should end up with a two articles per day posting schedule. For more information regarding this topic, please check out this post by Jasmin Sandler.
The final step is to promote your content.
If you've spent numerous evenings reading educational blogging/marketing articles, then chances are you already know a good number of strategies such as guest posting, blog commenting, form posting, etc. Today, I am going to share 6 fantastic sites you can use to generate additional traffic to your website.
Viral Content Buzz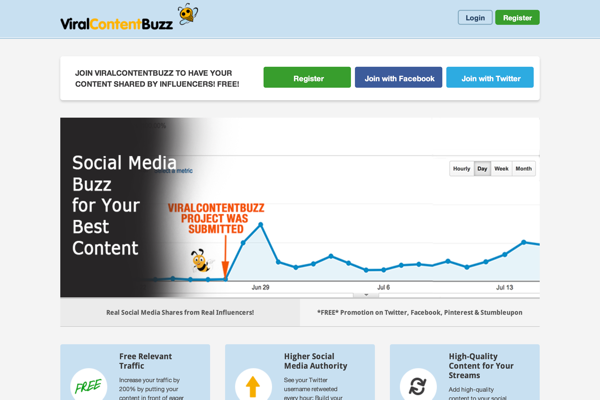 Viral Content Buzz is a fantastic solution created by Ann Smarty and Gerald Weber. This site helps you get more retweets, pins, Facebook likes, and Stumbleupon shares. It's perfect for getting social shares to your latest or old blog posts. Personally, I think lists posts and infographics tends to get more shares.
The site doesn't accept articles that are filled with adult content or affiliate links, so make sure you only submit your best content. The basic concept is very simple, you share other people's content, earn points, and then use those points to promote your own content. They also have a pro membership, in case anyone is interested.
Blokube
(Disclaimer – I own this site)
Blokube is a 2 year old websites that has been featured on sites like Search Engine Land and ProBlogger. If you're a blogger or an internet marketer, then this site is for you. It will not only help you find awesome content on the web, but also help you get more exposure to your own content. We cover topics related to general blogging, social media, internet marketing, and web development.
You may not receive huge amount of social shares from Blokube, but it I can guarantee you'll get targeted traffic and links rolling your way.
BizSugar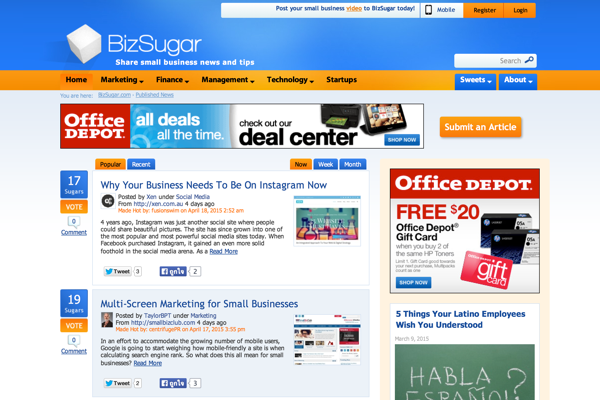 The site was created in 2007 by DBH Communications, Inc., a provider of award-winning business publications. In 2009, it got acquired by Anita Campbell of SmallBizTrends LLC.
BizSugar covers marketing, finance, global, legal, technology, startups, and currently has over 500,000 users. If you're in a marketing or social media niche, then you should definitely join this site.
Articles with 14 or so votes, tends to get promoted on the homepage.
ManageWP.org
If you're a WordPress fanatic like me, then you'll love this website.
ManageWP is a fantastic resource for bloggers who want to learn more about WordPress. The site covers everything related to WordPress. You can submit links as long as they're related to WordPress.
Note: ManageWP.com and ManageWP.org are two different sites, owned by same company. ManageWP.com allows you to manage multiple sites from one single dashboard, and the latter one is social bookmarking site. If you wish to add their vote buttons to your website, check out their resources page.
Triberr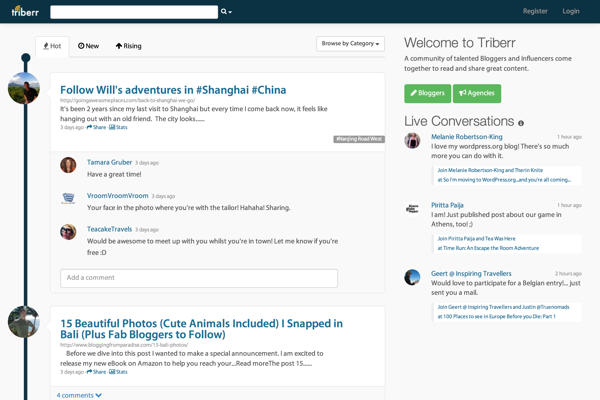 Triberr is a fantastic solution to boost your traffic. Not only will it help you get more shares, but it will also help you connect with influencers in your industry.
It works on the reciprocity principal. Once you signup and connect your account, you can start following tribes of other bloggers in your industry. At the first (as a follower), you'll only be allowed to share the content of others, but as a member, other people (members & followers) will share your content as well.
JustRetweet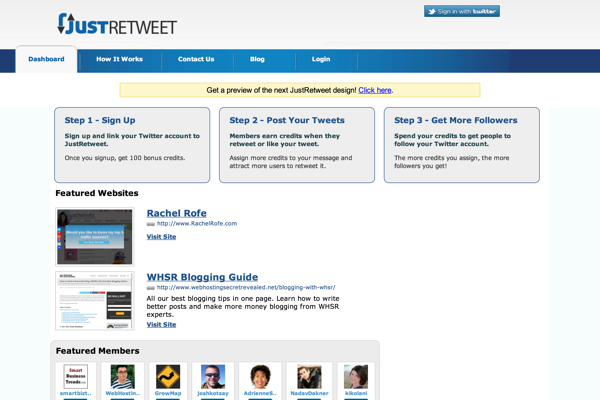 Want to get more tweets or followers? JustRetweet is the solution for you. It's just like Viral Content Buzz, but for Twitter only. You can earn points by retweeting other people's post, and then use those points to post your own content. You can also use this to generate tweets to your landing pages, as they don't have a policy for not allowing affiliate links.
I've been using this site for about 13 months, and it has definitely helped me increase my blog traffic. You can also use this site to increase followers, by directly purchasing featured spots. To see what I mean, check out the website.
We hope the resources mentioned above will help you get more traffic to your articles. If you believe we've missed something, please feel free to share your resources in the comment section below.