Last Updated on January 24, 2023
The customers using the Google apps, till now had an easy and free access to a plethora of services, however they could not enjoy the benefits of the web based billing apps. This would not allow the users to access the information and data saved in their invoicing apps while being any where on the go.
You must have avail the benefits of Google apps when it comes to sending emails, gadgets, association or developing other business related apps. Now you can easily access the cloud based invoicing apps through Google Apps.
Now integrating the features of Google Apps and the online invoicing apps will allow the businesses to directly access the information being saved in the online invoicing apps, while being on the go.
Discussed below are the top 7 online invoicing software which are fully incorporated with the Google Apps. These are mentioned below:
Invoicera is an excellent online tool for performing invoicing and expense & time tracking activities efficiently. It provides the users with the self explanatory and easy to accept and use user interface and makes the entire process of generating correct and detailed invoices at the lightning speed. It tracks down the expenses that you have incurred on the project and the time that you have spend and hence allows you to send your customers detailed and timely invoices and reports. Another utilitarian purpose solved by Invoicera, is that it is available on the Google Apps and thus can be easily accessed. Invoicera is accessible via Google apps through a single sign in procedure and can make use of the advantages and services of Invoicera through a single domain name.

Ronin App is the online billing and time tracking app which is being brought to you by Roninapp.com. With Ronin app, the users can easily create and administer the projects as per their clients. Ronin app is the perhaps the best choice available with those small businesses who are looking for easy to use online invoicing app, which is quite flexible and handles the project handling. It also offers are seamless registration to track all the billable hours.
Invoicexpress is a web-based online invoicing software which permits you to generate,send and manage invoices swiftly and in a very simple manner. It is an ideal solution for the self employed persons, and also for small and mid-sized organizations. The effective online application that InvoiceXpress is, it permits its customers to create multiple accounts and can also be accessed easily through Google Apps.
Zoho invoice is another popular method to charge your clients and ensure payments quickly. It provides with great ways of billing your clients and following up on the same. Also Zoho invoice is very flexible in the services that they provide. If you do not really require a versatile and integrated solution, but would like own a system that would automate the sales invoices and collections, Zoho invoice provide you with the flexible options in terms of services and payments as well.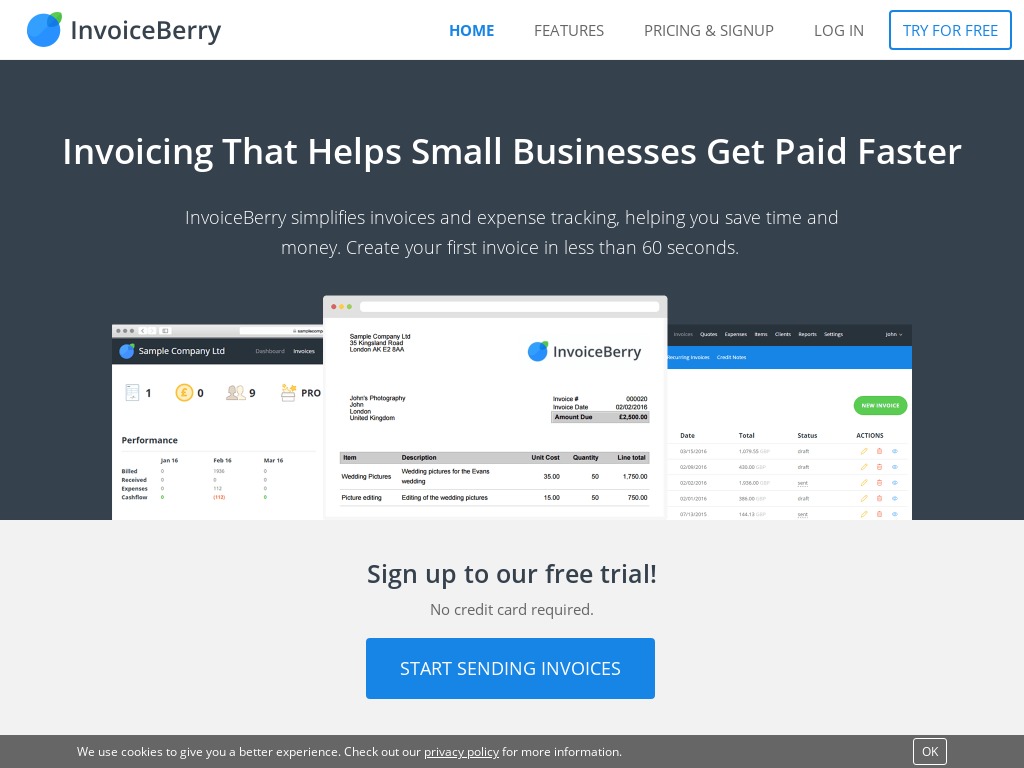 Outright is out rightly a sorted simple and effective online invoicing solution for small businesses in general. It is web based and thus can be accessed easily and makes it really easy to maintain records and manage the same. It is basically designed for the small businesses and keeps in mind the ambitious self employed peoples.
FreshBooks makes the entire process of tracking time and sending invoices to your clients very simple and easy. It works wonders for your business and facilitates you to save time, send invoices really faster and accept the payments more quickly. It performs all the essential invoicing and accounting tasks like keeping a track of the revenues, managing estimates, creating and sending invoices and accepting payments online etc.
Free agent is a cloud-based accounting and invoicing software that has been designed primarily for small scaled businesses & freelancers. Free agents allows you to easily and effectively manage the expenses, time being spent on various projects, and the entire process of sending bills and soliciting payments. The navigation provided by Free agent is precisely designed and is really easy to use. Free agent effectively handles the billing, evaluations, expense tracking, calculating dividends and regular bills, etc and a lot of other functions as well.
We hope this article will help you and be used as a valuable resource. We would love to hear your opinion, so feel free to comment below. Please don't forget to subscribe to the RSS-feed and follow Inspirationfeed on Twitter+ Facebook (100% Spam Free!) If you enjoyed the following article, we humbly ask you to comment, and help us spread the word.