Last Updated on January 24, 2023
You don't need a shelf filled with self-improvement books to learn how best to improve web design performance and productivity. The right tools, coupled with a few easy-to-follow productivity tips, can work wonders. This selection of the best web apps on the market and suggestions for making the most of your working hours will get you off to a running start. The apps are intuitive and easy to use, and you should have little trouble making the productivity tips everyday habit.
Three Productivity Tips that will Keep You Fresh and Focused
Break a Project up into Small Tasks – If you work small tasks one at a time, you are less likely to become bogged down or jump from task to task. When you take on too much at a time, the tendency is to work harder while accomplishing less.
Make the Most of Your Time – This ties in nicely with breaking up a project into smaller tasks. Break up your work into short segments of 25 minutes of work followed by 5 minute breaks. This is referred to as the Pomodoro (Tomato) Principle. It encourages maximum focus and provides creative freshness. Make it a habit.
Start with the most Difficult Tasks – This is admittedly against human nature. We often like to ease into things. When difficult tasks are put off, they often become more so, and when you are working easy tasks, you are more apt to become distracted.
Although these tips although may seem counterintuitive at first, it's easy to get into the habit of following them. You should notice an improvement in your productivity, and also in the quality of your work, almost immediately. Now let's take an added step and look into the best web apps for your toolbox.
Pidoco has the prototyping capabilities you will normally look for in a web app. With more than 400 UI elements and icons, the capability to create custom templates, and a drag and drop function that makes designing a prototype as fun and easy as playing with building blocks, this software-as-a service app is ready to use the moment you sign up.
Since it is an online application, you can create prototypes and access your project from anywhere, and even test them with end users on the fly.
Online access also enables real-time collaboration
, a powerful capability for a project to have at its disposal. Pidoco allows you to save versions of a project to keep track of design changes while a commenting function allows for soliciting user feedback. Prototypes can be exported as HTML, PNG or PDF including comments and meta information. There are four plans to choose from, and at least one of them should fit your needs. To find out more, visit Pidoco and sign up for the free 31-day trial.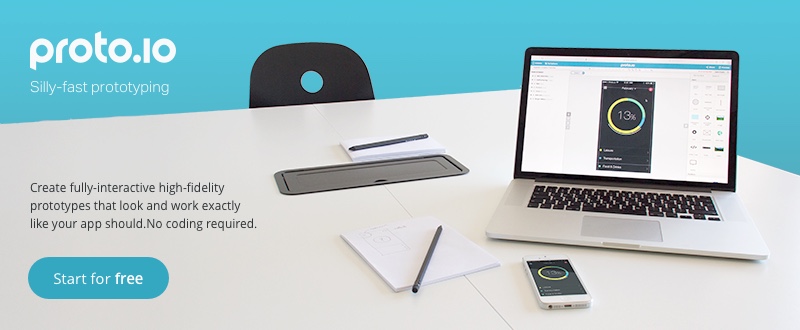 Proto.io is not the only web app that focuses on prototyping native apps for iOS 7, Android 4, and Windows devices. It is also one of the few that provides separate widget libraries; each dedicated to a specific device type. Whether you use native UI elements or your own, the net result is an ability to rapidly create and test realistic, high-fidelity prototypes without coding.
Your UI prototypes can support all of the commonly-used device interactions and animations. They can be tested on actual devices, and on multiple device types. proto.io also features a collaboration capability that makes communication gaps between teams, team members, and clients a thing of the past. When you share your prototype with others you can expect to receive instant feedback in return. Four different plans are available, and you can sign up for free.
The authors of Azendoo had a definite objective in mind, and that objective was to help design teams avoid time-consuming tasks that could easily lend themselves to automation. Time is precious when there are milestones or deadlines to meet. This web app will get you out of the habit of working at working, and let you focus on what you do best – design. This app is popular with small and medium size teams, and in environments where cross-communication between organizations is required to keep a project moving forward.
Letting Azendoo handle most of the project management tasks allows you and your team to focus on the business of creating prototypes, blogs, or web pages while working smarter instead of working harder. This web app even assists in arranging meetings and reviews that are less time-consuming and more productive.
Creately is a web based app that enables you to rapidly create wireframes and mockups. It features separate object libraries for mobile devices, UI and iOS controls, and iOS and Android icons, plus additional controls and a large selection of professionally designed templates. Its powerful collaboration capability enables you to communicate with team members and clients in real time. Since it is a web-based tool, you can coordinate changes, receive feedback, and make decisions while on the go. To find out more about Creately, sign up for the free trial version.
This online project management tool is an ideal choice for small project teams and for small and medium-sized businesses. If you are an individual web designer it will efficiently manage your project management tasks as well. It makes sense to split projects into small tasks, and Paymo will do that for you. It will also assign tasks and track time worked and progress. Paymo keeps your team in sync, and it keeps you up to date on project status, even when you are on the go. It is a time saver, and as it is available in 18 languages, it gives you a global outreach.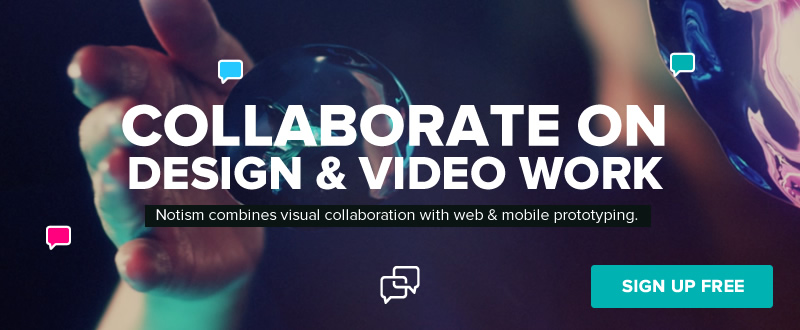 Notism does several things, and it does them well. As a prototyping tool for iOS and Android, it converts static screens into interactive prototypes without coding. As a collaboration tool, it enables project managers and team members to share, review, and sign off visual content. It versions designs and associated information as they are switched back and forth for review and comment. Where Notism really shines however is in its video collaboration feature. Put these all together, and you have one of the finest presentation apps you will find anywhere.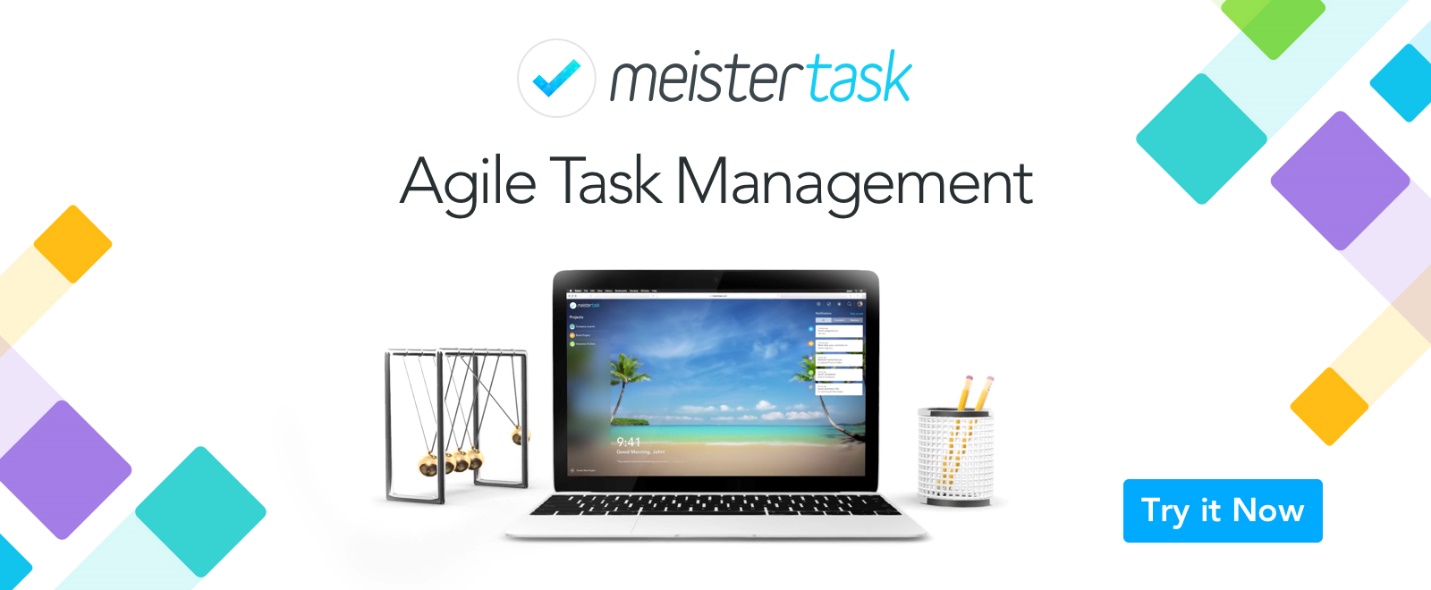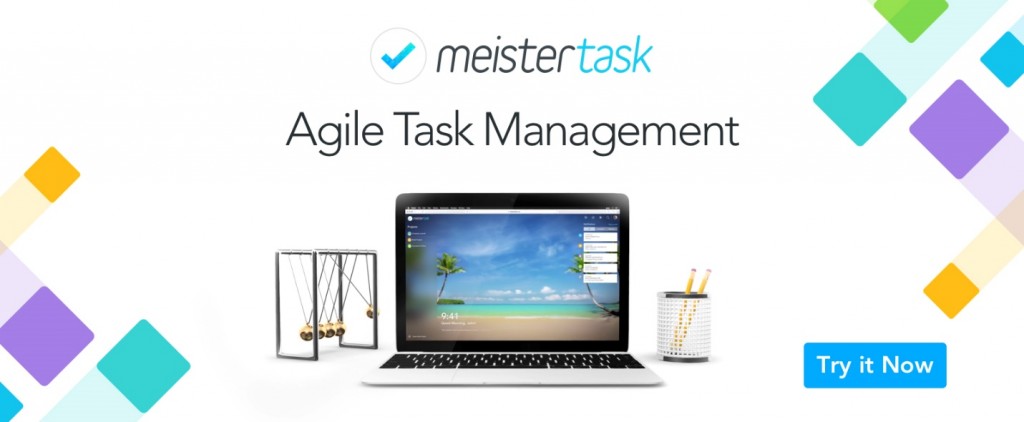 If you rely on mind mapping to create conceptual designs, MeisterTask can turn those conceptual designs into reality. Just pair MeisterTask with its big brother MindMeister and let MindMeister handle the visualization of your idea, while MeisterTask handles the execution.
MeisterTask is a task management web app that can be used by individuals or by a project team of any size, and it will keep everyone in sync. As a project manager, you can start each day by getting a comprehensive overview of your project's status, so you will know where you need to direct your attention.
Conclusion
Each of the web apps featured here has project management and collaboration capabilities designed to keep your team in sync and your project on track. If you already have a design tool that performs to your satisfaction, a web app focusing on collaboration would be your best choice.
If you don't, you will find an ideal solution here as well. Pick one that you believe will suit your needs and review the demos or take it out for a free trial spin. Using any of these web apps in tandem with our productivity tips will have you working smarter instead of harder in no time.