Last Updated on March 8, 2022
You enjoy the work you do, right? Still, your effort to create a beautiful, quality website for a demanding client, while facing a tight deadline, can be a source of stress. Building websites that present few challenges can also be stressful, if you begin to view them as no more than routine tasks.
Working with design tools that are difficult or cumbersome to use add to the stress you may already be experiencing. By taking away time you would rather devote to design.
Maybe it's time to stop and take a deep breath, and seek out a tool that is actually fun to work with – like this one. Kallyas, with its integrated, front-end builder, is an absolute joy to use.
   A web designer taking a stroll in the park following his daily struggle with his WordPress theme.
Good Code in the Back End is the Secret to Intuitiveness in a WP theme
A web designer's life would be easier if all WP themes were built on a solid foundation of flawless coding. And as a result, they were fast, intuitive, and easy to use. Sadly, this is all too often not the case.
Too many themes are guilty of bloated code. Bloated code means inefficient code. And a theme will load slower as a result.
A theme created by experienced developers, those who have worked on several themes will seldom contain bloated code. The authors get the job done right. And you do not have to become a part-time developer to get a theme working.
Kallyas's authors bring you a theme that is simple, intuitive, adaptable, and a joy to work with. Thanks in part to their years of experience creating WP and Joomla themes.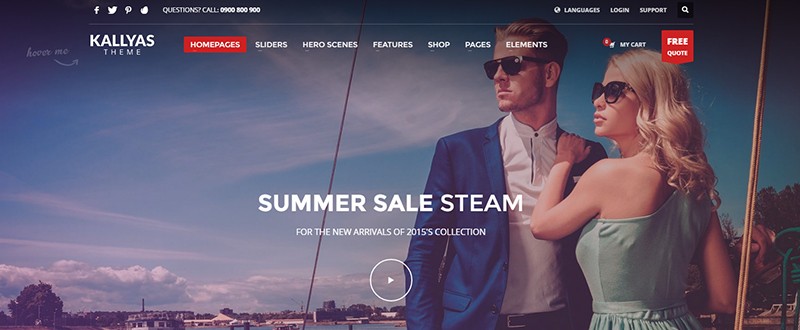 An intuitive WP theme makes building an eCommerce website's home page like this one a fun experience.
Kallyas lets you focus on what you do best – web design. Kallyas does not contain code you have no need for, nor will the websites you deliver.
Why an Integrated Front-end Builder Can Increase the Quality if Your Work
An integrated front-end builder is a significant time saver. It makes the need for back end coding, a task most web developers have little or no expertise in, unnecessary. Having to write code during your design work slows you down, and unless you are proficient at coding, can have a negative impact on the quality of your work.
An integrated front-end WP visual builder's UI like this one makes your job easy.
Any time spent in going back and forth from the front end to the back end, writing and checking code, is time you are not devoting to design. Which is what you do best.
Using an integrated front-end builder, like the one Kallyas features, can actually improve the quality of your work. All you need to do is (1) drag and drop your design element or content, (2) edit it, and (3) select your settings, save, and you're done.
One of the benefits of this approach is, if your client requests a website change, you can make that change in seconds. You'll avoid the stress and hassle of going back and forth with your client until a satisfactory outcome has been achieved.
This video demonstrates the integrated, front-end builder in action:
Fast Loading Time is Not a Luxury, It's a Necessity

Whichever WP theme you might choose, it must be able to manage the resources for you. A theme, like Kallyas, that manages resources efficiently, will save you time and effort.
Other WP themes have a tendency to load elements in addition to those needed to make up a page. These other elements are not necessary. And when page loading is slow, users get frustrated.
The Kallyas integrated front-end page builder solves the problem of slow loading times. It loads the elements that you need and only those elements. The result: satisfied users, happier clients, and with no slow page loading problems to worry about, less stress on you.
The Final Score: Enjoyment 1 – Stress 0
As a creative, you choose tools and methods that will support your preferred style of work. Kallyas won't weigh you down with limitations, or features you will find cumbersome to use. This WP theme is a perfect solution for any web designer who may struggling to devote 100% of the time to doing what he does best – design.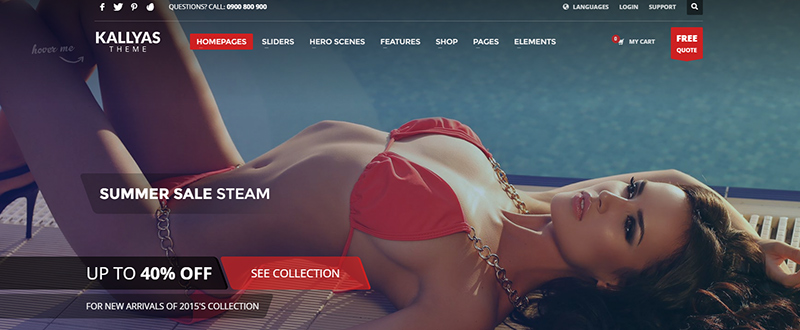 Check it out, and discover for yourself, why this WP them is fun and relaxing to work with. Kallyas, with its agile code, efficient resource management, and cool UI, will never disappoint you. You'll find it will be a solid investment, and a web design tool that is a joy to work with.