Last Updated on September 2, 2022
Acrylic nails are durable and make for a great base for all kinds of nail art. Created from liquid monomer and clear acrylic powder, the 'dough' is applied onto the nails, shaped, and then air-dried. With proper care and upkeep, these can last up to eight (8) weeks.
People love acrylic nails for many reasons. For one, it can help with damaged, brittle, or split nails. It's also a lifesaver for folks who have a hard time growing their fingernails. There are tons of designs and shapes to choose from as well. They're great for everyday wear, too!
Best Acrylic Nail Ideas
Nail art is one of the best ways to draw attention to your hands. And with acrylic nails, you can achieve any glam, sweet, or punk look that you want. With its durability and popularity, the only thing you need to decide on is the design.
Not sure whether to go for something neutral or colorful? Then let these acrylic nail ideas inspire your next manicure.
1. Abstract
Credits to SoNailicious via The Cuddl
Make your nails appear like works of art using modern shapes on white base.
2. Baby Blue
Credits to Hang Nguyen via The Trend Spotter
Simple, loveable, and calming, this pretty design can be easily done at home.
3. Pink Ballerina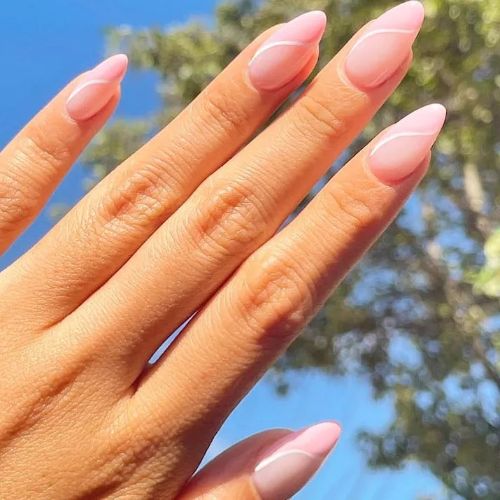 Credits to Divanailsmineola via Byrdie
This pink and modest concept is perfect for those who like almond-shaped nails.
4. Orbs
Credits to Nailsbydaovo via Allure
Add bright, colorful orbs onto a transparent base to bring out your fun side!
5. Cherries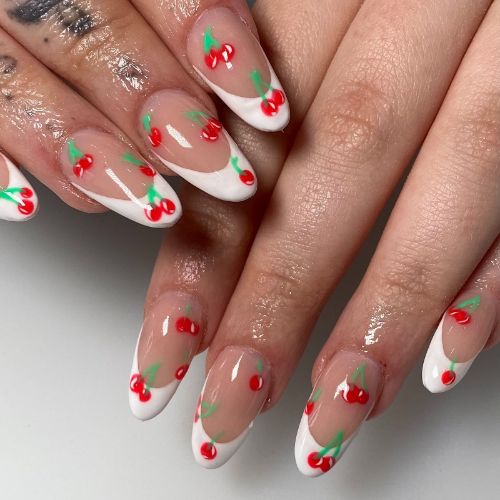 Credits to Nailsbyelisha via Allure
Level-up a traditional French tip with fruits of the season (or any fruit for that matter).
6. Auspicious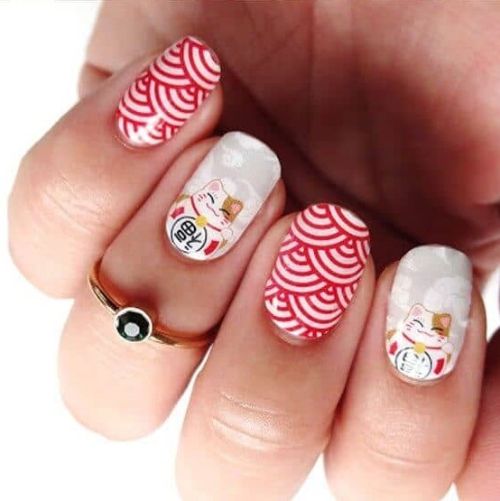 Credits to Lacquered Lawyer via The Cuddl
Red seigaha (wave) patterns and maneki-neko (beckoning cat) adorn this cute Asian-inspired nail art.
7. Metallic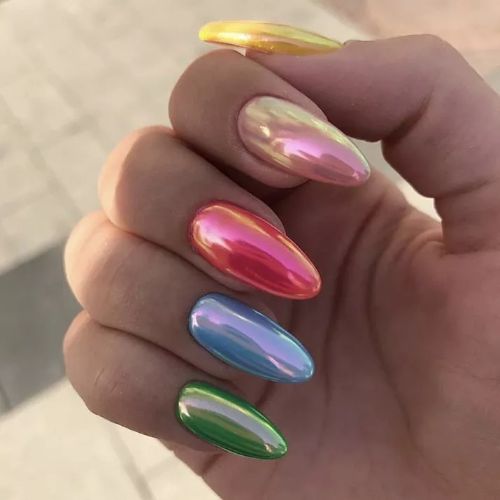 Credits to Dailynails31 via Byrdie
This uncluttered look is a great nod to the flashy times of the 90s.
8. Vibrant and Glitzy
Credits to Sheadbeauty via StayGlam
The colorful tips on this design are complemented by sparkling glitter that's easy on the eyes.
9. Cool Coral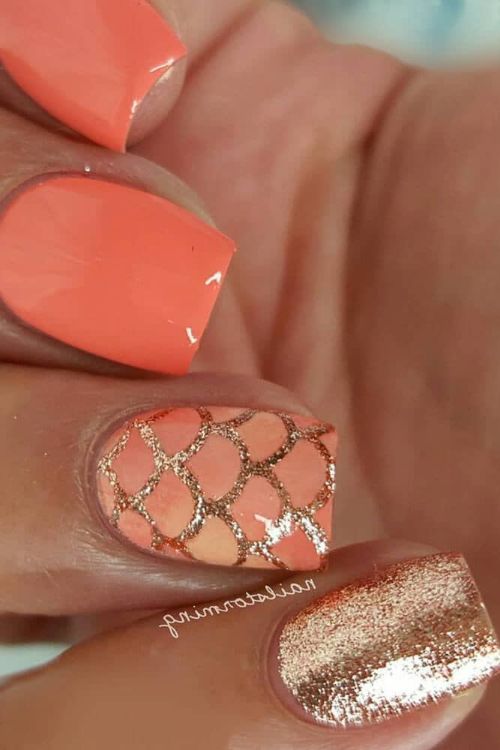 Credits to Gianna Campisi via The Cuddl
This classy acrylic nail idea can go from start of summer to sundown date anytime.
10. Cruella
Credits to Artmuva via Allure
Disney babies rejoice! Your favorite fashionable villain can now be immortalized on your digits.
11. Yellow Daisies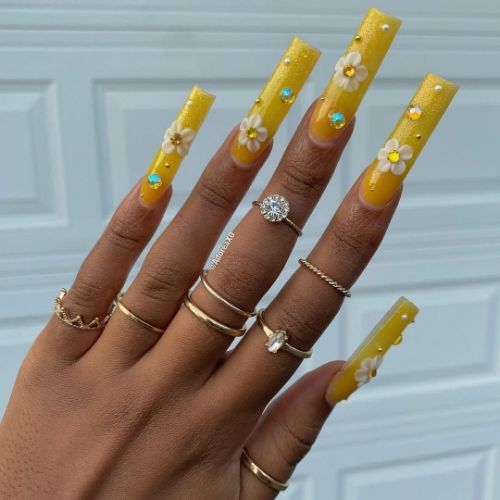 Credits to Adoreaxo via Allure
3D cream flowers, gems, and yellow glitter make this nail art ready for spring or summer.
12. Deep Sea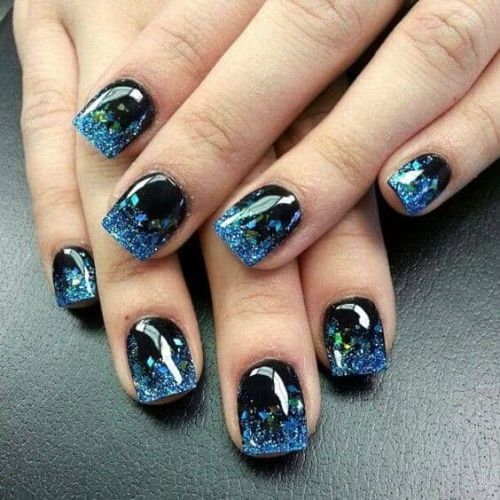 Credits to Fenzyme.com via The Cuddl
What beauty lies at the bottom of the ocean? Let your nails provide a sneak peek.
13. Branding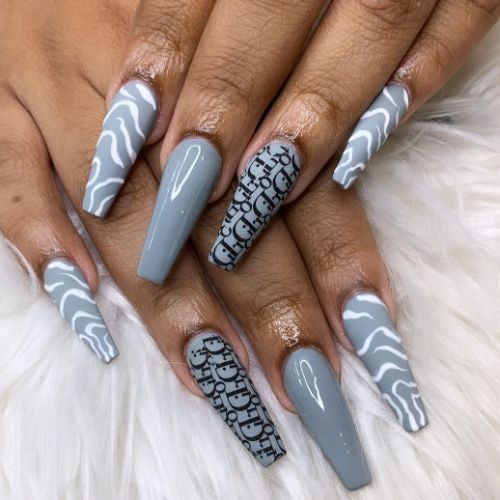 Credits to Badgal.nails via Allure
Combine matte and gloss finishes with just a touch of luxury branding – just like this design.
14. Florals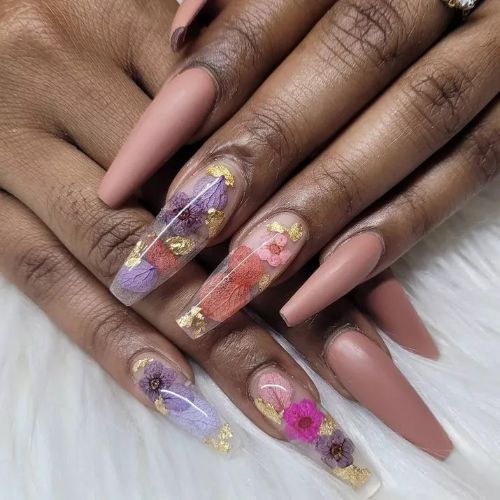 Credits to The Nail Nest via Byrdie
Wear this lovely concept using tiny pressed flowers and gold foil for a fresh look!
15. Smileys
Credits to Nailmodish via The Trend Spotter
What better way to always 'wear' a smile than by putting smileys on your digits?
16. Later Gator
Credits to Thetyratales via Allure
Show off your wild side in this gator-inspired nail art that won't bite.
17. Glitz and Glamor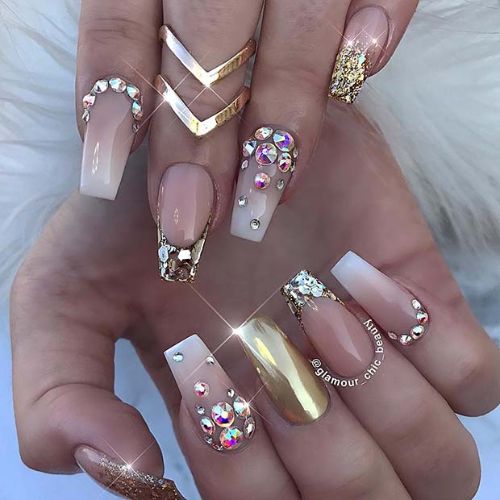 Credits to Glamour_Chic_Beauty via StayGlam
Party girls will enjoy these coffin acrylic nails for the holidays, NYE, and any celebration in between.
18. Glow-in-the-Dark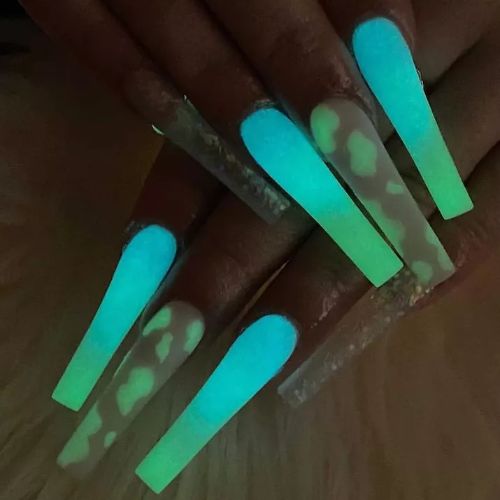 Credits to KRYLX via Byrdie
Give your nails a double life: nude and normal by day, and glowing by night!
19. Peony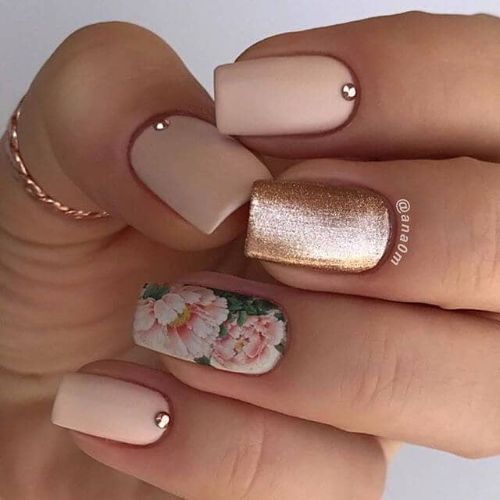 Credits to Ana0m via The Cuddl
Champagne pink, gold rhinestones, and a peony illustration adorn these amazing nails.
20. Asymmetrical Gold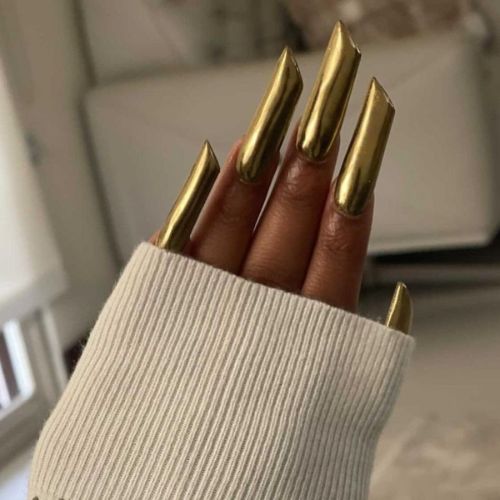 Credits to Nail_It_Malli via Allure
These lipstick acrylic nails were first painted with a black basecoat, followed by gold metallic powder.
21. Goth Chic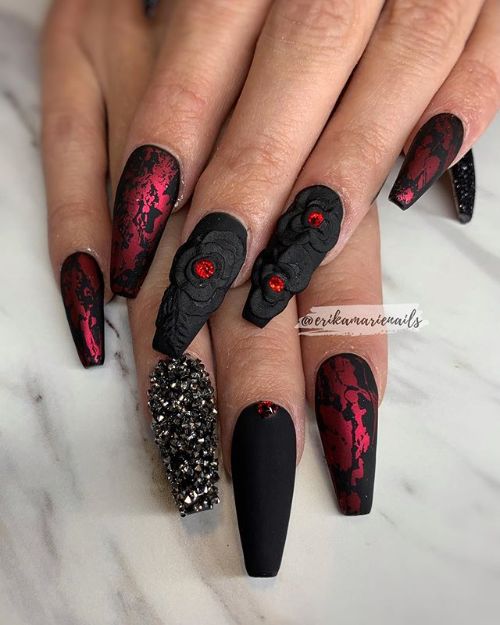 Credits to Erikamarienails via The Cuddl
Dark, moody, yet classy, don these showstoppers to a special event or evening.
22. Kidcore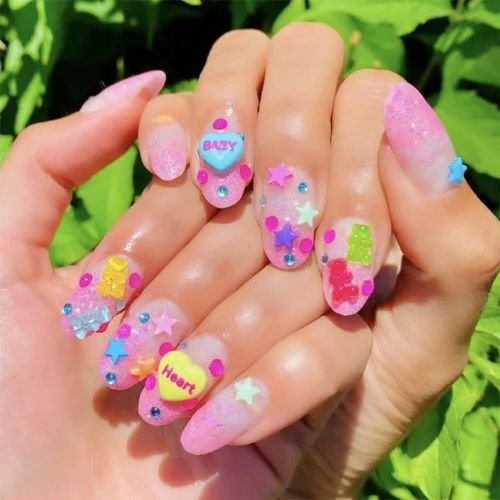 Credits to Britney TOKYO via The Trend Spotter
Embrace your wild child with every glitter, decal, or bold colors you could get your hands on!
23. Koi Pond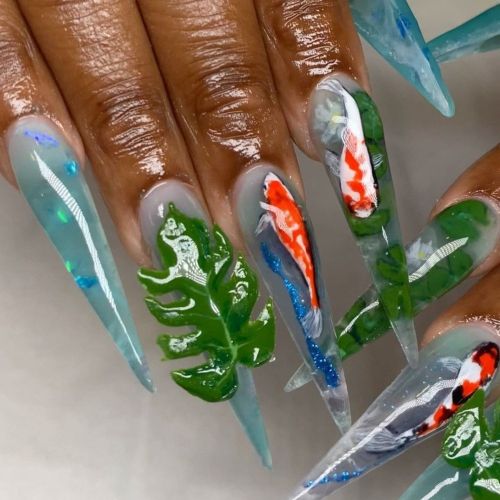 Credits to Artmuva via Allure
With hand-painted koi fish, a 3D emerald-green leaf, and translucent teal tone – what's not to love?
24. LV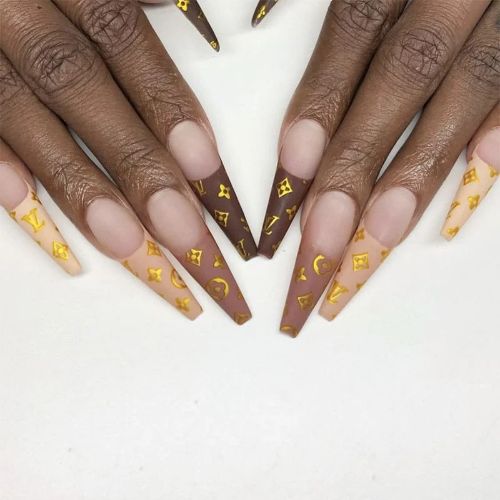 Credits to Nails by Kia via The Trend Spotter
Logo nails aren't only gorgeous, they're a great way to pay homage to brands you love.
25. Marbled
Credits to Alexandra Nanette via StayGlam
The marble design on acrylic nails is always a stunner and can be worn anywhere, anytime.
26. French Ombre
Credits to Nailedbyvu via StayGlam
Simple and elegant, you can't go wrong with this sophisticated concept for coffin-shaped nails.
27. Mermaid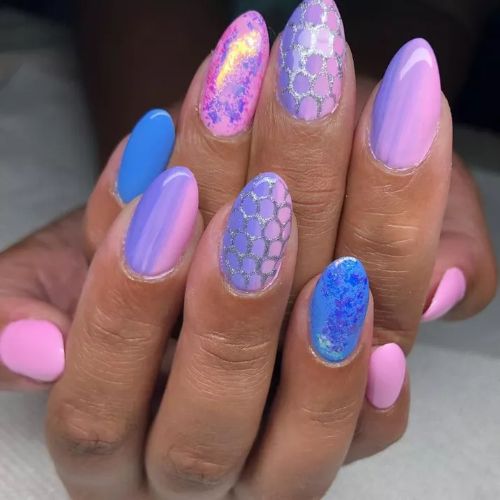 Credits to Paragon Beauty LLC via Byrdie
Bring out your inner water goddess in this fancy and shiny acrylic nail idea.
28. Contemporary Lines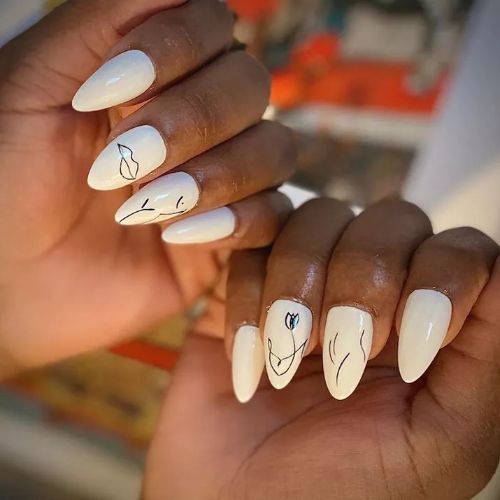 Credits to Akiko Nails NYC via Byrdie
Jazz up your blank nails with some contemporary line art either from stencils or drawn freehand.
29. Neon Tips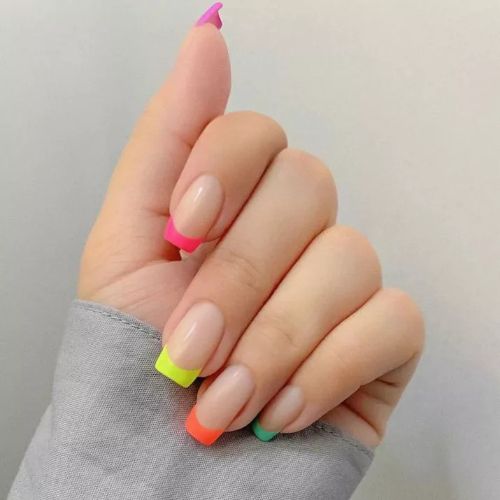 Credits to nabila_salon via Byrdie
Want color but not a lot of it? Then settle for putting them on your nail tips for a unique statement.
30. Sexy Silhouette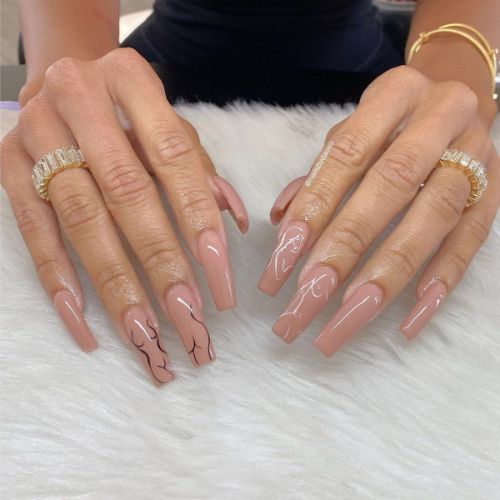 Credits to Nailsbydaovo via Allure
Nothing is sexier than beige with sexy silhouettes to highlight their appeal.
31. Glitter Lover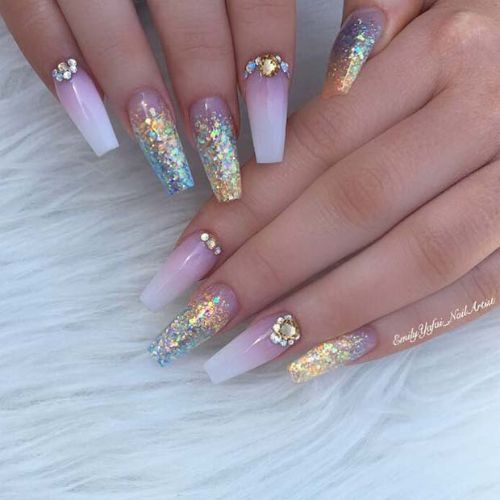 Credits to EmilyYafai_NailArtist via StayGlam
Sparkle like a diamond with this amazing glitter nail design.
32. Jelly Nails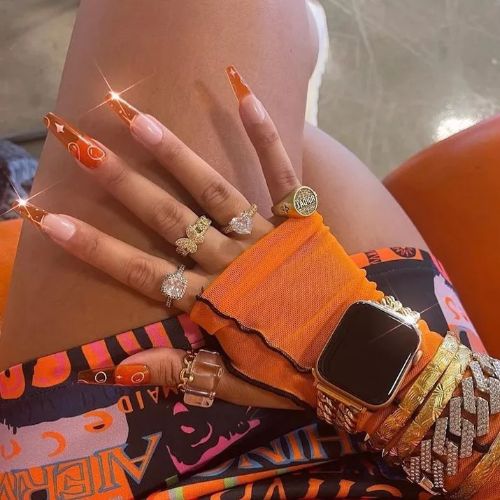 Credits to Scandal Beauty via Byrdie
Give your nails a 90s retro look with jelly nails in a wide variety of color.
33. Groovy in Pastel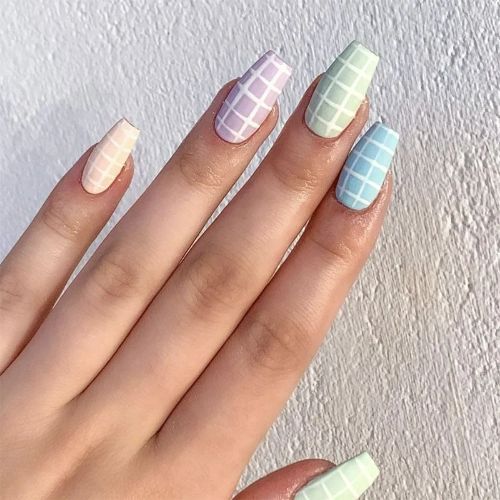 Credits to She Got Nailed via The Trend Spotter
This subtle nod to the vintage era of the 70s will look bomb with almost anything!
34. Patterns
Credits to Nia Ho via The Trend Spotter
Want to play around with hues and shapes? Then this fun nail art is perfect for you!
35. Barbie in Pink
Credits to Joanna To?rnqvist AB via StayGlam
Don Barbie's famous magenta pink on your digits to effortlessly bring out your girly side.
36. Gold Coffee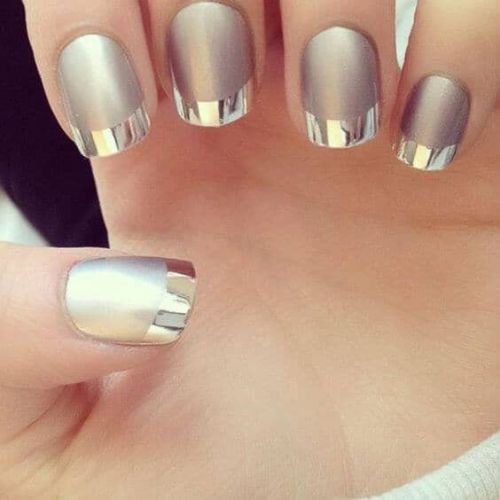 Credits to Taofeminino.com.br via The Cuddl
This simple yet gorgeous short acrylic nail look will impress even on the most casual days.
37. Little Unicorn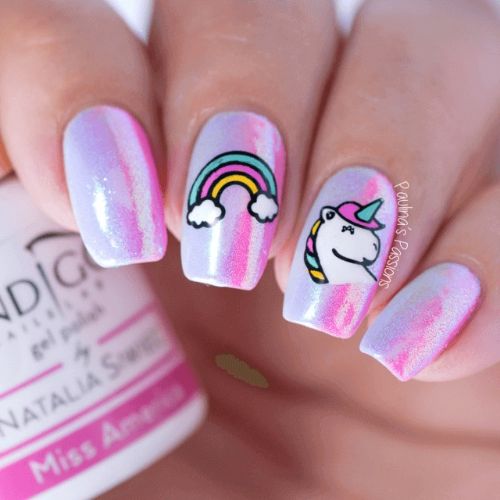 Credits to Paulina's Passions via The Cuddl
Give your medium length square-shaped nails the pink treatment in this cute concept.
38. Rainbows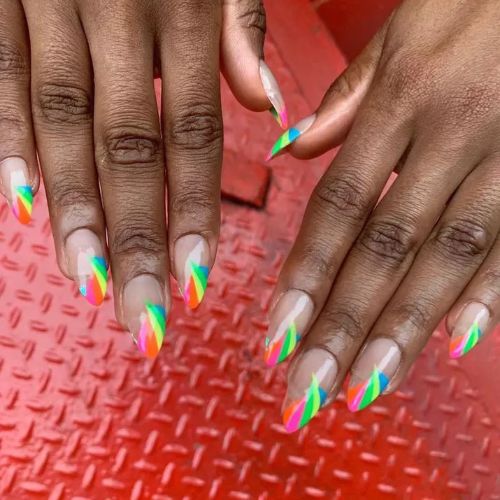 Credits to Akiko Nails NYC via Byrdie
Neon hues in a rainbow pattern give this modern French manicure an eye-catching vibe.
39. Red Plaid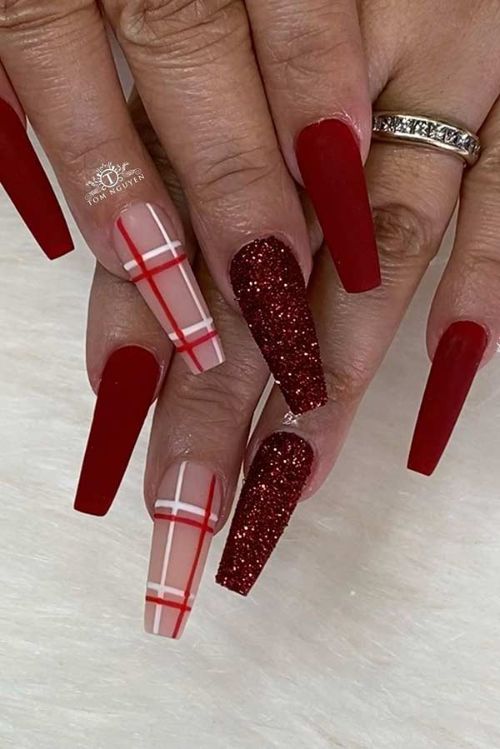 Credits to Tom Nguyen via StayGlam
Prep for the holiday season in rich red hues and fantastic plaid!
40. Red Tips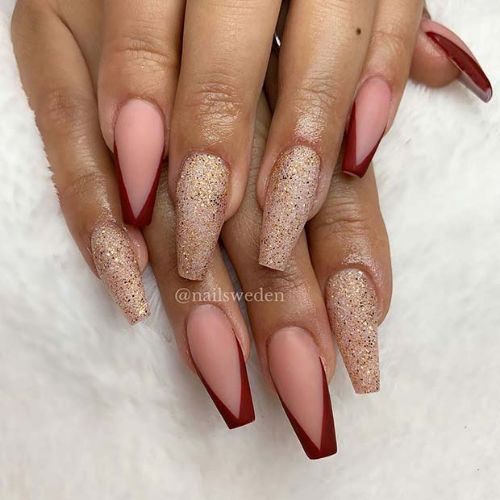 Credits to Mathilda Tingshagen via StayGlam
This sophisticated look features hints of red and lots of gold glitter for a luxurious effect.
41. Skeletons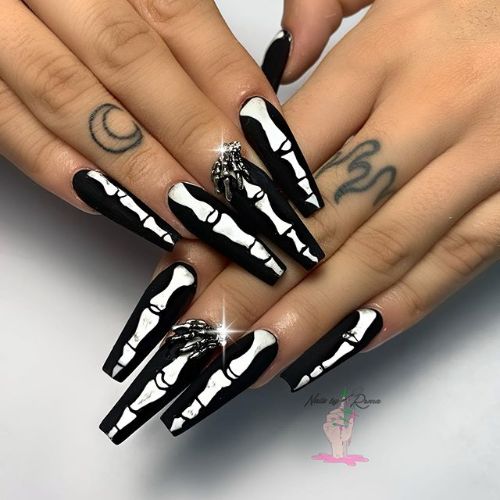 Credits to Nails By Roma via The Cuddl
If you're looking for the best Halloween nails, this is it!
42. Purple Clouds
Credits to Nailitmag via The Trend Spotter
Dreamy nails require a dreamy design – like these clouds and stars, for instance.
43. Modern Twist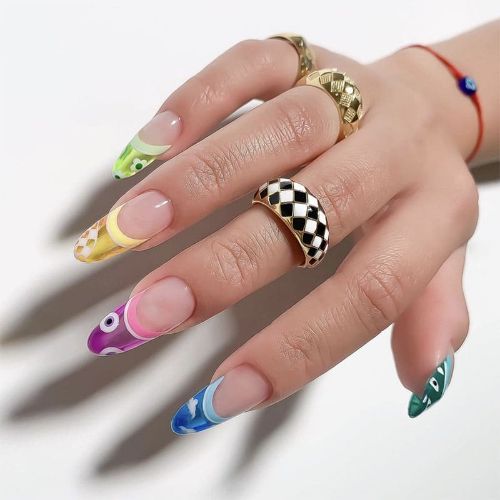 Credits to Nia Ho via The Trend Spotter
Instead of the traditional white French manicured tips, why not go for cheerful, vivid tones?
44. Complementary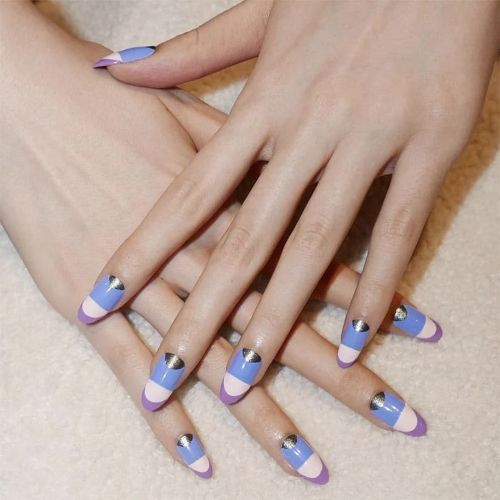 Credits to Alicia Torello via The Trend Spotter
Bold shapes and bright colors will suit any occasion and definitely any mood.
45. Spring is Here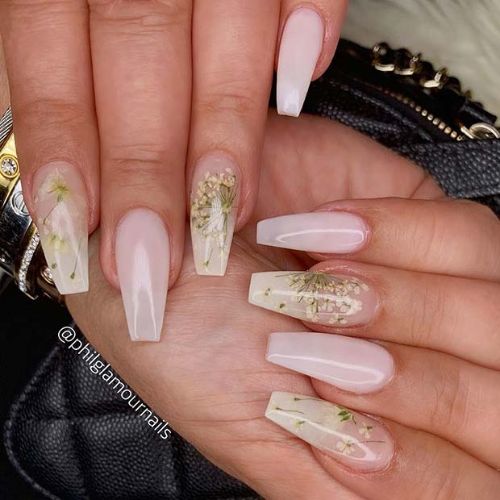 Credits to Philglamournails via StayGlam
Create a delicate and sensual vibe using your favorite flowers on acrylic nails.
46. Craving Candy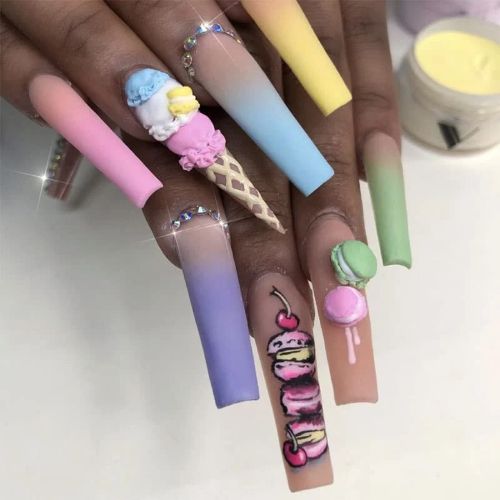 Credits to Queenofnails via The Trend Spotter
If you can't get enough of sweets and confectionaries, just put them on your digits!
47. Greens and Daisies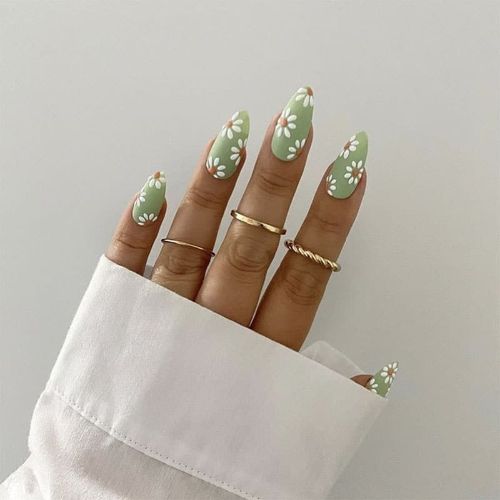 Credits to Nailitmag via The Trend Spotter
Green is always a good go-to, especially for nature lovers.
48. Neutral Numbers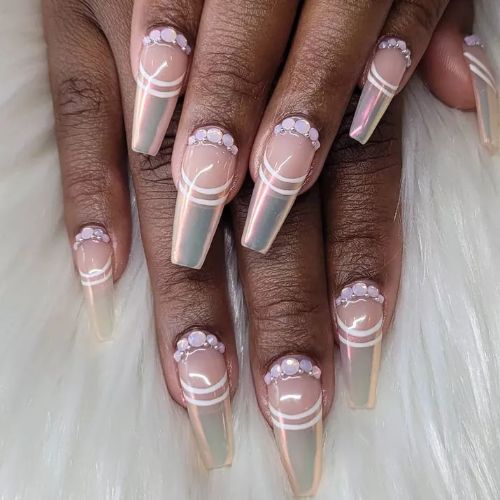 Credits to The Nail Nest via Byrdie
With iridescent tips and a base of tiny pearls, your neutral acrylic nails have never looked so good.
49. Navy Blue
Credits to Kleidys Nails via StayGlam
Everyone will be mesmerized with these matte navy blue coffin nails that are surely to die for!
50. Drip Art
Credits to Adoreaxo via Allure
Find yourself a nail artist who can create true works of pop art – just like this trippy design!