The Adobe Experience Platform was recently added as a new product and is a part of the Adobe Experience Cloud. It has many tools and exciting possibilities. But how do you decide if the Adobe Experience Platform is right for you? In this article, we will try and answer all of the key questions you might have.
1. What is Adobe's Experience Platform?
Adobe is positioning its Experience Platform as the next generation of software to allow personalized customer experience delivered in real-time. As integrated software, it allows the incorporation of data from internal and external sources. It does this using the Experience Data Model (XDM) (more on that later). 
It is built on an open API (Adobe IO) framework, allowing for data engineers to build custom integrations with other software. It can also take information from older CRM models and provides real-time customer experience. 
The Adobe Experience Platform aims to move away from siloed customer data management, to create continually updated and unified profiles. It does this using Customer Data Platforms.

2. What is a Customer Data Platform?
Built into the new Adobe Experience Platform is the Customer Data Platform (CDP). A CDP is a type of software that allows for access to a customer's information across different systems. The software is also able to bring in real-time cleaned data from a number of sources to create a single profile. 
This information allows users to create targeted actions across different channels. This includes channels such as emails, Facebook's Custom Audiences, or on websites. Adobe claims its CDP allows high-level usage governance. It allows data to be used transparently and provides options to give customers further control over their data.
3. How does Adobe Experience Platform compare to existing Customer Relationship Management and Data Management Platforms?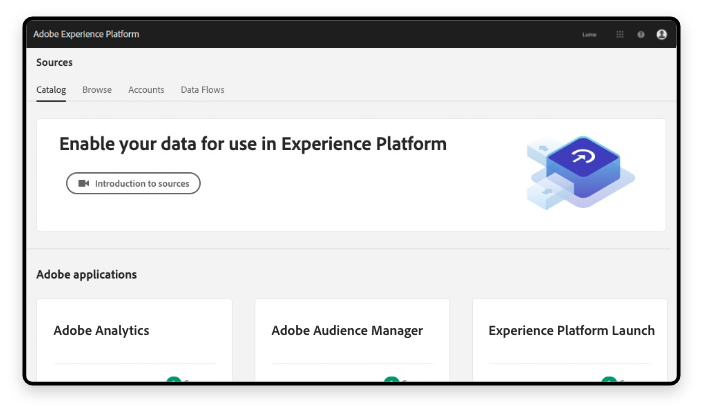 Customer Relationship Management software, or CRMs as they are more commonly known, are used by many organizations. While effective for some purposes, they are often predominantly offline and static. Specifically, they tend not to incorporate behavioral data or update in real-time. Data Management Platforms (DMP) are online tools for housing customer data and store third part digital data such as cookie IDs. 
Using CRMs or DMPs it's difficult to make data match with content and provide the most relevant experiences for customers. Also, web browsers like Safari and Firefox have announced they are going to start blocking third party cookies. With similar trends in regulations, this is going to limit the viability of DMPs.
The Adobe Experience Platform is essentially the next generation of customer experience management. Building it on open API (Adobe IO) means it can be used by a whole host of users such as data engineers, digital markets, data scientists, and data analysts. Its functionality for organizations spans analytics, marketing, customer experience, and advertising.
4. What is a unified customer profile?
A Unified Customer Profile (UCP) is what the Customer Data Platform allows you to create. From the perspective of the brand or advertiser, it is a highly useful tool. It allows for a coordinated approach to targeting an individual across different channels. 
The Real-time Customer Profile within adobe takes data from multiple online and offline sources. It provides a detailed breakdown of all interactions with that customer. This is all done in real-time using multiple identifiers to collate information about a customer. These identifiers can include mobile numbers, email addresses, or company-specific IDs.

5. What is an Experience Data Model (XDM) and how does it work with Adobe Experience Platform?
XDM is behind what drives the functionality of data transfers across the platform. It allows the standardization of unconnected data sets. Meaning data can flow between systems, where it was siloed before. Data is taken from the disparate sources, cleaned, and then added to the real-time Customer Profile. 
The purpose of XDM is to standardize customer experience data and define schemas for customer experience management. It is the XDM that moves the Adobe Experience Platform forward from CRM or Data Management Platforms.
6. How important is using real-time data?
Previously, in the Adobe Experience Cloud, the sharing of data occurred with a delay. This was often in the region of 24-36 hours. While not considered a long delay in other industries, in advertising or customer experience this is problematic. It had an impact on content relevance and had a negative impact on customer experience. 
The new Adobe Experience Platform has enhanced real-time updates from multiple sources. This allows marketers to instantaneously and intelligently react to the signals received from the customer. The result is real-time personalization and increased customer engagement.

7. What are the improvements to data governance across the new system?
As mentioned before, Adobe has taken steps to increase data governance with the introduction of the Experience Platform. It can be notoriously difficult to keep track of data from multiple sources. 
The Adobe Experience Platform allows you to label and track data across different software. It also gives you the option to place restrictions on the use of data. What is more, the advanced privacy and identity controls work in real-time with the real-time customer profile.

8. How does the Experience Platform function with other software within the Adobe ecosystem and beyond?
The beauty of the Adobe Experience Platform is its integration with other products. This means the Unified Customer Profile can be used by other Adobe software, such as Target or Campaign. 
Outside of the Adobe ecosystem, the Experience Platform can connect to non-Adobe products and destinations through REST APIs. For example, visualization can be achieved with Microsoft Power BI, Excel, Tableau, Qlik, and Looker. This is enhanced through the use of open software and allowing the likes of data scientists to trial connections.

9. What role does data science and Artificial Intelligence (AI) play in helping improve customer experience?
This is where the Adobe Experience Platform really excites. Adobe is allowing data scientists or experienced analysis to make use of its powerful AI and machine learning computing power. This takes place in the Data Science Workspace, which is integrated into the platform. Within it, those with the knowledge to do so can develop and apply models to speed up data gathering.