Last Updated on March 9, 2023
Artificial intelligence (AI) is all around us. Informational technology (IT), air traffic control (ATC), medical, and retail are some of the sectors that have benefited immensely from AI. But they're far from being the only ones. AI is also transforming how we undertake our daily endeavors, including our social media engagements.
With the right tool, it's now possible to create sounds, videos, art, and even selfies out of thin air. You can then pass these creations as your own without most people ever realizing that they're synthetically generated.
Media content crafted using artificial intelligence can also be used without obtaining special licensing information. To put it into a better perspective, you can recreate familiar renditions without attributing the original author provided that you can prove the piece was AI-generated.
In this post, we narrow down our focus to the ten apps that can let you generate random faces using artificial intelligence.
Generated Photos is such an effective AI face generation tool that it has attracted the attention of renowned clients like BBC, Daily Mail, Dell, and Forbes. Not only does this program help you create faces from thin air. It also boasts numerous photo editing tools that you can avail to customize the creations to your desired expectations. You can quickly generate a random face or browse the tool's library for scores of royalty-free photos.
Generated Photos exists both as a web-based service and a downloadable app. Each version works remarkably fast.
A freemium product, Generated Photos has a free version that offers basic face generation capabilities and premium versions that provide advanced features. The cheapest of the premium bundles costs $19.99/month.
Lensa by Prisma Labs is an all-in-one AI face generator that packs innovative image editing features. The app sports an easy-to-use interface that even non-tech savvy users can get the hang of. There are plenty of skin-refining effects that you can use to create flawless photos by removing blemishes.
The app also has additional beauty filters to make your selfies stand out on the internet. These include color intensity, sharpness tool, fade effect, saturation editor, and lens correction. A background changer lets you experiment with multiple background images while an eyebrow feature can help enhance your facial contouring further.
Lensa also provides limitless possibilities in terms of the different faces you can generate with it. From faces of babies to grown-ups, astronauts and even ancient humans, you can trust this app to kick in and deliver.
Relight by ClipDrop enjoys the confidence of 15+ million users, with over 4 million images processed every month. But what is it about this app that makes it so special? Well, Relight contains pretty much everything you need to create stunning faces from scratch.
You start by adding a file to the face you'd like to recreate. There's also the option of choosing an image from the tool's library. After generating your faces, you can refine it further using the numerous editing tools available. These include a background remover, cleanup for removing defects, and an upscaler for enlarging your images without affecting their quality.
And true to its name, Relight can help you add or move light sources. That's in comparison to standard photo editors that simply let users alter brightness or contrast.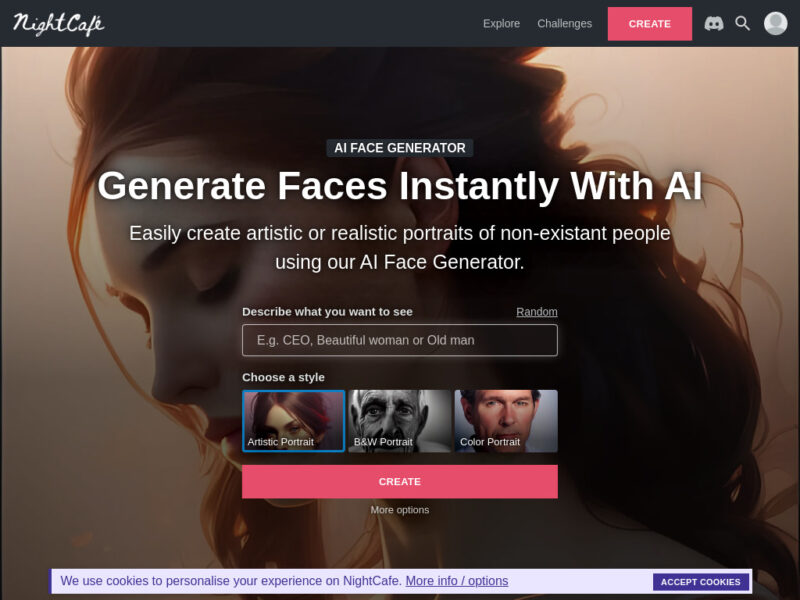 NightCafe is an AI face generator that lets you create faces instantly using artificial intelligence. The application is incredibly easy to use.
In the middle of its official website is a box where you can describe the type of faces you want to create. For instance, you could simply input a random text like 'beautiful woman,' 'old man,' or 'CEO.' Next, select your desired style. There are three options in this category, including Artistic Portrait, B&W Portrait, and Color Portrait.
The final step entails clicking on "CREATE" to generate a random face based on your prompts. If you're unsatisfied with the output, there are plenty of customization features that you can deploy to tweak it to your expectations.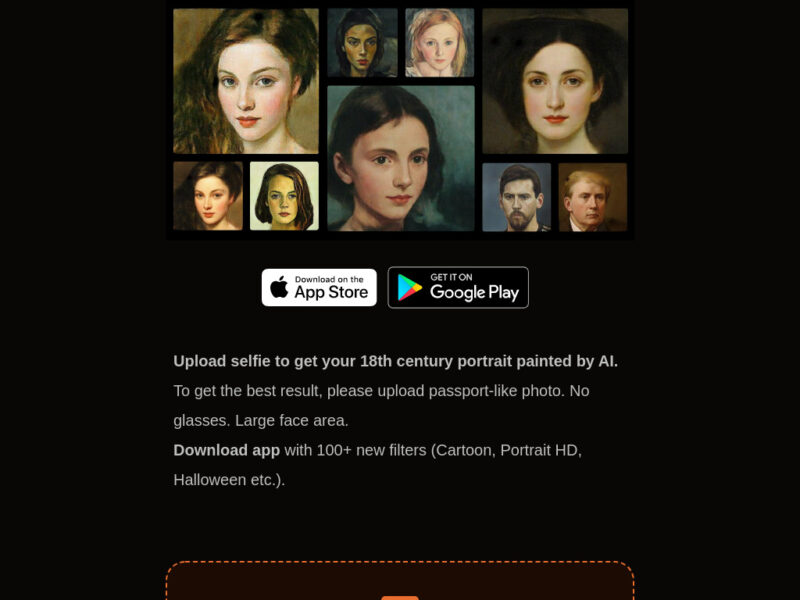 Have you ever wondered how you would look three hundred years ago? Well, wonder no more! Here's an app that recreates your selfies into an 18th century version of you.
To get started with PortraitAI, you simply upload your selfies using either a drag & drop functionality or by clicking on the field marked 'Pick a Selfie pic.' Allow for a few seconds and the tool will quickly reveal how your face would look some 300 years ago.
PortraitAI can convert just about any selfie into its 18th version. But to get the most of it, try uploading passport-like photos. Avoid glasses and larger photos. Once your pictures are ready, you can implement any of the over 100 filters to alter its appearance even further. For instance, you can make the photo appear cartoonish or Halloween-themed.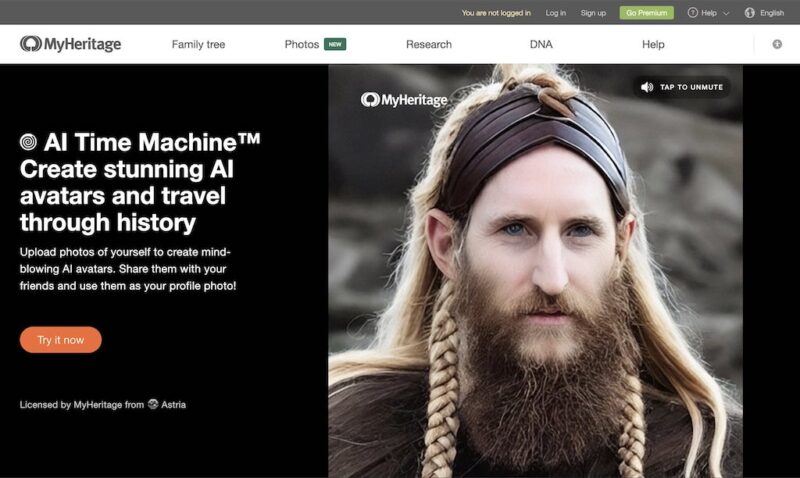 The idea of time machines may only be a reality in science fiction. But it has continued to awe humans for years. So much so that My Heritage decided to name its AI face generator app after the fictional machine.
As the name rightly implies, AI Time Machine by My Heritage allows you to create spectacular avatars that can portray you through different periods of history. It offers an ingenious, albeit fantastical, way to travel through history.
AI Time Machine utilizes powerful artificial intelligence concepts that process your face and recreate numerous models that depict the same photos in different poses and lighting conditions. It then blends the creations into a series of predefined themes to portray them as if they were captured at some point in the past or future.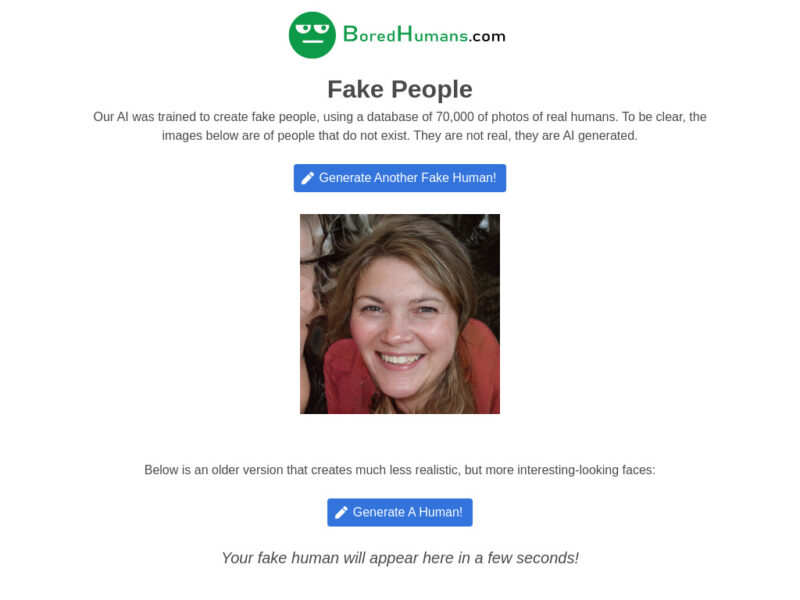 Are you bored with the appearance of your selfies and are looking for a creative way to spice them up? Look no further than this AI face generator app.
Fake people by Bored Humans boasts powerful machine learning capabilities that allow its users to generate realistic-looking synthetic faces. The tool maintains a huge library of over 70,000 real human images. This ensures all synthetically generated faces look as close to real humans as possible.
In addition to Fake People, Bored Humans has up to 50 other fake AI services that you can use for free. These include art creators, video generators, voice & sound generators, writing assistants, and video game ideas, to mention but a few.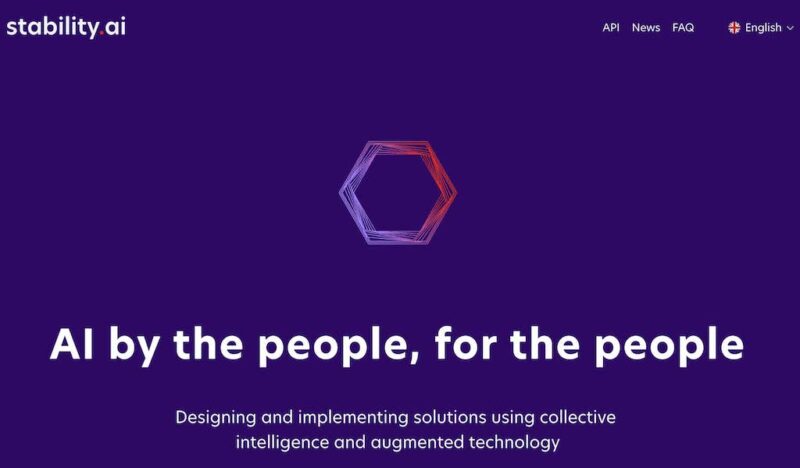 Here's another creatively-named face generator app on this list! The name of the app is a clear indication that what you're viewing isn't a photo of a real person, which can be difficult to believe considering how realistic images generated by this AI app can be.
This Person Does Not Exist uses GAN technology and NVIDIA "StyleGAN algorithm with two neural networks to create authentic-looking faces. The tool works incredibly fast, only requiring a single click of the mouse.
There are various facial features you can try out to make your synthetic face appear more authentic, including teeth, background, accessories, and hair color. A 'Refresh Image' function lets you change the generated image before downloading it.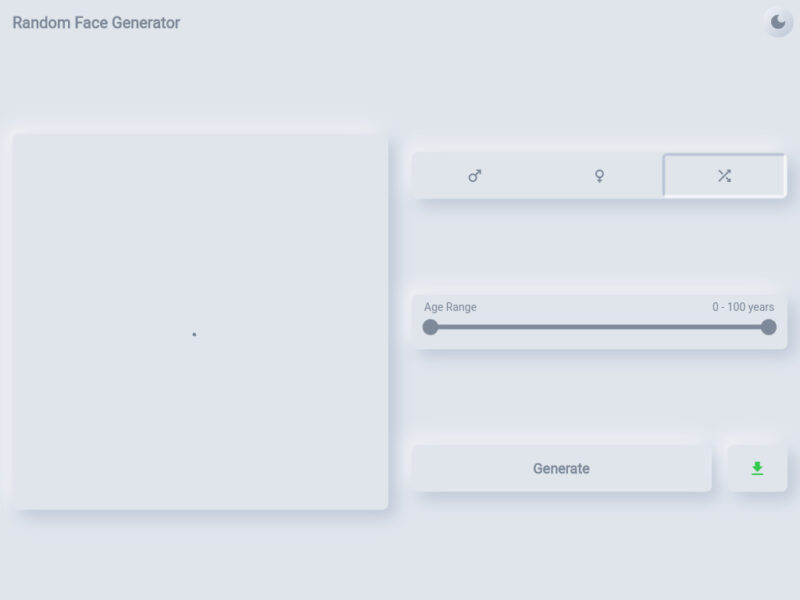 Random Face Generator by GitHub stands out for its intuitive dashboard. While most AI face generator apps only focus on gender, this tool does you one better. It lets you adjust the age of your generated faces from zero to 100 years.
The app can transform your face from that of an infant to an octogenarian, with tons of other customization options in between.
GitHub Random Face Generator also makes it incredibly easy to download your creations. You can readily export your new face to your social media profiles or store it on your device for future use.
The last AI face generator app on this list is by no means the least. In fact, this tool is more efficient than most regular AI photo generators in terms of the range of services it supports. You can use it to create both product photos and campaign images.
But perhaps what sets Designify apart is its ability to save your creations. That way, the tool will automate the editing process the next time you attempt to generate a face using it, thereby saving your time and energy.
Some of the editing features you can use include background removal and color refining.
Final Word
Generating synthetic faces has never been easier. With the above applications, you can quickly create an artificial face that looks as good as the real thing.