Last Updated on January 24, 2023
If you're not used to the tumultuous world of marketing, there's a chance you might not be fully aware of a sales funnel and how it works. Luckily, we can take a few descriptive cues from its name. Essentially, a sales funnel is a visual representation of how sales actually work.
If you have an eCommerce business or a website that offers goods or services, there will almost certainly be a target market that's willing to purchase your products. Sales funnels illustrate the journey that these target markets make in going from being completely unaware of your business to making their first – and subsequent – purchases.
This is called a 'funnel' because as visitors progress on their journey into becoming customers, some will inevitably abandon their journey, leaving fewer prospective customers as they continue on their path towards making a purchase.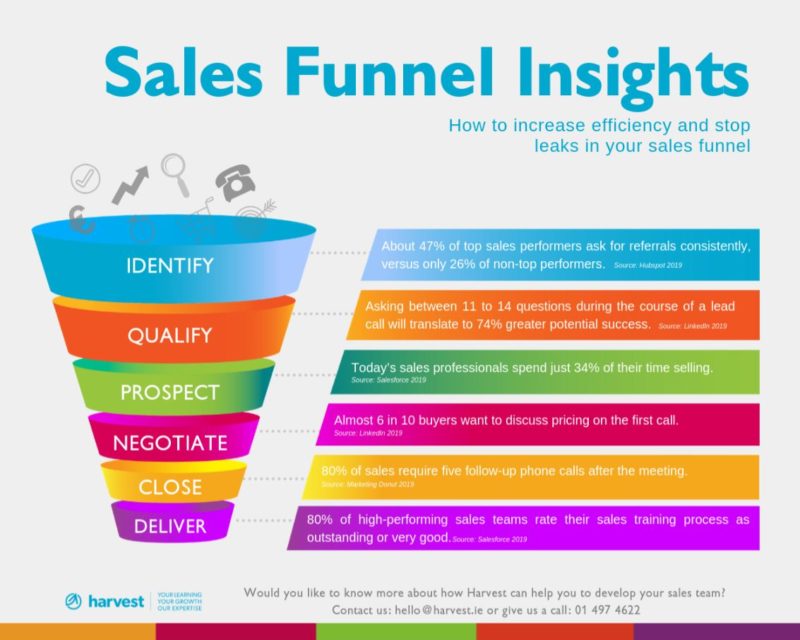 (Depictions of sales funnels tend to vary based on the industry of the website that's built their marketing strategy and the marketers who have determined what the most valuable stages of the funnel are. Image: Harvest)
While the funnel above is rather heavily detailed next to other anatomized sales funnels, it's a great foundation in which to build our stats-based insights article. So let's take a look at some of the most significant sales funnel stats that marketers have found around the conversion driving tool:
The intricacies of lead nurturing
Let's start by looking at the statistics surrounding those who don't know where to start. According to Autogrow, 37% of marketers agree that the most difficult part of their job is prospecting.
Naturally, when it comes to sales funnels, the top is the most significant part, as it acts as a tool for luring in the relevant prospective customers.
It's important to understand your sales funnel, yet 68% of businesses admit to never measuring their sales funnel, or even formally acknowledging that one's in place. Incidentally, 79% of marketing leads fail to convert themselves into sales, on average. This level of willful ignorance in the industry coupled with modest returns on interest indicates that companies are failing to reap the rewards from possessing a comprehensive sales funnel strategy.
The chart above recognizes the importance of identifying, qualifying and prospecting potential customers, and 69% of marketers agree that their top priority should center around the conversion of leads into customers. This means that the vast majority of industry professionals feel that their funnel isn't optimized enough at the very top – or at least not in a way that leverages a smooth passage to the bottom where a sale would be expected to be made.
Let the top of your funnel act as a means of introducing your business to potential new customers. Before prospects will be able to take the plunge into your funnel, you'll have to perform a sheepdog act of luring them into your funnel. It's essential that at this stage, you provide all the information that they'll need to form a level of trust in your company – from brand awareness to positive user-generated content.
Marketing, advertising, networking and talking to people will help you to get your business out there and generate the interest that your organization deserves.
Looking to the middle of the funnel
The middle of the funnel is where constrictions begin, inevitably, many users who were lured to the edge of your business' sales funnel will leave – either through an unwillingness to make a purchase or a loss of interest. This will occur on a large scale but it's important to not be demotivated. Think of how many times you've been interested in a product or service that you've ultimately decided against through no fault of the company in question.
(Finteza shows the constrictions of the typical sales funnel, alongside certain tools that can aid the customer's journey and subsequent analytics along the way. Image: Finteza)
Now that you've managed to attract prospective customers and interested audiences into your funnel, the wheat has been separated from the chaff and you're presented with some serious leads. The middle of the sales funnel represents the all-important process where you begin to turn your leads into customers who are ready to buy your product or service. How is this made possible? By forging a valuable relationship with each and every one of them that demonstrates your value.
Here, it's all about leveraging a rewarding customer experience. This isn't a straightforward and quick process, and 48% of businesses agree that most of their leads require 'long cycle' nurturing, featuring the persuasion of many influencers.
Don't be disappointed if you don't see many leads convert themselves into customers-in-waiting immediately, after all, 96% of the visitors who come to your website don't do so with the immediate intent of making a purchase.
It may not be the most comfortable form of engagement, but it's vital that businesses don't give up after the first rejection. 44% of salespeople, in fact, have admitted to giving up after failing in their first attempt to make contact with a prospect. Statistically, it takes around five attempts to generate a sale.
The middle areas of a sales funnel are a vital area in which trust and compassion are essential for businesses to show that they're willing to cater to the needs of their customers and provide products that are wholly beneficial.
Hitting the bottom of the funnel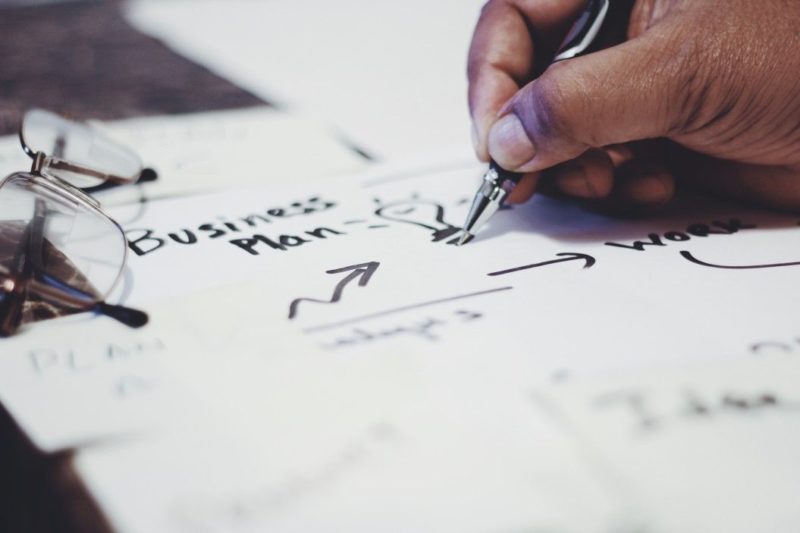 So you've attracted some new prospective customers, you've established a wealth of trust and brand recognition. It's time for your new audience to make a decision on whether to complete the purchase process or abandon their cart. If you've worked hard enough at the top and middle of your funnel, the chances are high that you'll receive a sought-after conversion.
Demonstrating value can be a deft process, but now it's time to be a little bit more straightforward. Many businesses utilize eye-catching Call-To-Actions in order to make a sale, these tend to be bright, unmissable prompts that force your visitor into making a decision – either they can click to make a purchase, or navigate away from your page.
There are plenty of tips and tricks for producing effective Call-To-Actions, many experiments have found that the use of arrows generates a 26% increase in clicks, while others also point to the use of clear and clickable buttons can boost conversions by up to 45%.
An essential part of a successful sales funnel, and one that many marketers fail to follow-up on is the vital task of re-targeting your customers. Just because a sale has been made, it doesn't mean that you should allow your new buyer to drift into the ether. Be sure to ask for permission to send them regular newsletters with carefully selected offers and adverts.
It's important to remember that if somebody has already made a purchase through your website, the chances are that they'll be considerably more inclined to do so again at a later date.
Funnel optimization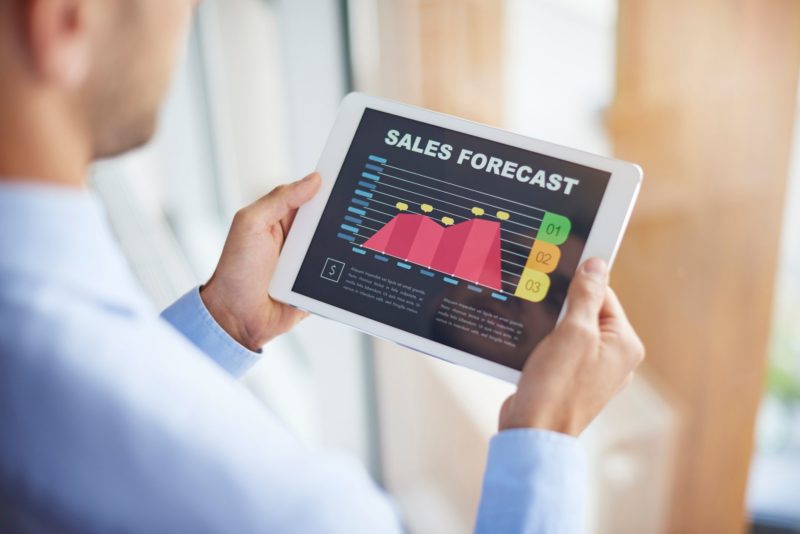 Optimizing your sales funnels can be a tedious business, but there are plenty of tools out there that can help to make the process much more manageable and effective.
Tools like Finteza allow customers to monitor and optimize all aspects of their sales funnel – from checking the quality of user-engagement with on-site Call-To-Actions, to exploring user behavior within your pages to identify and mitigate your website's shortcomings. Tools like HotJar allow you to see heatmaps of where people click on the website.
Other tools, like Typeform, allow websites to create surveys inviting customers to share their honest opinions about how enjoyable their buying process has been and where can be improved.
Marketing is big business, and as such, there's no shortage of metrics available that provides invaluable insights into your website's performance in the eyes of customers. Remember that it's a long path through the funnel, but you can learn just as much as your visitors if you're willing to take the time to analyze and edit your customer experience model as you go.