Last Updated on March 8, 2022
Who Is André 3000?
André Lauren Benjamin, better known by his stage name André 3000, is an American rapper, singer, songwriter, record producer, actor, television producer, and entrepreneur. Benjamin is best known for being a member of the southern hip-hop duo Outkast, alongside rapper Big Boi.

André 3000 is considered one of the greatest rappers of all time. He has consistently made the "top ten rappers" lists by numerous media outlets, such as Billboard magazine, Complex magazine, and Showbiz Cheat Sheet.

In addition to rapping, André Benjamin has also appeared in a number of films over the years. Notable ones include Be Cool (2005), Four Brothers (2005), Revolver (2005), Semi-Pro (2008), and High Life (2018). André has also been cast in multiple television series, such as The Shield (2004 and 2008), About a Girl (2008), and American Crime (2016). Still on television, Benjamin is noted for starring as Jimi Hendrix in the series All Is by My Side. He currently plays the lead role of Fredwynn on the series Dispatches from Elsewhere.
Quick Facts
| | |
| --- | --- |
| Full Name: | André Lauren Benjamin |
| Popular Name: | André 3000 |
| Gender: | Male |
| Birth Date: | May 27, 1975 |
| Age: | 46 years |
| Parents: | Lawrence Harvey Walker and Sharon Benjamin Hodor |
| Siblings: | None |
| Birth Place: | Atlanta, Georgia, United States |
| Nationality: | American |
| Ethnicity: | African-American |
| Education: | Sarah Smith Elementary School, Sutton Middle School, Northside High School, McClarin Success Academy, and Tri-Cities High School |
| Marital Status: | Unmarried but was in a relationship with singer Erykah Badu (1996 to 1999) |
| Sexual Orientation: | Straight |
| Wife/Spouse: | N/A |
| Children: | Seven Sirius Benjamin (from his relationship with Erykah Badu) |
| Dating: | N/A |
| Net Worth: | USD 35 million (as of January 1, 2022) |
| Source of Wealth: | Album & Record Sales, Songwriting, Record Producing, Acting, Television Producing, and Other Ventures |
| Height: | 5′ 10″ (1.78 m) |
| Weight: | 70 kg; In pounds: 154 lbs. |
Early Life
André Lauren Benjamin was born on May 27, 1975, in Atlanta, Georgia, United States, to Lawrence Harvey Walker and Sharon Benjamin Hodor. His father was a collections agent, whereas his mother was a real estate seller.

Benjamin was raised by his single mother in various Georgia cities, including Atlanta, East Port, and Buckhead. He attended Sarah Smith Elementary School and Sutton Middle School before joining Northside High School. He subsequently enrolled at McClarin Success Academy and later transferred to Tri-Cities High School.
Music Career
André Benjamin developed musical interests at a tender age. By the time he was in high school, he was already performing under the stage name André. It's during this period that he met and befriended future Outcast fellow member Antwan "Big Boi" Patton.

Benjamin and Patton teamed up to found Outkast. After graduating from high school, the hip-hop group was signed to the Atlanta-based record label, LaFace. They subsequently released their debut album in 1994, titled Southernplayalisticadillacmuzik. The album became a smashing hit, attributing its success largely to the single "Player's Ball." It was awarded a platinum certification by the Recording Industry Association of America (RIAA) by the end of 1994, earning Outkast the "Best New Rap Group of the Year Award" during the 1995 Source Awards.

Banking on the success of their debut album, Outkast followed up with two more albums – ATLiens (1996) and Aquemini (1998). The group's fourth album, Stankonia, was released in 2000. The album contained the single "Ms. Jackson," which reached number 1 on the Billboard Hot 100.

In 2002, Outkast released the album Big Boi and Dre Present… OutKast. The most successful single off the album, titled "The Whole World," earned the group a Grammy award for 'Best Rap Performance by a Duo or Group.'

The following year, Outkast released a double album titled Speakerboxxx/The Love Below. The album highlights the differences in the music styles of Benjamin and Patton, and how the duo harnessed those differences to form one of the most successful hip-hop groups of all time.

In 2006, Outkast released their sixth album, Idlewild. Several months later, Benjamin and Patton mutually agreed to go their separate ways.

André 3000 has pursued a successful solo music career since 2007. André embarked on his solo career collaborating with multiple artists, including Jay Z, Beyoncé, Ciara, Chris Brown, Lil Wayne, Whiz Khalifa, to mention but a few. On May 13, 2018, he released and uploaded two surprise songs to his SoundCloud account namely "Me&My (To Bury Your Parents)" and "Look Ma No Hands."
Acting Career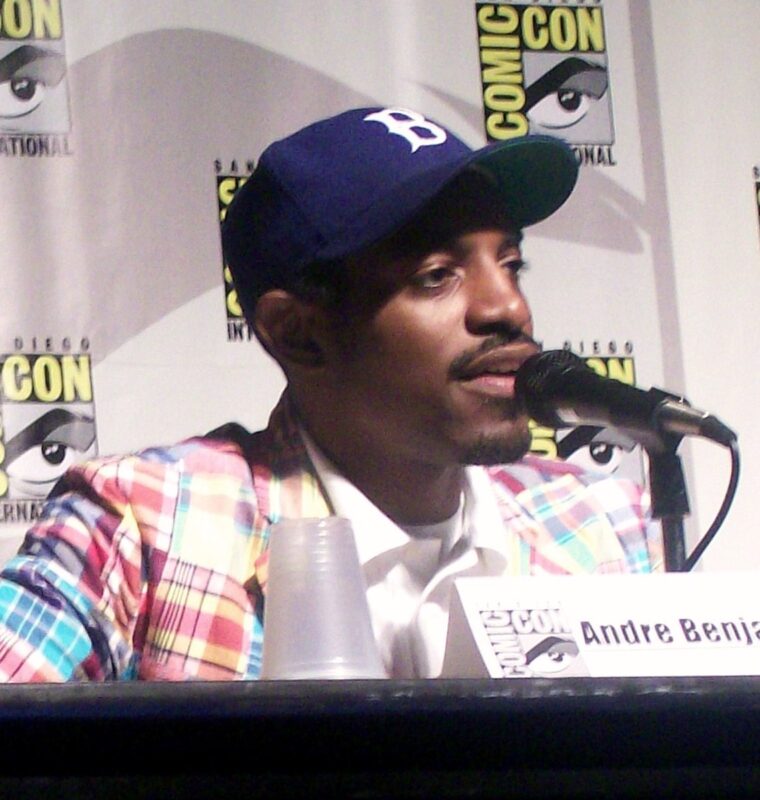 André Benjamin made his acting debut in the 2003 films 'Hollywood Homicide' and 'Volcanic High.' The following year, he appeared in an episode of the television series The Shield. He reprised his role in the series in 2008.

In 2005, André Benjamin was cast in four movies. They include Be Cool, Four Brothers, Volcanic High, and Revolver.

In 2006, Benjamin contributed to the films Idlewild, Charlotte's Web, and Scary Movie 4. He also began starring in the television series Class of 3000, eventually leaving the series in 2008 after appearing in a total of 26 episodes.

The following are other notable films and television series that André Benjamin has featured in over the years:

Films

• Fracture (2007)
• Battle in Seattle (2007)
• Semi-Pro (2008)
• The After Party: The Last Party 3 (2010)
• Jimi: All Is by My Side (2013)
• High Life (2018)

Television Series

• About a Girl (2008)
• American Crime (2016)
• Brad Neely's Harg Nallin' Sclopio Peepio (2016)
• Dispatches from Elsewhere (2020)

Awards and Recognitions

André Benjamin has received a number of awards, mostly for his contribution to the music industry.

As of the time of writing (December 14, 2021), the rapper has seven Grammy Awards to his name.
André Benjamin's Net Worth
Having enjoyed such a stellar music and acting career, it wouldn't be too farfetched to claim that André Benjamin swims in millions. As of January 1, 2022, Benjamin had a net worth of $35 million.

Record and album sales have contributed immensely to André's net worth. However, the rapper also earns from his various film and television projects.

André Benjamin has also pursued other ventures outside of the entertainment industry. In the spring of 2008, Benjamin launched a clothing line called "Benjamin Bixby," inspired by college football circa 1935.
Lessons from André 3000
1. Bloom where you're planted

André Benjamin will go down in history as one of the few rappers to have pursued a successful career both as a solo artist and as a member of a rap group.

2. Celebrate your differences

As a member of Outcast, André and Antwan released Speakerboxxx/The Love Below, a double album that celebrated the differences in musical styles between the two rappers.

3. Partner with others

André 3000 has partnered with several musicians since he began his solo career. The long list includes rappers Jay Z, Lil Wayne, Whiz Khalifa, to mention but a few.
Famous Quotes by André 3000
• Australia is about as far away as you can get. I like that.
• Hip-hop don't have no fresh energy, none at all. It's money-driven, everybody tryin' to make that cheque, nobody putting art in their albums anymore.
• If you look at old football pictures, the jerseys were hanging, the sleeves were dangling, but now everything is tucked and tailored.
• Nothing's more attractive than a heavy praying woman.
• Whatever floats your boat…or finds your lost remote.
Final Word
André 3000 has been ranked by numerous established media outlets as one of the greatest rappers of all time.

Besides acting, André has also earned himself several film and television credits. His various endeavors in and outside the entertainment industry have contributed to his $35 million net worth as of December 1, 2021.