Last Updated on January 17, 2022
Who Is Andrew Yang?
Andrew Yang is an American lawyer, political commentator, and entrepreneur. Yang kicked off his professional career as a corporate lawyer before getting involved in numerous startups from 2000 to 2010.
He has been instrumental in founding various initiatives, most of which seek to encourage graduates to join startups. His efforts never went unrecognized as in 2011, he was selected as a Champion of Change by the Barack Obama administration.
In 2015, Yang became the Presidential Ambassador for Global Entrepreneurship and in 2018, he decided to focus on his 2020 presidential ambitions. He started by authoring The War on Normal People, a book that details his political ideals and campaign strategies. He ran unsuccessfully in the 2020 Democratic presidential primaries.
Quick Facts
| | |
| --- | --- |
| Full Name: | Andrew M. Yang |
| Popular Name: | Andrew Yang |
| Gender: | Male |
| Birth Date: | January 13, 1975 |
| Age: | 47 years |
| Parents: | Kei Hsiung Yang and Nancy Yang |
| Siblings: | Lawrence Yang |
| Birth Place: | Schenectady, New York |
| Nationality: | American |
| Ethnicity: | Taiwanese |
| Education: | Philips Exeter Academy, Brown University, and Columbia Law School |
| Marital Status: | Married |
| Sexual Orientation: | Straight |
| Wife/Spouse: | Evelyn Yang |
| Children: | Yes, 2 sons. |
| Dating: | N/A |
| Net Worth: | 1 million (as of June 1st, 2021) |
| Source of Wealth: | Corporate Salary and Entrepreneurial Ventures |
| Height: | 5′ 7″ (1.7 m) |
| Weight: | 70 kg; In pounds: 154 lbs. |
Early Life and Career Information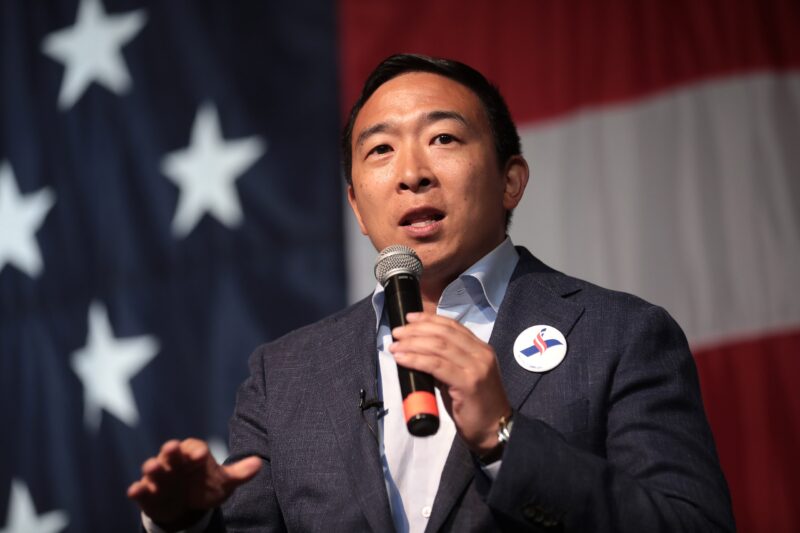 Andrew Yang was born on January 13, 1975, in Schenectady, New York, to Kei Hsiung Yang and Nancy Yang. Yang's parents emigrated from Taiwan to the U.S in the 60s. Growing up, Yang was one of the few Asian kids in Western County, New York. He was bullied physically and verbally on account of his race.
Andrew Yang attended the John Hopkins University's Center for Talented Youth and the Phillips Exeter Academy in New Hampshire. After graduating from high school in 1992, he proceeded to Brown University, where he pursued economics and political science. He graduated from Brown University in 1996 and enrolled at Columbia University, where he earned a Juris Doctor degree in 1999.
Immediately after graduating, Andrew Yang worked as a corporate lawyer but five months. He found the job unfulfilling and moved on to co-found a celebrity-focused philanthropic fundraising website known as Stargiving. The venture was successful for about two years before its fortunes began to dwindle, prompting Yang to move to other things.
One of Andrew Yang's most successful venture was a small test prep company known as Manhattan Prep. However, he would later resign from the company in 2009 after it was acquired by Kaplan, Inc. Yang involved himself in other ventures and in 2017, he announced that he would run for the Democratic nomination for the 2020 U.S presidential election. He suspended his campaigns on February 11, 2020 and a week later, joined CNN as a political commentator.
Andrew Yang's Net Worth
As of June 1, 2021, Andrew Yang had a net worth of $1 million. Yang's fortunes have mostly come from his corporate salary and entrepreneurial ventures.
After graduating from Columbia Law School, Andrew Yang worked as a corporate lawyer at Davis Polk & Wardwell. According to reports and an interview that he did with Freakonomics, Yang was making around $125,000 plus a bonus of $25,000. However, after working as a corporate lawyer for five months, he left the firm and began pursuing other ventures.
In 2000, Yang teamed up with one of his office mates, Jonathan Philips, to launch a celebrity-affiliated philanthropic fundraising website known as Stargiving. After brief success, the startup's fortunes went south, forcing the duo to wind up its operations. Yang got involved in several other minor ventures.
Between 2002 and 2005, Andrew Yang worked as the vice president of a healthcare company. He stayed at the startup for four years before teaming up with his friend, Zeke Vanderhoek, to found the Manhattan Prep.
The test preparation company became quite popular, offering GMAT test preparations and expanding from 5 to 69 locations. According to reports, Yang's stint at Manhattan Prep were his most financially successful years.
Manhattan Prep would later be acquired by Kaplan, Inc.
Following the acquisition of Manhattan Prep, Andrew Yang started Venture for America, an initiative to encourage fresh graduates to join startups. He reportedly made $258,000 in 2016 and $217,000 in 2017 working as Venture for America's CEO.
In 2018, Andrew Yang earned around $150,000 from his various business ventures, most of which came from speaking engagements. The politician and philanthropist also earns some decent money as a book author, especially after authoring The War on Normal People. For instance, in 2018, he earned an estimated $29,000 from book royalties.
Yang's assets are also spread on companies like Lending Club, iRobot, Verizon, Digitl Reality, Apple, and Vodafone. He also owns a 2,700-square-foot property located in New York, valued at $500,000.
Life Lessons from Andrew Yang
1. Keep your eyes on the prize
Yang happened to be among the few Asian kids in his neighborhood and was frequently stigmatized for that. However, he remained focused and when he was 12 years old, he scored 1220 marks out of 1600 on the SAT. The opportunity allowed him to attend one of America's most prestigious learning institutions, the John Hopkins University, where he attended the Center for Talented Youth summer program.
2. Know what isn't working
After graduating from the university, Andrew Yang started off as a corporate lawyer. However, he was dissatisfied with his work and chose to venture into other things.
3. Engage in the present but with the future in mind
Andrew Yang's political and socio-economic ideals are quite futuristic. He believes that the future only comes to those who prepare for it today.
Quotes by Andrew Yang
"Are we not, as the citizens of the United States, the owners of this country?"
"The challenge we must overcome is that humans need work more than work needs us."
"The goal should not be to save jobs. The goal should be to make our lives better."
"The market rewards business leaders for making things more efficient. Efficiency doesn't love normal people."
"There's a big distinction between humans as humans and humans as workers. The former are indispensable. The latter may not be."
Conclusion
Yang may possibly not be the next president of the United States. But he has already made his mark for the few years that he has been in active politics.