Andy Warhol was born on August 6, 1928, in Pittsburgh, Pennsylvania. He gained fame and success for his pop art masterpieces. Warhol was a proficient magazine and ad illustrator. He also dabbled in other forms of art like filmmaking, writing, and video installations.
Warhol controversially crossed the line between fine art and mainstream art. He died on February 22, 1987 of a sudden heart attack following a successful gallbladder operation.
Early Life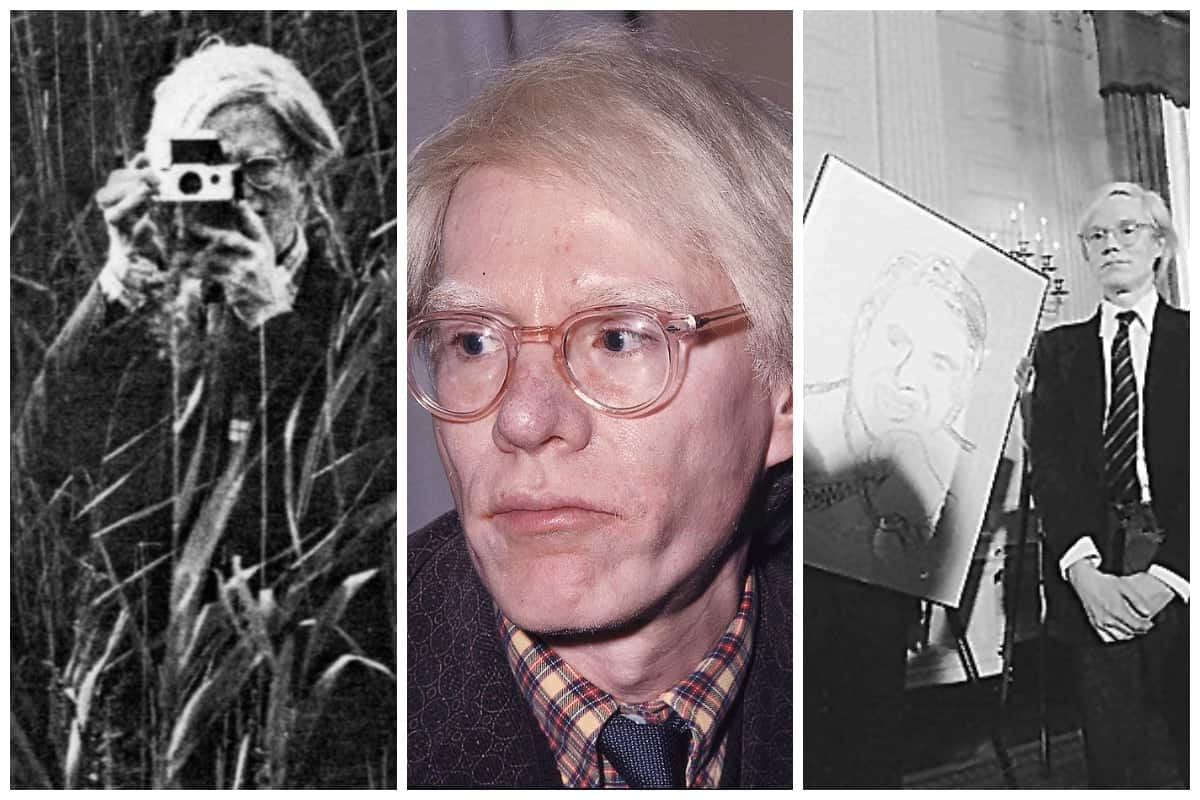 Andy Warhol's parents were immigrants from Slovakia. Ondrej Warhola, his father, worked as a construction worker. Julia Warhola, his mother, was an embroiderer and a skilled artist. The family was devout Byzantine Catholics and maintained most of their Slovakian culture.
When he was eight, Warhol had chorea, a rare disease of the nervous system. It left him bedridden for months. It was during that time that his mother gave Warhol his first drawing lessons. Warhol loved drawing so much it became his favorite pastime. His mother bought him a camera when he turned nine. Photography became his second love.
At age 14, Warhol's father died of a jaundiced liver. His profound grief prevented him from attending his father's wake and funeral. But his father had recognized Warhol's talent, and left his entire life savings for his son's college education.
In 1945, Warhol attended the Carnegie Institute for Technology (presently the Carnegie Mellon University) and took up pictorial design.
Artistry and Career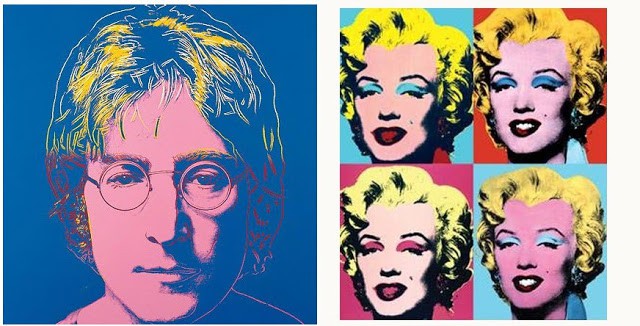 Warhol received his Bachelor of Fine Arts degree in 1949. Soon after, he moved to New York City to look for a job as a commercial artist. Glamour magazine gave him his first shot.
Through his unique artistry, his name became omnipresent in the lists of successful commercial artists of the '50s. He received numerous awards for his blotted line and rubber stamp drawing techniques.
In the latter part of the 1950s, Warhol started to focus on painting. In 1961, he introduced the "pop art" concept used for paintings that centered on mass-produced products. A year after, he launched the now-iconic art of Campbell's soup cans. His pop art concept resulted in a significant change in the world of fine arts. It brought his work – and pop art in general – into the spotlight for the very first time.
Warhol's other renowned pop paintings were showcased on soda bottles, hamburgers, and vacuums. In addition, he painted portraits of celebrities using his trademark technique. Some of his most famous subjects were Marilyn Monroe, Mick Jagger, and Elizabeth Taylor.
He further gained fame through these portraits. He was commissioned to paint portraits for hundreds of dollars. In fact, in 2008, his "Eight Elvises" portrait was resold for $100 million. It became one of the most valuable works of art in world history.
Warhol opened his first art studio, The Factory, in 1964. It was a huge warehouse painted in silver. Soon after, The Factory became the "it" hub in New York City. It was THE place for cultural events or lavish parties for wealthy socialites and celebrities.
Warhol produced over 60 films throughout his career. He explored other forms of media during the '70s.  He wrote books and experimented with video art. It was during this time that Warhol went back to photography.
He also made several sculptures, although they weren't as great as his drawings. In the '80s, he explored the world of television. He hosted two shows on MTV: Andy Warhol's TV and Andy Warhol's Fifteen Minutes.
Interesting Facts
In 1968, Warhol was shot three times in the chest by Valerie Solanas, an ardent feminist. She was the founder (and only member) of the Society for Cutting Up Men or SCUM. Solanas believed that Warhol was controlling and abusive to his workers and thought he deserved to die.
She had a cameo role in one of Warhol's films. Reportedly, Solanas got mad at him when he refused to use a script she wrote. She was arrested and imprisoned for her crime. Because of the injuries he suffered from the gunshot, Warhol needed to wear a surgical corset. He did so for the rest of his life.
After college, Warhol established his career in advertising specializing in shoe illustrations. His hard work earned him the prestigious Art Director's Club Medal in 1957 for a shoe ad.
Andy Warhol had a quirky fashion sense. He mostly wore silver wigs. Eventually, he decided to just dye his hair silver. When someone commented about his "lazy" eyes, he started to wear opaque glasses with a small pinhole that made him see his surroundings.
Warhol died on February 22nd, 1987. He had a sudden cardiac arrest following a routine gallbladder surgery. The operation was successful, but one of the hospital staff overloaded him with fluids that put a severe strain on his heart. He was buried at St. John the Baptist Byzantine Catholic Cemetery in Pennsylvania.
Here are 35 of Andy Warhol's most interesting quotes.
Most Memorable Andy Warhol Quotes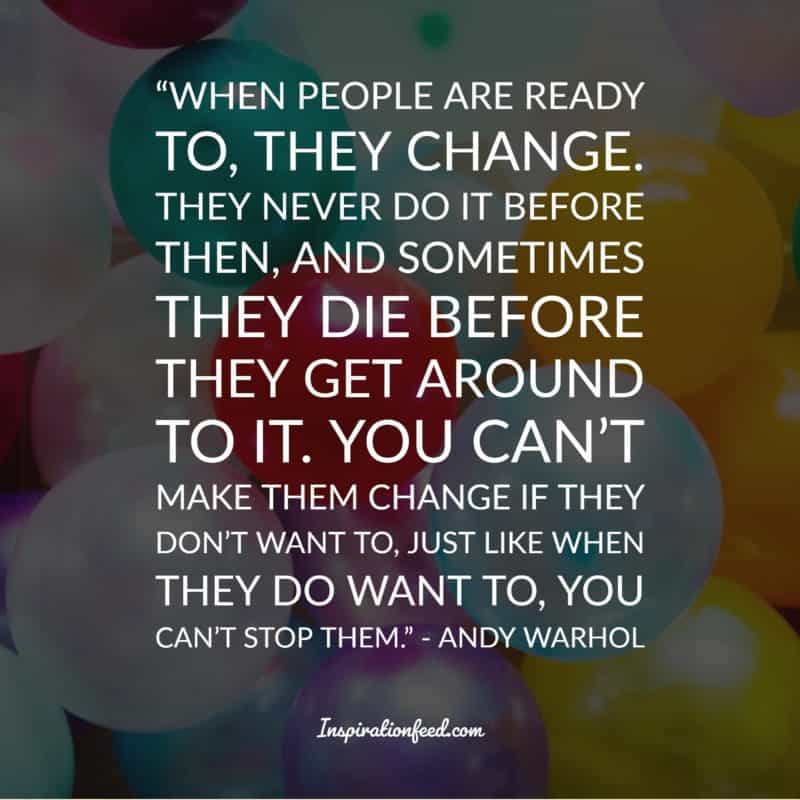 "When people are ready to, they change. They never do it before then, and sometimes they die before they get around to it. You can't make them change if they don't want to, just like when they do want to, you can't stop them." – Andy Warhol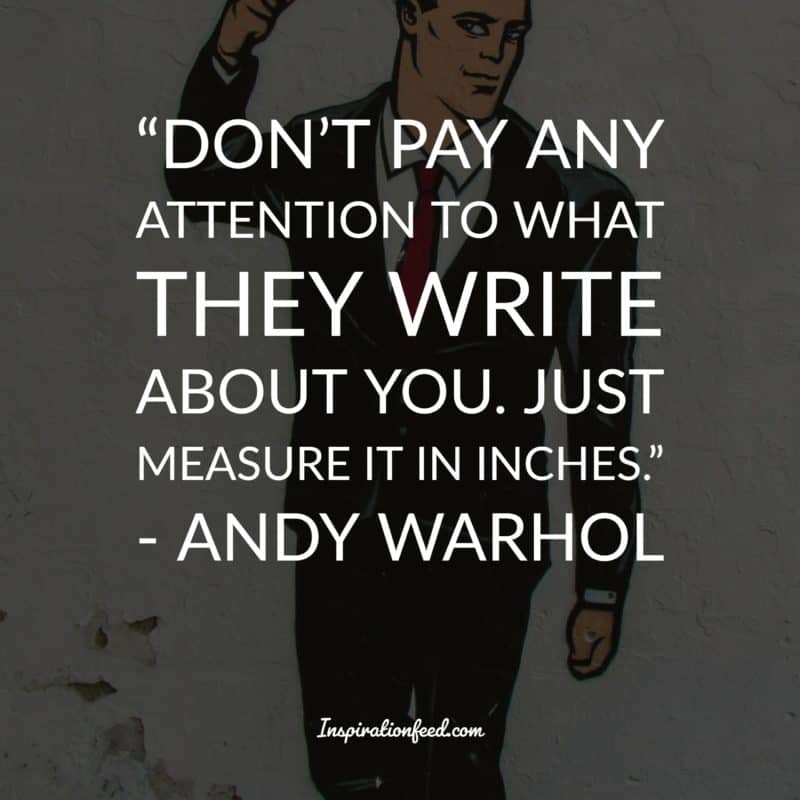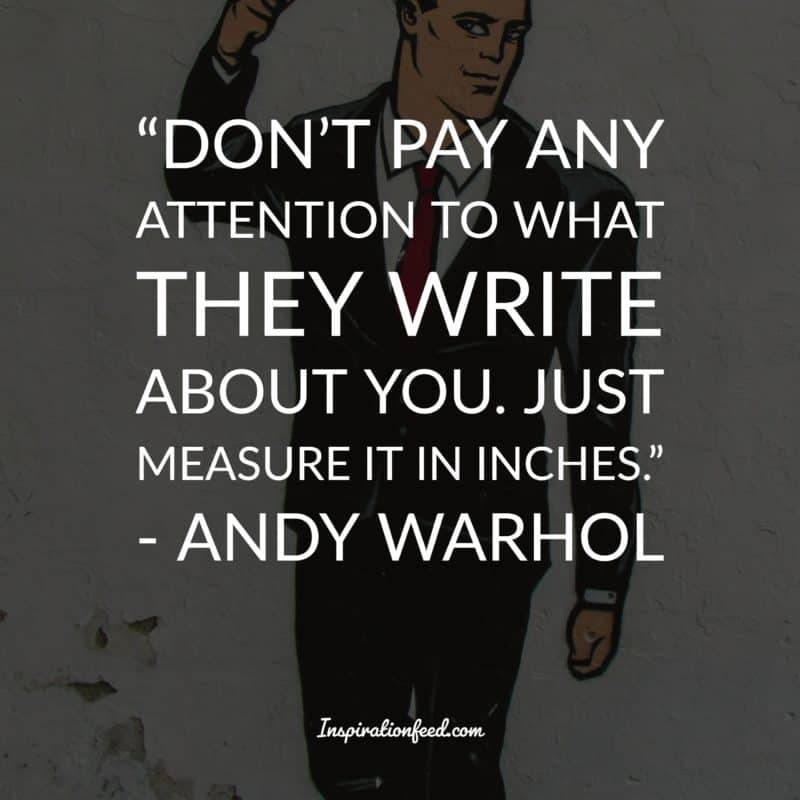 "Don't pay any attention to what they write about you. Just measure it in inches." – Andy Warhol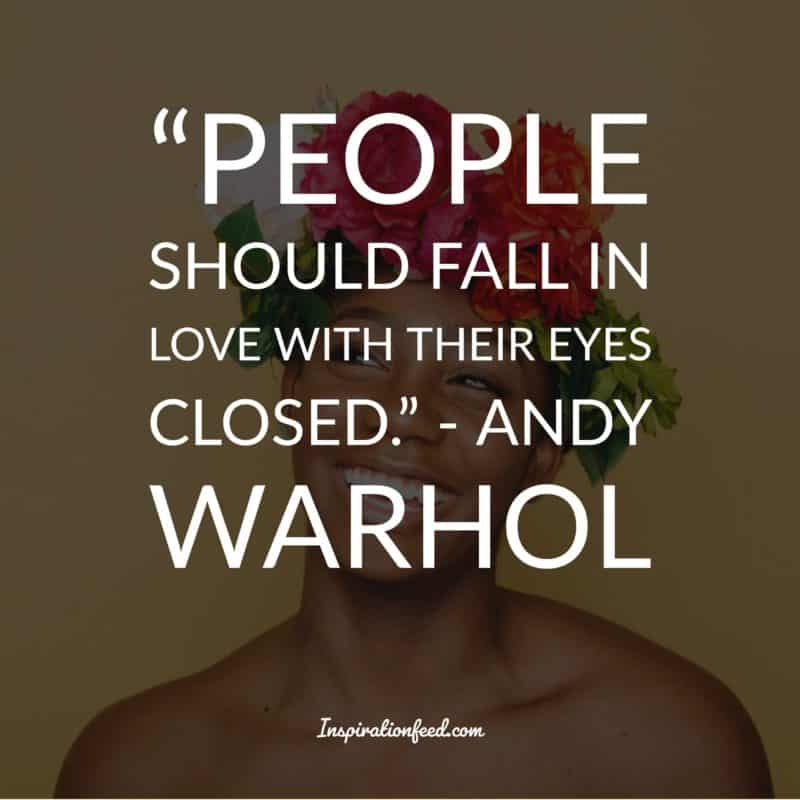 "People should fall in love with their eyes closed." – Andy Warhol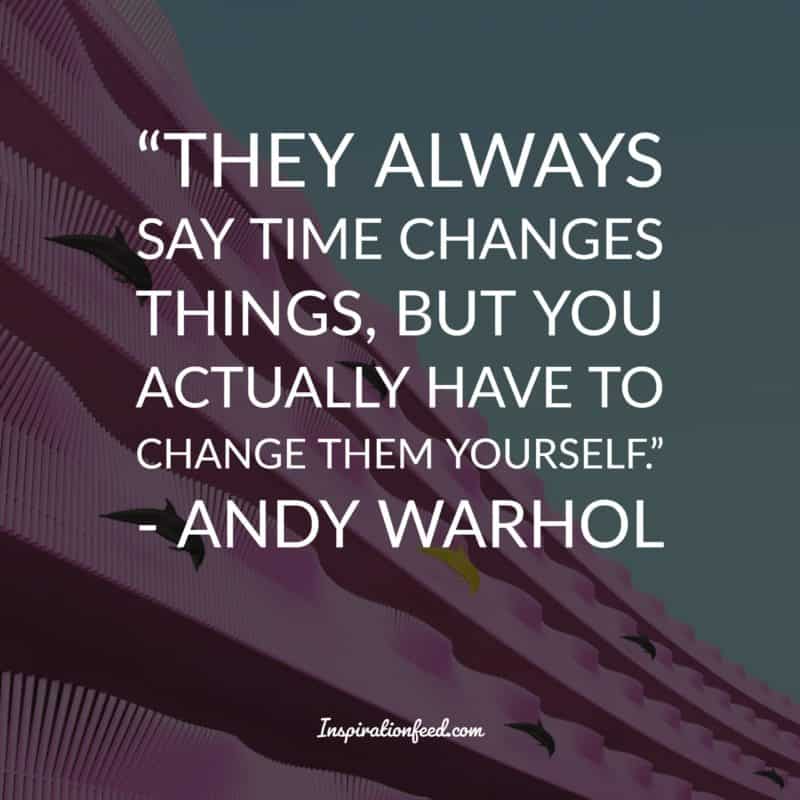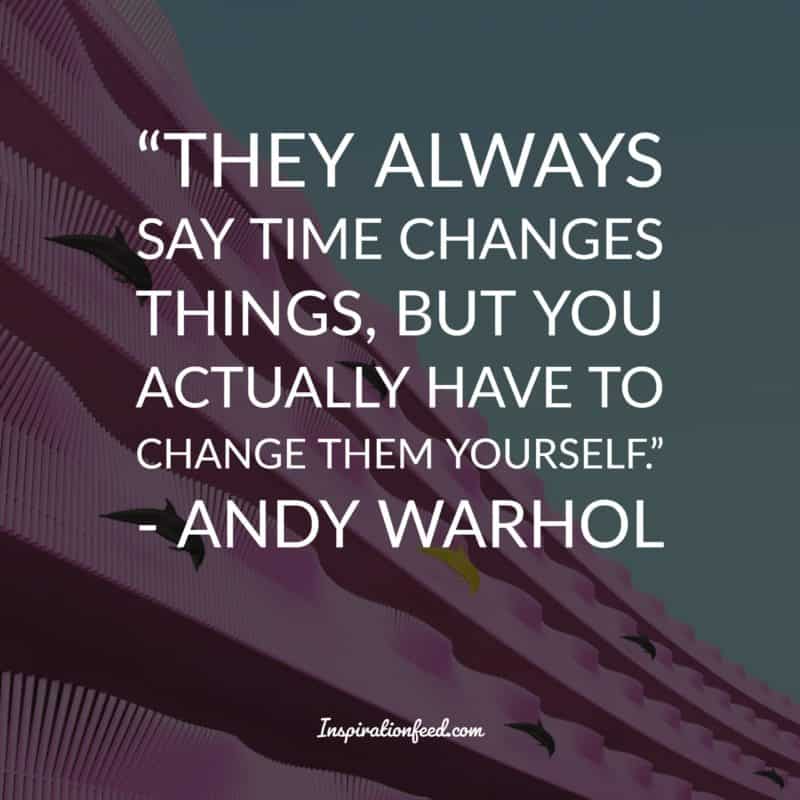 "They always say time changes things, but you actually have to change them yourself." – Andy Warhol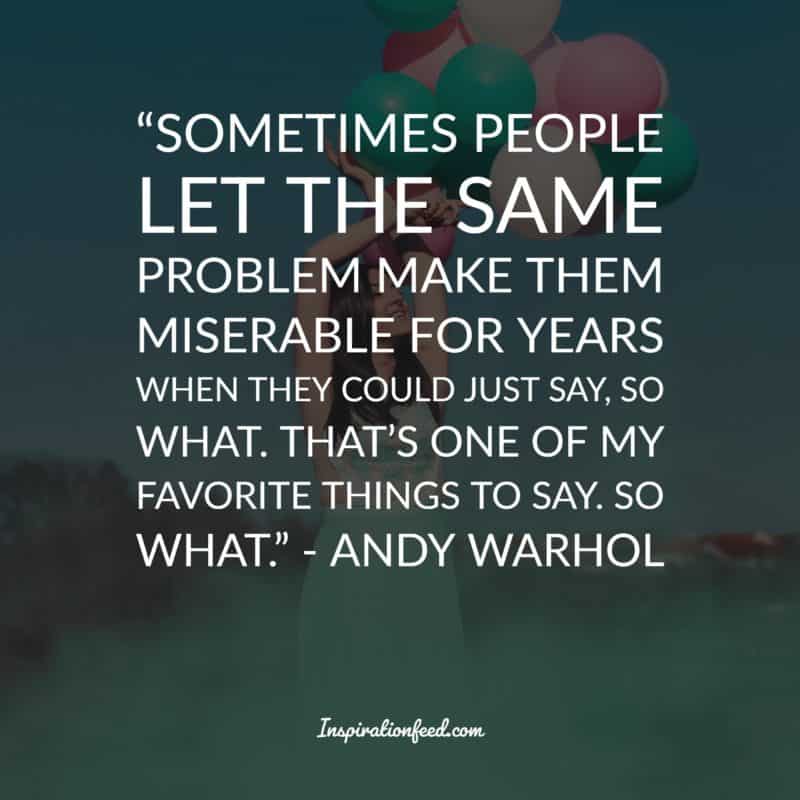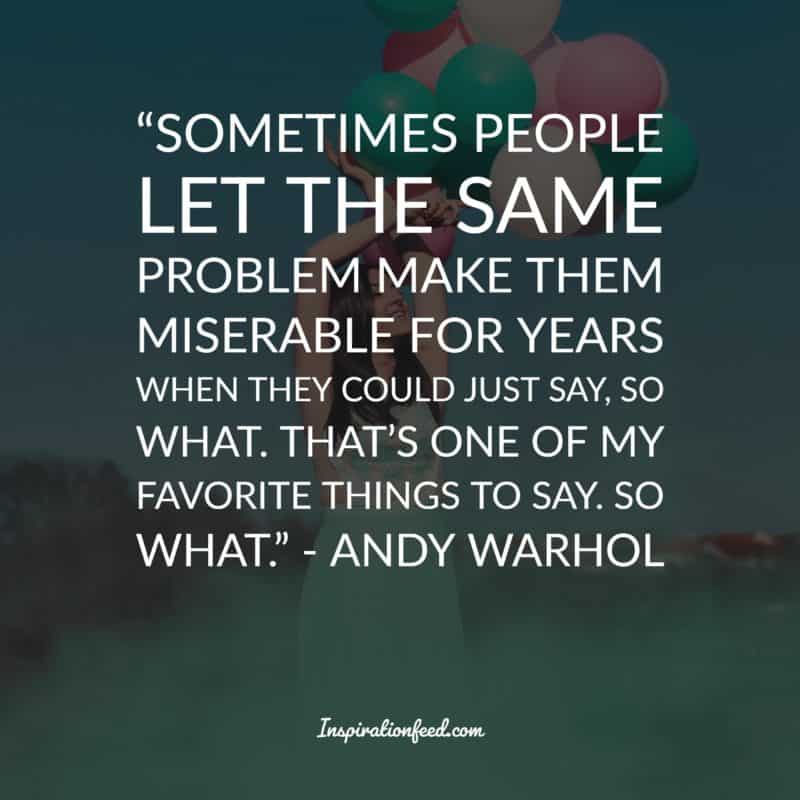 "Sometimes people let the same problem make them miserable for years when they could just say, So what. That's one of my favorite things to say. So what." – Andy Warhol
"I just do art because I'm ugly and there's nothing else for me to do." – Andy Warhol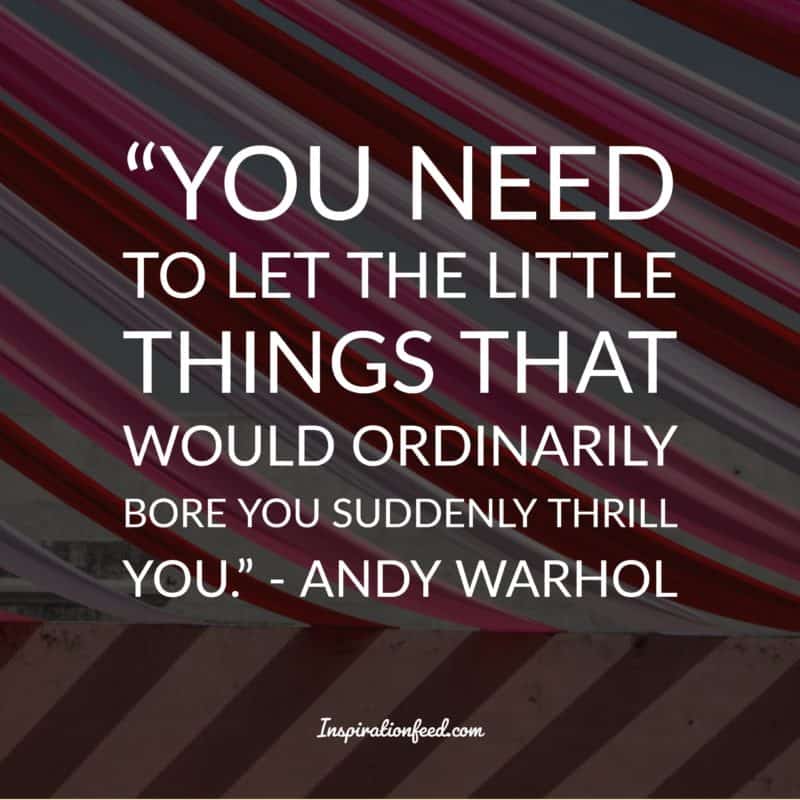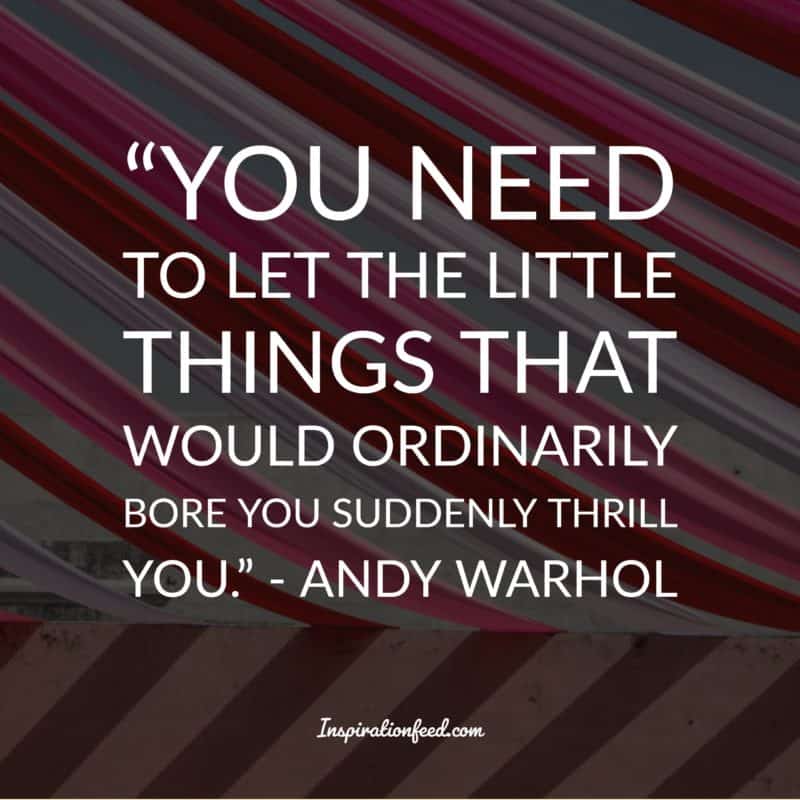 "You need to let the little things that would ordinarily bore you suddenly thrill you." – Andy Warhol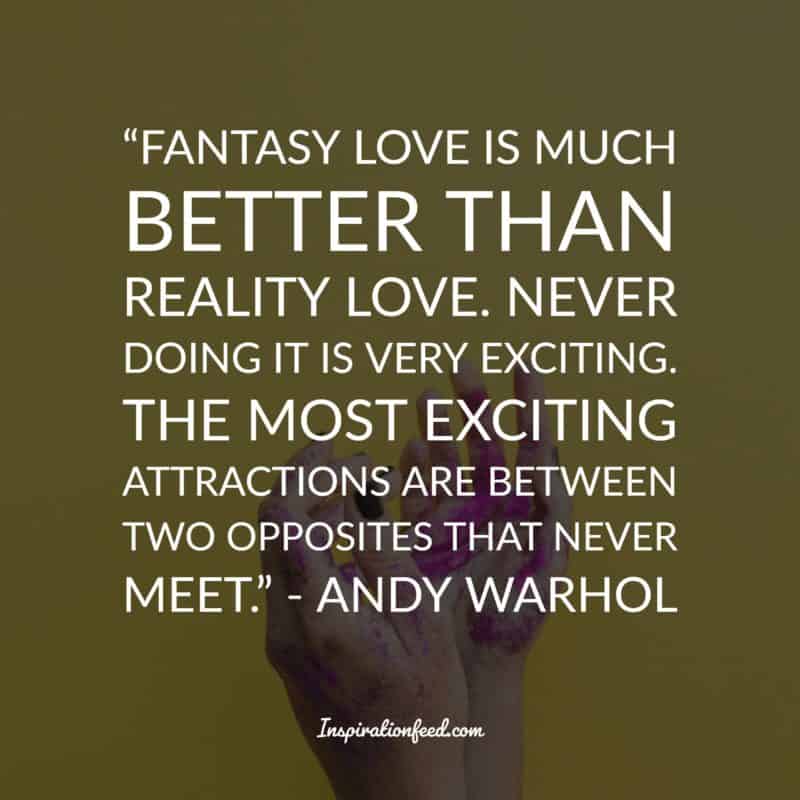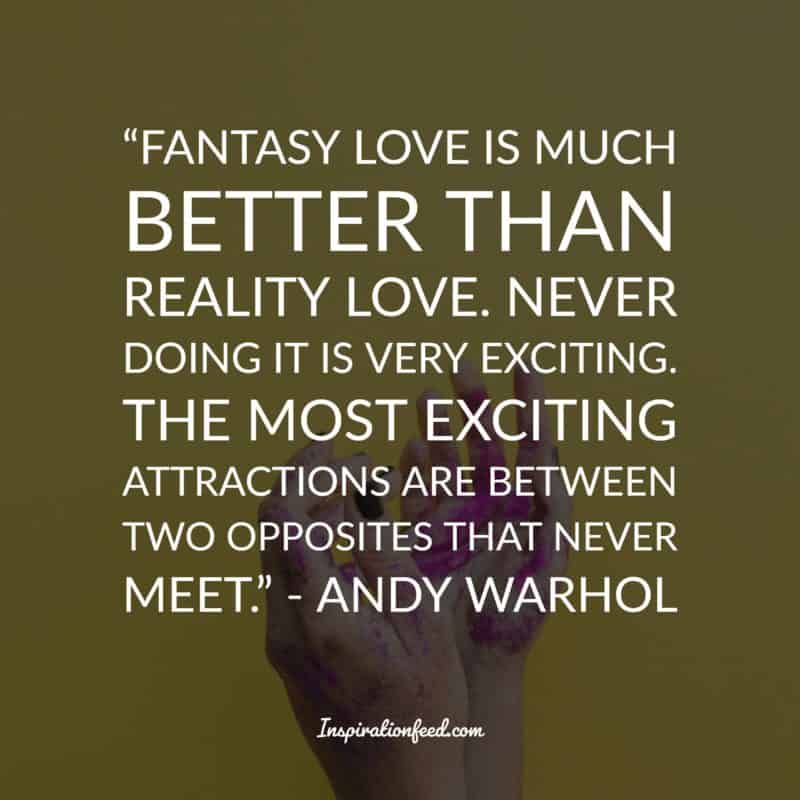 "Fantasy love is much better than reality love. Never doing it is very exciting. The most exciting attractions are between two opposites that never meet." – Andy Warhol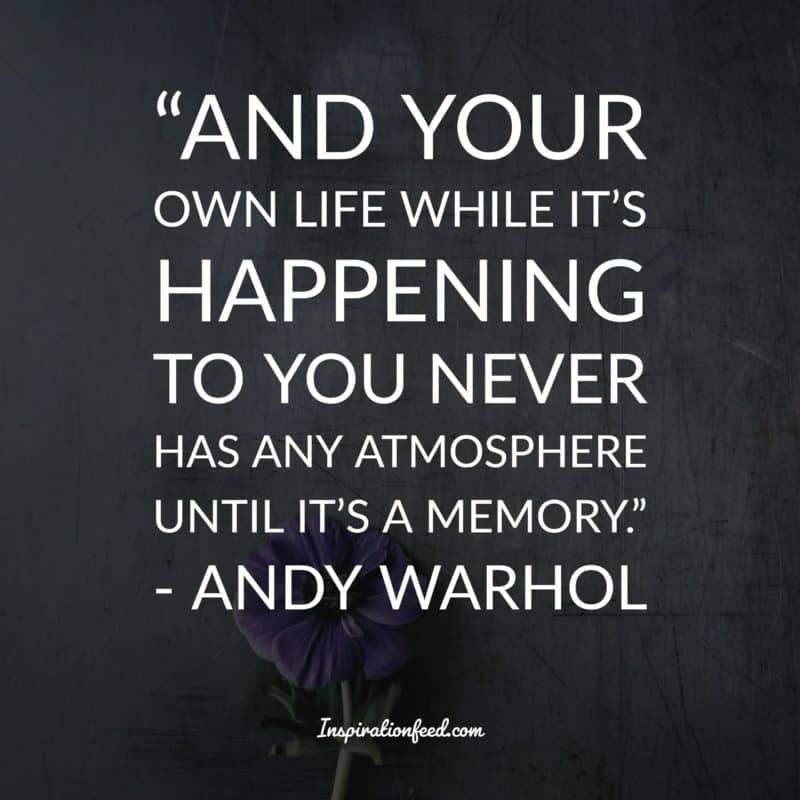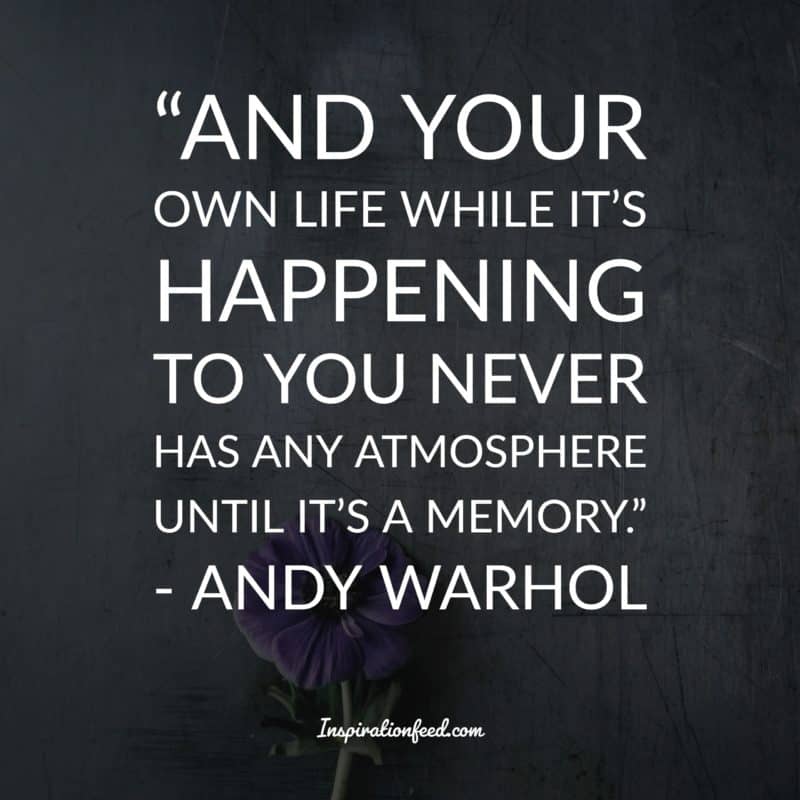 "And your own life while it's happening to you never has any atmosphere until it's a memory." – Andy Warhol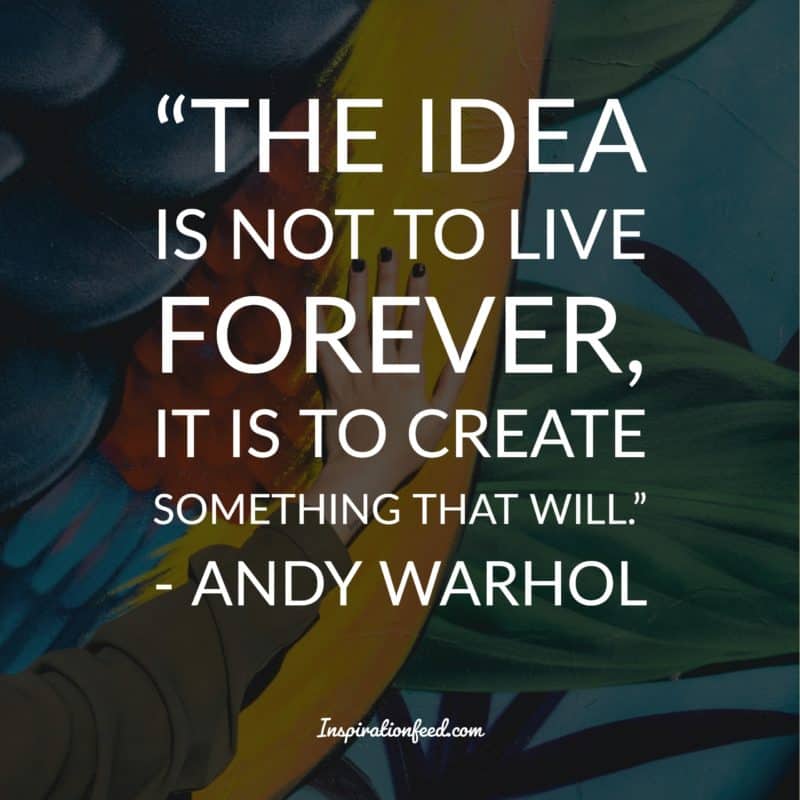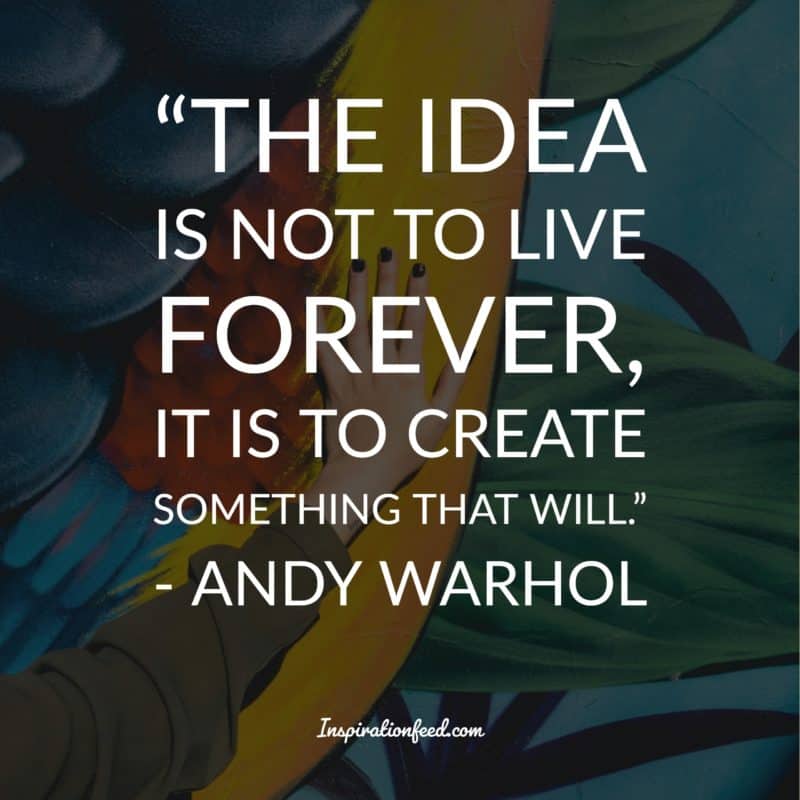 "The idea is not to live forever, it is to create something that will." – Andy Warhol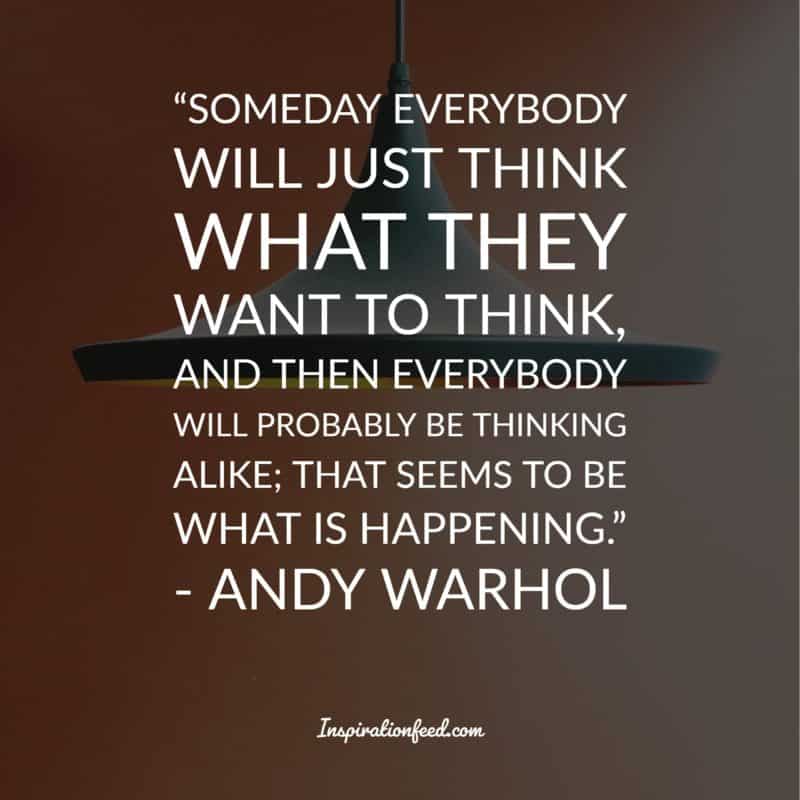 "Someday everybody will just think what they want to think, and then everybody will probably be thinking alike; that seems to be what is happening."  – Andy Warhol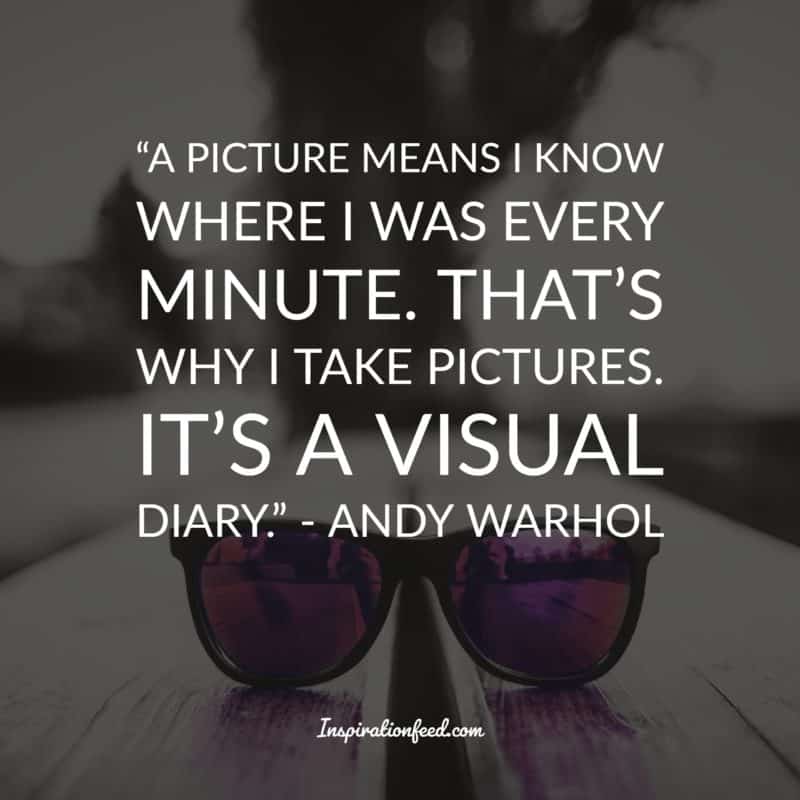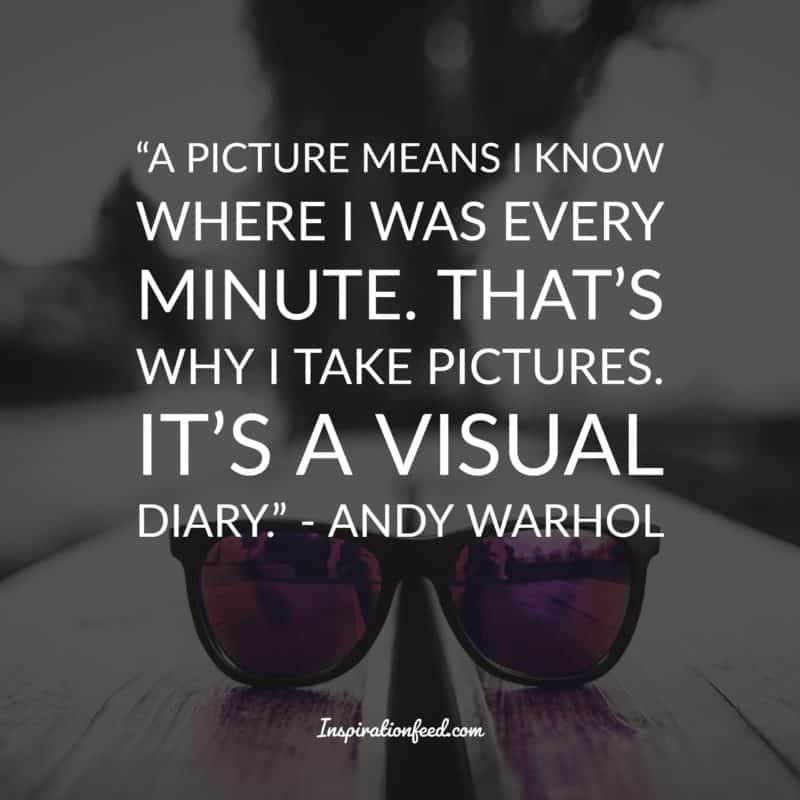 "A picture means I know where I was every minute. That's why I take pictures. It's a visual diary." – Andy Warhol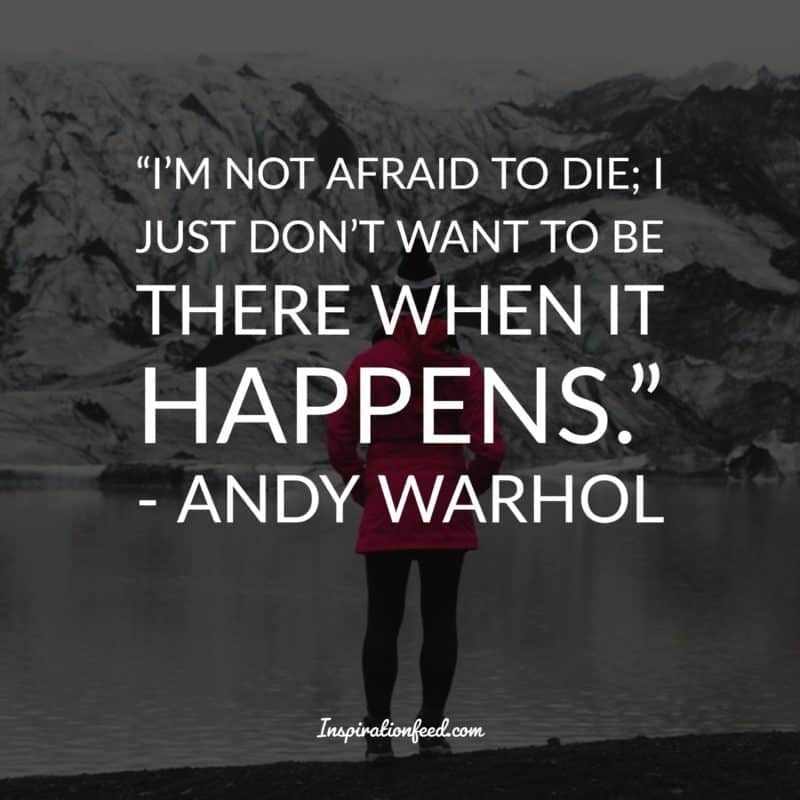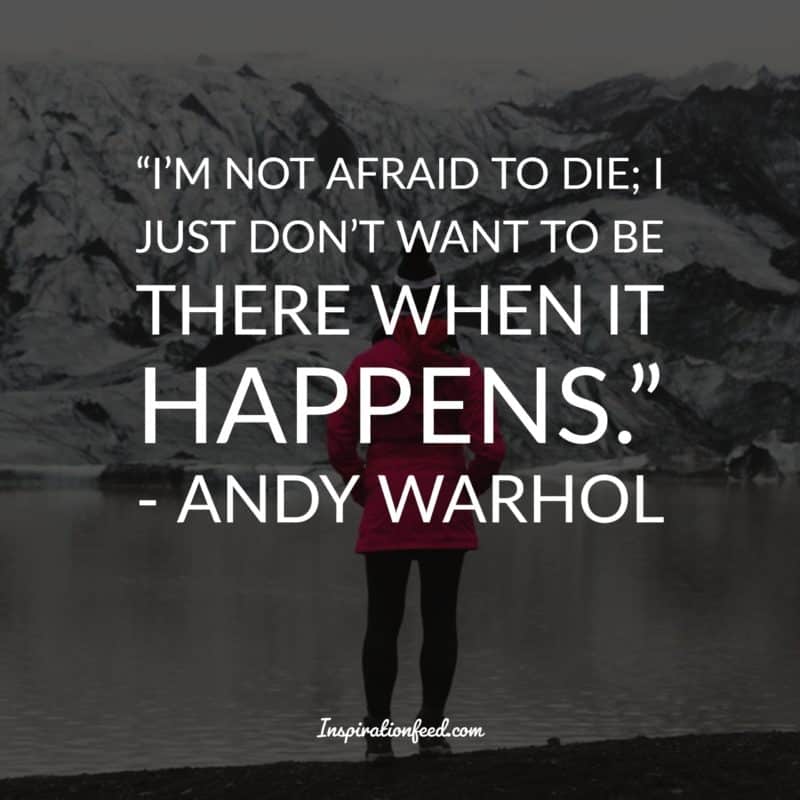 "I'm not afraid to die; I just don't want to be there when it happens." – Andy Warhol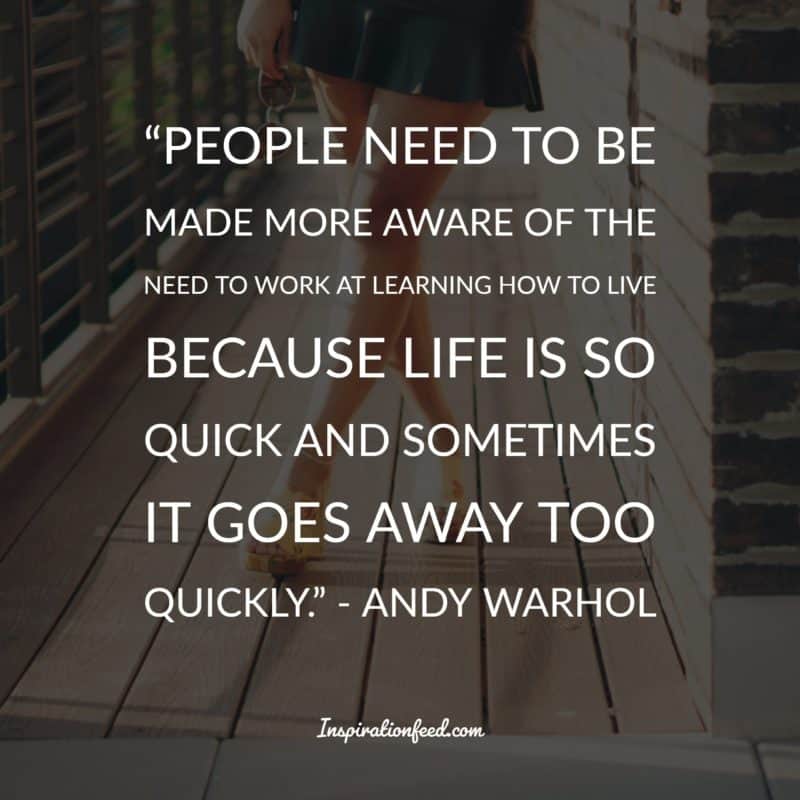 "People need to be made more aware of the need to work at learning how to live because life is so quick and sometimes it goes away too quickly." – Andy Warhol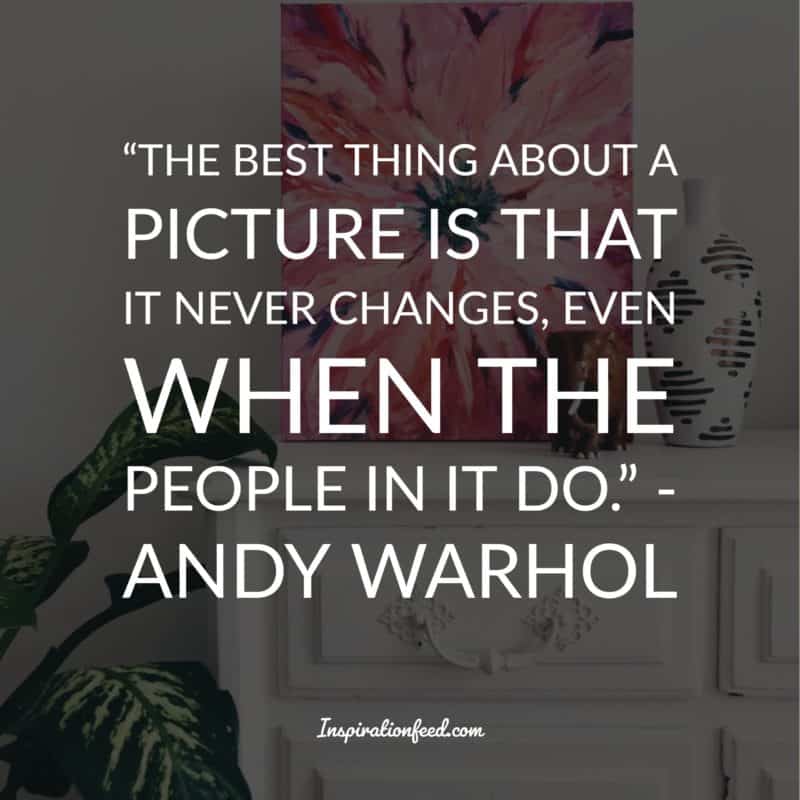 "The best thing about a picture is that it never changes, even when the people in it do." – Andy Warhol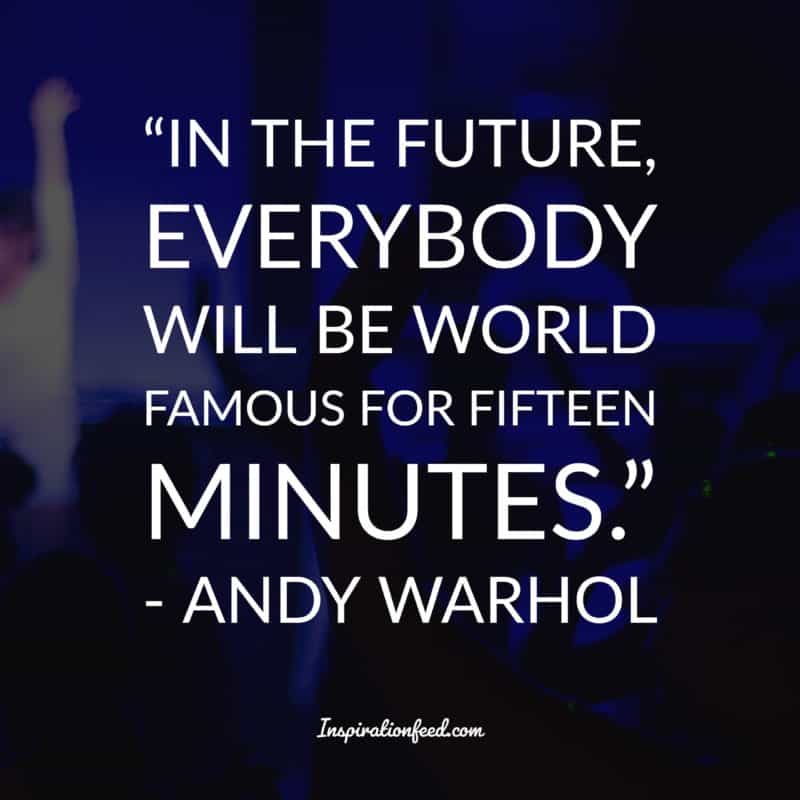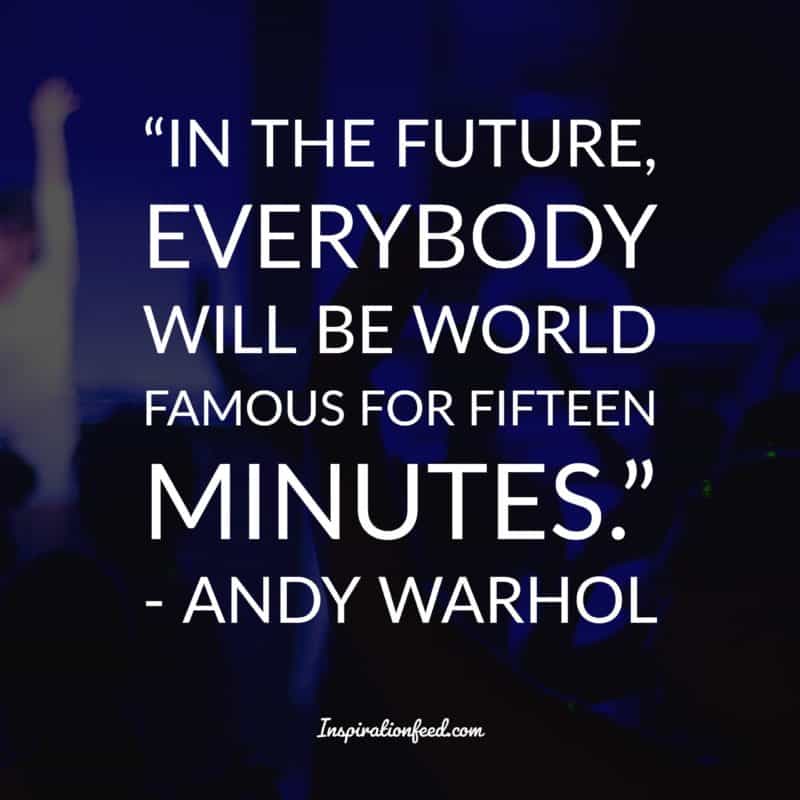 "In the future, everybody will be world famous for fifteen minutes." – Andy Warhol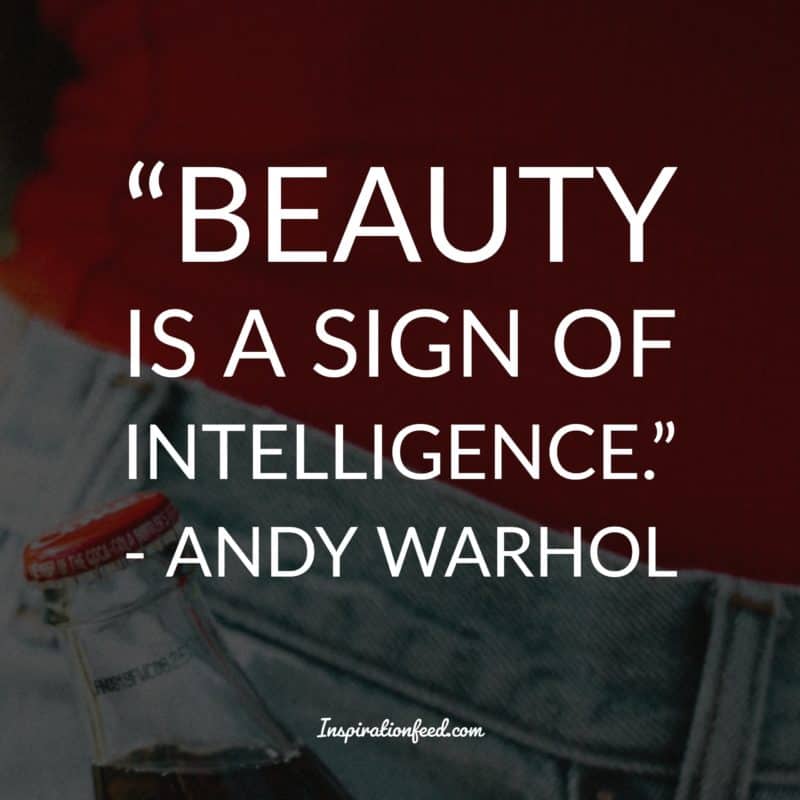 "Beauty is a sign of intelligence." – Andy Warhol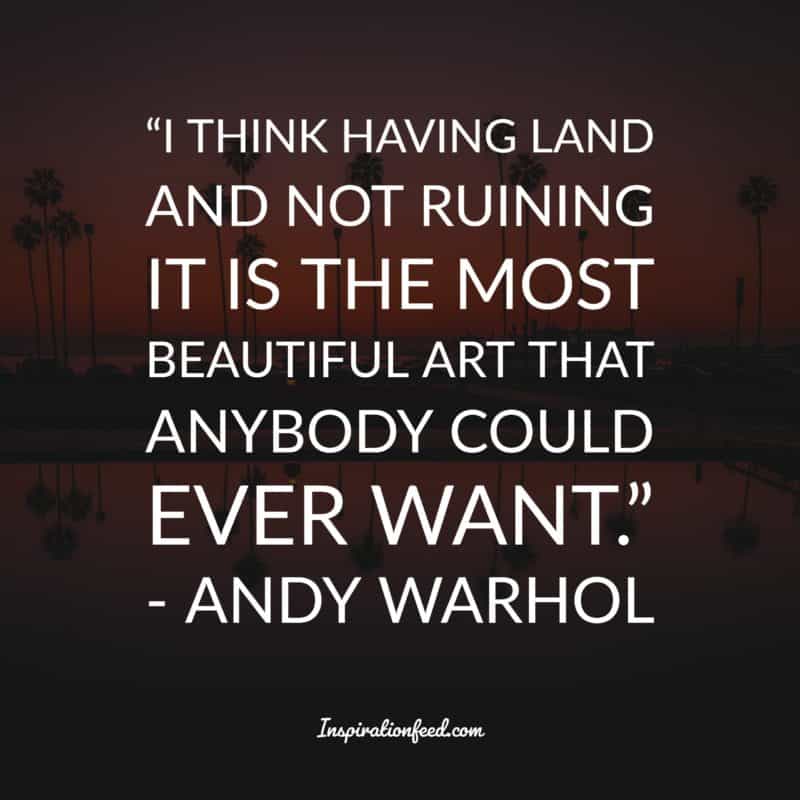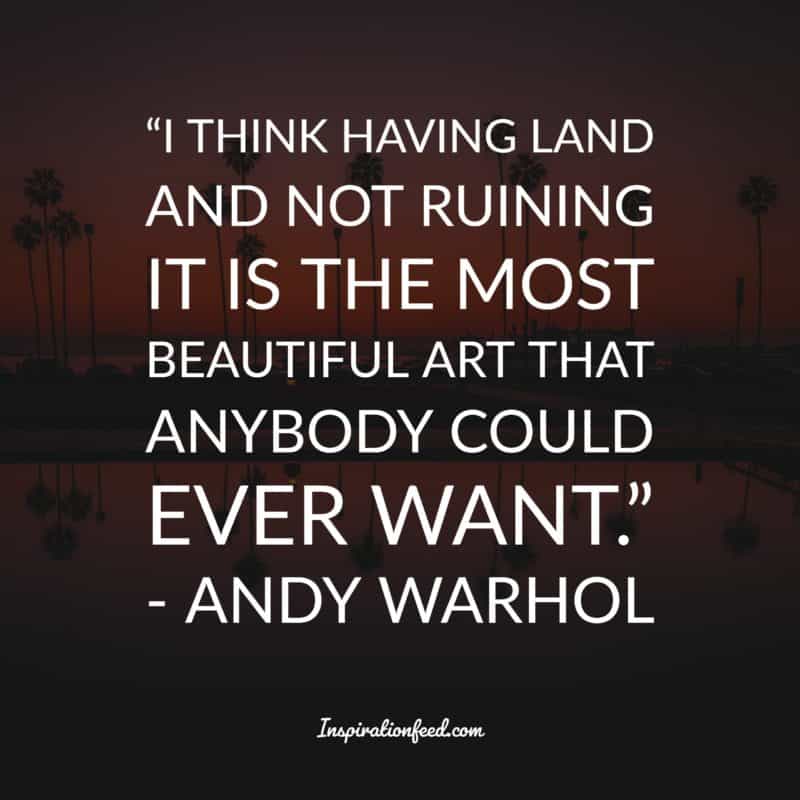 "I think having land and not ruining it is the most beautiful art that anybody could ever want." – Andy Warhol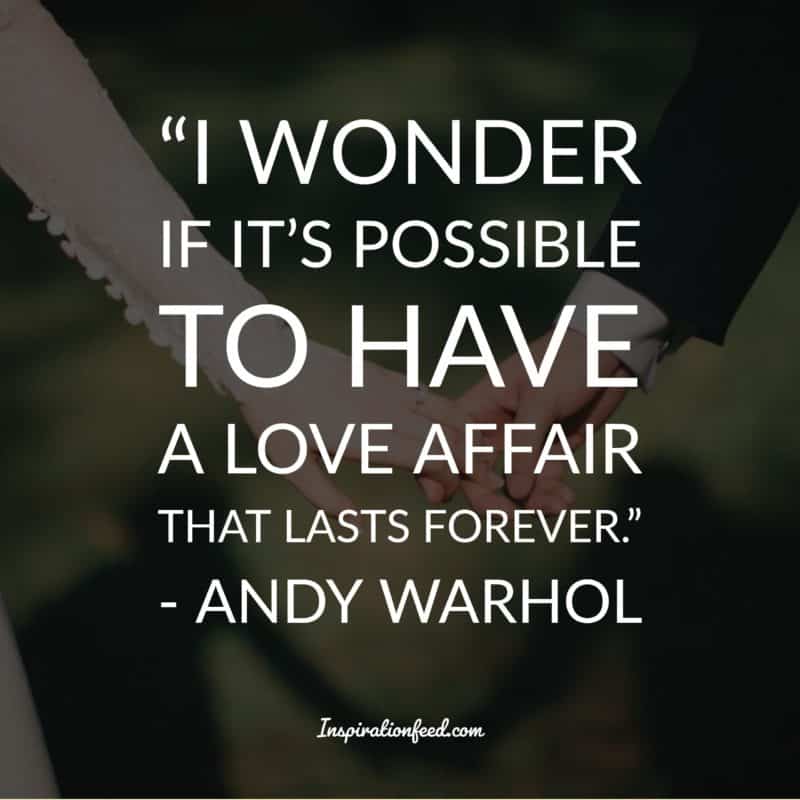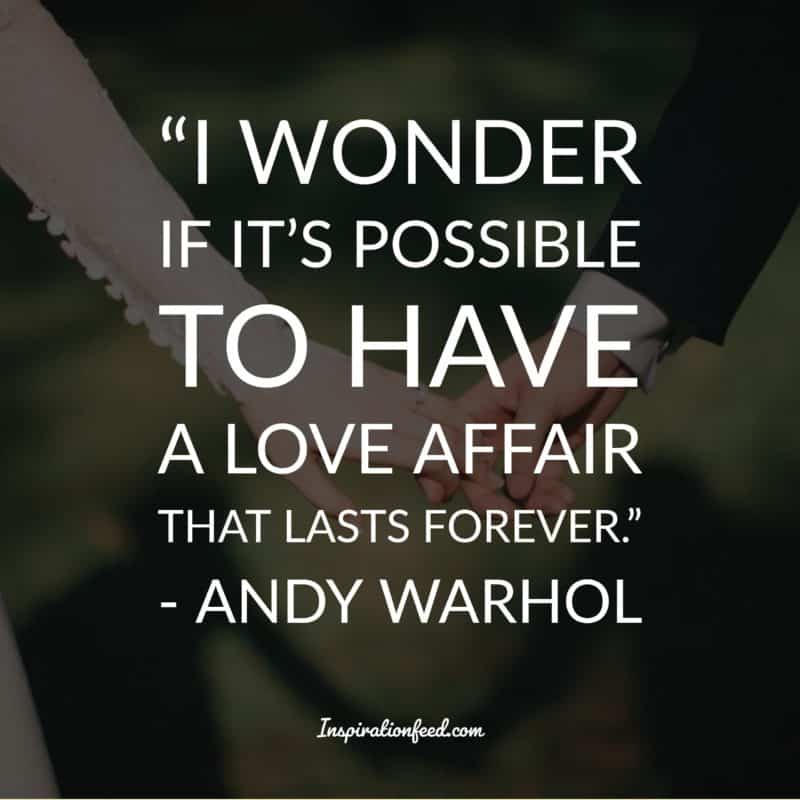 "I wonder if it's possible to have a love affair that lasts forever." – Andy Warhol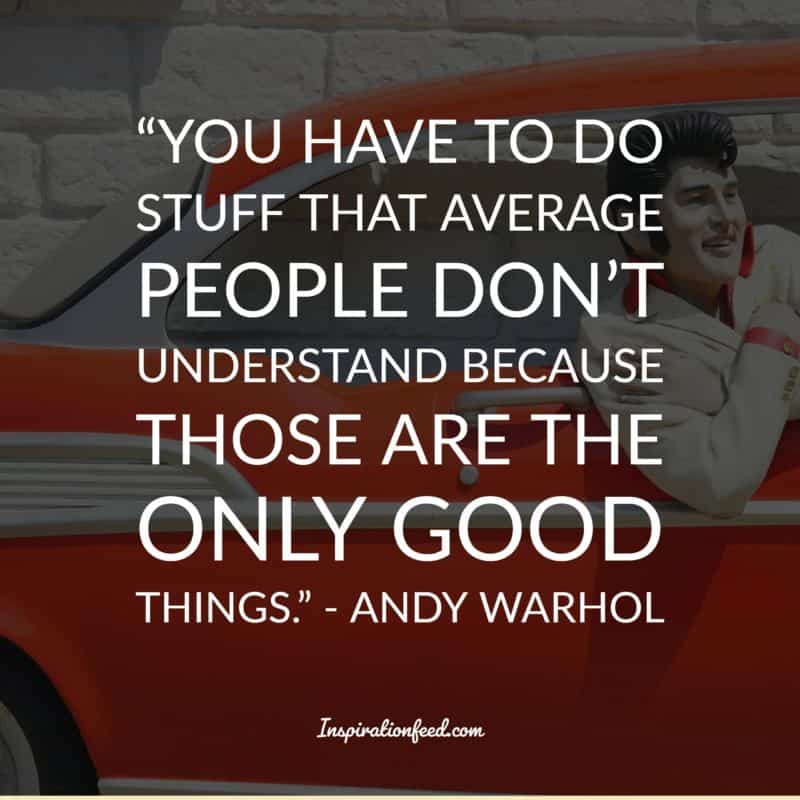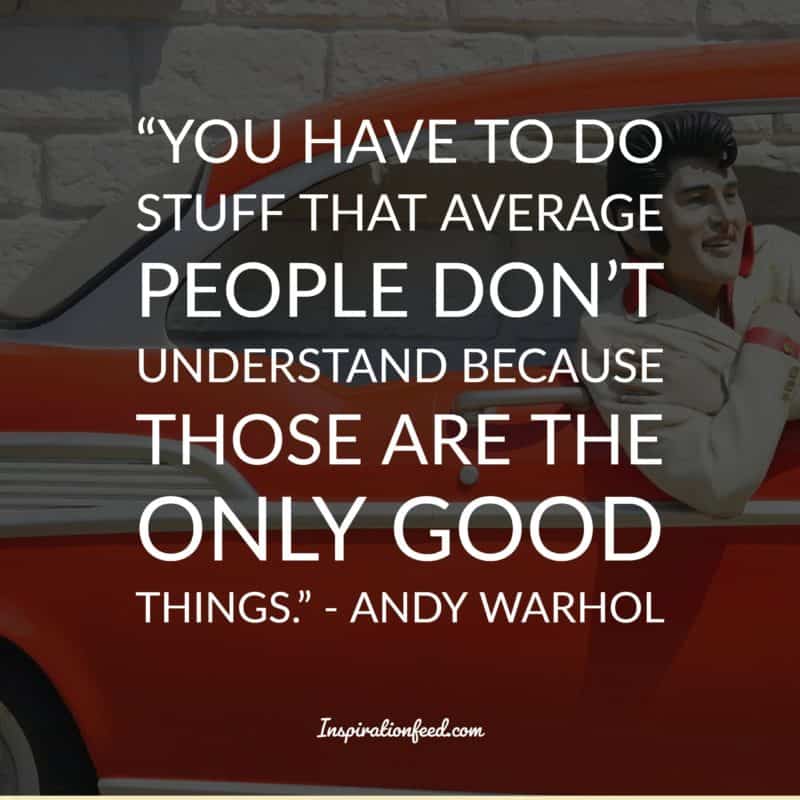 "You have to do stuff that average people don't understand because those are the only good things." – Andy Warhol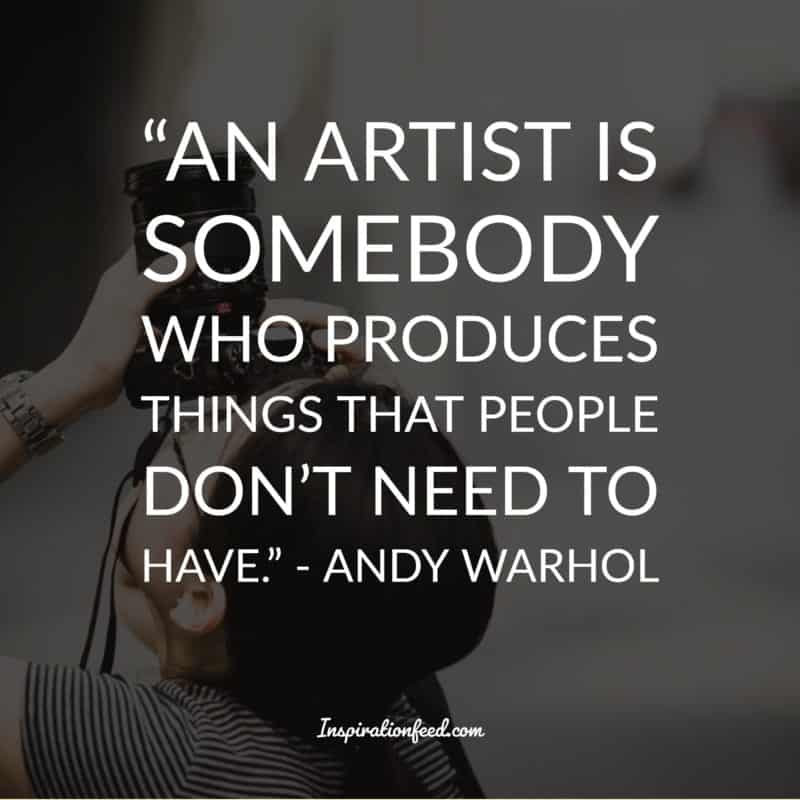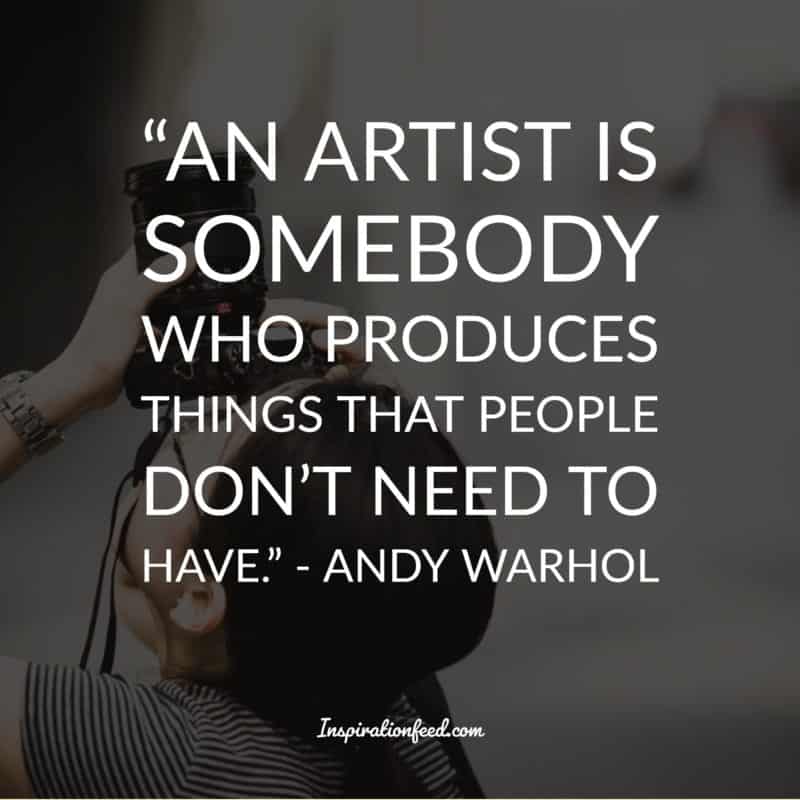 "An artist is somebody who produces things that people don't need to have." – Andy Warhol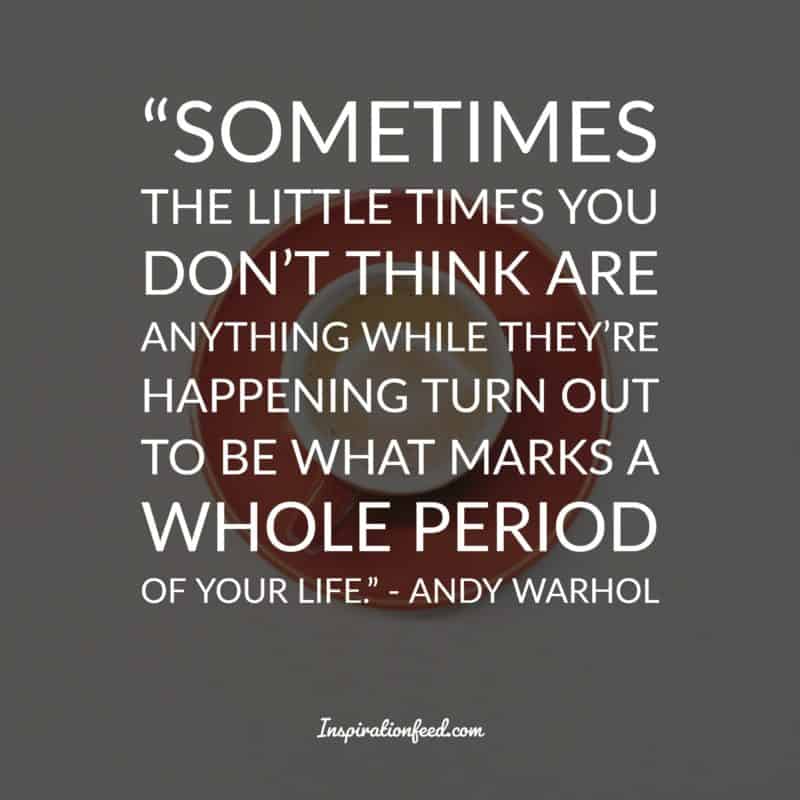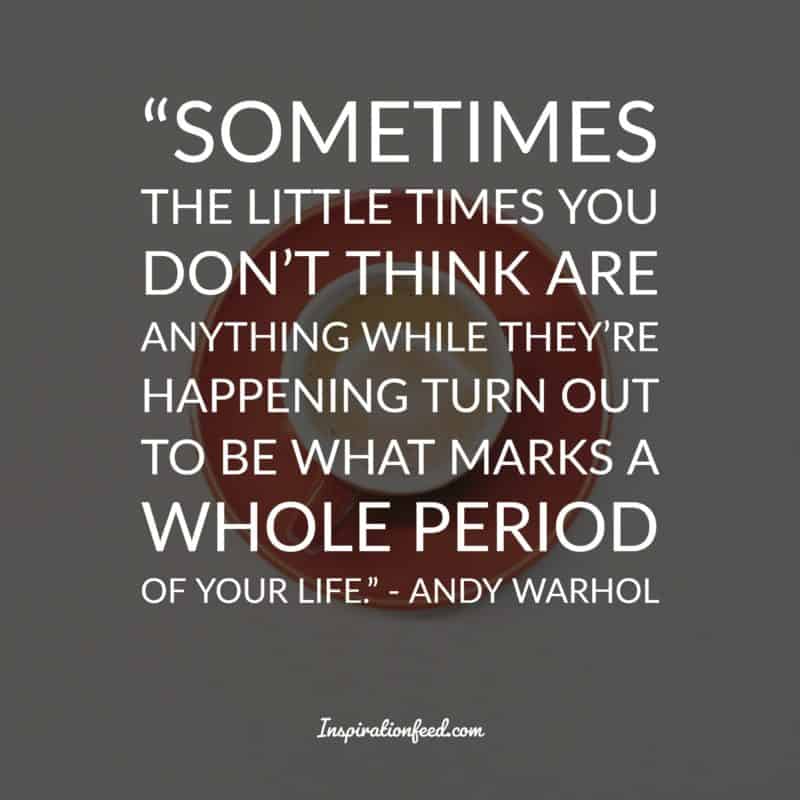 "Sometimes the little times you don't think are anything while they're happening turn out to be what marks a whole period of your life." – Andy Warhol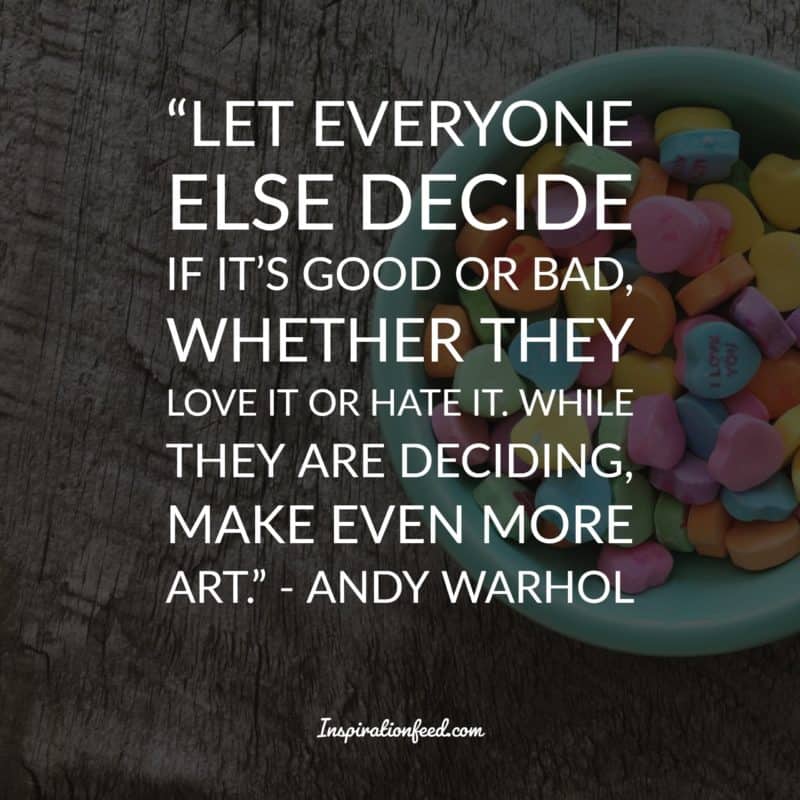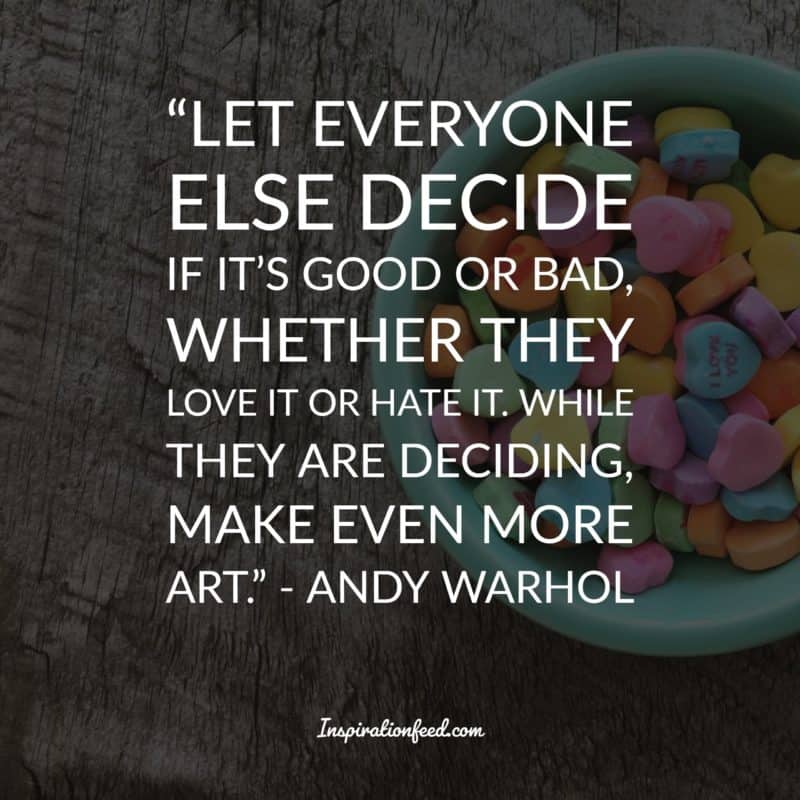 "Let everyone else decide if it's good or bad, whether they love it or hate it. While they are deciding, make even more art." – Andy Warhol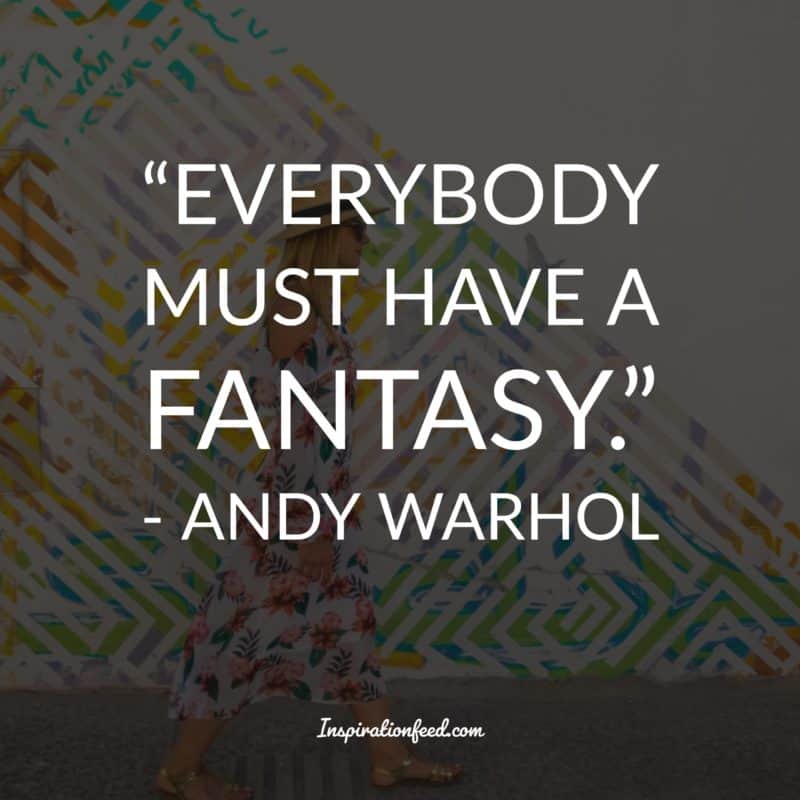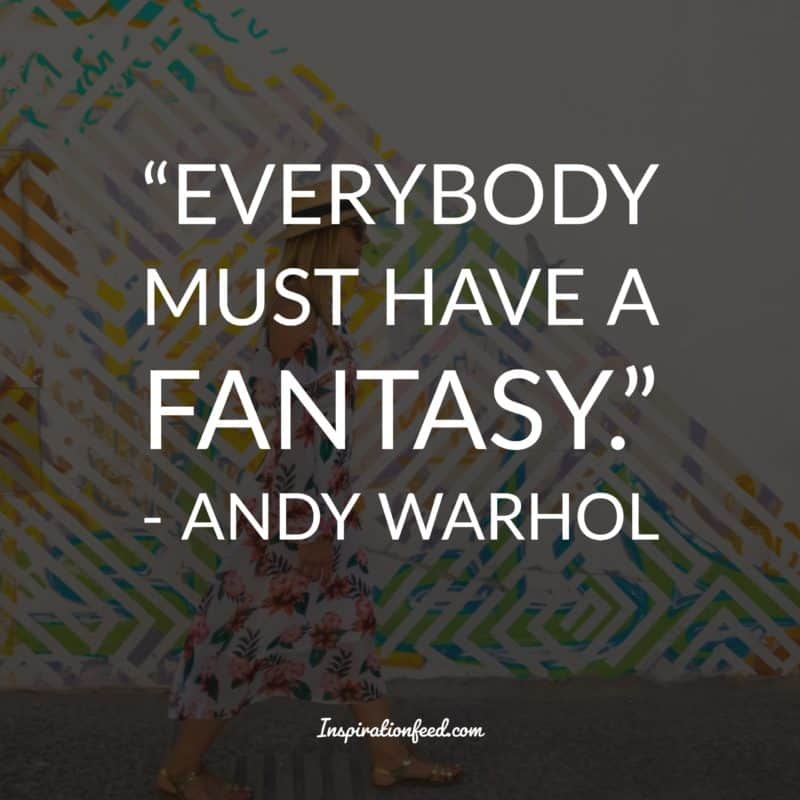 "Everybody must have a fantasy." – Andy Warhol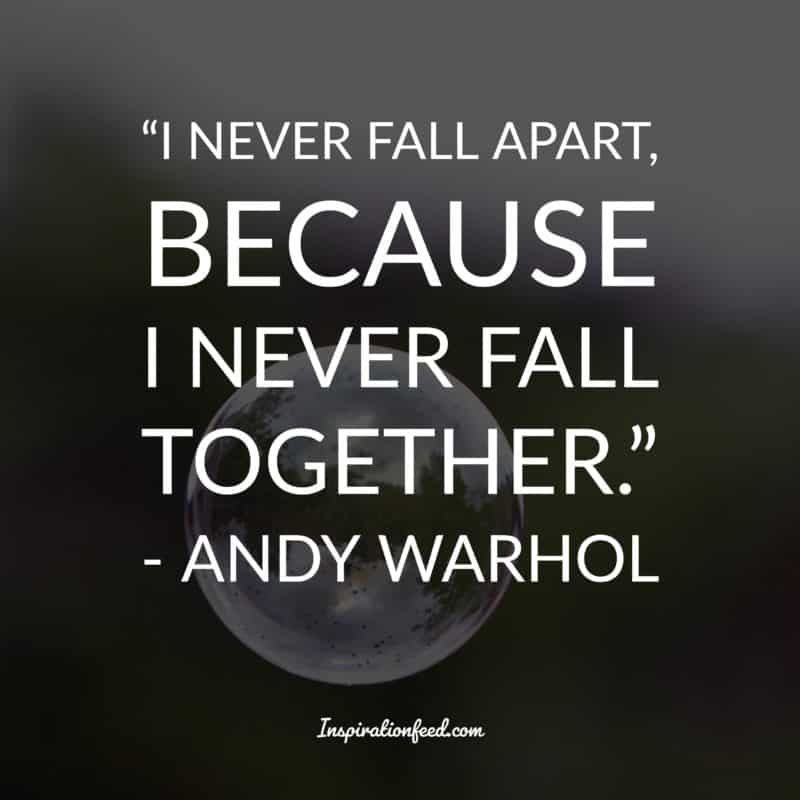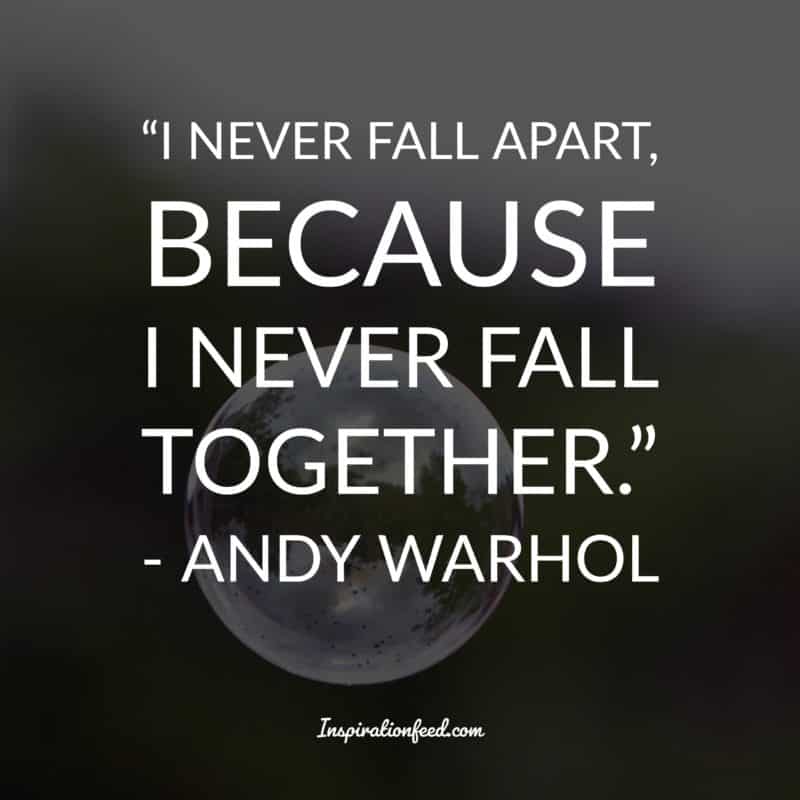 "I never fall apart, because I never fall together." – Andy Warhol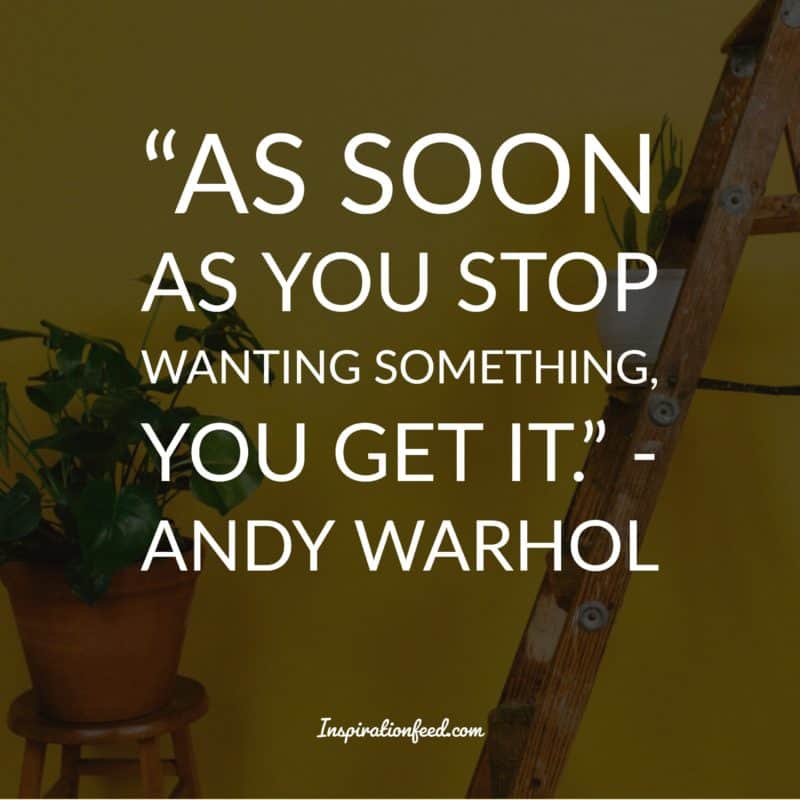 "As soon as you stop wanting something, you get it." – Andy Warhol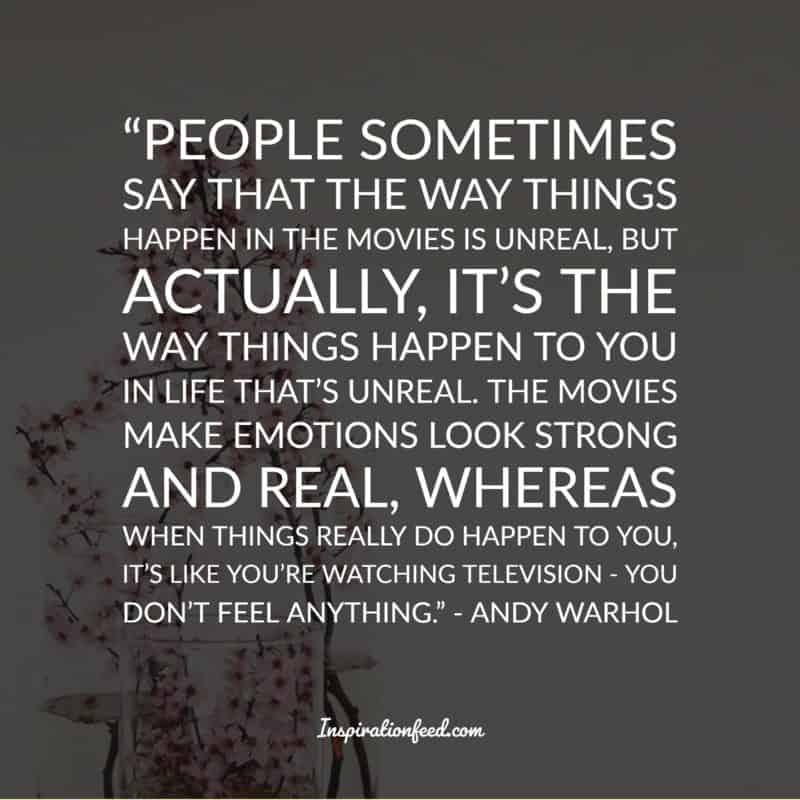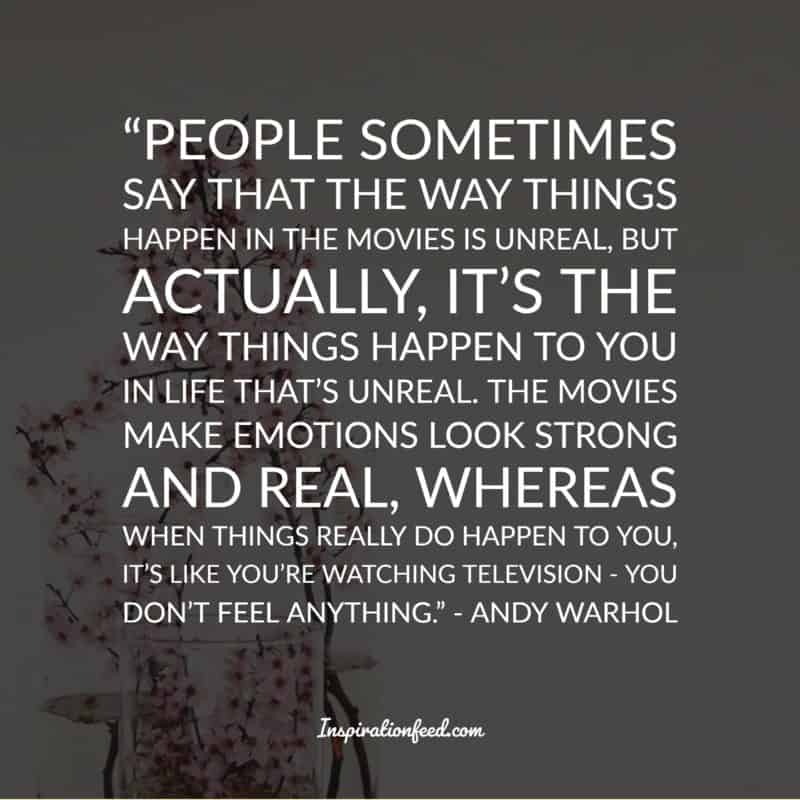 "People sometimes say that the way things happen in the movies is unreal, but actually, it's the way things happen to you in life that's unreal. The movies make emotions look strong and real, whereas when things really do happen to you, it's like you're watching television – you don't feel anything." – Andy Warhol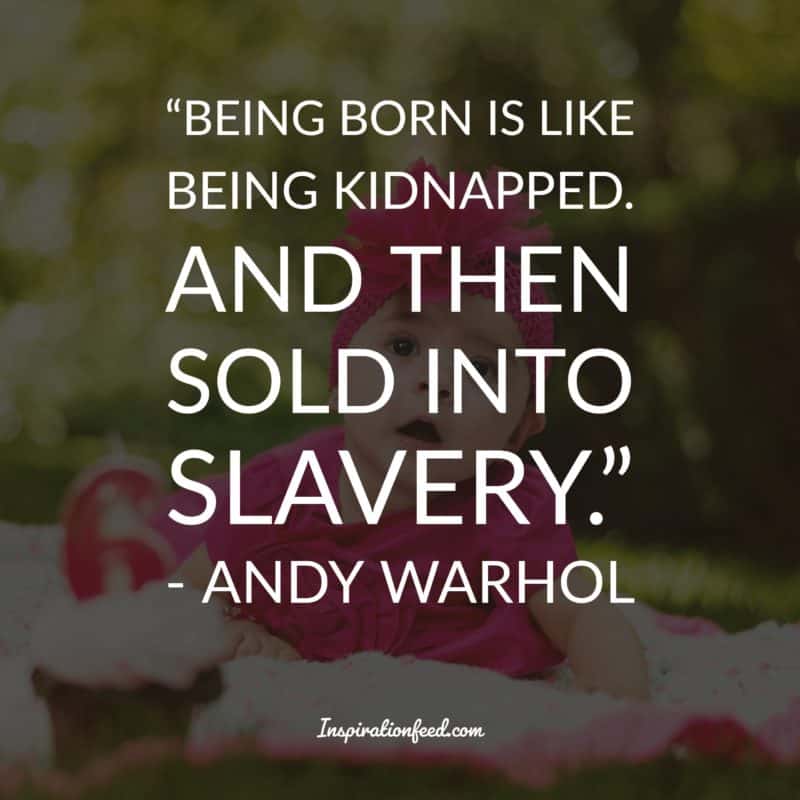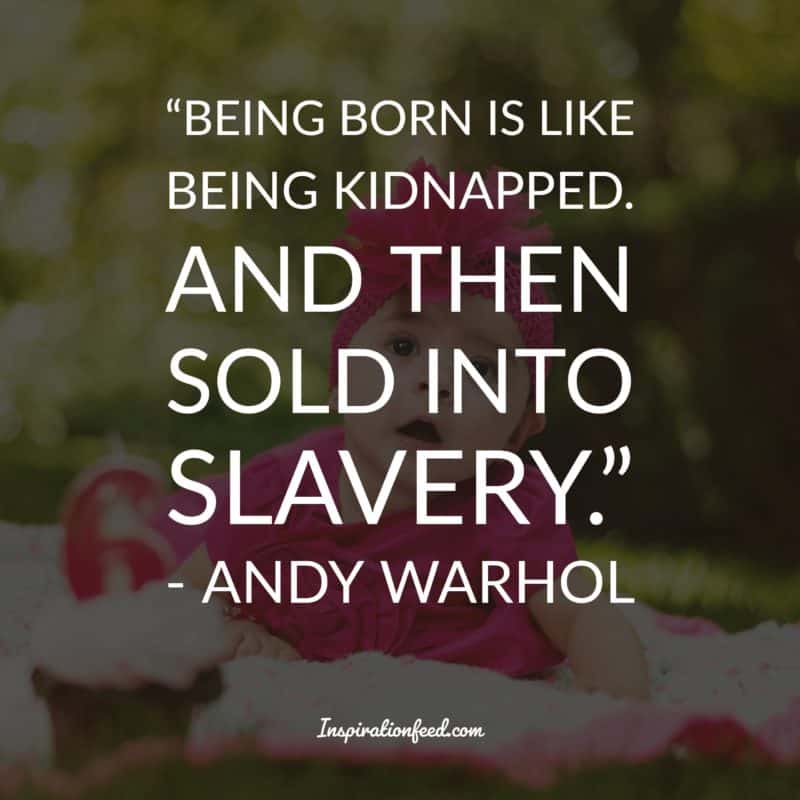 "Being born is like being kidnapped. And then sold into slavery." – Andy Warhol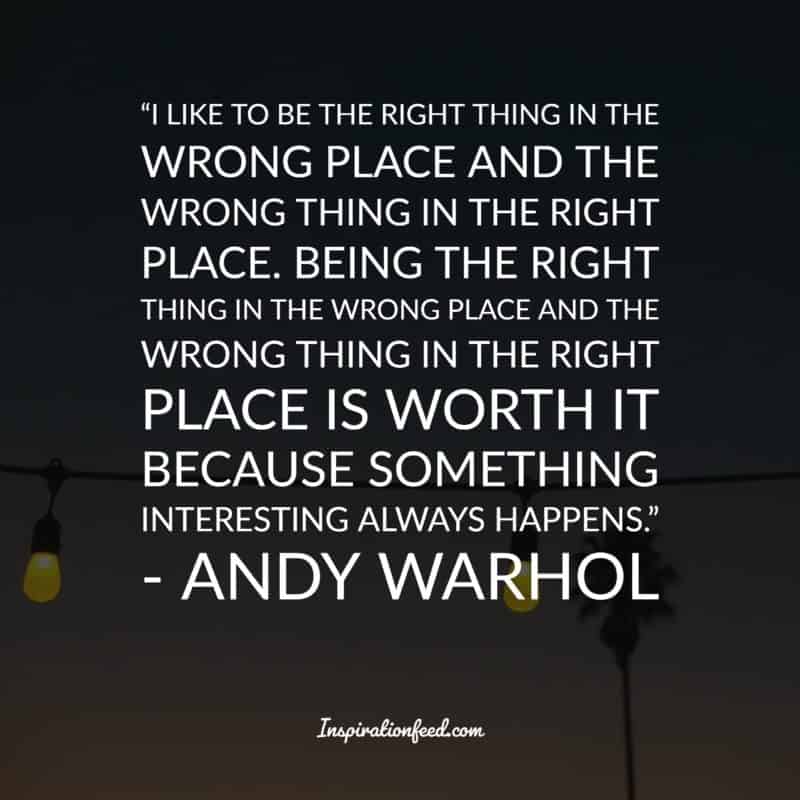 "I like to be the right thing in the wrong place and the wrong thing in the right place. Being the right thing in the wrong place and the wrong thing in the right place is worth it because something interesting always happens." – Andy Warhol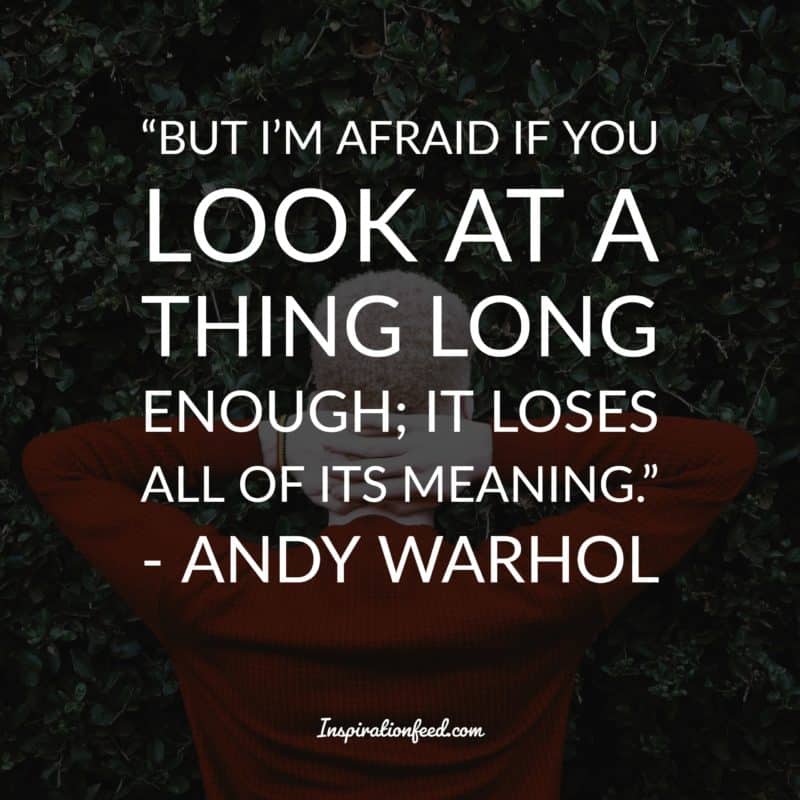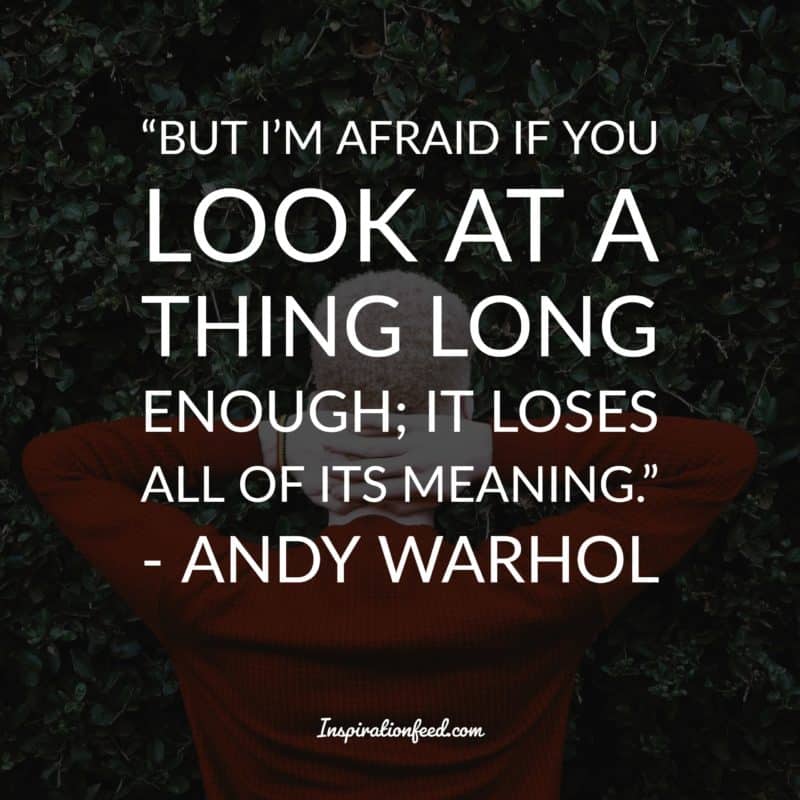 "But I'm afraid if you look at a thing long enough; it loses all of its meaning." – Andy Warhol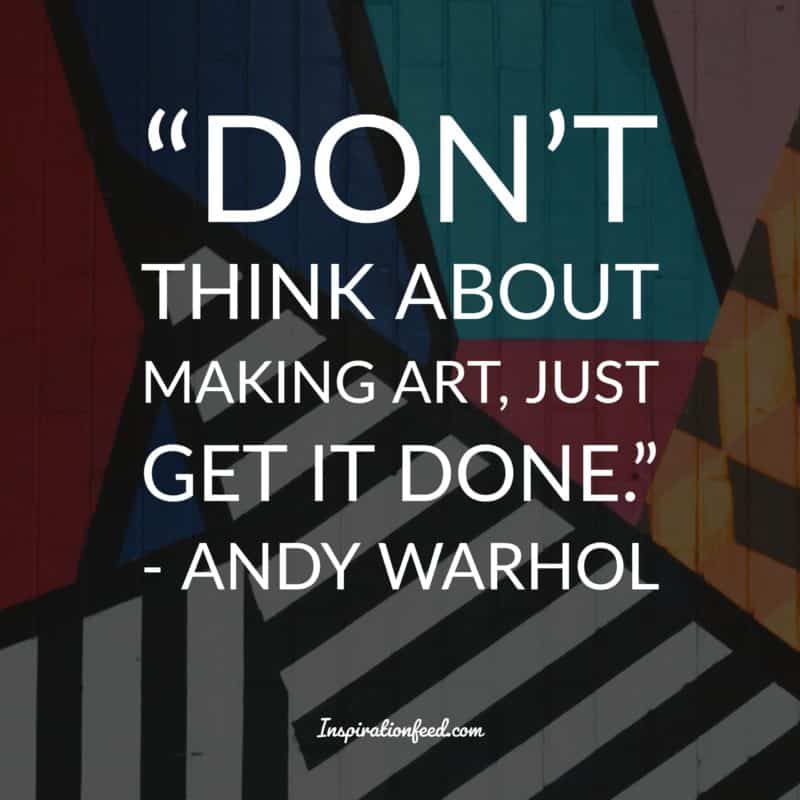 "Don't think about making art, just get it done." – Andy Warhol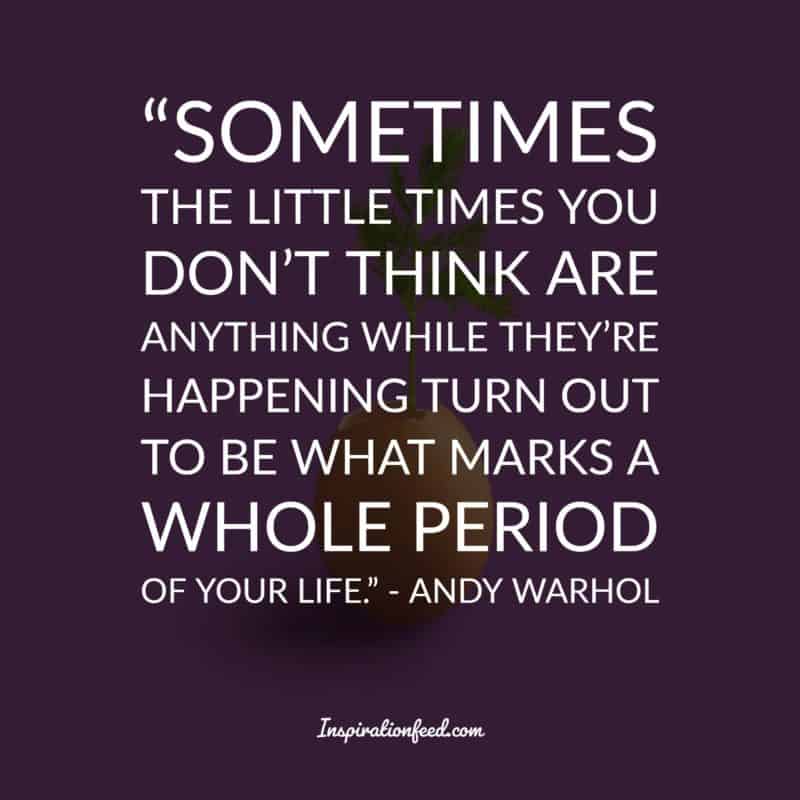 "Sometimes the little times you don't think are anything while they're happening turn out to be what marks a whole period of your life." – Andy Warhol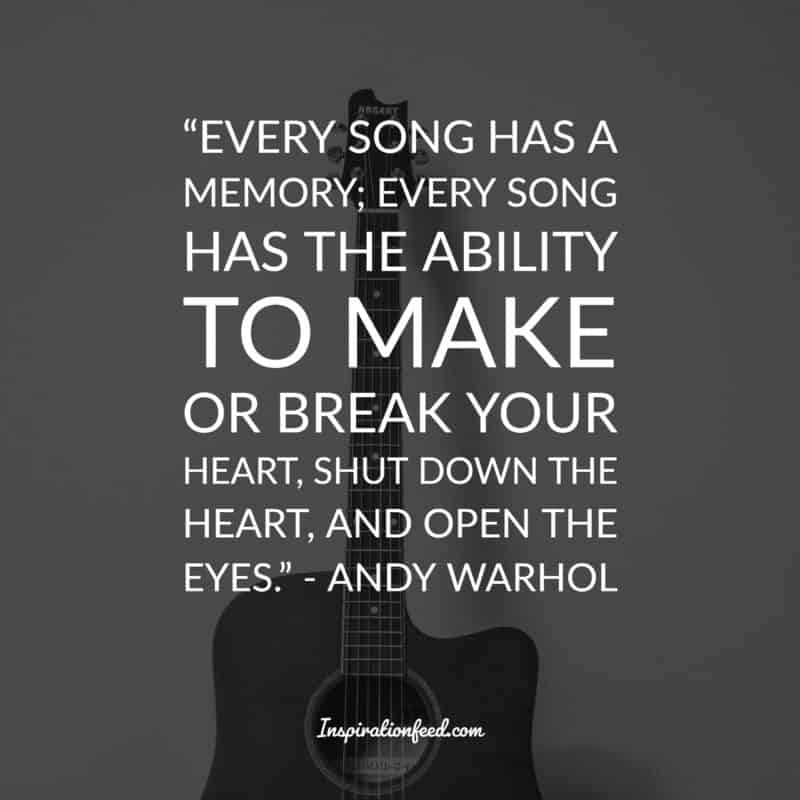 "Every song has a memory; every song has the ability to make or break your heart, shut down the heart, and open the eyes." – Andy Warhol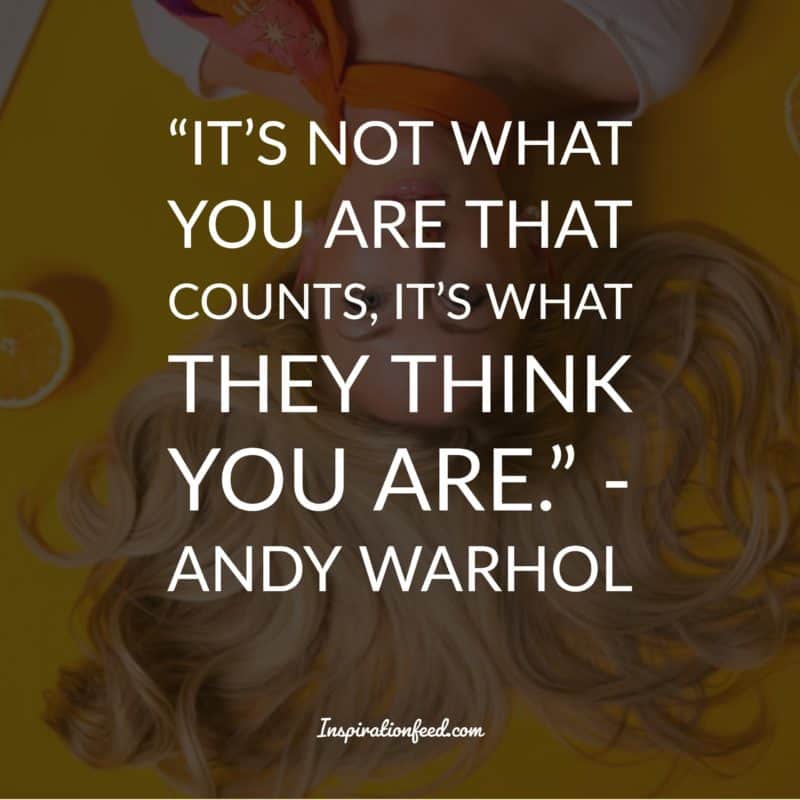 "It's not what you are that counts, it's what they think you are." – Andy Warhol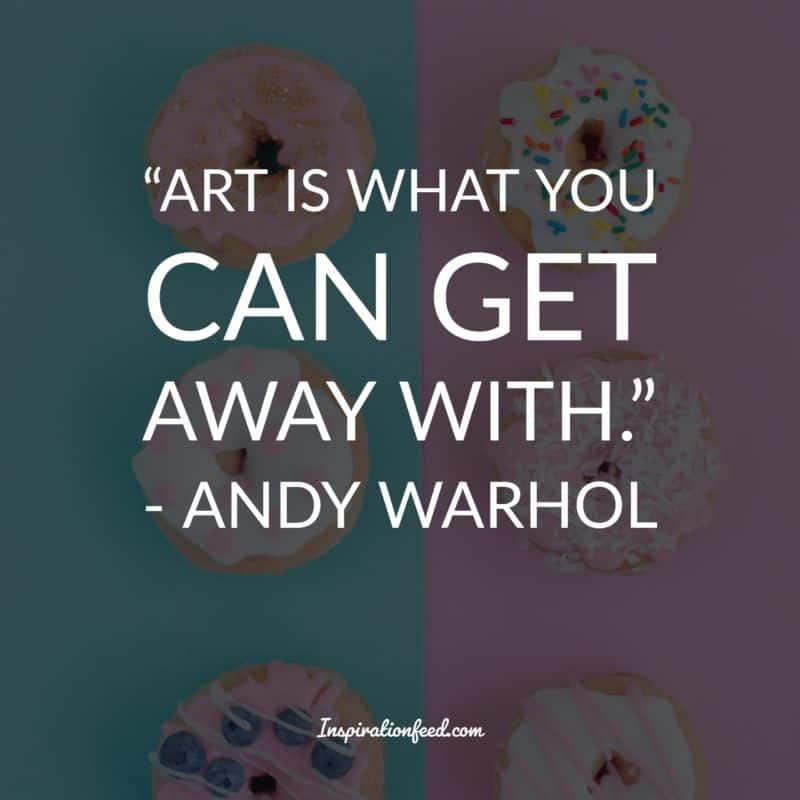 "Art is what you can get away with." – Andy Warhol