Last Updated on January 24, 2023
With the overwhelming popularity of Instagram, it becomes harder to impress the community of followers and potential customers. As an owner of a store or a nightclub, you have to be inventive, in order to make your posts noticeable among dozens of similar ones. Luckily, animated stories are an efficient way to grasp the attention of social media lovers.
Our diverse compilation of animated templates has got a cool variant for practically any occasion and need. Hurry up, and pick your best match now!
1. Club Party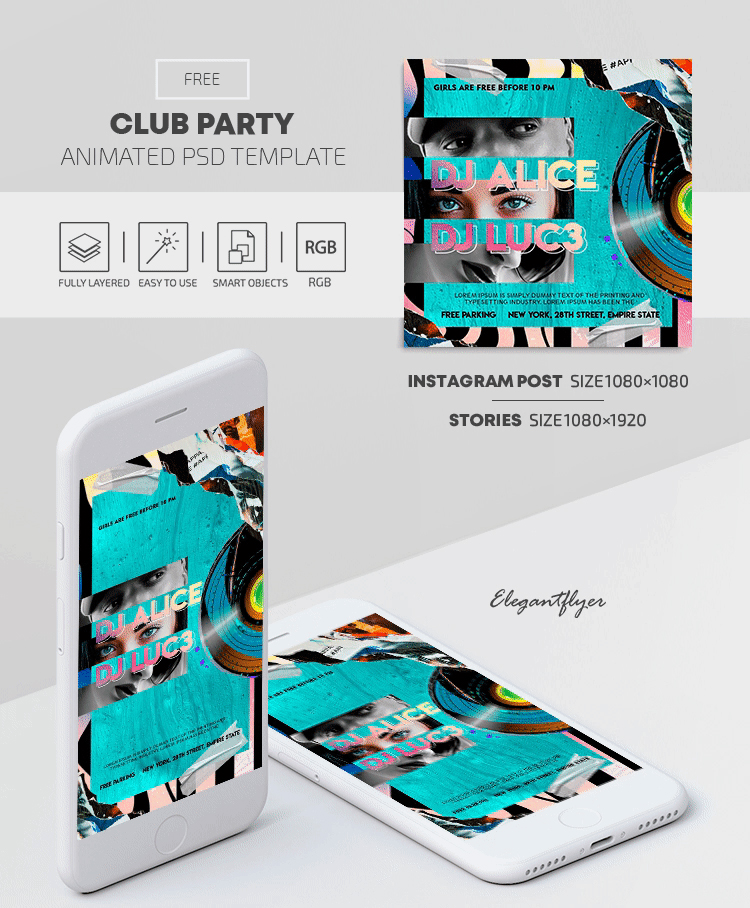 This fabulous free animated instagram stories template will help you to present a party with style. Textured turquoise creates a striking contrast with B&W moving stripes. Cool neon writing and photos of the DJ's can be replaced within moments in Photoshop.
Free Download
2. Grand Opening Party
Make everyone remember the grand opening of your club with the popular DJ's that will host the show! Share the news on Instagram using this exclusive story. Impressive animation and cool outlay will allow you to present each star guest with due regard. Save this free file now, and customize details in PS.
3. Wedding Party
Use this free set of editable animated files to invite friends and family to your great wedding party! Stylish and charming, they will express the happy vibes of your big day. If you wish to gather friends for a noisy bachelor or a bachelorette party – these Insta stories will look apt as well. Save them now, and impress your guests.
4. DJ Guest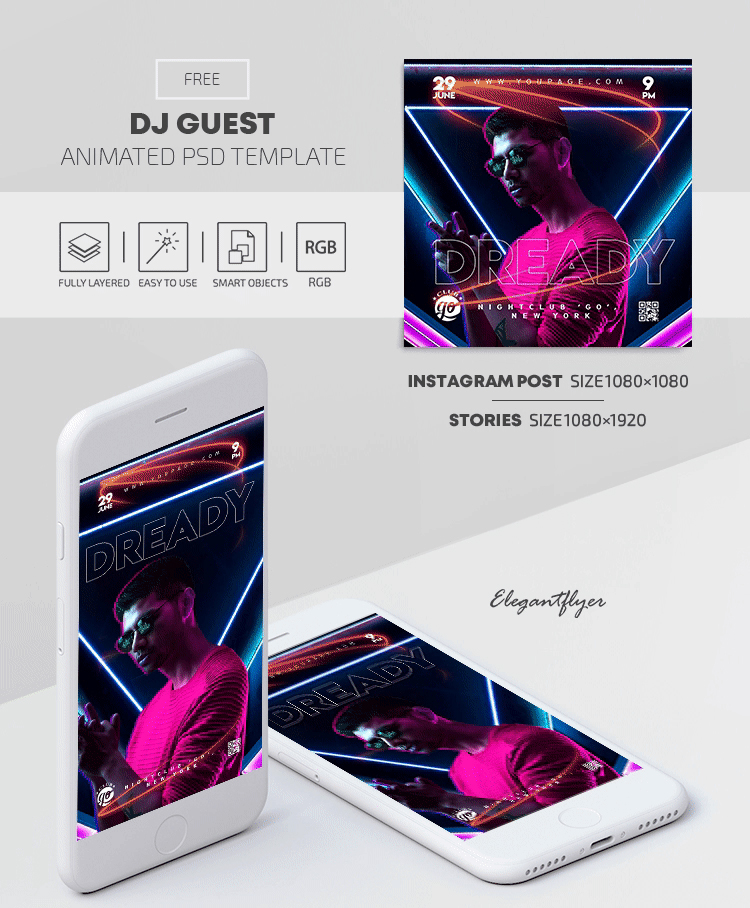 This stunning free file will instantly grasp the looks of your followers. Dark blue background, fast moving animation, and neon lines help to put an accent on the photo of a DJ star you're going to welcome to your club. Hurry up to share this bold story, and fill your place with dazzled fans!
5. Summer Party
This free multi-colored template is an awesome choice for announcing a noisy summer party. Shiny animation in the background will easily draw the look of the followers. The image of a DJ can be replaced effortlessly in Photoshop. Download this stylish story now, and impress your community on Instagram.
6. Hookah Wednesdays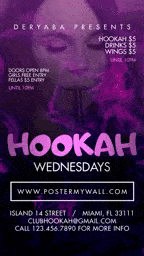 Deep purple color and clouds of flying vapor make this free stories perfect for promoting a hookah party. Download this file in one click, to draw attention of the future visitors on Instagram. You can use Photoshop to edit contact info and names within minutes.
7. Friday Night
Throw a raving party at your club to make this Friday count! Kicky look of our animated file will surely go in tune with your event. Smart PSD layers will let you replace the photo of a DJ in the matter of moments. The community on Instagram won't miss out on your trendy story!
8. Beach Party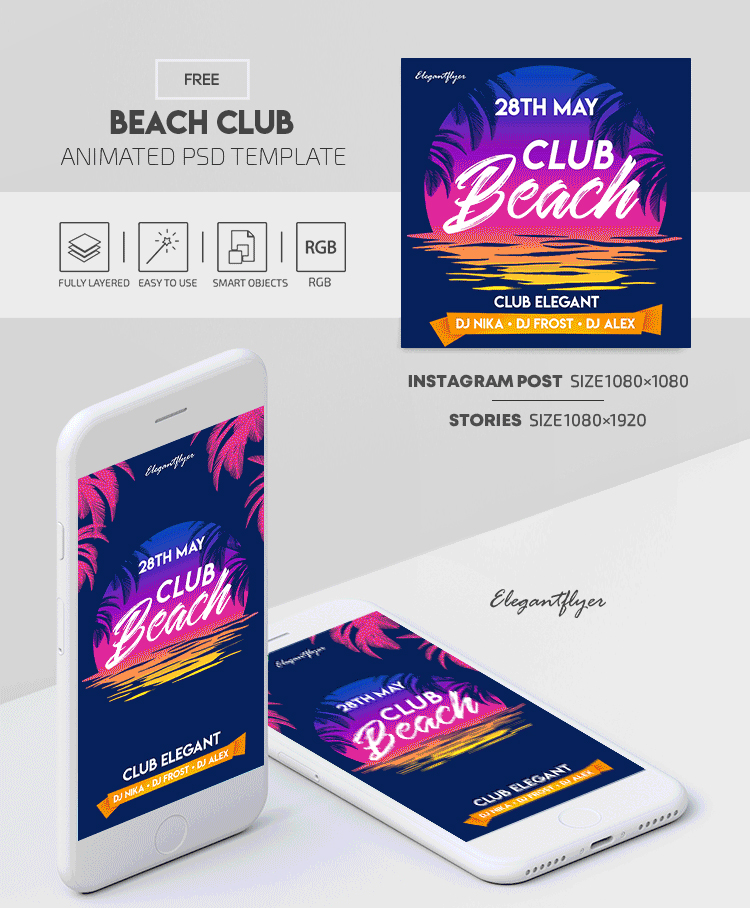 Minimalistic yet stunning, this Instagram sample will easily enchant anyone who looks at it! Cool animation and beautiful shiny palette will please the eyes of your followers. Feel free to save this template now, and customize the fonts, writing, and colors in Photoshop.
9. Music Fest
Announce an incredible music festival with this cool free template. The moving elements will immediately draw your guests' eyes. Smart outlay of the story will aid you to present each musician individually. You can change the writing and photos without much effort in PS.
10. Disco Party
Share the fun mood of your fabulous Disco Party with this free story template. The colorful spinning elements create a cool background, while the gleaming writing in the center will easily catch the eyes. Smart customizable layers of the PSD file will allow you to change the colors and key info in no time.
11. Black Yellow Party
Black and yellow is a tried-and-trusted combination of colors that will help you draw maximum attention of the followers to the upcoming party. So, do not hesitate, and take advantage of the striking color duo – matched with the catchy animation in this free customizable template it won't leave your followers indifferent.
12. Summer Festival
Present your raving summer festival with a free PSD story that will leave no follower aside! Stylish and well-organized, the file will share all important info. Shiny animation in the background will make your message noticeable.
13. Back to 90s Party
Sassy and colorful, this free animated sample sums up the graphic trends of the 90's! Make your followers feel nostalgic and excited at the same time, and gather them at your club for an amazing party that will bring old good times back! Save the cool free stories now, and enjoy the effect!
14. Neon Party
This incredible animated stories is a perfect match for an exclusive neon party that's about to take over your club! Blinking text in the center can grasp anyone's attention while the glimmering green and orange details add a relaxed vibe of a tropical bar. Save this PSD customizable file now, to succeed at event promotion.
15. Birthday Bash
This colorful stories is a quick and sure way to invite all your friends to a great birthday celebration. Minimalistic yet eye-catching design will help to put your message in the centerpiece. Falling confetti will add some joyful vibes. Save this customizable file to get it ready for Instagram within minutes.
16. Pool Party
This colorful template will help to fill your stories with the vibes of happiness and fun! Playful animation is an amazing choice for promotion of a hot party near a pool. Flying bubbles, fresh moving waves and bright cocktails will definitely tempt your followers. Download this free file and go for a couple of quick edits in Photoshop.
17. House Party
Your next party filled with cool house tracks deserves a special promotion. This unique animated sample will put the DJ star that's gonna host the event in the limelight. Feel free to use this cool stories, and replace the info and the image in PS.
18. Hot Spring
Make the start of the new season count with this playful free stories. Your followers are gonna love the hot image and the tropical vibes of the template. You can change the name of the event as well as the image and colors in Photoshop.
19. Dancing Night
A cool dancing battle will gather a crowd of dazzled visitors at your club. Announce it with style using this superb template. Its retro vibe and cool shiny animation won't go unnoticed. Safe the free file in one click, and adjust it in no time using Photoshop.
20. Retro Party
Who doesn't love the retro tunes of the 80's? Invite your Instagram fans to a raving party with this unique animated template. Its neon writing and cool animated details can impress anyone. Feel free to post this stunning story as soon as you've adjusted it in PS.
21. 1st Birthday
Announce the special celebration of your little one with this cute story. It's warm pastel colors and sweet ornaments will enchant your followers. Some easy editing will help you to change the name and the message. Share this animated file on Instagram, and get ready for the happy party!
22. Dj Guest
This minimalistic animated template will help you present the DJ guest whose name speaks for itself. Striking blue rays create an awesome contrast with the black background. Neon shining of the text and the infinitely moving animation will maximize the effect. Feel free to customize this stories in PS before you share it.
23. Hot Party
No summer event goes without the refreshing cocktails. Use this exclusive animated file to tempt your community on Instagram. Bright shades of pink and orange are complimented with the catchy animation and tropical details. Download this free stories and excite everyone about your upcoming hot party.
24. Valentine's Concert
Gather all followers for a huge festive concert with this in-style story. Its original design and glowing animation will make your post speak out to the followers. Save the template free of charge, and customize it to your needs in Photoshop.
25. Black Night Party
Black and white is a take-notice combo that will instantly dazzle your followers. Add bold fonts and a dynamic animation – and you've got an eye-catchy stories template worthy for promotion of your exclusive club. We guarantee that no follower will miss out on your stories.
26. Dj Battle
A DJ battle is always a special event that everyone feels excited about. Use this free fully customizable sample to share trendy stories with the followers on Instagram. Gray metallic background will help to focus attention on your DJ guests. You can change the photos as well as the colors and names with fast editing in Photoshop.
27. Anniversary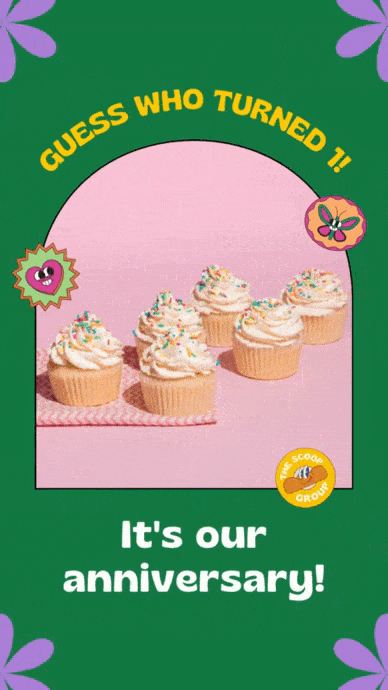 This pack of free stories will amaze your followers. Vivid colors and sweet moving images are perfect for announcing a happy fest. It won't take you long to customize these files. Share them now, and go get ready for your wonderful event!
28. Birthday Anniversary Party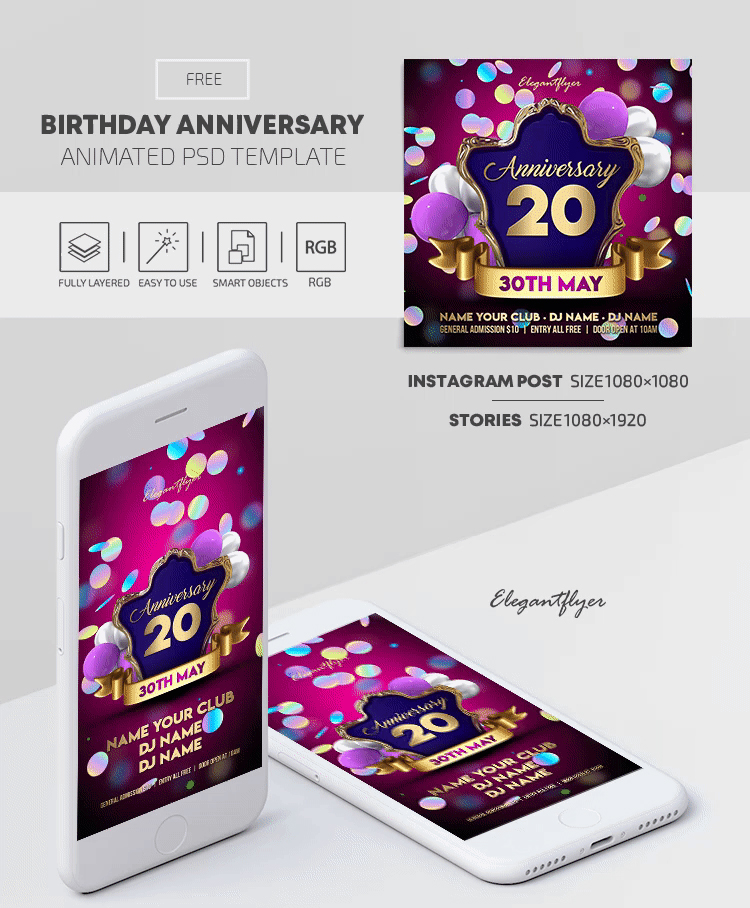 A wedding anniversary, a birthday, or a company milestone – this free designer sample will aid you at creating wonderful stories! Changing colors, falling confetti, and balloons create a festive mood. Customize this stunning file in PS, to announce your great celebration to all friends.
29. Christmas Party
Ho-ho-ho! Gather everyone for a big joyous party and make this Christmas special! Intense red mixed up with the shiny white writing works awesome for such a festive occasion. Save this story template free of charge, edit it effortlessly in Photoshop, and spread the happy mood on Instagram.
30. Halloween Party
Treat the eyes of your followers with this catchy Halloween post. Its tricky design and cool animation can fascinate anyone on Instagram. Although the writing in the template suggests an online event, you can change the key information effortlessly in PS.
We hope that these free templates in PSD will make your profile original and popular. Eye-catching content is the key to your success!