Last Updated on January 20, 2022
Who Is Antonio Brown?
Antonio Tavaris Brown Sr. is an American professional football player who plays as a wide receiver for the National Football League (NFL's) Tampa Bay Buccaneers. Before signing to Tampa Bay Buccaneers in 2020, Brown previously played for three other NFL clubs, including Pittsburgh Steelers (2010–2018), Oakland Raiders (2019), and New England Patriots (2019).

His efforts on the pitch haven't gone unnoticed, as Brown is the recipient of numerous awards and honors, including:

• MAC Freshman of the Year Award in 2007,
• Second-team All-MAC Award in 2007,
• 2 First-team All-MAC Awards in 2008 and 2009,
• 2 First-team All-American Awards in 2008 and 2009,
• 2 NFL Receptions Leader in 2014 and 2015,
• 2 NFL Receiving Yards Leader in 2014 and 2017
• 4 First-team All-pro Awards (2014 – 2017), and
• 7 Pro Bowl Awards (2011 and 2013 – 2018)
Quick Facts
| | |
| --- | --- |
| Full Name: | Antonio Tavaris Brown Sr. |
| Popular Name: | Antonio Brown |
| Gender: | Male |
| Birth Date: | July 10, 1988 |
| Age: | 33 years |
| Parents: | Eddie Brown and Adrianne Moss |
| Siblings: | Desmond Brown |
| Birth Place: | Miami, Florida |
| Nationality: | American |
| Ethnicity: | African-American |
| Education: | Miami Norland High School and Central Michigan University |
| Marital Status: | Unmarried |
| Sexual Orientation: | Straight |
| Wife/Spouse: | N/A |
| Children: | Antonio Brown Jr., Autonomy Brown, and Apollo Brown (with fiancée Chelsie Kyriss) and Ali Brown and Antanyiah Brown (with two other women) |
| Dating: | Chelsie Kyriss |
| Net Worth: | USD 20 million (as of August 1, 2021) |
| Source of Wealth: | American Football Salary, Endorsement Deals, and Other Ventures |
| Height: | 5′ 10″ (1.78 m) |
| Weight: | 84 kg; In pounds: 185 lbs. |
Early Life and Career Information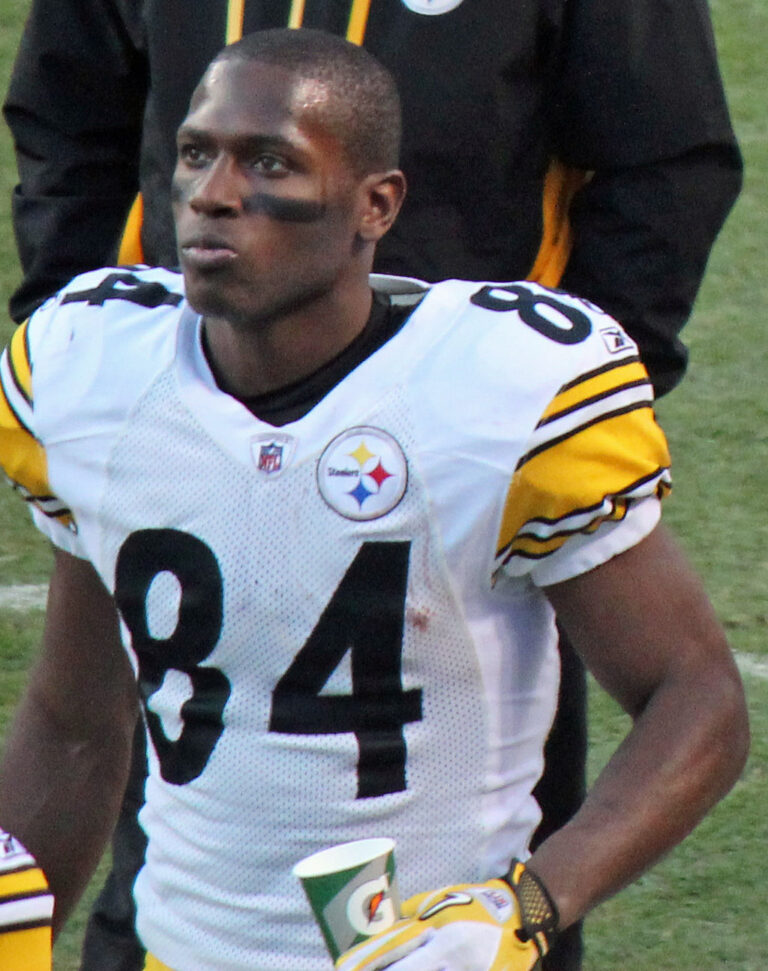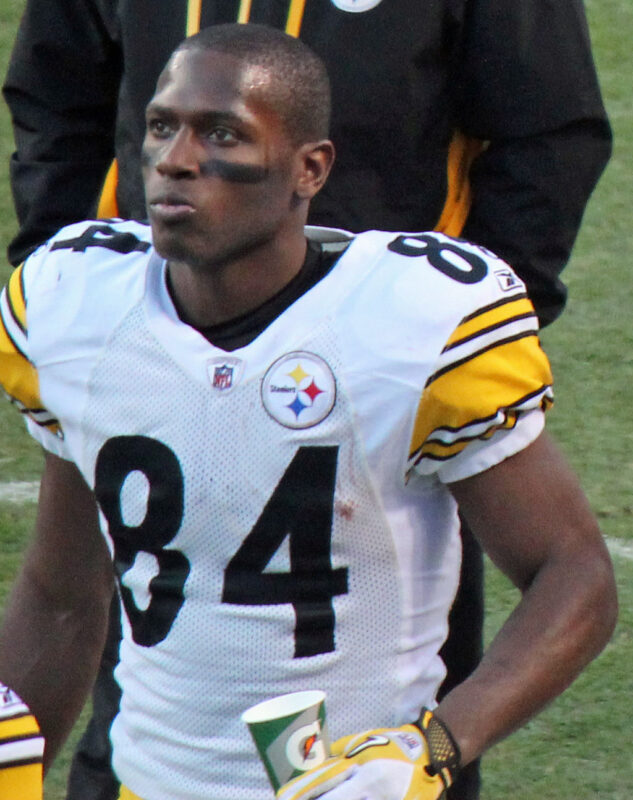 Antonio Brown was born on July 10, 1988, in Miami, Florida, to Eddie Brown and Adrianne Moss. His father is a former Arena Football League star who played as a wide receiver for the Albany Firebirds.

Brown discovered his athletic talents while attending Miami Norland High School. At the time, he had interests in football as well as track & field.

In high school, Antonio Brown was also considered one of the few all-rounded football players. He played multiple positions, including wide receiver, quarterback, running back, and punt returner.

After graduating from high school, Antonio Brown joined Central Michigan University, where he played college football from 2007 to 2009.

Coming out of college, Brown joined the 2010 NFL Draft, where pundits projected that he would probably be picked in the fifth or sixth rounds. According to NFLDraftScout.com statistics, he emerged as the 37th most promising wide receiver. Following his performance, he joined the NFL combine and completed all the requisite positional drills.

Brown kicked off his professional football career by joining the Pittsburgh Steelers, having been selected in the sixth round as the 195th best overall pick. On June 15, 2010, he signed a 3-year, $1.28 million contract (including a signing bonus of $73,075) with the Steelers.

On July 28, 2012, Brown renewed his contract with the Steelers. The 5-year, $42.5 million extension deal came with a jaw-dropping $8.5 million in signing bonus.

On Mach 9, 2019, after spending his first nine years as a professional footballer exclusively with the Steelers, Brown was traded to the Oakland Raiders. He exchanged clubs with the 2019 NFL Draft's 3rd- and 5th- round selection. Unfortunately, this turned out to be the beginning of the end of Antonio Brown's illustrious football career. A lack of chemistry with his teammates, coupled with incessant feuds with the club's management, led to his eventual release from the Raiders on September 7, 2019.

The same day Antonio Brown was released by the Raiders, he agreed to a 1-year deal with the New English Patriots. The deal was worth $15 million with a signing bonus of $9 million.

On October 24, 2020, Antonio Brown joined Tampa Bay Buccaneers on a one-year contract. According to the terms of the deal, he would earn a $1 million base salary and game roster bonuses, as well as $1.5 million in performance incentives.
Antonio Brown's Net Worth
Not only is Antonio Brown one of the most talented American football players in the world. He has also consistently been one of the highest-paid personalities in NFL history.

As of August 1, 2020, Brown had a net worth of $20 million. Nearly all his wealth comes from lucrative NFL deals. As of the time of writing, Brown has earned a total of $70 million from NLF alone, with reports indicating that his total career earnings could easily be north of $100 million.

Besides NFL contracts, endorsement earnings have also contributed significantly to Antonio Brown's net worth. He has entered into endorsement partnerships with several renowned brands, including Nike, PepsiCo, and Facebook.

It's also worth noting that Brown's current net worth could have been way higher, were it not for the numerous instances he has been fined for professional misconduct. For instance, he was fined $54,000 on September 4, 2019, by Oakland Raiders general manager Mike Mayock for unexcused absences. Brown has reportedly lost $394,127 in fines, not to mention potential bonuses and commissions from missed games.
Lessons from Antonio Brown
1. Never give up

After graduating from high school, Antonio Brown applied to Florida State University. However, his application was declined on the grounds of his not-so-impressive grades. Regardless, Brown never gave up on his football ambitions. And when he eventually joined Central Michigan University, he didn't wait to impress.

2. Keep your eyes on the prize

Antonio Brown's football career has not been without challenges, ranging from altercations with his managers to sexual assault allegations. Despite these challenges, Brown has remained focused on the game.

3. Keep everyone guessing

Brown has repeatedly announced that he was retiring from the NFL, only to surprise everyone by changing his mind. He has consistently drawn the spotlight to himself by keeping everyone guessing.
Famous Quotes by Antonio Brown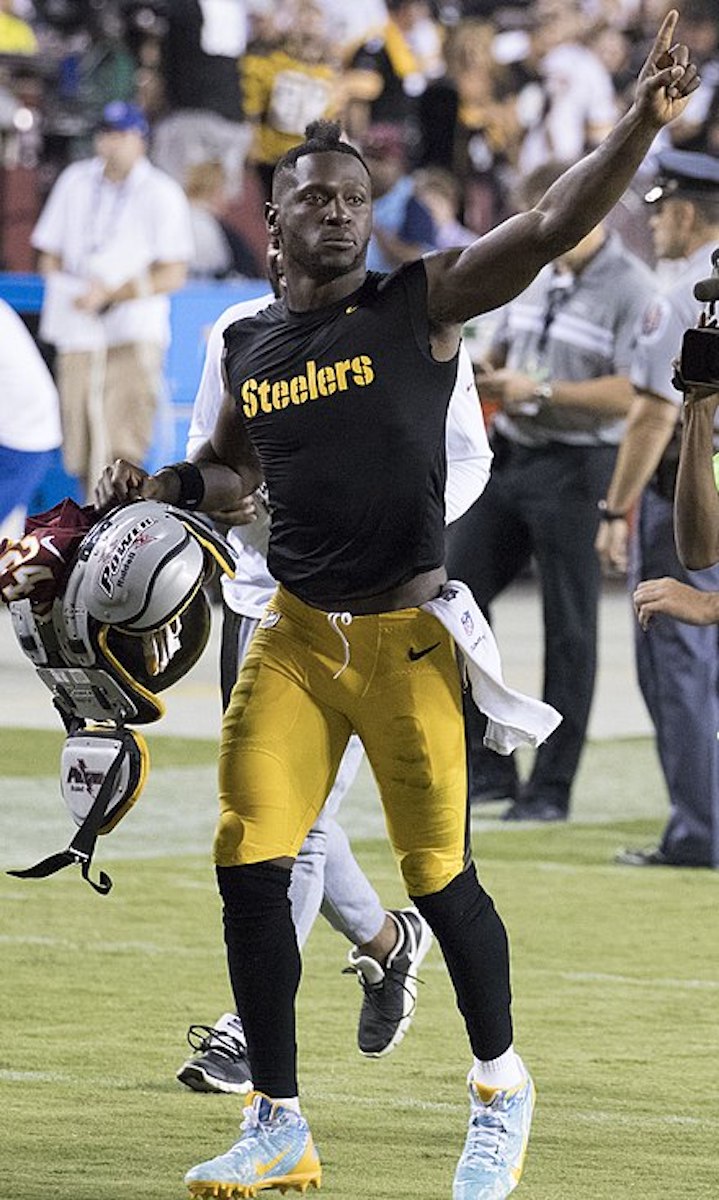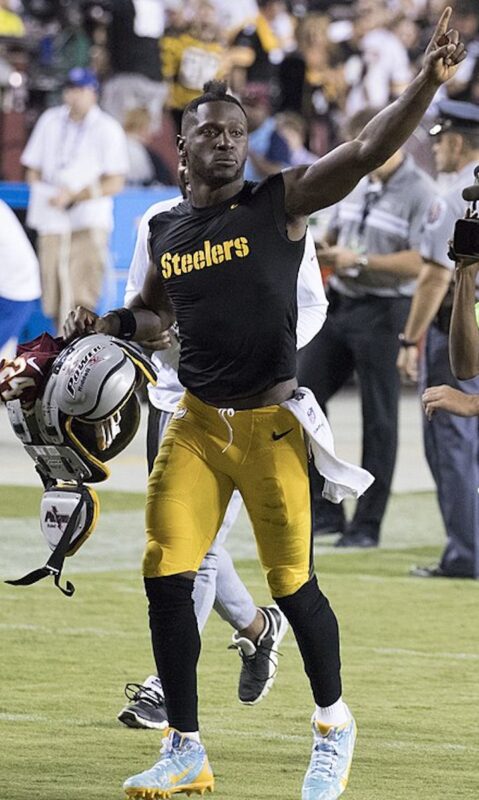 "Blue is the color of peace. Water is blue. I like the color blue because it just puts me at peace. The patriotic symbol is blue. I just like blue."
"Karma is karma. Karma is in life. You do the wrong things, you get the wrong things out of it."
"Nutrition is important, training is important – but so are rest and recovery, massages, acupuncture. Your body is your temple, and you've got to take care of it."
"The journey is never ending. There's always gonna be growth, improvement, adversity; you just gotta take it all in and do what's right, continue to grow, continue to live in the moment."
"We're focused on ourselves and winning our games and handling our business. We'll let the chips fall in place."
Wrap Up
Antonio Brown's NFL career has not been without controversy. But that's not how the world will remember the legendary footballer when he finally hangs up his boots. Instead, we will remember him as one of the best wide receivers ever to have graced the American football pitch.