Last Updated on January 24, 2023
Anxiety comes in many forms. It ranges from feeling nervous about facing an interview panel to going on a maiden date. You might also be anxious about lending your friend money, taking your exams, or while waiting for your medical test results. In fact, the world is literally full of more things that worry us compared to those that calm us down.
According to the Anxiety and Depression Association of America, up to 40 million adults in the U.S have some form of anxiety disorder. That's about 18% of the population.
Anxiety results from various factors, including genetic predisposition, personality issues, life events, and brain chemistry.
The most common types of anxiety include;
Generalized Anxiety Disorder;
Panic Disorder;
Social Anxiety Disorder;
Phobias;
Major Depressive Disorder;
Post-traumatic Stress Disorder;
Persistent Depressive Disorder; and
Obsessive-Compulsive Disorder.
While anxiety is treatable, only about 37% of the victims seek treatment. The other proportion chooses to suffer in silence. But unknown to most people, anxiety disorders are highly infectious. For instance, it's difficult to lead a normal life if you're living with a partner who is a victim of post-traumatic stress disorder. Without treatment, you will also find yourself depressed as you spend a lot of time agonizing over your partner's plight.
For the sufferer, there are a lot more health complications to worry about. Anxiety lowers your productivity at work, affects your social and relationship life, and impairs your sense of self-worth. Thankfully, there are numerous anxiety books that you can read to free your mind from racing thoughts.
Let's review 10 of those books.
1. 10% Happier: How I Tamed the Voice in My Head by Dan Harris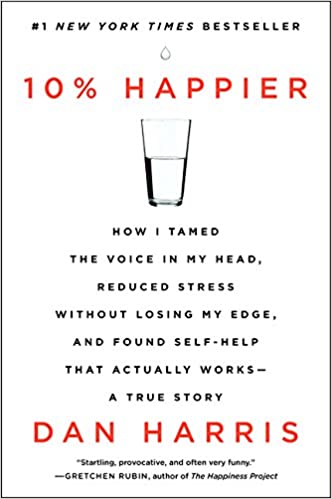 10% Happier is a book authored by Dan Harris, a news anchor who frequently experienced panic attacks on air. Dan claims that whenever he suffered panic attacks, he could find reprieve in meditation. In this book, he aims to enlighten readers on the role that mindfulness meditation plays in relieving anxiety, particularly panic attacks.
If you're a skeptic who's always struggling with inner voices of dissent that try to talk you out of attempting a task that makes you happy, this is the book for you. The author shares lots of real-life stories, most of which were anxiety-triggering events he experienced in the line of duty.
2. The Stress-Proof Brain by Melanie Greenberg, PhD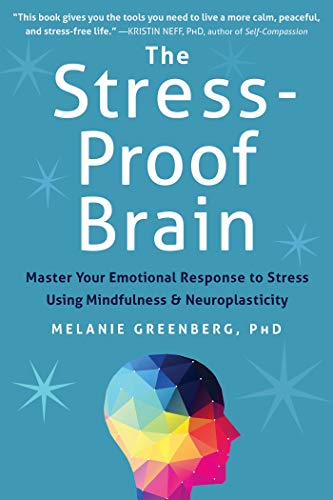 Reading accounts on overcoming anxiety by people who were once victims, such as Dan Harris, is reassuring enough. But it's even more inspiring to read an anxiety book that's authored by a psychologist. Melanie Greenberg is a licensed and practicing psychologist who specializes in managing anxiety and depression.
Melanie takes a rather practical approach to addressing anxiety. In The Stress-Proof Brain, she observes that stress is a natural part of life, one that we cannot wish away. Instead, we can only cope with it. She goes ahead to offer some powerful tools for managing stress, which are mostly centered on neuroscience, positive psychology, and mindfulness.
3. The Perfectionism Workbook by Taylor Newendorp, MA LCPC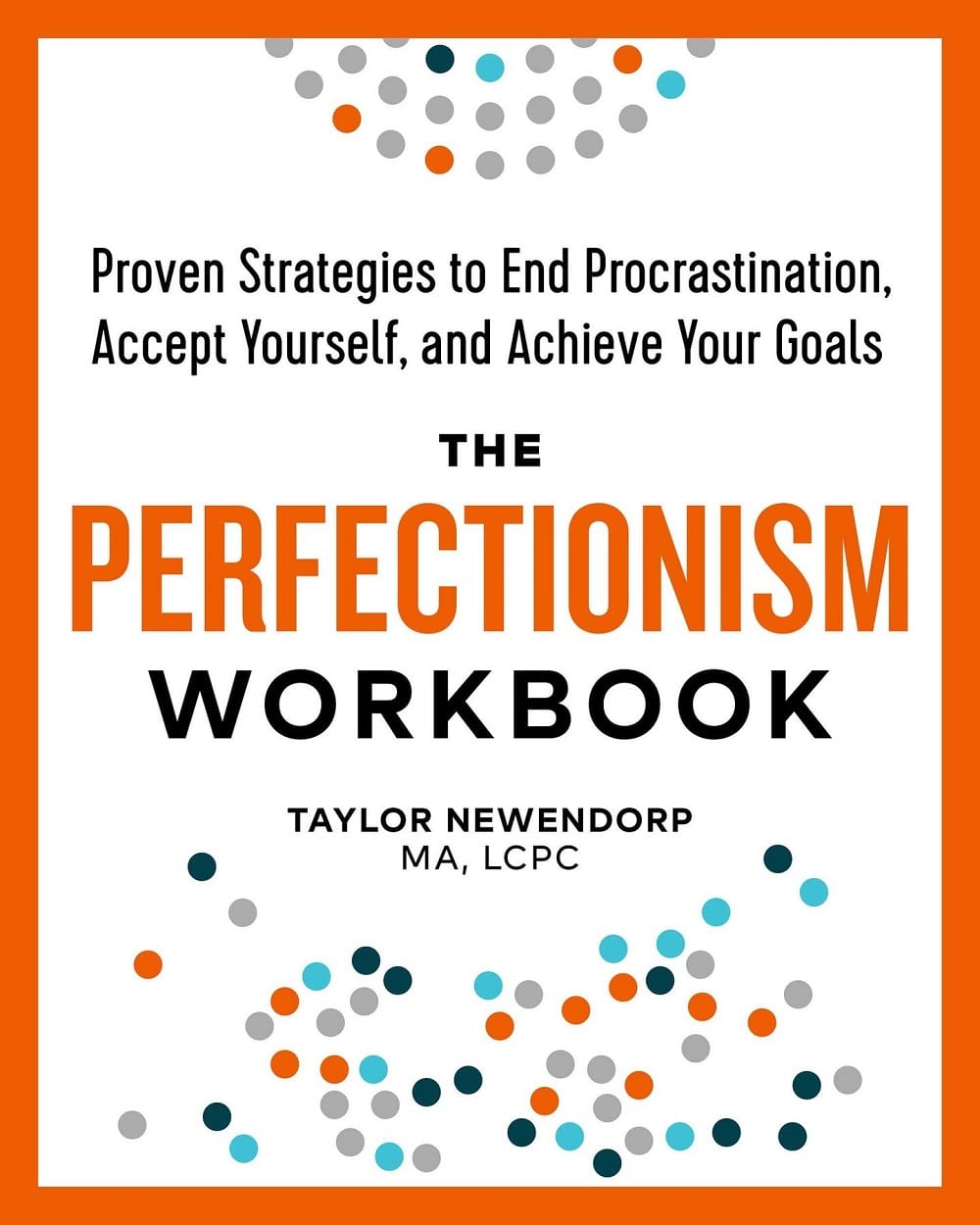 The Perfectionism Workbook by Taylor Newendorp offers lots of actionable tips that you can implement to constantly improve yourself. Taylor observes that while the desire to excel can fuel our success, it can also exert undue pressure on us, making it impossible to make any meaningful progress.
In this book, the author offers tips that will help you to change your self-perception as well as set healthy and realistic goals. The book gives an overview of perfectionism and how it's more of an illusion than a reality.
You'll learn the five habits that lead to toxic perfectionism, including;
Need for approval;
Inaction, paralysis, and procrastination;
Fear of making mistakes;
Being highly self-critical; and
Being judgmental of oneself and others.
The Perfectionism Workbook goes ahead to highlight some tips to overcome these habits.
4. First, We Make the Beast Beautiful: A New Journey Through Anxiety by Sarah Wilson
As the name suggests, the primary objective of this book is to change our perception about anxiety. Instead of viewing anxiety as a plague, Sarah Wilson opines that we should view it as a companion. As a companion, anxiety forever walks with us on our journey of life. Therefore, the sooner we learn to cope with it, the better we can overcome it.
First, We Make the Beast Beautiful borrows from the Chinese beliefs that the best way to conquer a beast is to first make it your friend. Some of the tips the book highlight include how to cultivate the ritual of gratitude, meditation, and healthy dieting.
5. When Panic Attacks by David D. Burns, MD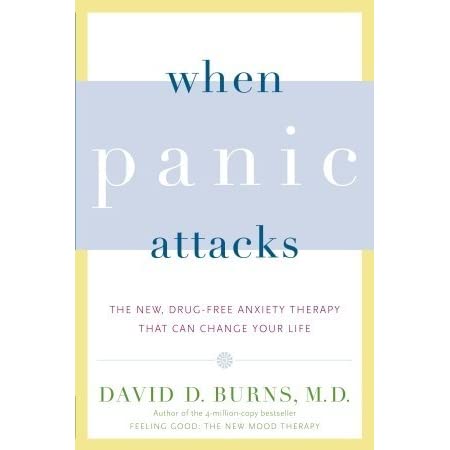 Anxiety feeds on deceit. In most cases, feelings of anxiety are never justified. However, these feelings can be so profound and overwhelming that they feel legitimate. If you're worried about failing a job interview, you'll always find a million reasons why you don't fit the bill. Unknown to you, you could be the very person that the recruiter is looking for.
When Panic Attacks by David D. Burns helps readers to understand and confront their anxieties. Through this book, David Burns shares practical tips on how to face your fears, phobias, and panic attacks. The book enables you to see anxiety for what it is – an illusion that simply prevents you from experiencing your realities.
6. Feeling Good: The New Mood Therapy by David D. Burns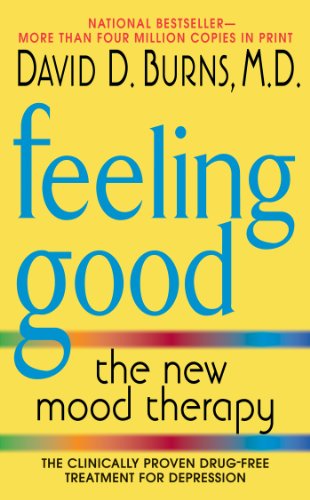 This is another excellent masterpiece by David D. Burns. Feeling Good lives up to its name. The book aims at helping readers banish all the negative thoughts that might be trying to impede their progress, by focusing on their strengths.
Examples of techniques that you'll learn in the book include;
• How to deal with the sense of guilt;
• How to address mood swings;
• Overcoming the desire for instant gratification and approval from others;
• How to handle criticism (be it constructive or destructive);
• Overcoming negative emotions; and
• How to boost your self-esteem.
The best part is that every lesson in Feeling Good is packaged to help readers achieve personal fulfillment.
7. The Anxiety and Phobia Workbook by Edmund J. Bourne, PhD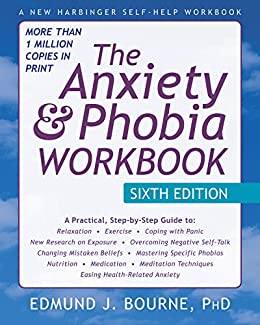 The Anxiety and Phobia Workbook packs numerous techniques on how to recognize the causes of anxieties and adapt the right remedy. The book is written by an expert in cognitive behavioral therapy (CBT) who has made an illustrious career helping victims of various anxiety disorders.
One of the best things about this book is that most of the claims are backed by clinical research. The author attempts to highlight several skills that will help you face your anxious thoughts head-on, such as relaxation & breathing techniques, and ending toxic self-talk. You'll also uncover how to use imagery and real-life desensitization, as well as make the right lifestyle adjustments.
8. Monkey Mind: A Memoir of Anxiety by Daniel Smith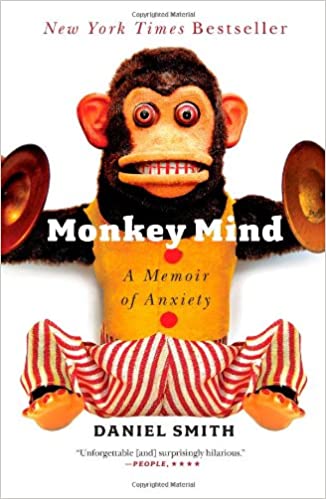 Monkey Mind is more like a storybook on overcoming anxiety, told from the perspective of someone who has been there and done that. Daniel Smith was once a victim of anxiety, a condition that he admits significantly impeded his progress in life.
Monkey Mind is a highly relatable and realistic book as the author shares his personal experiences living with anxiety and how he overcame it. And the fact that Smith occasionally weaves in humor to drive his points home make the book as entertaining as it's enlightening. Even before practicing the tips shared therein, Monkey Mind will frequently leave you in in stitches, which goes a long way in calming you down.
9. Hardcore Self Help: F**k Anxiety by Robert Duff, PhD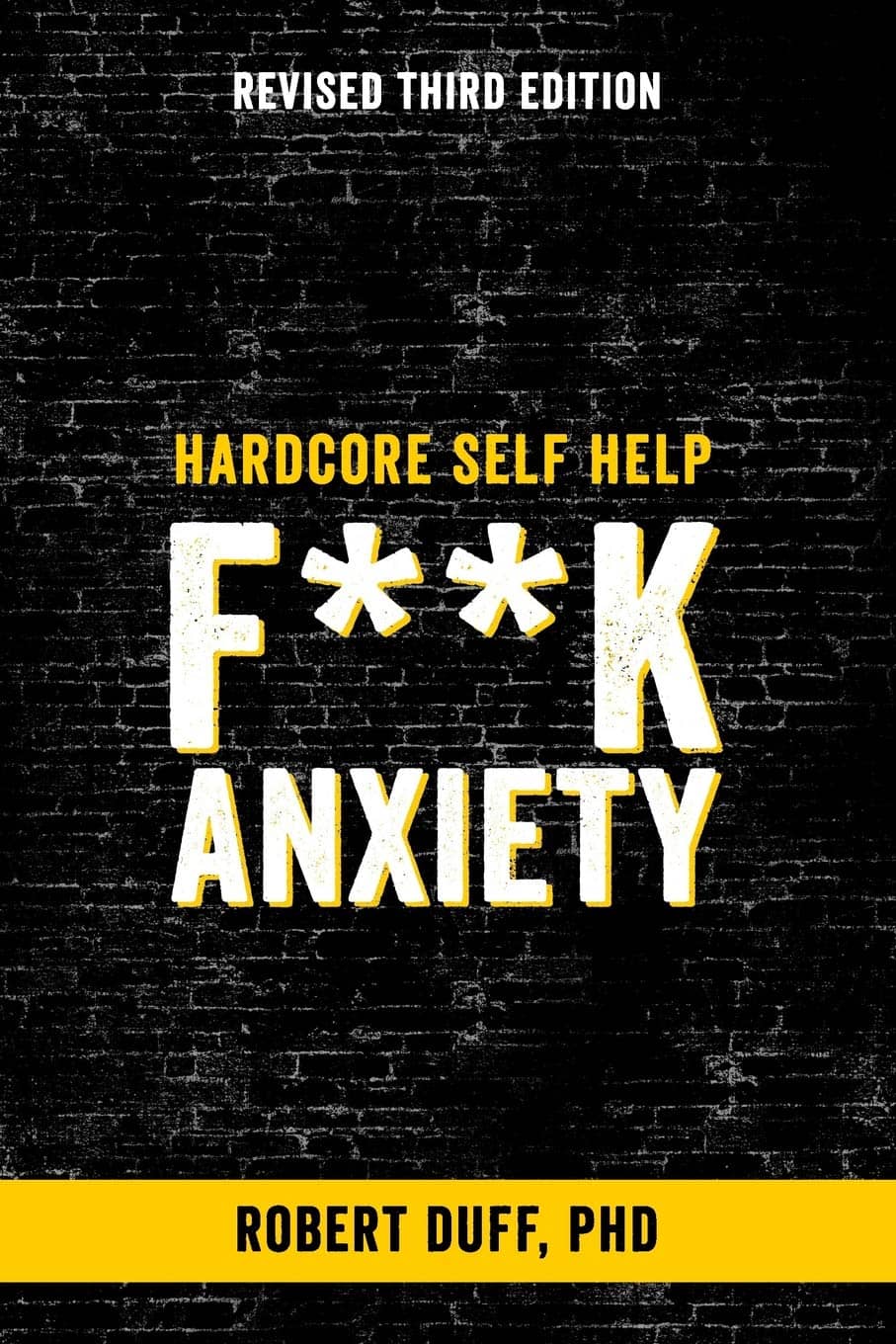 Robert Duff argues that when you're suffering from anxiety, reading a self-help book doesn't have to feel like a chore. That's why the author took a rather unique approach when writing this anxiety book. Like the Monkey Mind, Hardcore Self Help is laden with humor, which makes it another excellent recommendation for people looking for an entertaining anxiety book. The author also employs lots of swearing throughout the book.
But humor and swearing aren't the only things to love about Hardcore Self Help. This handy guide contains helpful tips on how to find the causes of anxiety and fight the condition using weapons within yourself.
10. On Edge: A Journey Through Anxiety by Andrea Petersen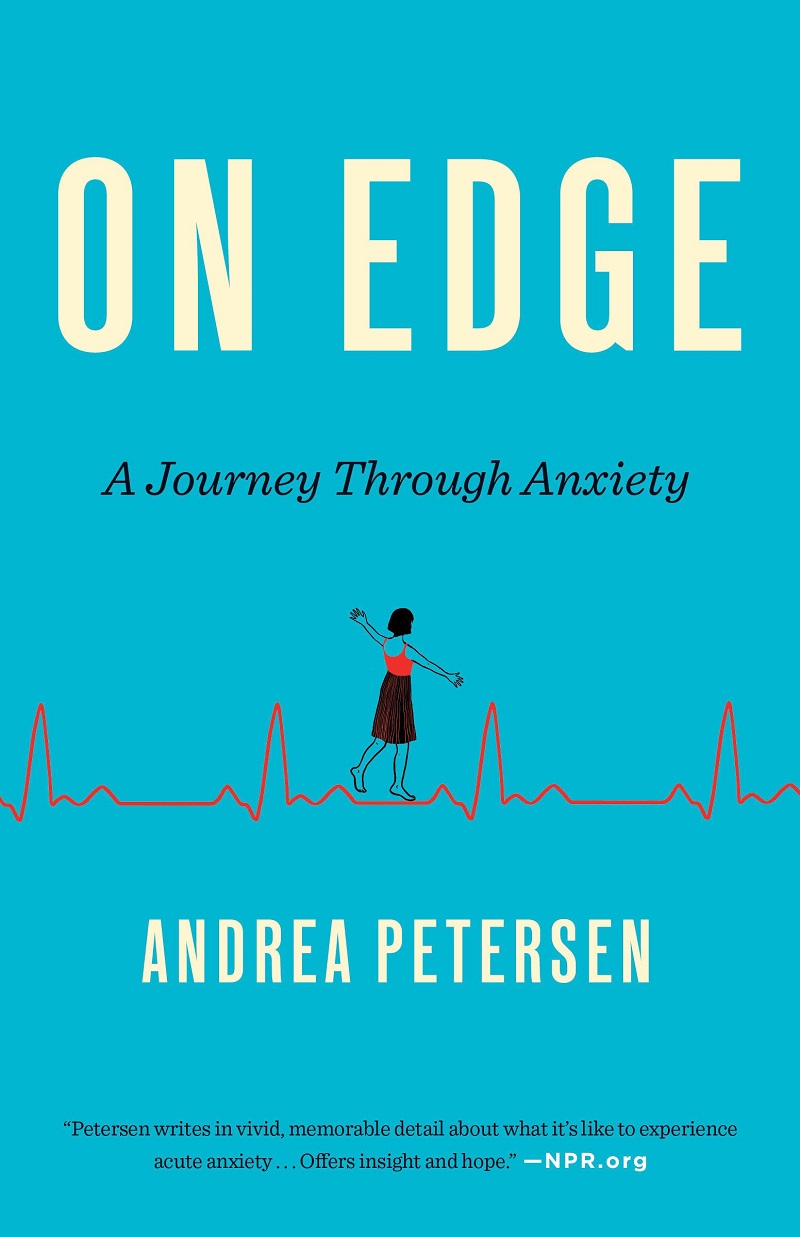 On Edge is a book that addresses how to deal with a racing heart, overwhelming fear, panic disorder, and any feeling that makes you tense and nervous. The author, Andrea Peterson, was diagnosed with an anxiety disorder aged 20. But even before that, she had experienced numerous panic attacks that had gradually pushed her to the brink.
As her condition was approaching a breaking point, Andrea became irritable to every odd sensation. She then embarked on a journey to understand and master her condition. In this book, Andrea shares some personal yet actionable insights on how to tame anxiety before it drives you to the edge.
Wrap Up
Anxiety is bad enough. But if the condition goes untreated, it could result in immitigable consequences. Thankfully, you can invest in any of the anxiety books that we've reviewed here to help keep the condition at bay.