Last Updated on March 8, 2022
If there's one highly influential design approach in the past century worth looking into in today's setting, it's art deco. It was highly popular in the 20's and 30's, changing the way everything was designed. From clothes to buildings, posters to cars, everyone loved how bold and daring art deco was.
It started in France before World War I broke out. Basically, art deco embraces the unusual, the uncommon, anything that contradicted the norm. Even if it means mixing together design elements that do not usually go together, art deco asks that designers be more adventurous and experimental, delivering amazing results.
Of course, working on a design inspired by art deco means using all the right elements. And for you to truly capture what art deco was about, you have to use the right fonts. Below are 35 amazing fonts inspired by art deco.
Art Deco Fonts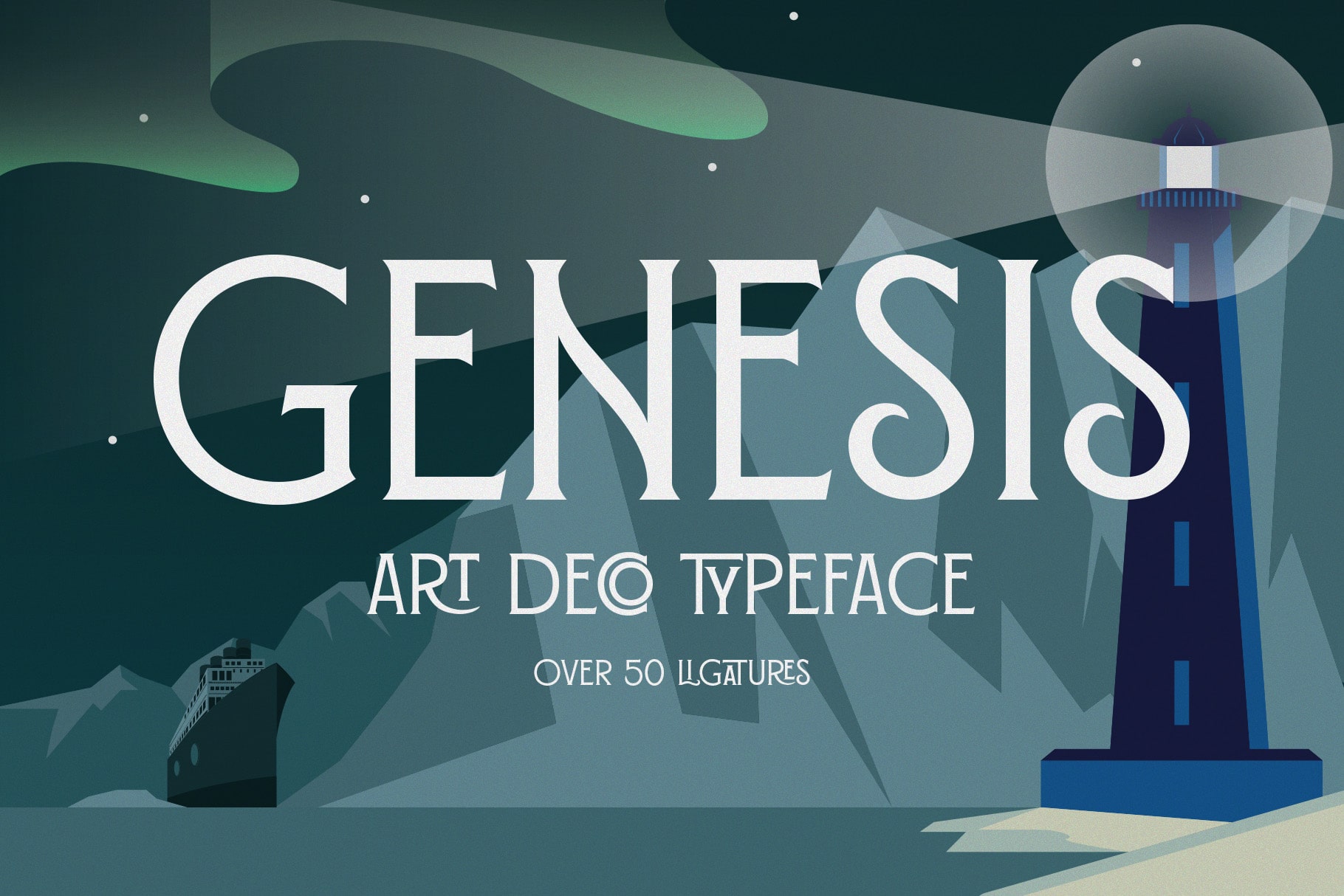 Genesis is a condensed art deco inspired typeface. This font exudes character while remaining useful thanks to a restrained style and modernized construction. With over 50 ligatures, you can be certain that Genesis is versatile and pleasant to use. Excellent for branding, headlines, magazines, print, books, and much more.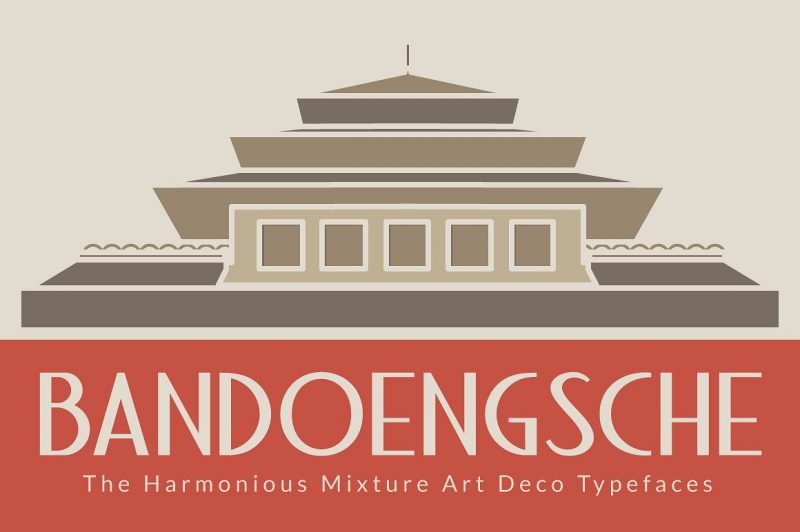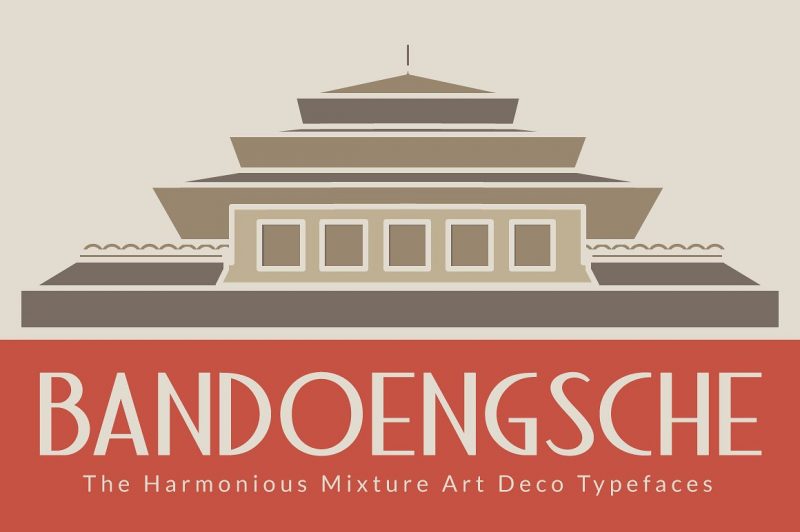 Bandung is a place in Indonesia that can easily be used as inspiration for art deco designs. This explains the somewhat oriental feel of the font style, but still with a strong Western influence as well. It works well for posters and signage, as well as titles and headlines.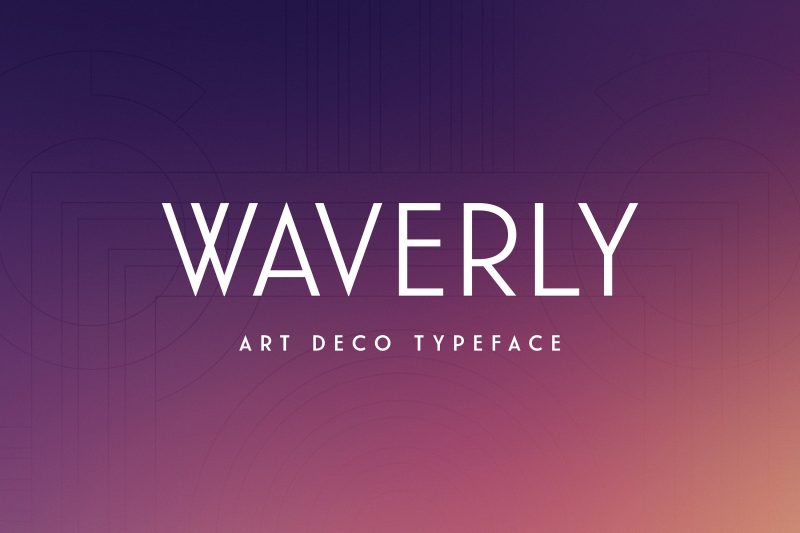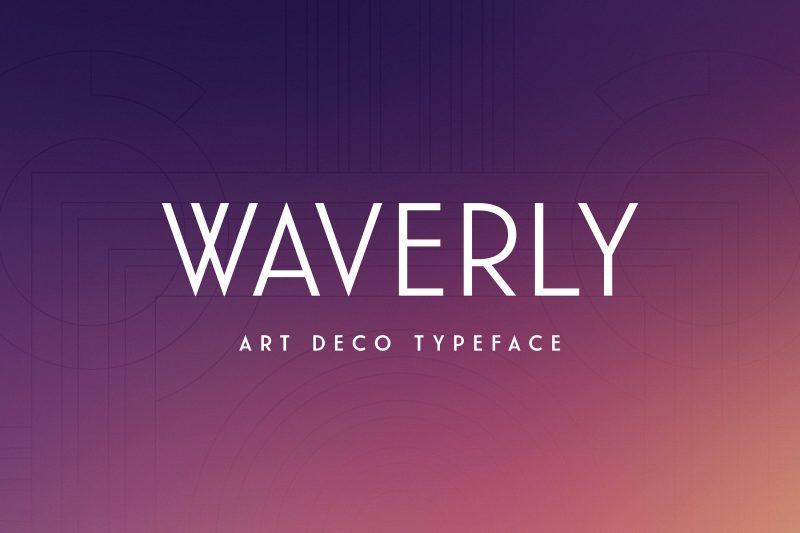 Another clean and sleek font style, Waverly is long and slim, giving it a high class look. Though art deco was more prominent a few decades ago, this has a contemporary look that makes it perfect for both retro and modern designs.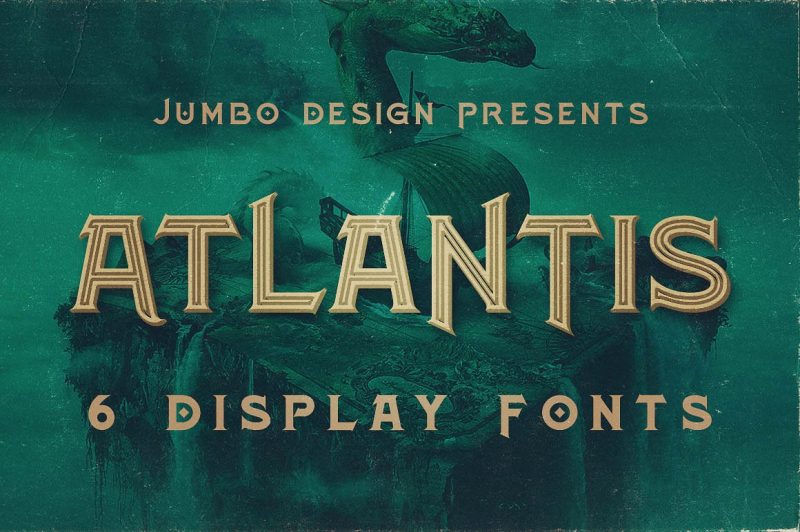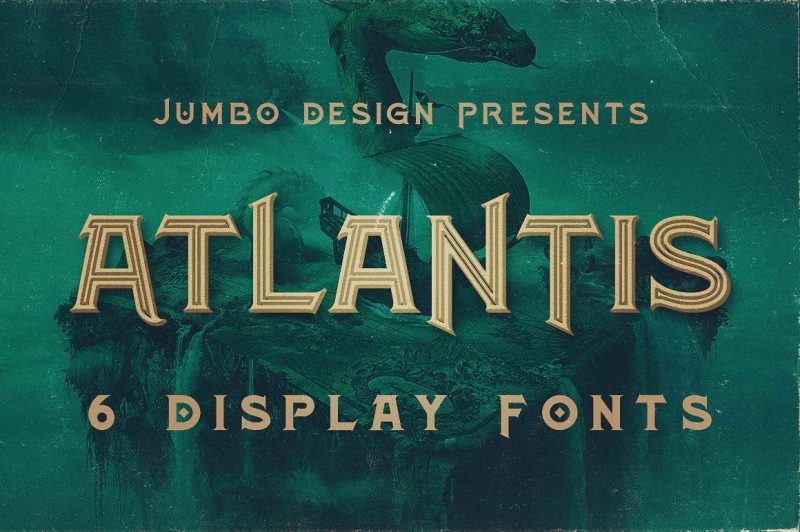 From the name itself, Atlantis will remind you of the mythical city underwater. All the characters look like majestic temples from a bygone era, bringing the kind of drama that art deco usually delivers. This retro font style comes in 6 styles (regular, grunge, inline, inline grunge, bold and bold grunge), making sure that you have exactly what you need for the project you're working on.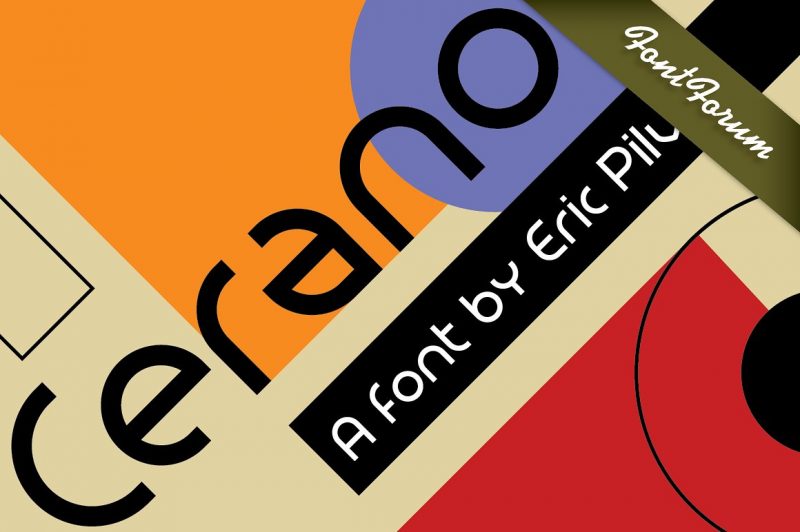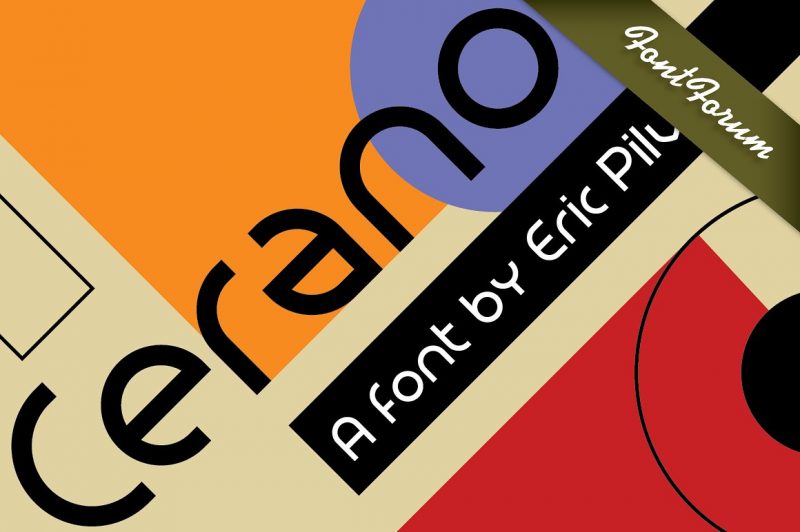 Cerano is a geometric design that's a mix of the old and the new. It is wide, round and firm, giving it a balanced, modern look. It's perfect for text that requires attention, like titles, headers, and other similar elements.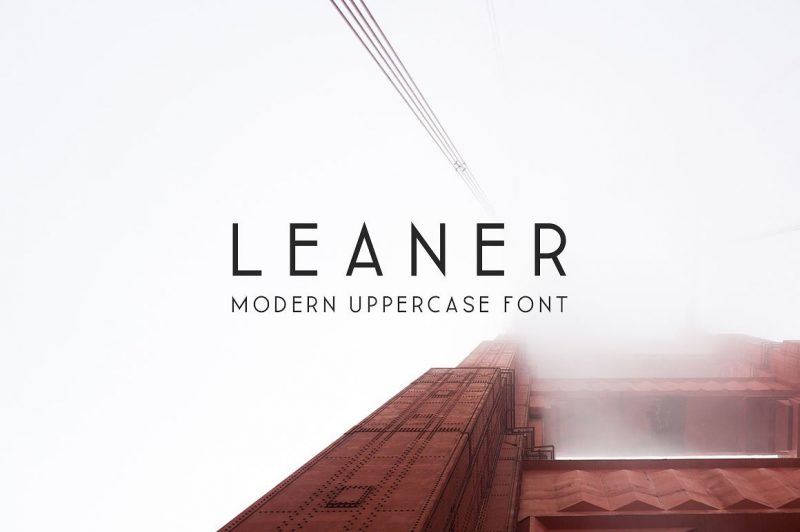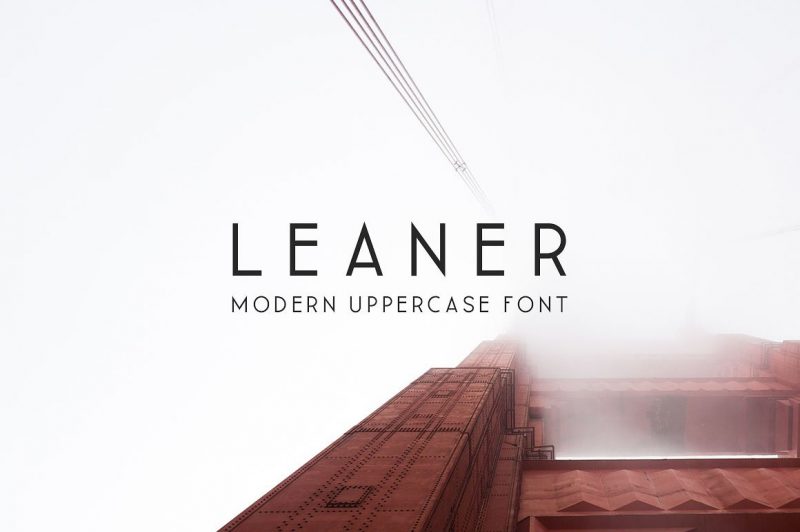 Leaner is another font that takes on a simple clean style that allows it to be universal. It doesn't just fit in with art deco inspired styles. It is also perfect for futuristic designs and high tech, modern themes.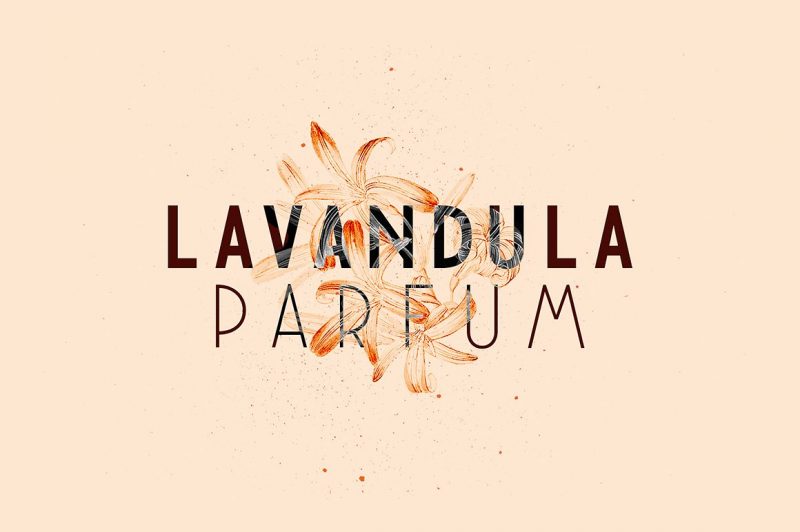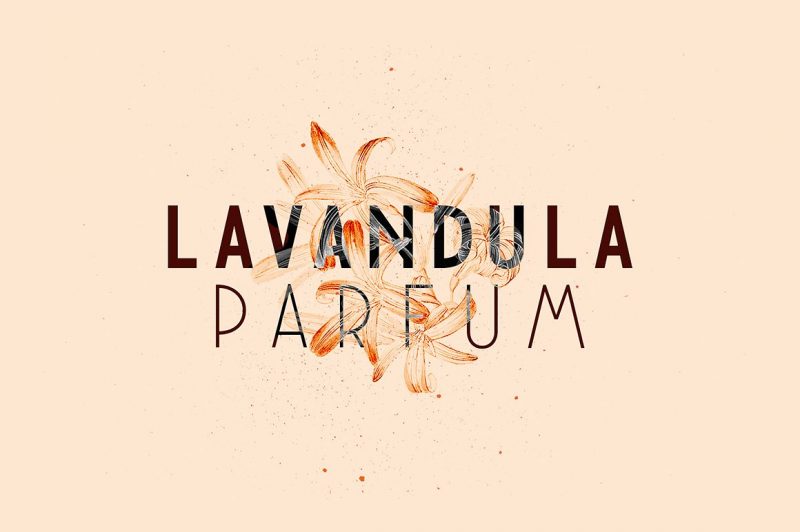 NovaDeco is a font family that shows elegance and delicateness. Because of its clean, angular design, it works well across different design themes while still having a unique character that is truly art deco. It also comes in 4 different weights, so you'll be able to tweak its degree of emphasis depending on your project.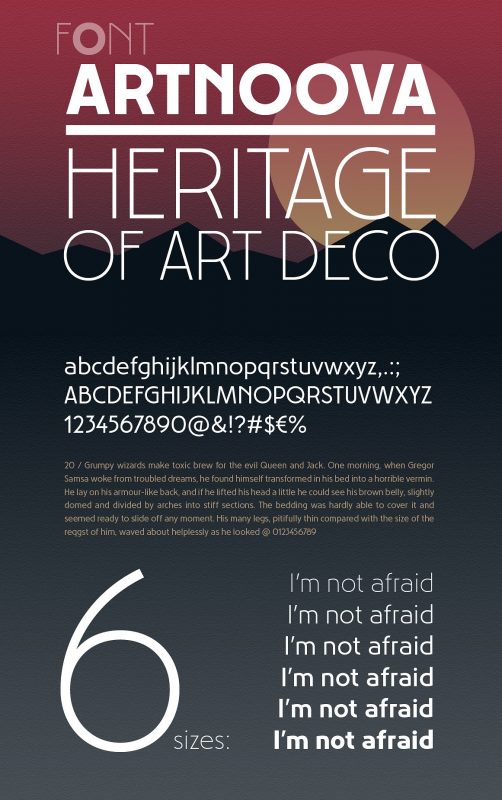 The name itself tells you what inspired this stylish font – art deco and art nouveau. It gives of a 20th century look, but has a modern appeal to it at the same time. You can use it for branding and signage, but it also works well for posters, web design, and other uses.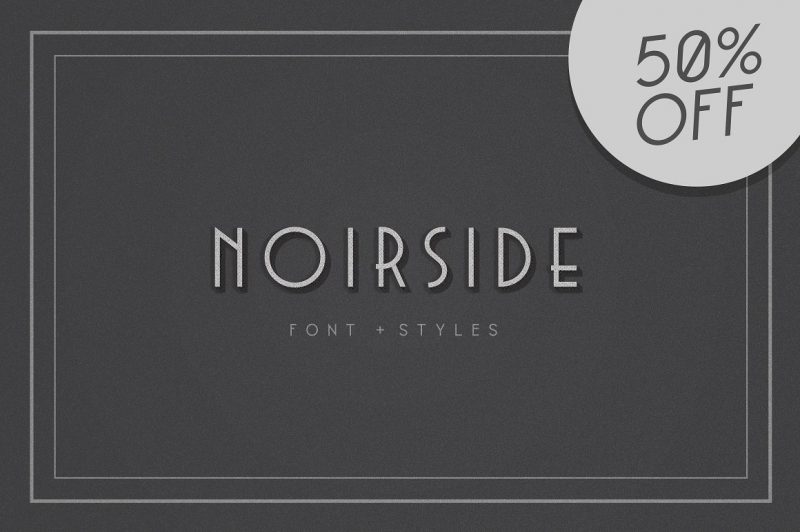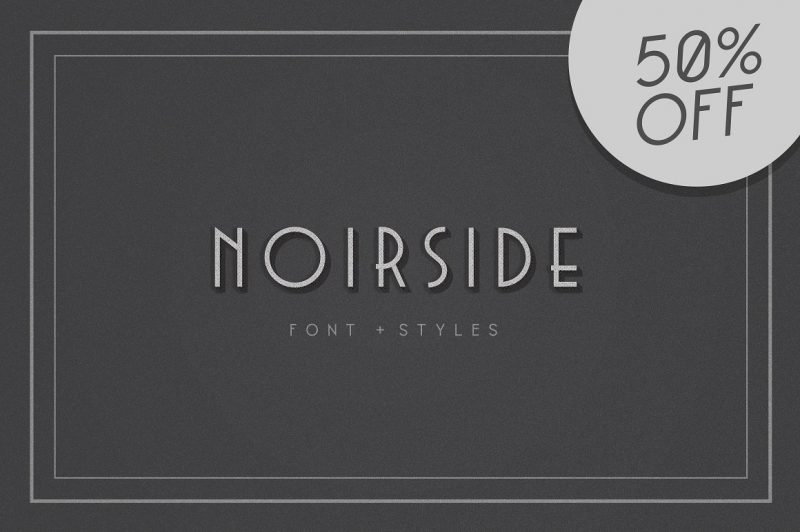 An all-caps typeface, Noirside is art deco from every angle. It comes in 6 different text styles to make sure you'll have a version no matter what design theme you're working on. It's perfect for titles, headlines and other text that requires a lot of emphasis.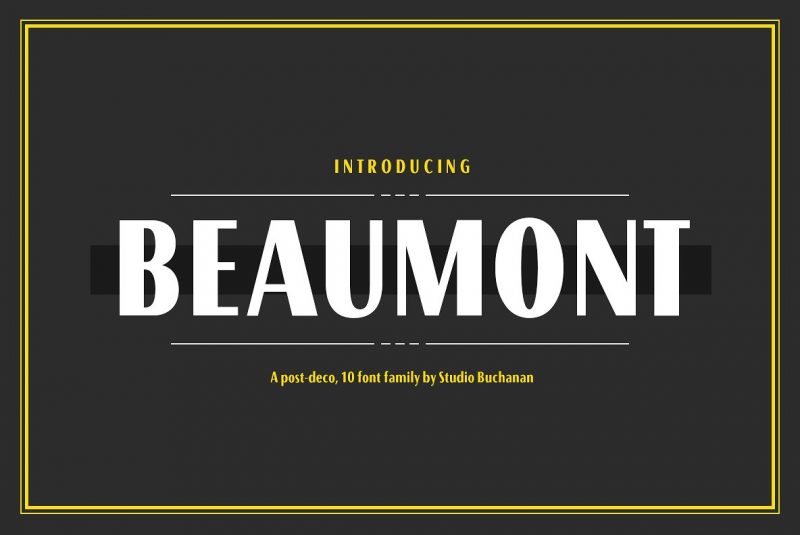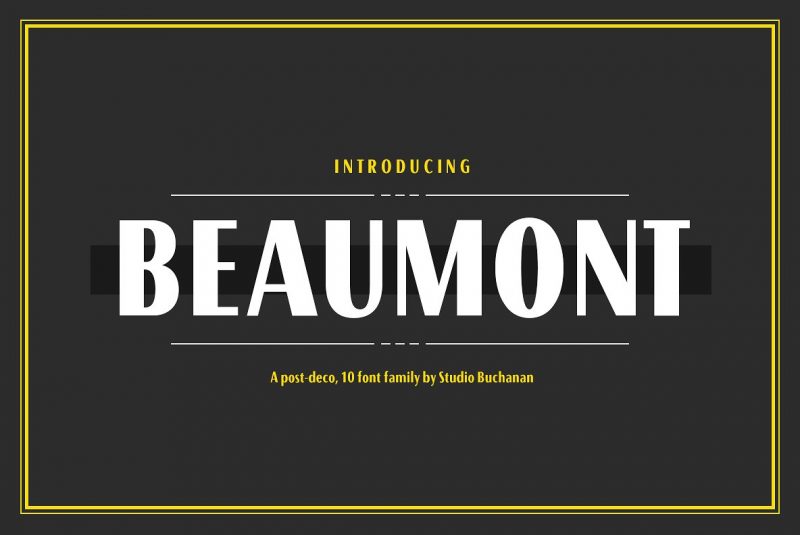 One look at the Beaumont typeface and you'll instantly be transported to the 1920's. The interesting thing about this font is the fact that it works well anywhere you use it. It can that attention-grabbing headline, or that highly readable text body.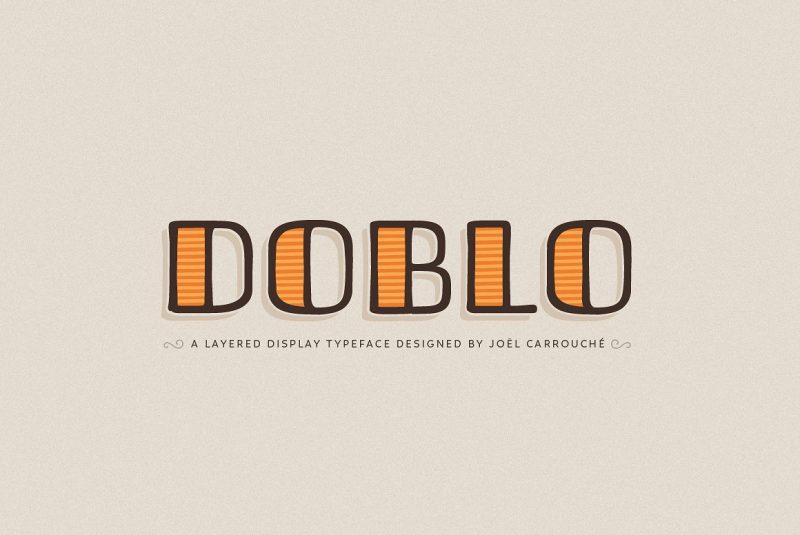 You might think that art deco is always high class, luxurious and elegant. But Doblo proves this to be false. It is definitely an art deco font, but with a playful and fun vibe to it. This makes it perfect for less formal design themes.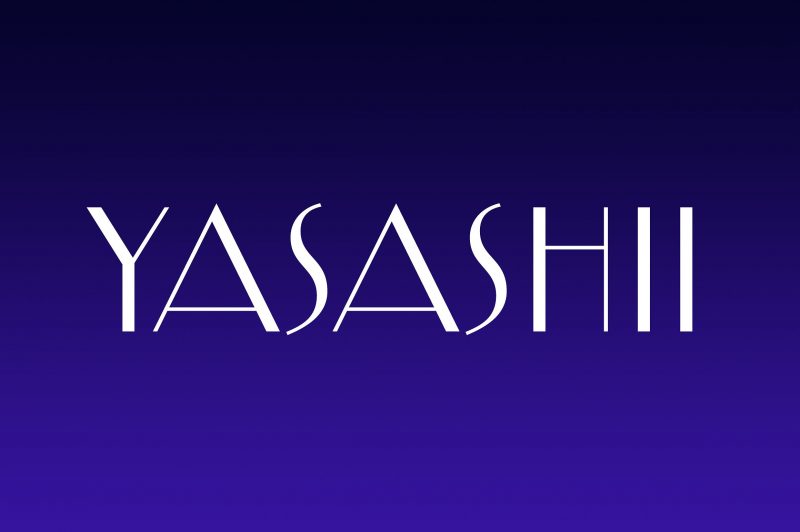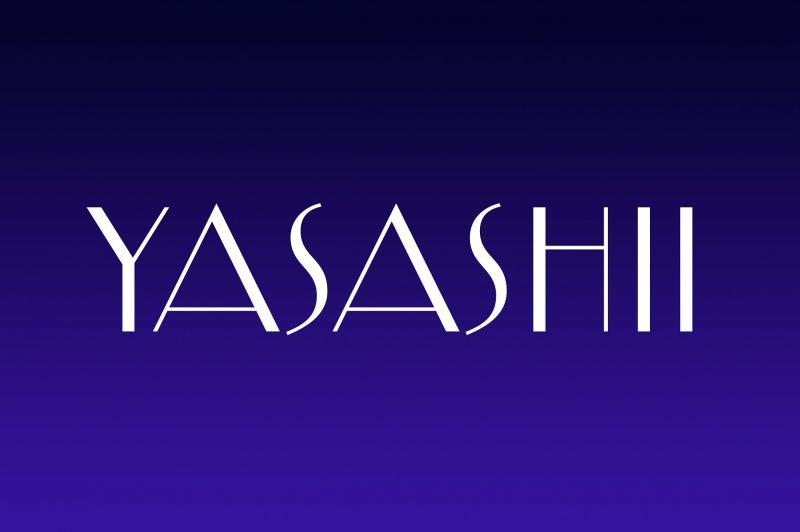 Looking at Yasashii will remind you of Japanese themes, considering its swirls and corners. It's a look that was prominent in cosmetic packaging from the 19th to 20th century. And yes, if this looks familiar, then you better take a look at the movie poster for La La Land.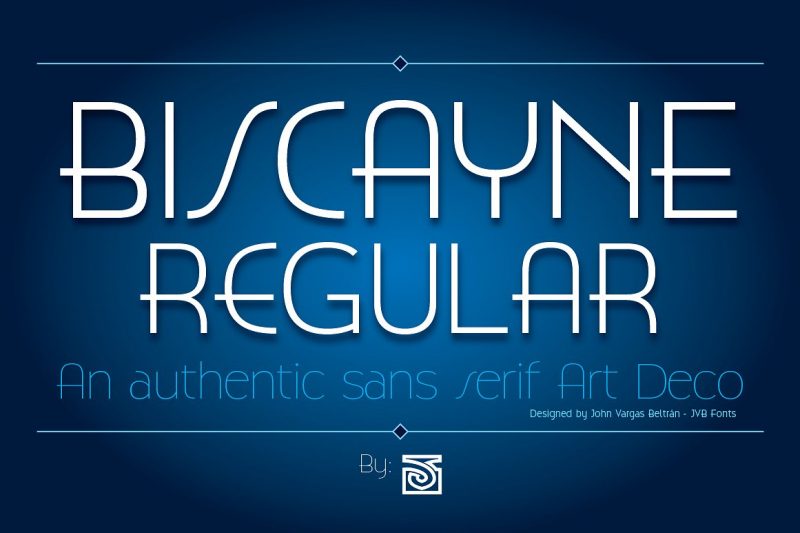 Go back to the 30's and you'll see where Biscayne got its style. This font is reminiscent of the architecture and other forms of design from that decade, especially around Miami. In fact, Biscayne is a relevant spot in Miami, probably where this font got its inspiration from.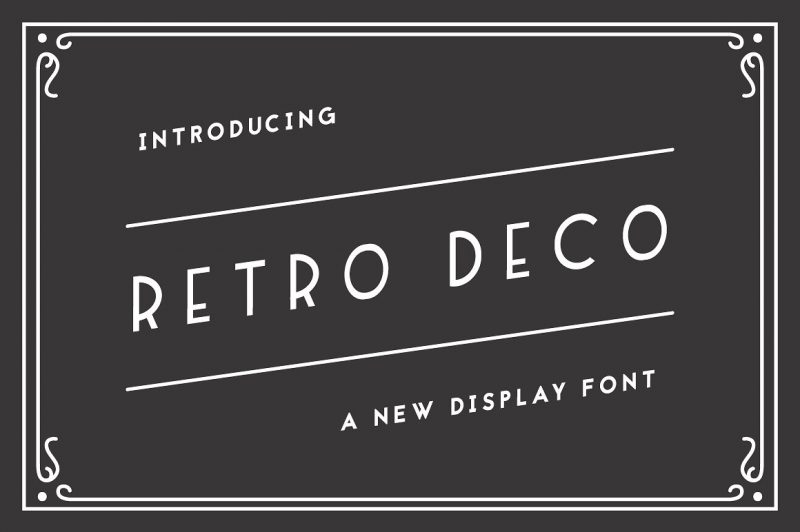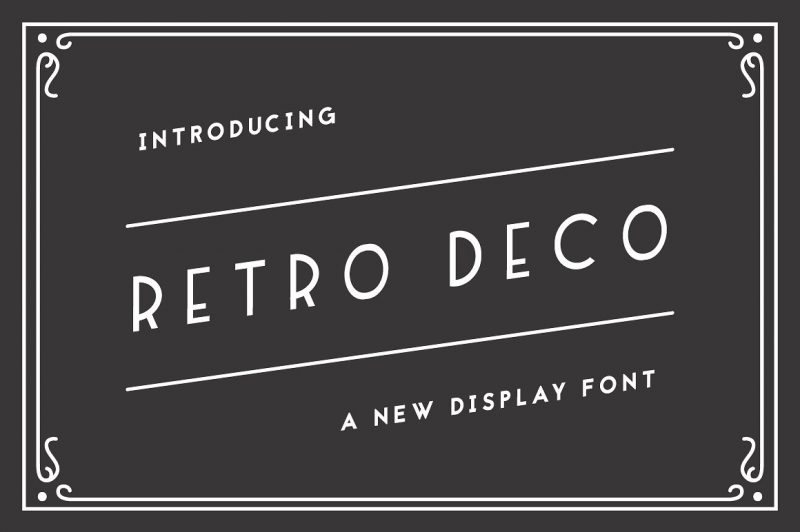 Going back to old school movie posters, you'll see why Retro Deco feels oddly familiar. It's perfect if you're looking for something to pair up with bolder sans serif typefaces. It's also useful for your titles and headlines, and even for some logo design work.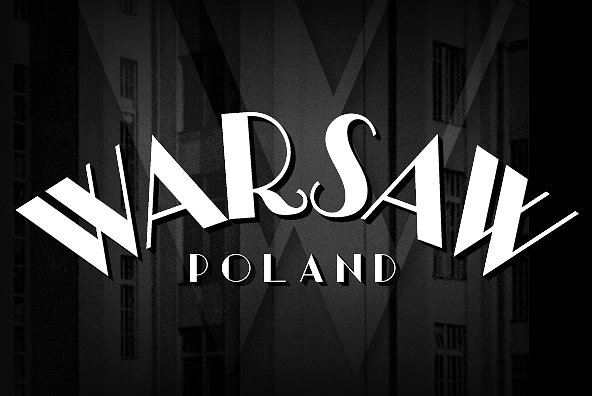 Warszawa Deco is reminiscent of Poland, especially around the years 1908 to the late 1930's. It's also something you would normally see in movie titles during that era. It's perfect for vintage designs, especially for headlines and titles.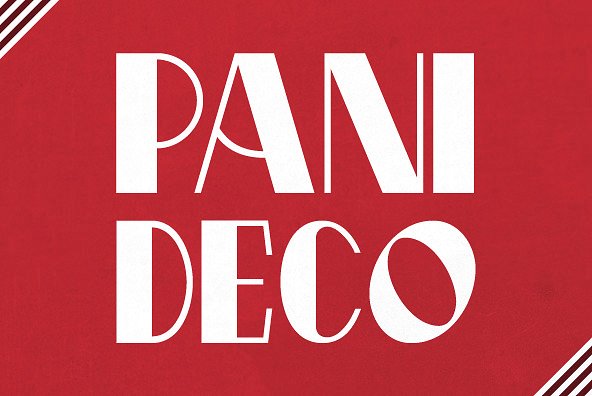 Pani Deco can be considered as somewhat related to the previously discussed Warszawa Deco. Also coming from 2908 to the late 30's, it was even more prominent on a 1928 poster that was created by a Polish artist, Anna Harland-Zajczkowska.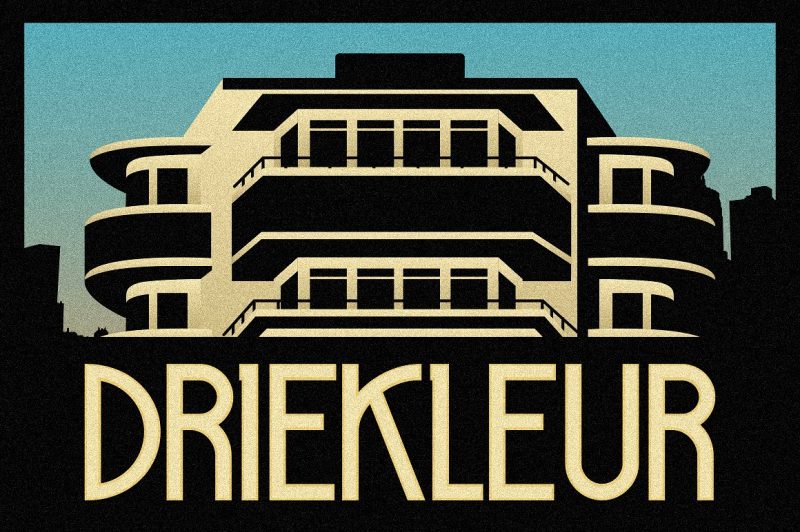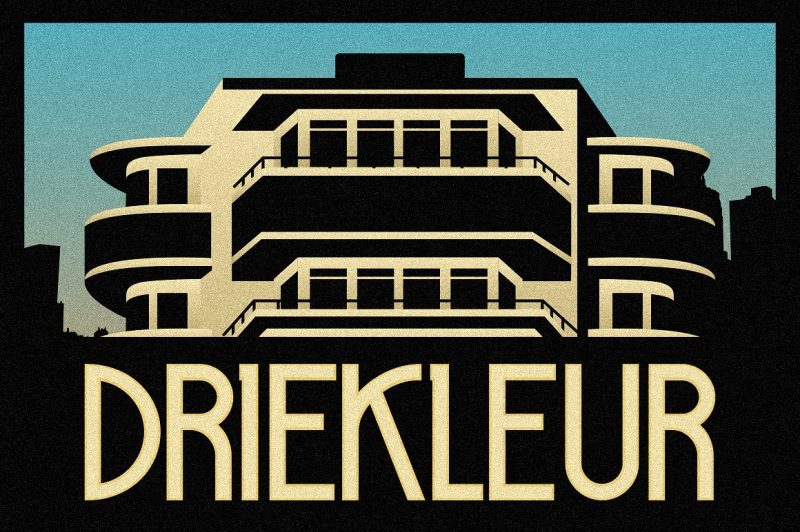 Driekleur takes a different take on the architecture in Bandung, Indonesia. However, this time, it is taken straight from the Driekler building, mimicking the way the building signage was written. This, once again, mixes Eastern and Western design elements in a single font style.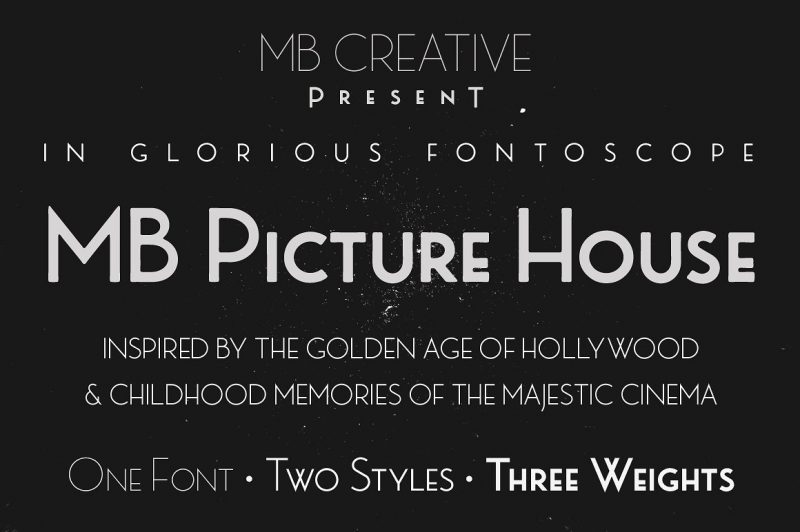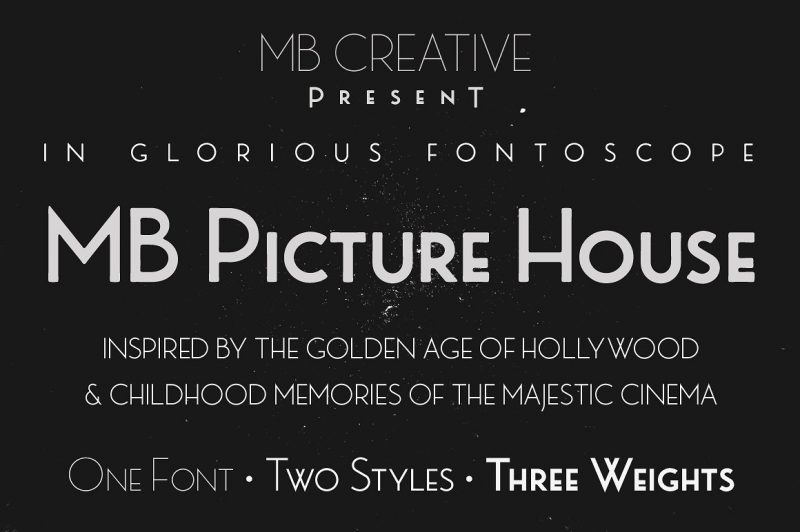 The golden age of Hollywood can never be forgotten, and MB Picture House is the perfect way to preserve this memory. This font perfectly captures that era, and with 3 different weights for you to use, you can use it no matter what your design is all about.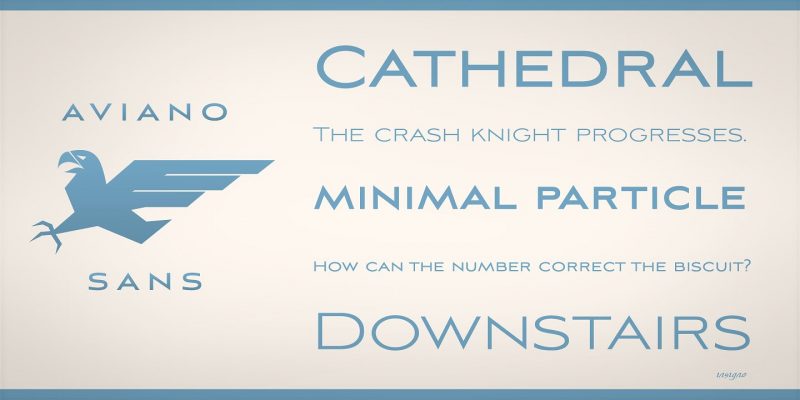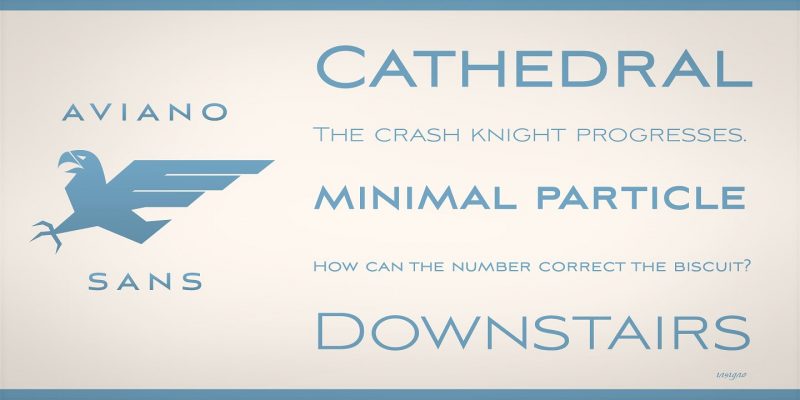 If Aviano was an instant hit among designers when it first came out, Aviano Sans is just as memorable and versatile. A wider and more geometric version of the font, both the thin and black versions fit with almost any design approach you want.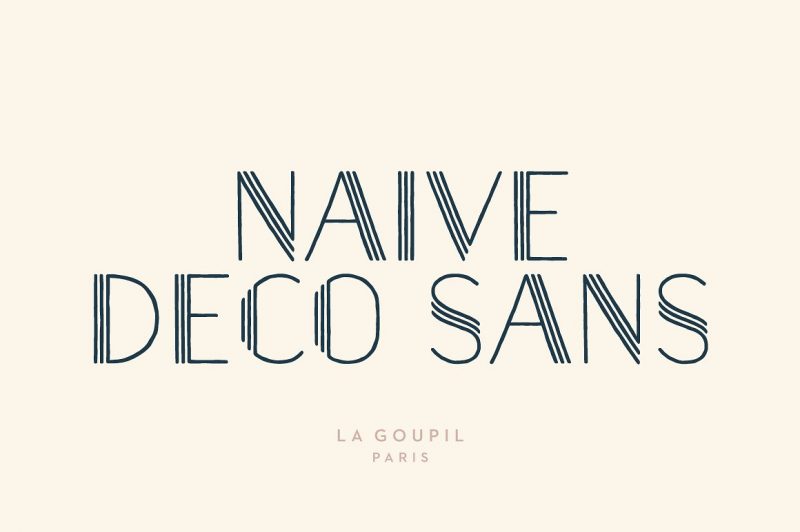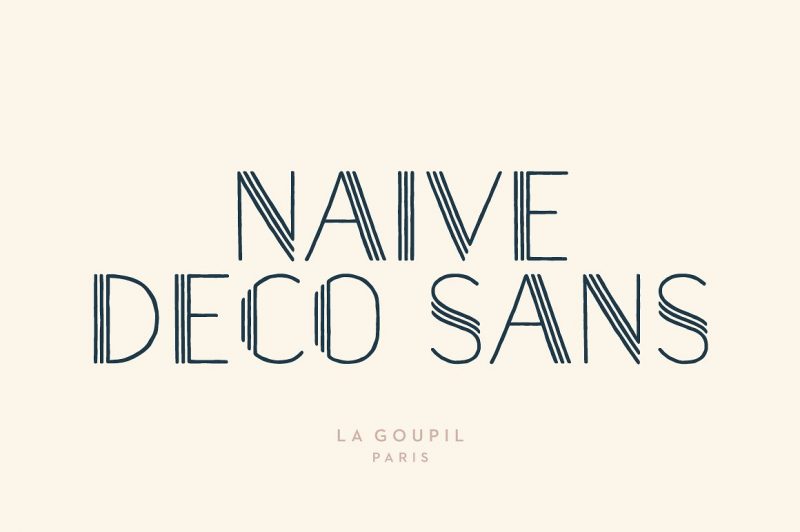 The Naïve Deco Sans font pack is handwritten, but its uniform look is so pristine, it almost seems mechanical. Use it in double or triple lines, it doesn't matter. It will still remind you of French designs and art deco, complete with the pearls and the feather boas of a bygone era.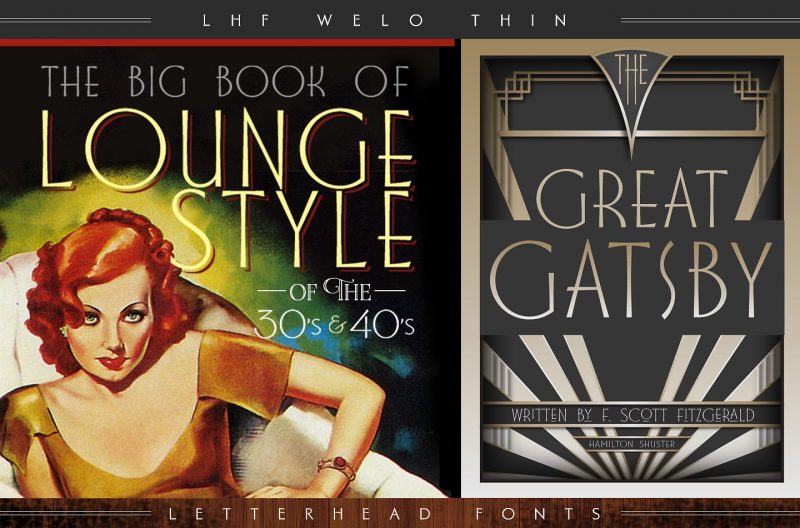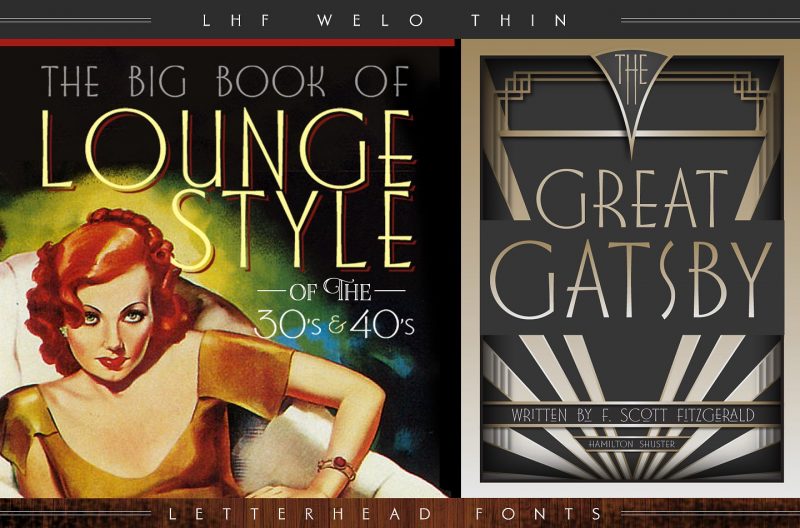 The LHF Welo Thin font brings a slice of the 30's into your design. It allows enough space around each character to allow you to appreciate the subtle thinning and thickening of the lines in strategic areas. If you have design projects that require a Great Gatsby approach, this is the perfect font for it.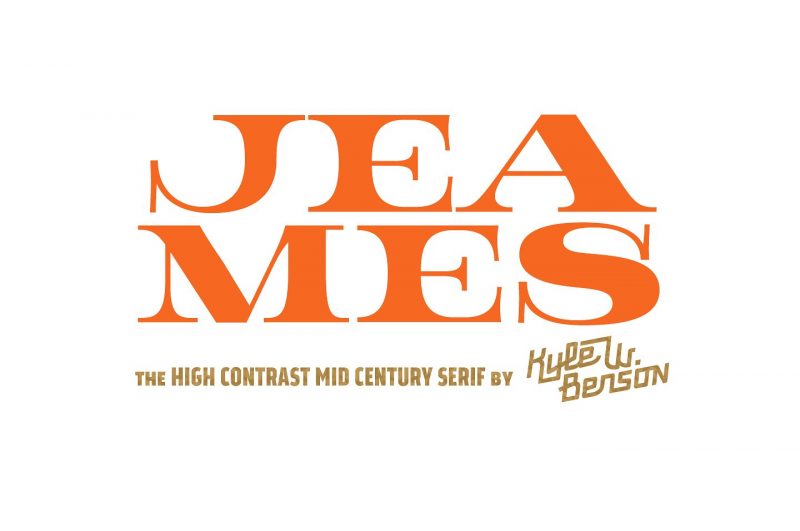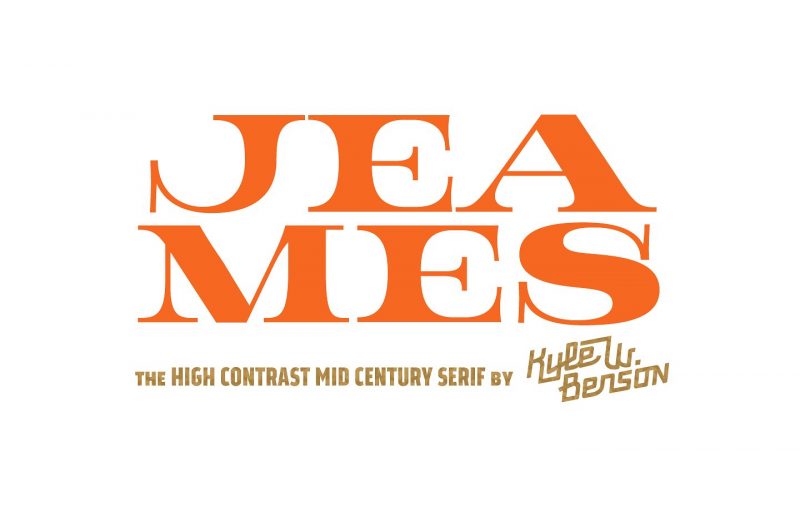 In the abundance of sans serif fonts on this list, we add a serif font that makes you wonder why the style isn't more prominent. Jeames, however, brings a unique twist to the usual serif fonts with the heaviness of the lines and the unusual twists at every tip.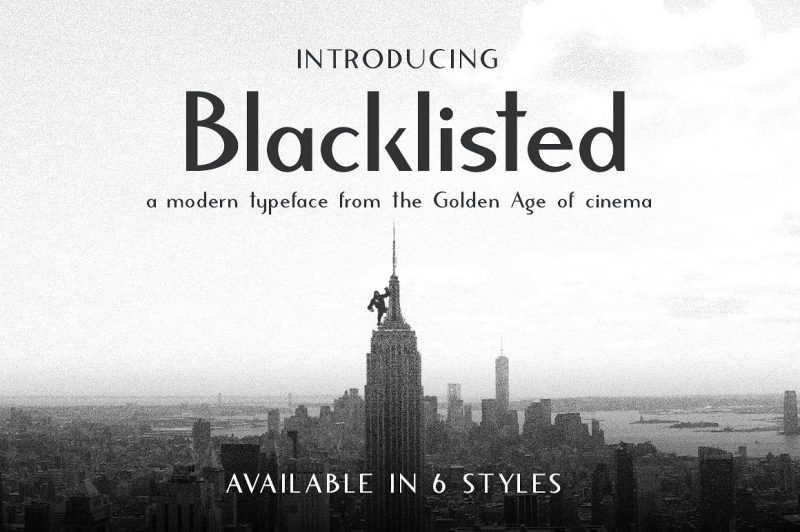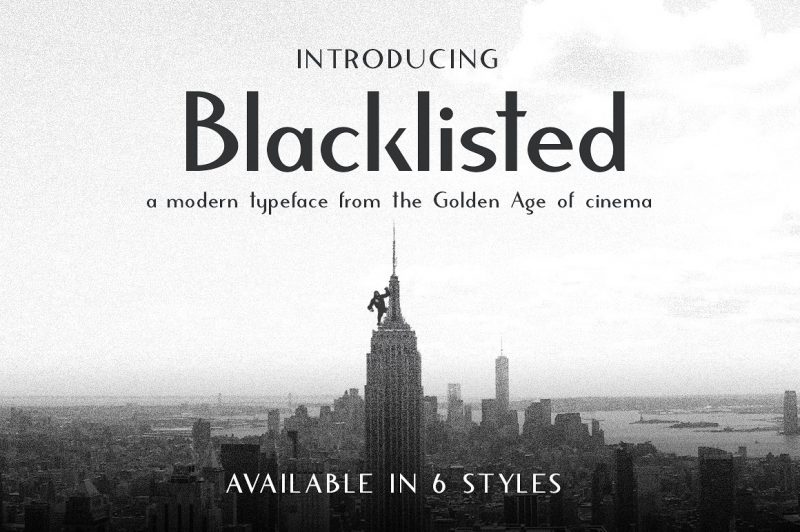 Blacklisted is inspired by cinema's golden age, back when King Kong first scaled the height of the Empire State Building. However, this also has a modern appeal to it, making it perfect for both retro and contemporary design projects you may be working on at the moment.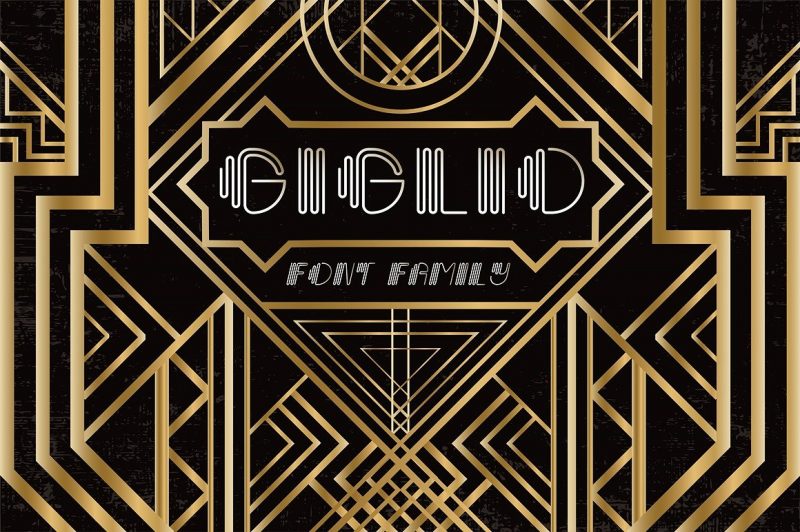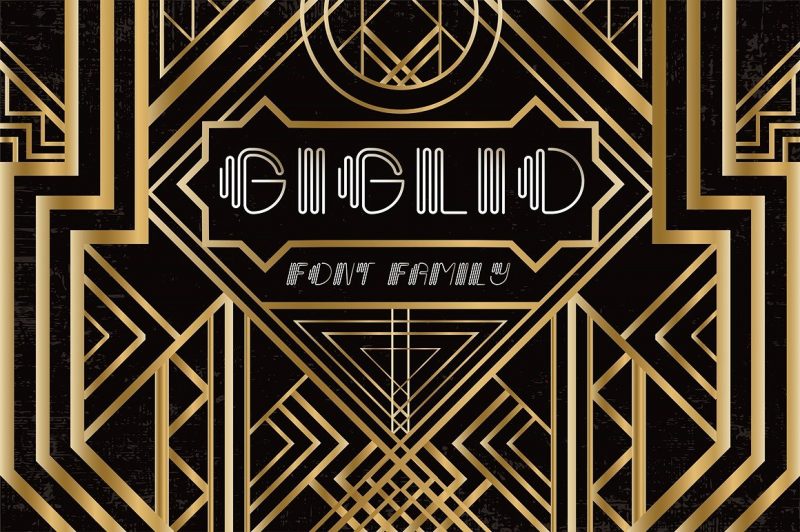 Giglio is a font family that captures what 20th century design is all about. It is extremely stylish with its repetitive lines, with the clean curves bringing a heightened level of character into the design you'll use it for.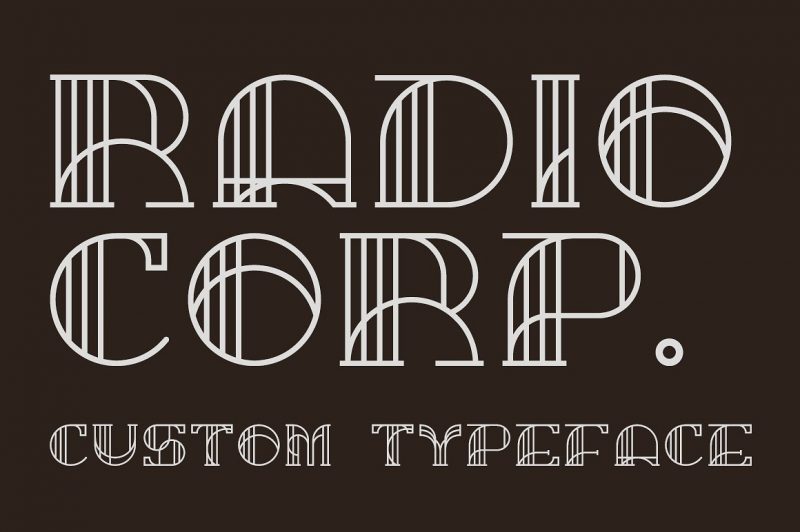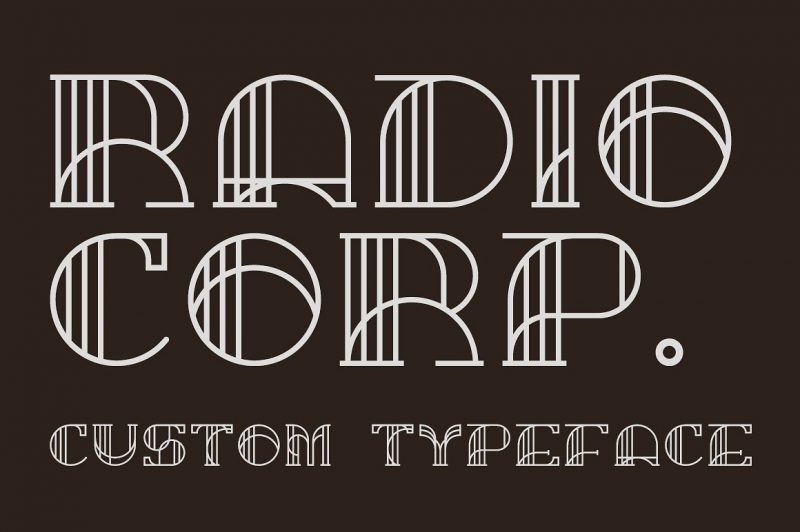 Once again, repetitive lines manifest themselves in the font Radio Corp. It is inspired by the line of buildings in Lower Manhattan during the 20's, a decade where art deco gathered a lot of its inspiration from.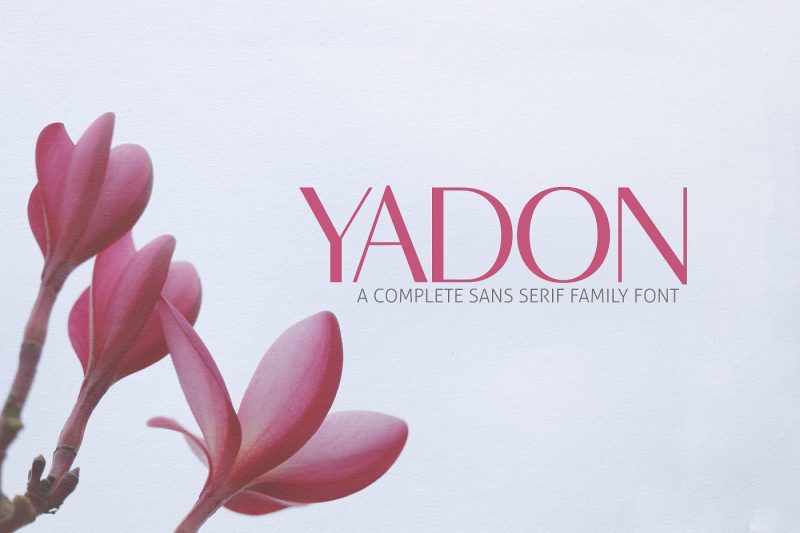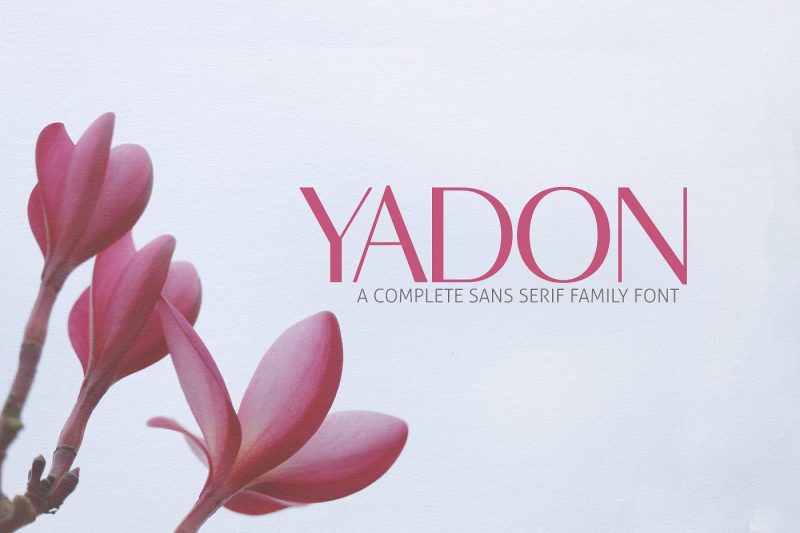 Yadon is elegant in its simplicity, and brings a delicate balance to any design it is used for. It may be inspired by a bygone era, but its unique character makes it timeless. It comes in different weights, so you can use it for headlines and titles, as well as for entire text bodies.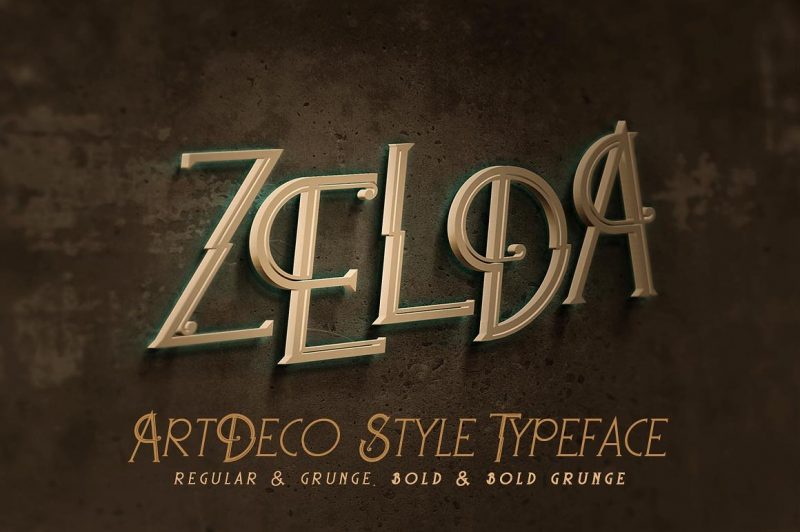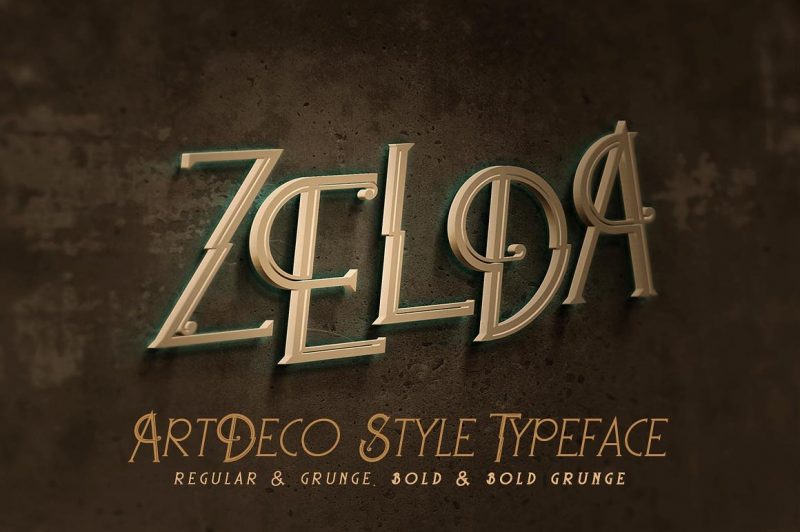 If you need a font style that brings a high level of character into your design project, then Zelda could be the top pick. It comes in 4 styles – regular, grunge, bold and bold grunge. This means that you can influence the amount of drama that it delivers, depending on your needs.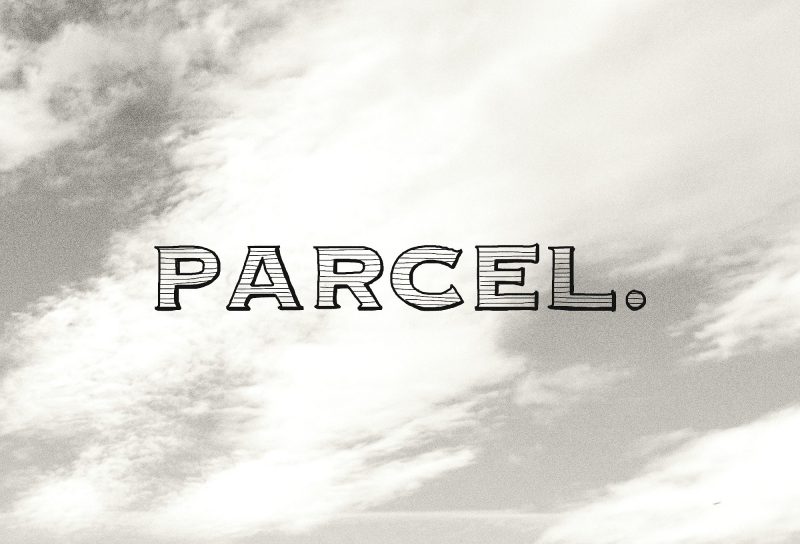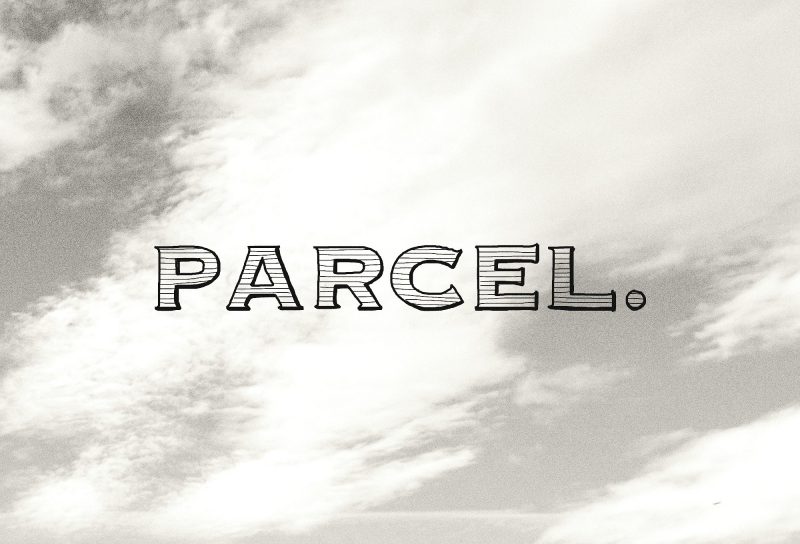 Parcel has this woodsy appeal to it that is familiar in all its vintage glory. It's perfect if you need a font that stands out as a title or a headline, but does not overwhelm people with its presence.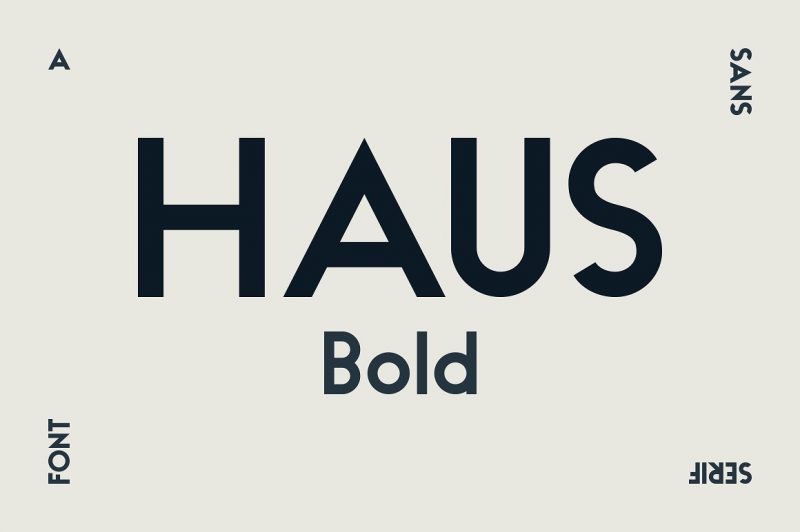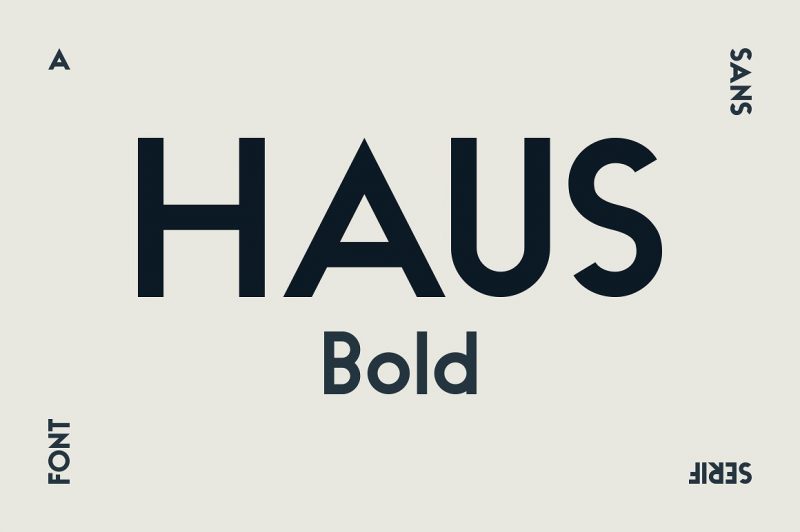 Haus Sans was inspired by Bauhaus and the other typefaces that come from the 30's. That was quite an interesting era, and the clean look of this typeface perfectly captures that – sleek, luxurious, and high class.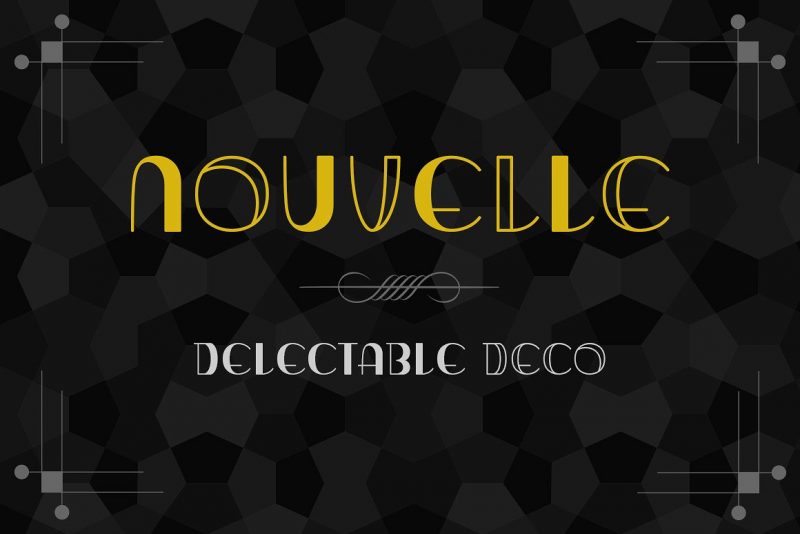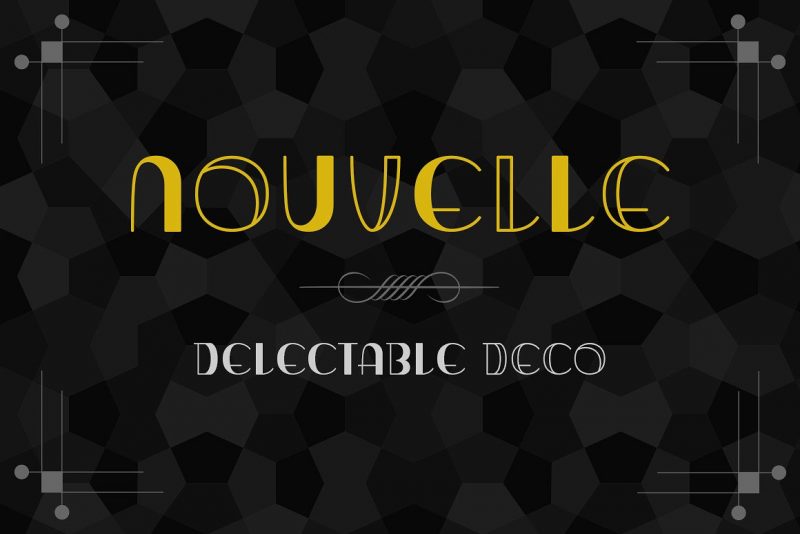 Nouvelle brings some fun into the picture with its quirky flair. You can use it in two different styles – regular and outline. This means that you can change its appeal depending on what kind of design you're working on at the moment.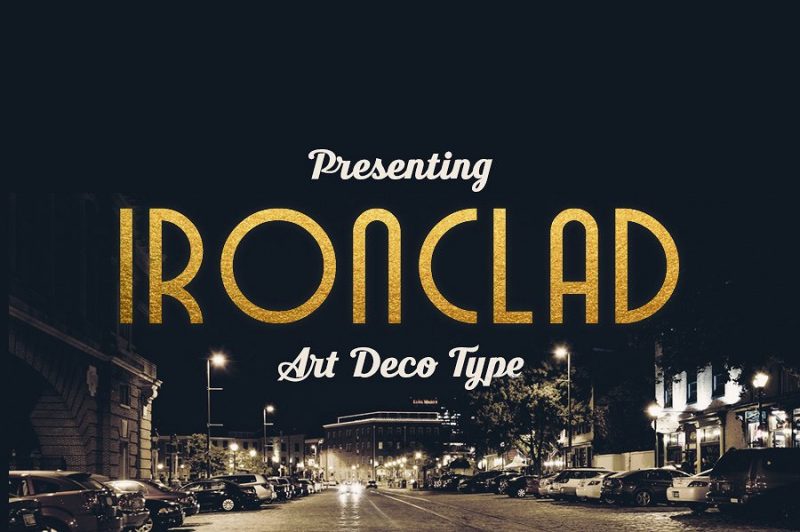 Seeing its name, you may think that Ironclad is all strength, no class. However, this is not true. This font, with its interesting curves, brings you all the style you need for a true art deco project.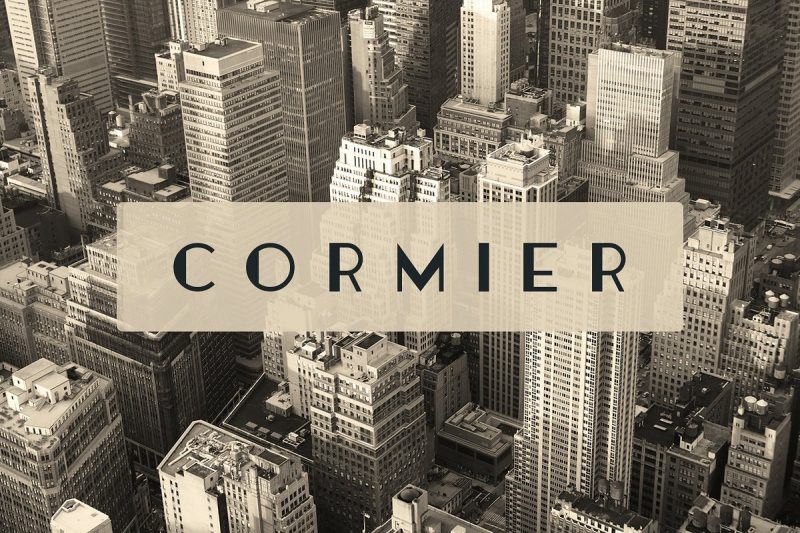 Cormier is somehow tame in appearance, but brings a whole lot of punch when used for your design project. It comes in 3 different styles for you to choose from – rough, regular and double.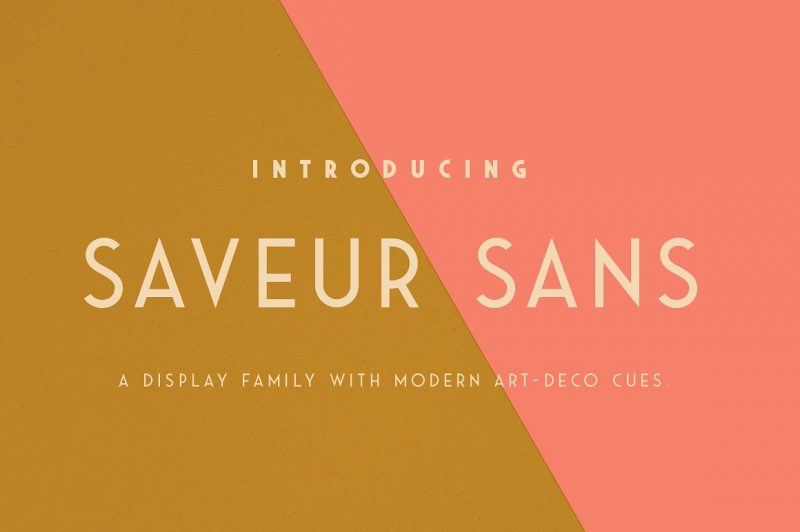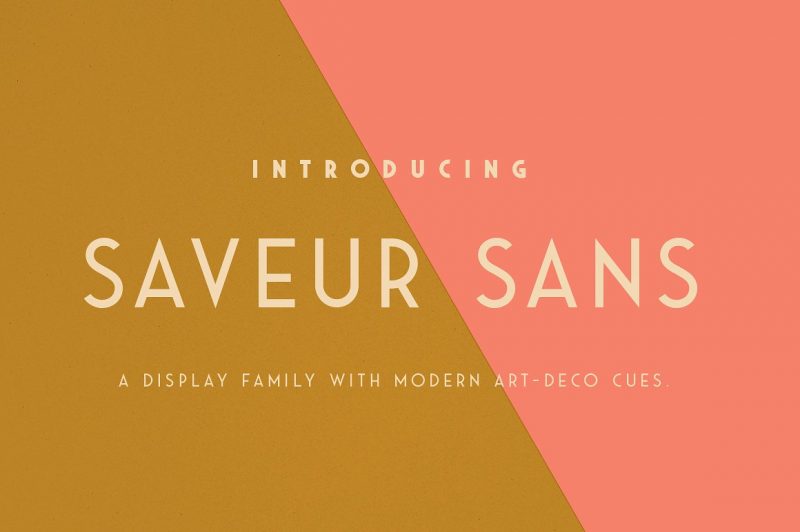 If you enjoy those quaint little French cafes, you'll understand what brings about this quiet elegance and posh from Saveur Sans. It pulls you into 2 different directions, from retro to modern.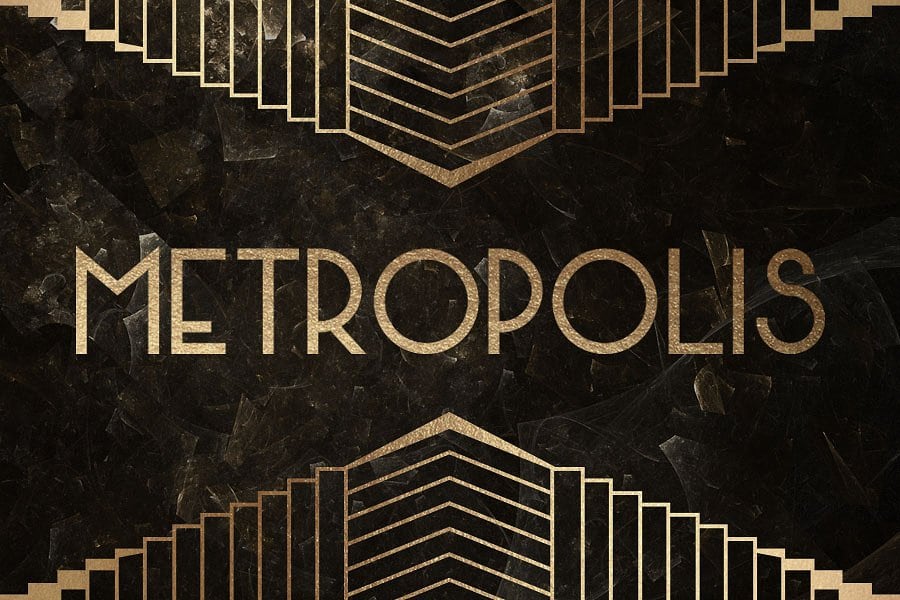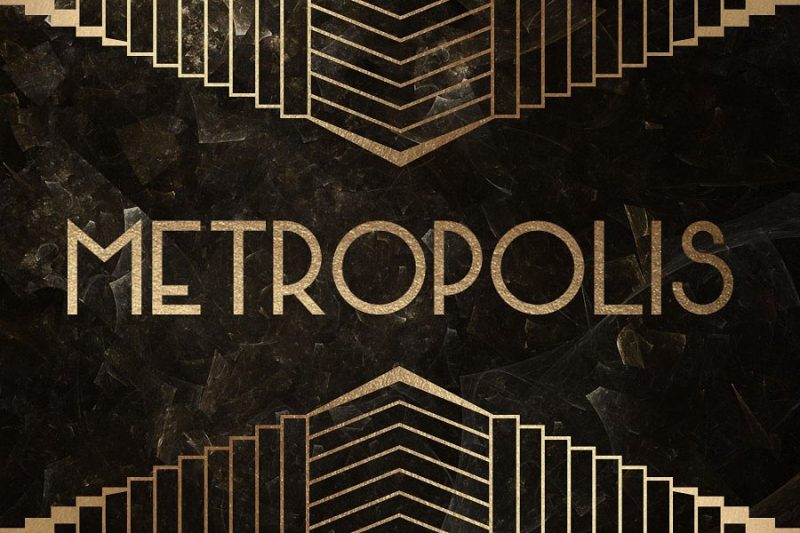 Metropolis is purely art deco, considering the simplicity by which this font was made. Despite its simplicity, it brings a lot of weight into any design, making this perfect for titles, headlines and other text that requires emphasis.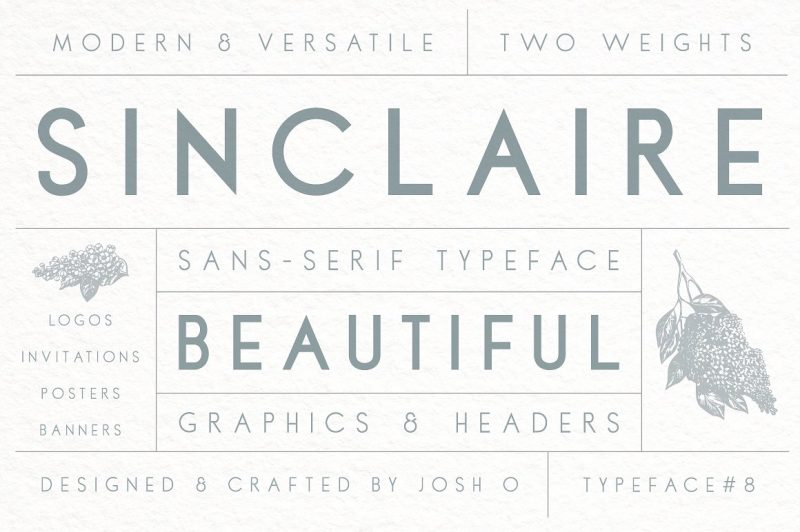 Although art deco is generally loud and bold, Sinclaire takes the tamer side of it. It's classically clean, making it extremely versatile and usable across different design themes. You can use it for invitations, logos, headers and other design formats. You can even use it for entire text bodies without sacrificing readability.