Last Updated on January 25, 2022
The audiobook market has been rapidly growing ever since smartphones became so popular, propelled by the likes of Apple, Amazon.com, Google, and Rakuten. But it's not just because these multi-billion-dollar tech giants were the driving force behind the market. Evidently, audiobooks present gobs of benefits that all bibliophiles can reap.
One apparent benefit of using audiobooks is that you get to carry hundreds, even thousands of books and access them wherever you are. Whether you're cooking dinner, taking a break at work, at the gym, in an airplane, or relaxing in a beautiful Thai villa, there's always a great audiobook for every mood.
But let's be real. Audiobooks aren't cheap. Some of the best audiobooks out there offer $15 for just 1 audiobook per month. In essence, audiobooks are somehow an investment that you have to think it through.
This is why it's ever so important to take advantage of free trials or free books when you sign up for the first time before shelling out a couple of bucks, so you'd know which one works best for you. On that note, here are 6 of the best audiobook apps to take a look at.
Note: Some websites allow you to download audiobooks as mp3 files for free. Since the iPhone cannot save audio files from the Internet directly, you can download mp3 versions of your favorite audiobooks, then transfer them to your iPhone or iPad using these methods as well.
#1. Audible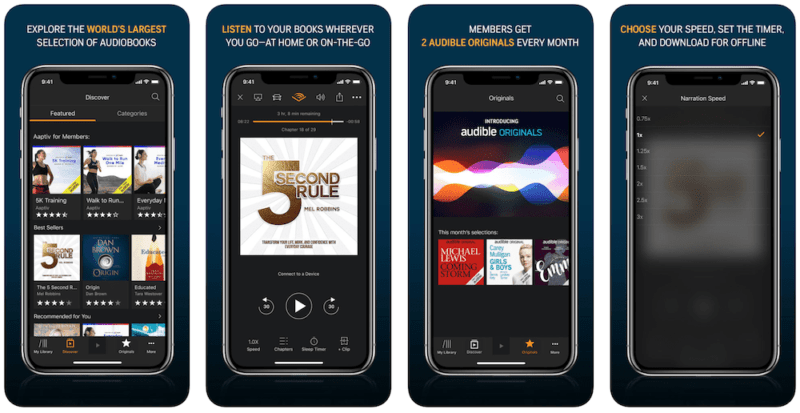 Price: Free [Download]
Kicking this list off with the no. 1 audiobook app on the App Store that has over 1.2 million ratings and reviews, Audible goes down as the most popular audiobook.
Developed by Amazon.com, this app has the largest library of audiobooks as well as audio shows and original series from every genre imaginable. One of the reasons why Audible has drawn a large crowd might be attributed to the Hollywood celebrities narrating their favorite pieces.
Here you can also find the audiobooks of your favorite novelists, financial gurus, motivational speakers, self-help authors, celebrities, and more, such as Mark Manson, Mel Robbins, Stephen King, Andy Weir, and Kevin Hart. Even the top stories from big publications are available so you keep abreast of what's happening.
Audible allows you to download audiobooks for offline listening and sync audiobooks across all your devices. It also allows you to change the narration speed to a faster or slower rate and set a sleep timer. However, Audible is only free on your first book. Try their 30-day free trial first to see if the app is really for you. Check Audible's membership plans here.
#2. Audiobooks.com
Price: Free [Download]
Boasting more than 100,000 audiobooks in its library, Audiobooks.com gives Audible users a run for their money. You can access the works of many best-selling authors, including Stephen King, Gillian Flynn, Kevin Kwan, and James Patterson, among many others. Whatever your jam is — science fiction, thriller, romance, children's literature, etc. — you can stream your audiobooks between your devices, download them for offline playback, and set a sleep timer for bedtime reading. Audiobooks.com offers one free book on your first signup.
#3. OverDrive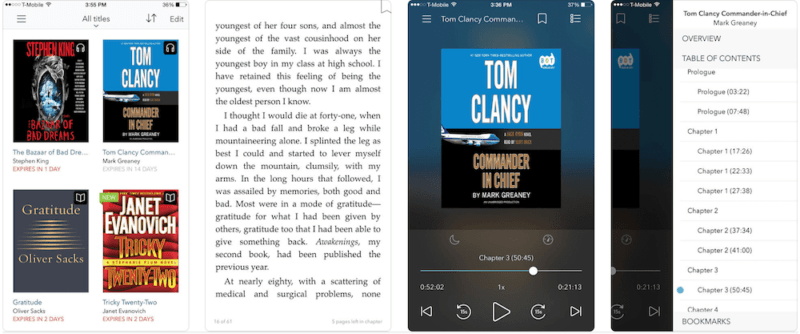 Price: Free [Download]
OverDrive doesn't have the vast audiobook library Audible and Audiobooks.com, but it sure can offer you one uniquely cool experience to your reading/listening life. It allows you to borrow audiobooks, ebfreeooks, and videos from your local library or library networks right through the app and listen to them on any device at no cost. Borrowed audiobooks, ebooks, and videos can be imported to your iTunes library, particularly accessible in the music section, but you can move it to the audiobook section.
What's more amazing about it is that borrowed books are automatically returned to your local library once due, except for iTunes where you need to manually delete it to avoid penalties. Of course, you'll need to use a library card to use borrow through OverDrive. Over 30,000 titles can be accessed via OverDrive. But note that not all libraries and library networks are participating in this great project.
#4. hibooks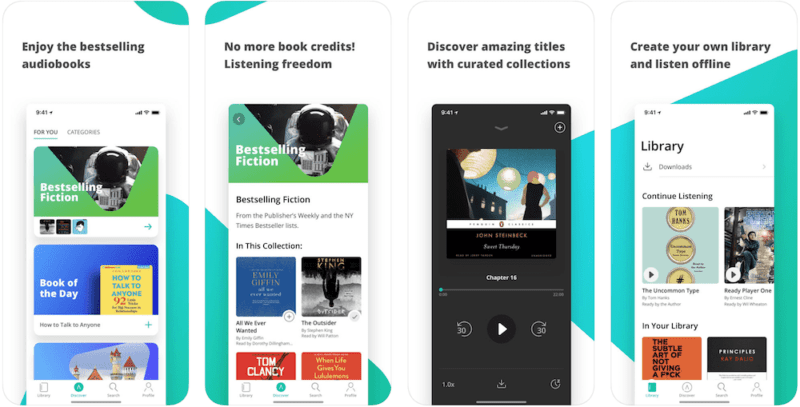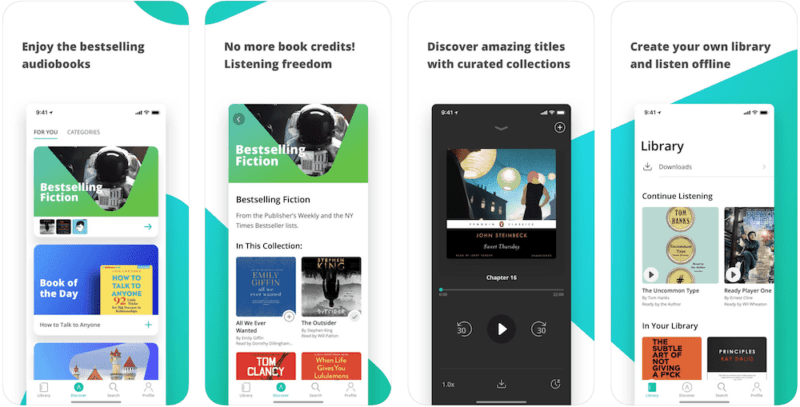 Price: Free [Download]
With hibooks, it's so easy to discover new titles from its 50,000-strong audiobook library because of its granular category structure. Whether you're looking for science, romance, thrillers, or what not, you can find so many of them on the app, including those from best-selling authors like George R. R. Martin and Dan Brown. You don't need book credits to enjoy a wide array of audiobooks.
The app is so smart that it can automatically personalize audiobook recommendations that you might like based off your past selections. It has a sleep timer for bedtime reading and a control for narration speed. Unlike Audible and Audiobooks.com, hibooks only offers a one-time subscription for $9.99 per month for you to access over 50,000 audiobooks; you don't need to buy credits just so you can listen to more than 1 book.
#5. LibriVox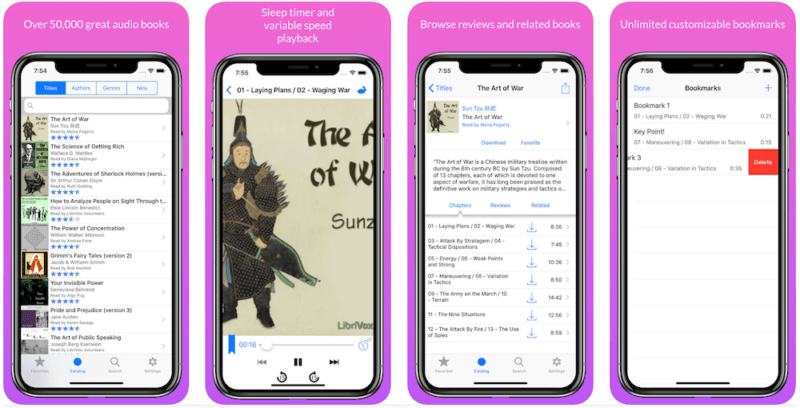 Price: Free [Download]
LibriVox is the sole truly free audiobook on this list, giving you unlimited access to over 50,000 audiobooks that you can stream online or download for offline listening. Huge thanks to its praiseworthy volunteers who worked hard to put each audiobook together and build up the app's growing library.
LibriVox's audiobooks are available in more 30 languages, from fiction to non-fiction masterpieces. Like the other audiobooks on this list, this app features unlimited bookmarking, playback speed changer, and a sleep timer. But since it's a free-to-download, free-to-use app, LibriVox has tons of ads, which can really be annoying for the most part if they get too invasive.
#6. Blinkist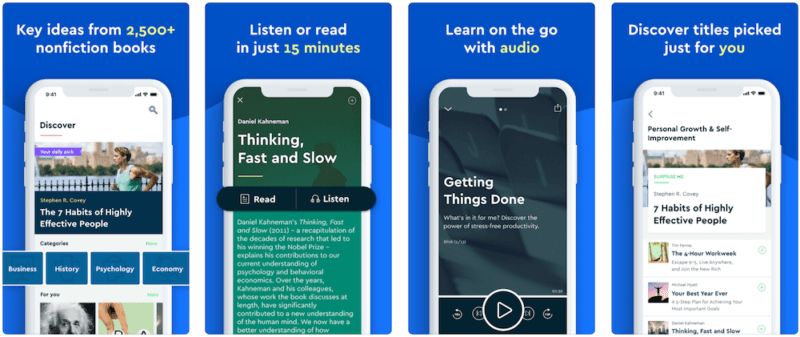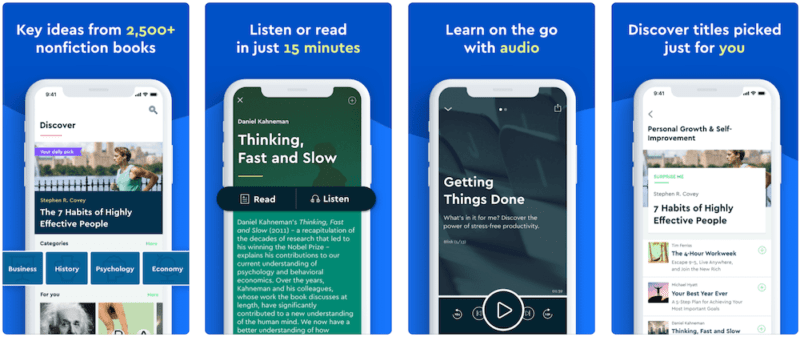 Price: Free [Download]
Blinkist is a one-of-a-kind audiobook that's unlike any other on this list, targeting a specified market — busy bee workaholics who are pressed for time. Its library is composed of best-selling nonfiction books only which are read to you in condensed 15-minute audiobooks. With only over 2,500 packs that you can read or listen to, this app best suits those who can't find time to read 300-page books but still want to get their creative juices flowing.
From self-improvement titles to business to economics to productivity to history and culture, the variety of nonfiction books Blinkist has in store for you is endless. All contents are downloadable so you can read or listen to them while working, at the gym, or even just relaxing. It also allows you to send your readings to your Kindle and sync highlighted phrases with Evernote. Avail of Blinkist's 7-day free trial before diving into its premium subscription starting at $12.99 per month.
Conclusion
Indeed, audiobooks are a real lifesaver. It's one of the best things that's ever happened to this digitalization. What do you think of audiobooks? Do you think it's beneficial to your lifestyle? Let us know in the comments!