Last Updated on January 24, 2023
Whether you're a small business owner or an educator, you're going to need a quick and easy way to organize all the data that you're dealing with. It's not just customer orders, prices, or gross sales either. Everyday expenses, household income, contact lists, and potential clients need to be somewhere safe, yet easily accessible.
Google Sheets is currently one of the world's most reliable spreadsheet programs that could handle this job – and more. Here's why you should think about using it not just for your business, but also in your personal tasks.
Why Google Sheets is for Everyone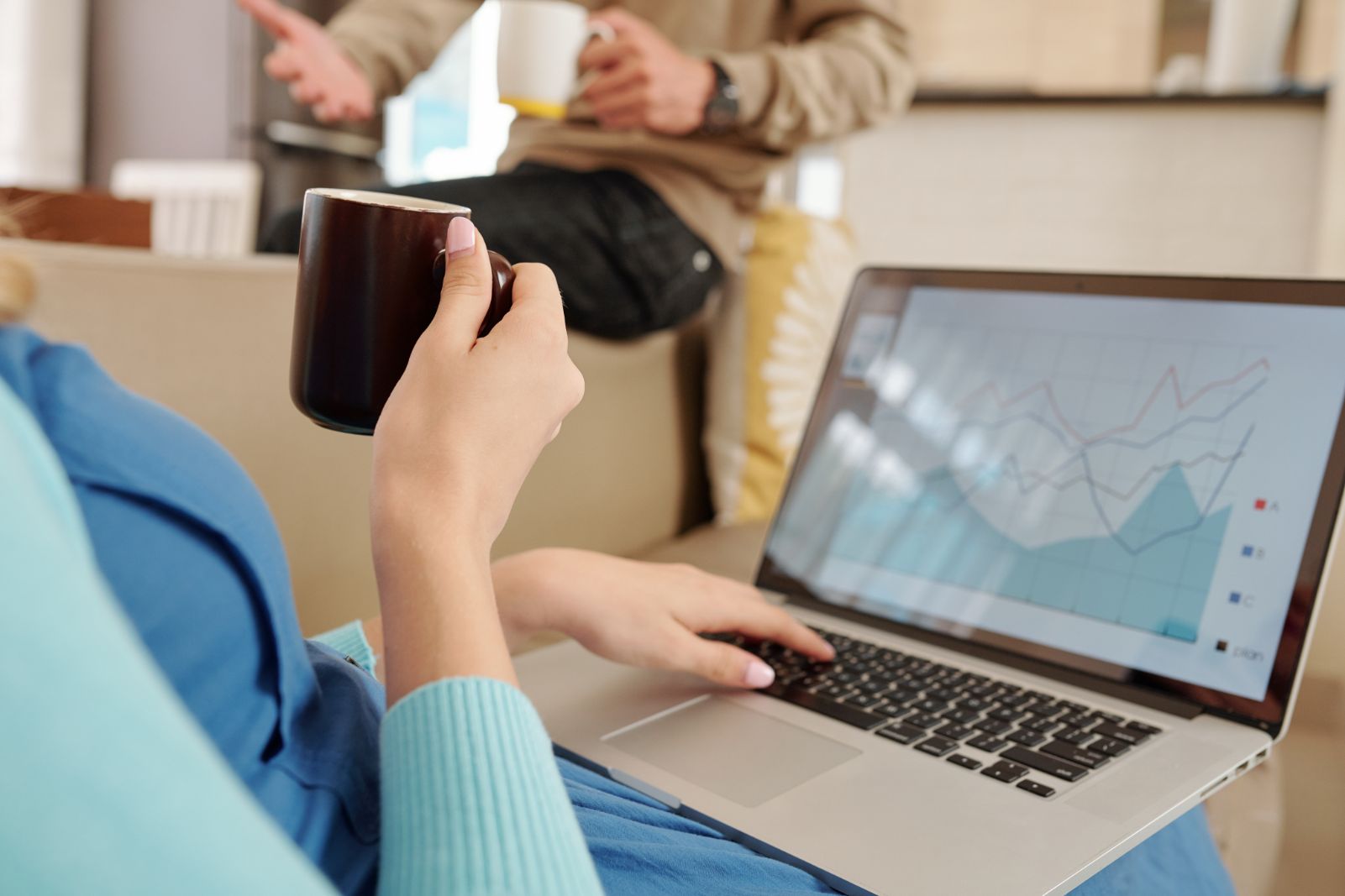 We don't think about it, but we deal with data in different forms all the time. From invoices, contact lists, to order forms, and savings, these are just a few of the information that needs to be kept updated and secure. Spreadsheets, like that in Microsoft Excel, have been truly helpful in this task. However, you can't easily share data in real-time, making collaboration (especially for businesses) a pain.
A quick solution then is to switch to Google Sheets. It does many of the functionalities of Excel, but with real-time features. For example: if you're a project coordinator who needs an entire team to be on board with current happenings, you can just add people to Google Sheets and edit their permissions. This way, some members only have viewing capabilities, while authorized individuals can edit the sheet as necessary.
Google's AI has also improved to help you speed up analysis and automate processes. For instance, you can ask a question in natural language (e.g. how much revenue will x product generate?) and the machine intelligence will return an answer. One setback though, is that it's not easy to transfer data from other apps, like CSV to Google Sheets.
Here's where automated Google Sheets integration Coupler.io would come in handy.
What Is Coupler.io
Coupler.io makes it easy to synchronize information from popular apps like QuickBooks and WordPress into Google Sheets. In minutes, you can see customer orders, build custom graphs, and create budget reports with zero coding knowledge. Pull data from your favorite apps such as Airtable, CSV, Pipedrive, Xero, BigQuery, JSON Client, Jira, Clockify, and HubSpot.
Created by the talented and passionate developers at Railsware, Coupler.io was built to make data integration to Google Sheets as quick and as effortless as possible. For more than 13 years, the company has seen over 90 successful projects and has worked with 60+ happy clients all over the world. So you can be sure that they will deliver only the best.
Coupler.io consolidates information for you (and your team) so you can access them in just one place. No more copy and pasting. Say goodbye to team members getting left in the dark. With this app, information is fresh, fast, and secure.
How To Use Coupler.io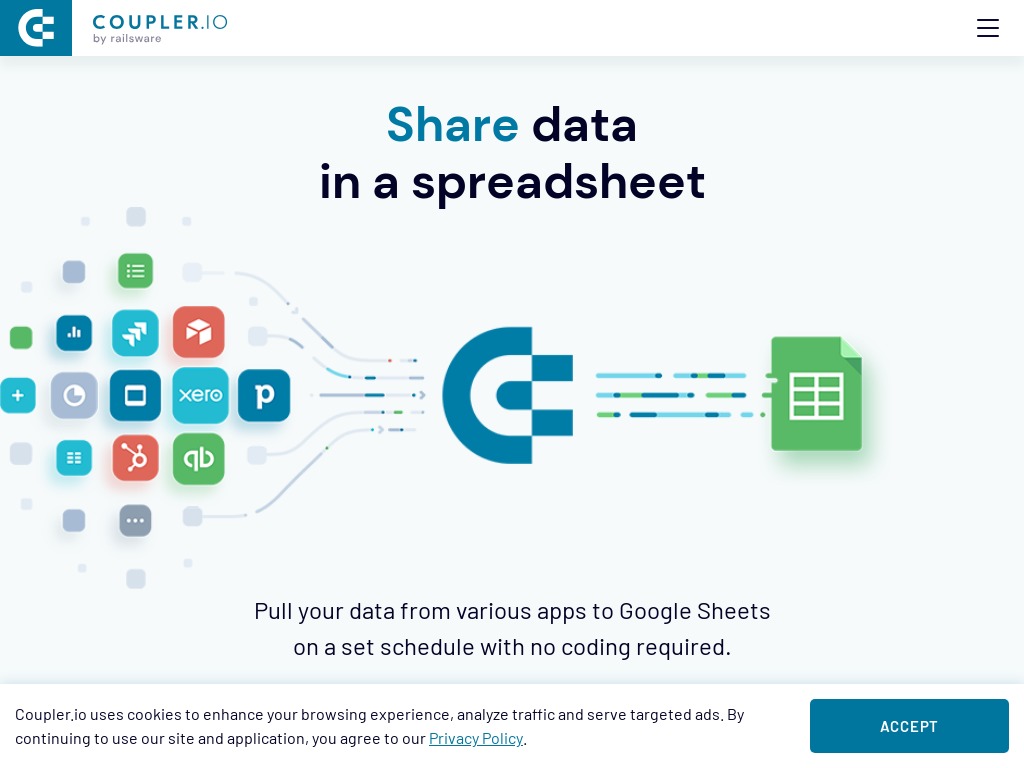 Coupler.io is so user-friendly – anyone can start using it immediately!
To begin:
Install io as an add-on to your Google Sheet. You can find it from the Google Workspace Marketplace. Sign up using your Google account.
Allow access and go back to your spreadsheet. You should find the app's name from the Add-ons drop-down menu.
As a first time user, click on Open Dashboard. A small window will appear in the right-hand corner.
Click on Add Importer. From there, you should see the available app integrations, like HubSpot, Airtable, Pipedrive, Jira, and so on. Click on your desired app.
Enter pertinent details such as the title of your report, the sheet name, and the shared URL (you can usually get this from the Get Shareable Link tab from whichever app you're working on) where the data will come from.
Decide on the frequency at which integrated data will automatically refresh or not.
Tweak additional settings (passwords, replace or append mode, etc.) as you would prefer.
Once you're done, click on Add Importer.
You will be redirected to the Active Importers window where you will see what you recently added.
Click on the small play button to begin the manual import. Future imports will be automatic, according to the settings you picked.
And that's it! You're now ready to simplify all that data in your life.
Don't see the integration you need? Contact Railsware so they can build it for you!
Get started with Coupler.io today!
Take advantage of Coupler.io's generous FREE Forever Plan when you sign up with your Google account. No credit card needed! Enjoy unlimited users, up to 50,000 rows for importing data, and manual or automatic data refresh every hour. This is recommended for individuals working on personal projects, or for those who want to take Coupler.io out for a spin.
Are you a project coordinator or small business owner? Then the Professional Plan for $24 is a steal! Want to add more people or collaborate with an entire team? Then you will love the Squad Plan for just $49. With the same amazing features but with more rows (5,000,000!) for data import, it's the plan of choice for entrepreneurs, educators, project managers, as well as medium corporations.
All subscription plans come with a 14-day FREE trial period, which helps you assess how you like the product. You won't be billed until the end of the 14th day. Cancel anytime before then to avoid any charges.
Make data analysis and collection easy for you and your team. Try out Coupler.io for FREE today and enjoy the benefits of quick, seamless data integration into Google Sheets.