Last Updated on May 6, 2022
Who Is Barbara Corcoran?
Barbara Ann Corcoran is an American businesswoman, investor, consultant, motivational speaker, author, syndicated columnist, podcast host, and reality television personality.

Corcoran is best known for being the founder of the New York City-based real estate brokerage firm, The Corcoran Group. She sold the company to National Realty Trust (NRT) in 2001 for $66 million.

On television, Barbara Corcoran is most noted for her appearance on American Broadcasting Company (ABC)'s reality show, Shark Tank. Corcoran is one of Shark Tank's original investors and has appeared in all the show's 12 seasons. She has made over 50 investment deals on the program, the most notable one being a $350,000 investment for a 40% ownership stake of Coverplay.

Corcoran has also had a stellar career as a podcast host, author, and columnist for reputable magazines. She's also a motivational speaker, with speeches geared towards personal finance, entrepreneurship, and self-improvement.
Quick Facts
| | |
| --- | --- |
| Full Name: | Barbara Ann Corcoran |
| Popular Name: | Barbara Corcoran |
| Gender: | Famale |
| Birth Date: | March 10, 1949 |
| Age: | 72 years |
| Parents: | Edwin W. Corcoran Jr. and Florence Corcoran |
| Siblings: | 9, including John Corcoran who recently died of a heart attack while vacationing with a friend in the Dominican Republic |
| Birth Place: | Edgewater, New Jersey, United States |
| Nationality: | American |
| Ethnicity: | Mixed (Irish and Danish) |
| Education: | St. Cecilia School, Leonia High School, and St. Thomas Aquinas College |
| Marital Status: | Married to retired Navy captain and former FBI agent Bill Higgins (since 1988) |
| Sexual Orientation: | Straight |
| Wife/Spouse: | Bill Higgins |
| Children: | Tom Higgins (born in 1994 via in vitro fertilization, with an egg donated by Barbara's sister Florence) and Katie Higgins (adopted) |
| Dating: | N/A |
| Net Worth: | USD 100 million (as of January 1, 2022) |
| Source of Wealth: | Entrepreneurial Ventures, Speaking Engagements, Writing, Reality Television, Podcast Hosting, and Other Ventures |
| Height: | 5′ 5″ (1.65 m) |
| Weight: | 59 kg; In pounds: 130 lbs. |
Early Life
Barbara Ann Corcoran was born on March 10, 1949, in Edgewater, New Jersey, United States, to Edwin W. Corcoran Jr. and Florence Corcoran. Her father held multiple jobs, whereas her mother was a homemaker.

Corcoran attended a local Catholic-run elementary school and then proceeded to St. Cecilia High School in Englewood. She reportedly struggled in school due to her dyslexic condition. She subsequently transferred to Leonia High School, from where she graduated as a D student.

After graduating from high school, Corcoran proceeded to St. Thomas Aquinas College, eventually graduating from the institution in 1971 with a degree in education.
Real Estate Career
After completing her college studies, Barbara Corcoran taught in a school for one year. She subsequently accepted numerous jobs prior to launching her real estate business, including working a side job that involved renting apartments in New York City.

In 1973, Corcoran teamed up with her then-boyfriend to found The Corcoran-Simonè. At the time, she was working as a receptionist for the New York City-based real estate company, Giffuni Brothers'. Seven years later, Corcoran broke up with her boyfriend and went on to found her own real estate firm, The Corcoran Group.

In 2001, Barbara Corcoran sold her real estate business to NRT for $66 million.
Writing Career
Barbara Corcoran launched her writing career in the mid-70s. She began by publishing a newsletter known as The Corcoran Report. The report focused on emerging real estate trends in New York City.

Corcoran has worked as a columnist for numerous established magazines, including 'The Daily Review,' 'More,' and 'Redbook.' She has also authored several books. Notable ones include:

• If You Don't Have Big Breasts, Put Ribbons On Your Pigtails: and Other Lessons I Learned From My Mom; (aka "Use What You've Got") (2003)
• Nextville: Amazing Places to Live Your Life (2008)
• Shark Tales: How I Turned $1,000 into a Billion Dollar Business (2011)
Television Career
On television, Barbara Corcoran is most noted for being one of the Shark Tank investors. Corcoran appeared in all the show's 12 seasons. As of the time of writing, she has made over 50 investment deals.

In September 2017, Corcoran was set to join season 25 of the reality television show 'Dancing with the Stars' as a contestant. She was paired with Keo Motsepe. Other noteworthy television shows that Corcoran has graced include 'Larry King Live,' 'Drop Dead Diva,' 'Grace and Frankie,' and 'Today's Show.'

Corcoran's television endeavors also include hosting. She hosts CNBC's The Millionaire Broker with Barbara Corcoran.
Barbara Corcoran's Net Worth
As of January 1, 2022, Barbara Corcoran had a net worth of $100 million. That makes her the sixth richest Shark Tank investor in the show's history.

Mark Cuban remains the wealthiest 'shark' with a net worth of $4.5 billion. Kevin O'Leary follows at a distant second with a $400 million net worth. Daymond John, Robert Herjavec, and Lori Greiner occupy the third, fourth, and fifth spots with a net worth of $350 million, $200 million, and $150 million, respectively.

Corcoran has earned much of her wealth from various entrepreneurial ventures, mainly her vast real estate empire. She has continued to flip properties years after selling The Corcoran Group. In 2001, Corcoran purchased a 2,700-square-foot apartment on Park Avenue for $3.5 million. In 2015, she spent $10 million for a penthouse unit on Fifth Avenue.

In addition to real estate, Corcoran also earns from writing, hosting, reality television appearances, and speaking engagements.
Lessons from Barbara Corcoran
1. Your grades shouldn't define you

Barbara Corcoran struggled in school due to her dyslexic condition. Despite her dismal academic performance, Corcoran went on to establish one of NYC's most successful real estate companies.

2. Keep trying until you find what works

Corcoran worked at least 20 jobs before launching her real estate career. She literally kept experimenting with different jobs trying until she eventually discovered her true passion.

3. Strive for financial independence, not necessarily huge paychecks

The quest for financial freedom was one of Corcoran's biggest motivations behind venturing into the real estate industry.
Famous Quotes by Barbara Corcoran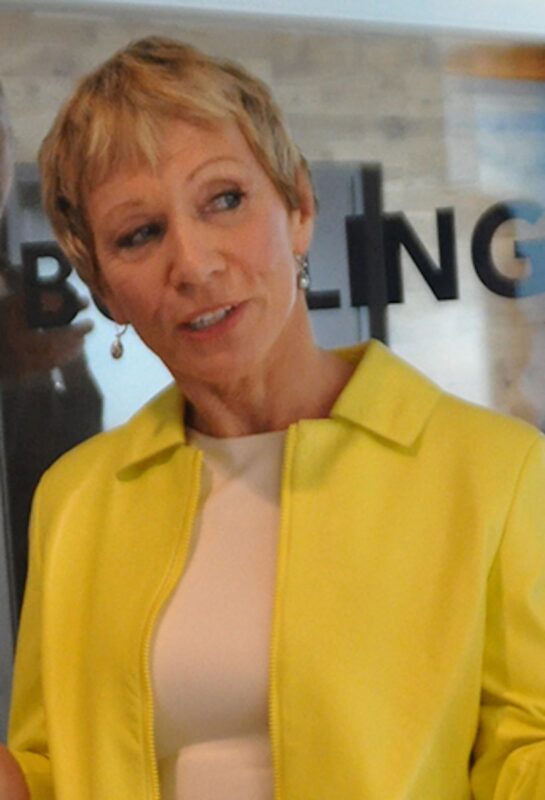 • Don't you dare underestimate the power of your own instinct.
• Every failure has an equally big upside if you are willing to stay in the game.
• Finding opportunity is a matter of believing it's there.
• Taking chances almost always makes for happy endings.
• The difference between successful people and others is how long they spend time feeling sorry for themselves.
Conclusion
Barbara Corcoran is an investor and businesswoman best known for founding The Corcoran Group real estate company and appearing on the reality television series Shark Tank.

Corcoran has accumulated a $100 million net worth from her vast business empire.