Last Updated on March 8, 2022
Basketball has reached critical acclaim and worldwide renown as a sport over the decades since its creation. What first started off as an alternative to football created its own name for itself, eventually becoming more than just a game. 
It's a team sport that forged families, rivalries, and everything in between. It is a phenomenon that garnered the love and attention of millions of fans from all around the world. 
Anyone who enjoys basketball can agree that the game has some of the most intense and thrilling moments in the history of sports and entertainment. From epic comebacks to jaw-dropping buzzer-beaters, basketball has seen it all—and it's thanks to both the professional athletes around the world and the amazing communities that back them up.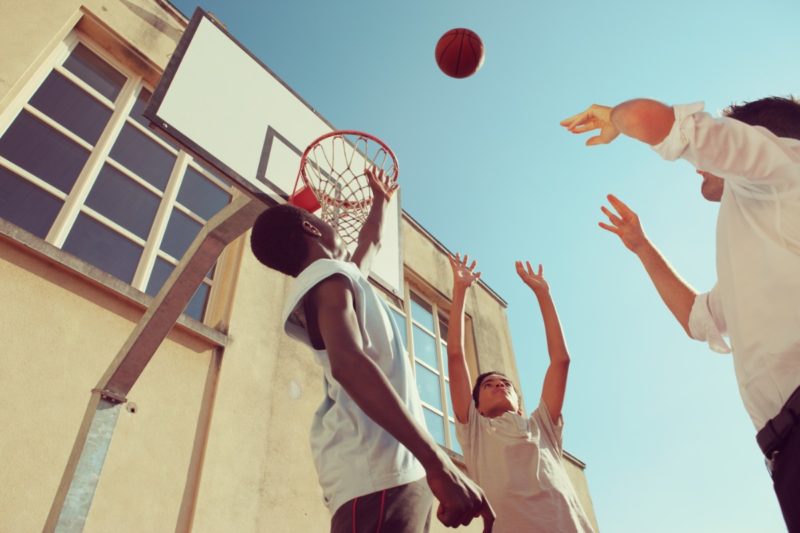 Such moments are made possible by the dedication of the players who performed them. Men and women athletes spent countless hours training and exercising to reach peak performance and achieve the levels that the most prestigious of competitions demanded. 
Even NBA legends like Michael Jordan, Magic Johnson, or Kobe Bryant had to start somewhere. If you want to be the very best that you can be, you're going to have to work for it.
These men gave their hearts to the game, and you can do the same thing to reach success in any field you want. 
Life Tips You Can Learn From Basketball
Train Constantly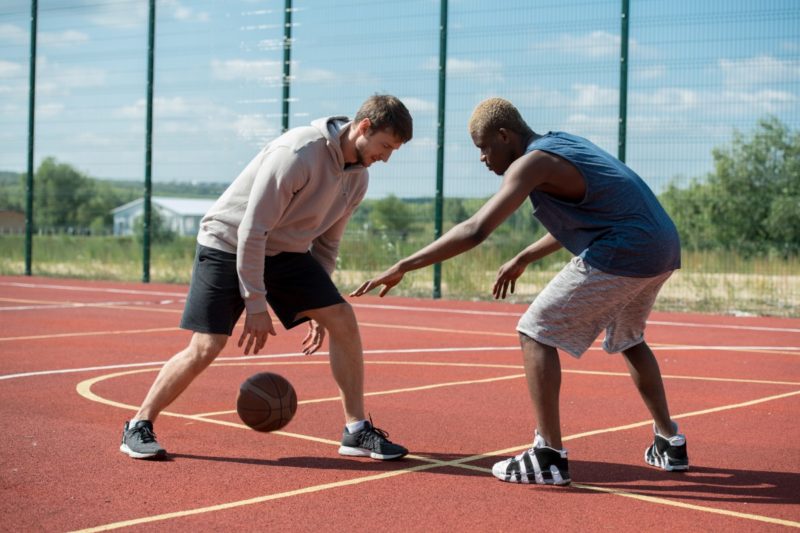 It's true that practice makes perfect, and there's no getting around it. If you want to get good, then you need to sink in a significant chunk of your time and effort into your objective. There is no shortcut to success. 
Discipline is Key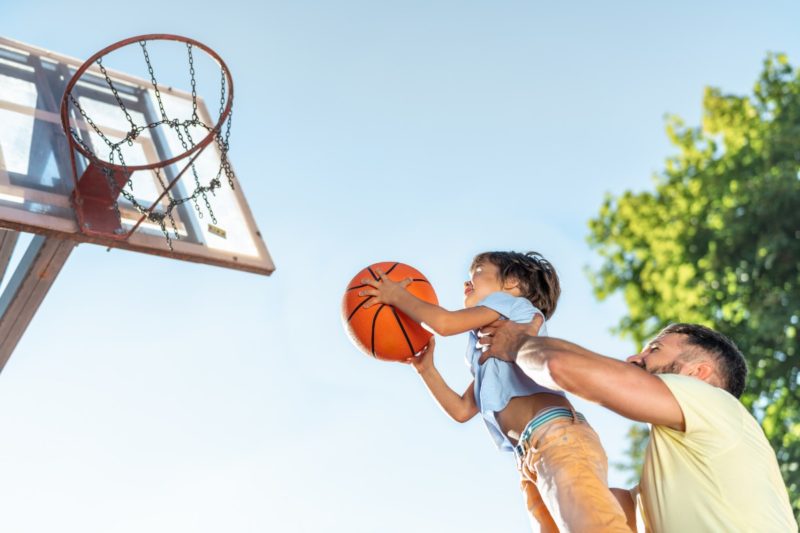 Discipline is one of the most important traits necessary to be successful in any long-term commitment.
Having the ability to dedicate your willpower into the formation of good habits or strength to say no to things that would be detrimental to your progress is undoubtedly difficult, but the pay-off is well worth it. 
Move at Your Own Pace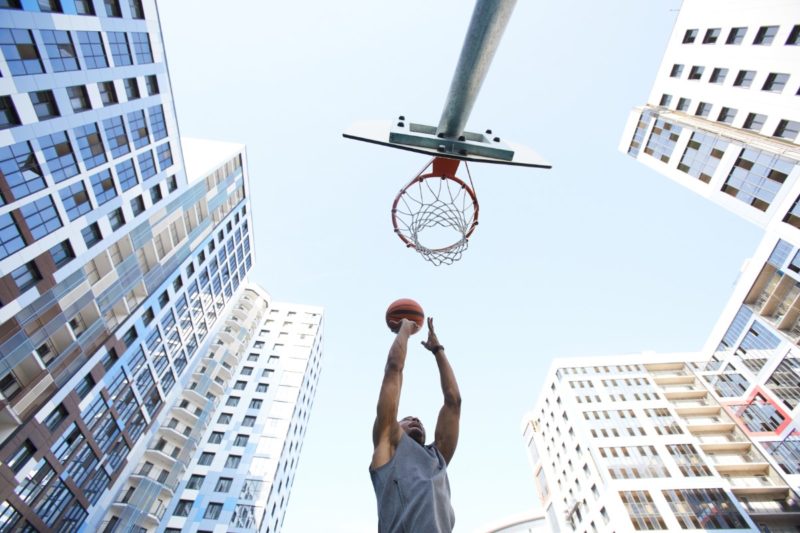 People who focus on the end results only are often the ones who forget to take care of themselves.
Remember that while pain and failure are essential to growth, you should also pace yourself in a way that doesn't burn you out or cause you too much trouble. Keep your personal growth slow and steady to guarantee results. 
Pay Attention to Small Details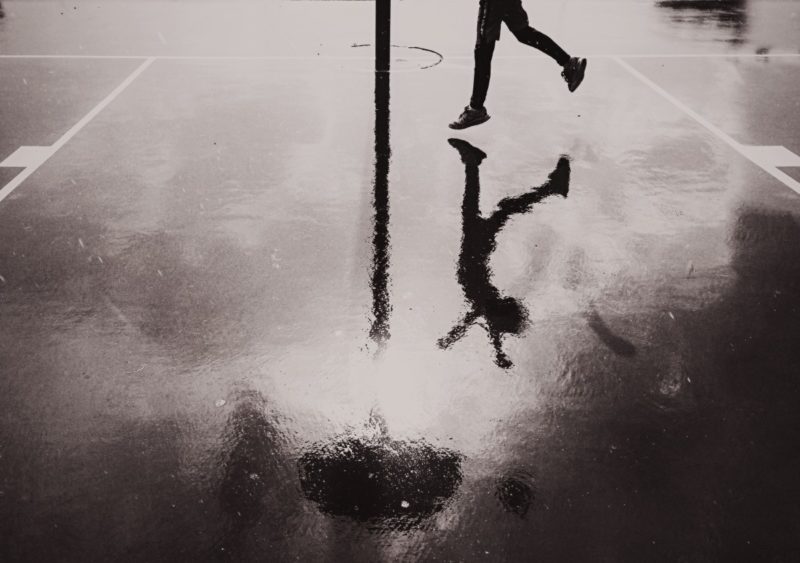 In basketball, little things like footwork, breathing and ball handling can make the difference between victory and defeat.
Try not to overlook small but important details when you're pursuing self-improvement, since such small things can later build up into something much more impressive down the road.
Expand Your Comfort Zone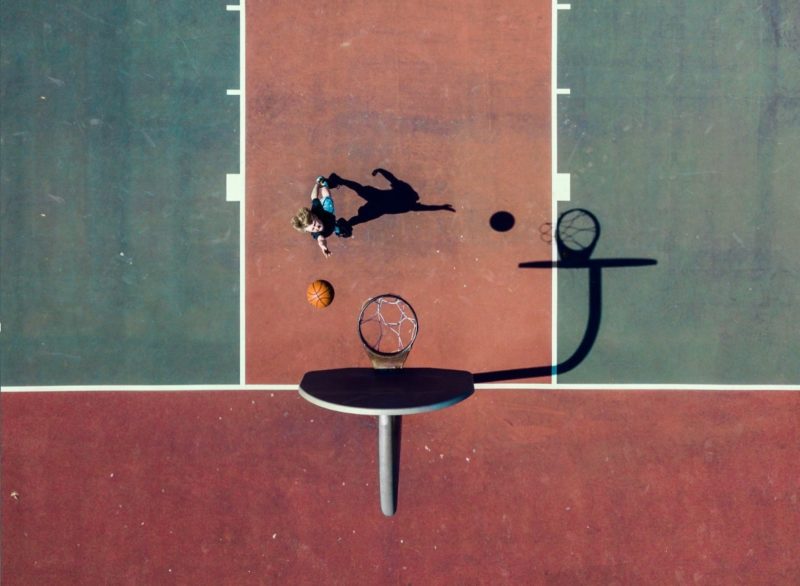 Breaking out of your comfort zone is the first step in improvement, but expanding it is the main goal.
This mindset of being more comfortable with things you used to hate can really help you out during times of stress. Keep in mind that while failure builds character, you should also be careful not to do anything you might regret.  
Training is nothing without motivation, and the two go hand-in-hand in achieving your goals.
Here are some of quotes to help fire you up, in basketball or otherwise:
Inspirational Basketball Quotes
"The strength of the team is each individual member. The strength of each member is the team." – Phil Jackson
"To be successful you have to be selfish, or else you never achieve. And once you get to your highest level, then you have to be unselfish. Stay reachable. Stay in touch. Don't isolate." – Michael Jordan
"Ability may get you to the top, but it takes character to keep you there." – John Wooden
"Nervous means you want to play. Scared means you don't want to play." – Sherman Alexie, The Absolutely True Diary of a Part-Time Indian
"Excellence is not a singular act, but a habit. You are what you repeatedly do." – Shaquille O'Neal
"They say that nobody is perfect. Then they tell you practice makes perfect. I wish they'd make up their minds." – Wilt Chamberlain
"I am more than just a serious basketball fan. I am a life-long addict. I was addicted from birth, in fact, because I was born in Kentucky." – Hunter S. Thompson
"Everyone has the fire, but the champions know when to ignite the spark." – Amit Ray, Enlightenment Step by Step
"We learn to make a shell for ourselves when we are young and then spend the rest of our lives hoping for someone to reach inside and touch us. Just touch us—anything more than that would be too much for us to bear." – Bill Russell
"My swag was phenomenal." – Gilbert Arenas
"One man can be a crucial ingredient on a team, but one man cannot make a team." – Kareem Abdul-Jabbar
"Sometimes a player's greatest challenge is coming to grips with his role on the team." – Scottie Pippen
"Concentration and mental toughness are the margins of victory." – Bill Russell
"Your limits are somewhere up there, waiting for you to reach beyond infinity." – Arnold Henry
"But that's the thing about basketball: you don't play games on paper." – Bill Simmons, The Book of Basketball
"If all I'm remembered for is being a good basketball player, then I've done a bad job with the rest of my life." – Isiah Thomas
"Good thing in this business is that you just have to make one big shot and that's enough to make you forget 9 other shots that you missed." – Guy Zucker
"It's not about getting out of your comfort zone to reach your goal. It's about widening your comfort zone so far that your goal fits comfortably inside. Once you do that, hitting your goals will be like hitting 3s for Steph Curry." – Richie Norton
"We old athletes carry the disfigurements and markings of contests remembered only by us and no one else. Nothing is more lost than a forgotten game." – Pat Conroy
"We'd taken up our positions on the benches between the school hall and a newly-installed outdoor basketball court. Being hip-hoppers, we were obliged to be obsessed with basketball. None of us had a ball." – Nikesh Shukla, Coconut Unlimited
"Someone created the box score, and he should be shot." – Daryl Morey
"Basketball is a beautiful game when the five players on the court play with one heartbeat." – Dean Smith
"How good can we expect to be if our best player is not our best teammate." – Brad Stevens
"A coach is someone who can give correction without causing resentment." – John Wooden
"If you really want to be great at something you have to truly care about it. If you want to be great in a particular area, you have to obsess over it." – Kobe Bryant, The Mamba Mentality
"Try to swish the ball in the net, even if it hits the backboard, it still went in." – Lauren Borman
"In any game, the game itself is the prize, no matter who wins, ultimately both lose the game." – Amit Kalantri, Wealth of Words
"The only difference between a good shot and a bad shot is if it goes in or not." – Charles Barkley
"So in a six-minute stretch we see display fearlessness, tenacity, intelligence, savvy, a firm allegiance to team, assertiveness, toughness, and a willingness to obliterate a man in front of the woman that man's supposed to marry." – Shea Serrano, Basketball (and Other Things)
"She gave value to something that no one saw value in." – Christine A. Baker, Why She Plays
"Good players want to be coached…Great players want to be told the truth." – Doc Rivers
"From the beginning, I wanted to be the best. I had a constant craving, a yearning, to improve and be the best. I never needed any external forces to motivate me." – Kobe Bryant, The Mamba Mentality
"When you're a coach or athlete and you win a championship, you realize that the championship was really a work-in-progress. What you went through during the pre-season, in the regular-season and then during the post-season enabled you to win a title. I treated the stages of my cancer treatment as the phases of a championship season, and it kept me on track to accomplishing my ultimate goal." – Joe Marelle
"I was usually one of the guys playing basketball in the corner." – Rick Riordan, The Titan's Curse
"If you want to look good in front of thousands then you have to outwork thousands in front of nobody." – Damian Lillard
"If you want to be a better player, you have to prepare, prepare, and prepare some more." – Kobe Bryant, The Mamba Mentality
"Remember that basketball is a game of habits. If you make the other guy deviate from his habits, you've got him." – Bill Russell
"What is love? Love is playing every game like it's your last." – Micheal Jordan
"To be a professional you have to act like one as well…" – Alcurtis Turner
"She played the game the way that it was meant to be played – as if her life depended on it. And she seemed driven by some need, or struggle, or fundamental resolve, that preceded the basketball and made it possible…" – Nina Revoyr, The Necessary Hunger
"Basketball is a game with winners and losers, but if you play this game with your heart, you're always a winner." – C. M.
"The real, many-veiled answer to the question of just what goes through a great player's mind as he stands at the center of hostile crowd-noise and lines up the free-throw that will decide the game might well be: nothing at all." – David Foster Wallace
"Practice hard, train hard, work hard and play harder." – Alcurtis Turner
"The star player must slay his ego and learn teamwork and communication skills before he can achieve the ultimate in sport" – Walt Frazier, The Game within the Game
"I think the reason why I'm the person who I am today is because I went through those tough times when I was younger." – LeBron James
"When a player keeps a calm demeanor on the court, it's easier for his ability to shine. The best response to an opposing player's physical or psychological tactics is to keep cool and come right back at him with the force of your game, not your fists. Revenge is always sweeter if your team wins the game." – Walt Frazier, The Game Within the Game
"Get the big picture! See to believe!" – Leon Welch
"The real, many-veiled answer to the question of just what goes through a great player's mind as he stands at the center of hostile crowd-noise and lines up the free-throw that will decide the game might well be: nothing at all." – Wallace David Foster
"The most we can hope for is to create the best possible conditions for success, then let go of the outcome. The ride is a lot more fun that way." – Phil Jackson
"I can beat the Celtics with any four guys off the street in Petersburg Virginia." – Moses Malone
"I'll take the contract. He can have the team." – Herbert Kohl
"There are different eras and generations, but basketball is still the same. Old school or new school, the fundamentals of the game- passing, dribbling, and shooting- never change. The styles and forms may change, but from 1946 to 2006, there's been a right way and a wrong way to practice and perform these skills and that remains the same." – Walt Frazier, The Game Within the Game
"It is most difficult in my mind, to separate success, whether it be in your profession, your family, or as in my case, in basketball, from religion." – John Wooden
"I can accept failure, but I cannot accept not trying." – Michael Jordan
"In middle school I played against you once. And lost. I was so frustrated that I continued practicing even after I retired…And then when I entered high school, hell yeah, I laughed. The guy I vowed to defeat no matter what was standing right in front of me as one of my own teammates. But now it's pointless to hold a grudge. Rather, I wanted to make you recognize me." – Tadatoshi Fujimaki
"No alarm clock needed. My passion wakes me up!" – Kyrie Irving
"We looked like a team at both ends of the court." – Mike Dunlap
"Basketball allowed me to revere my father without him knowing what I was up to. I took up basketball as a form of homage and mimicry." – Pat Conroy, My Losing Season
"The invention of basketball was not an accident. It was developed to meet a need." – James Naismith
"The goal is to make practice more difficult, physically/mentally, than anything your players will face during a game." – Bob Knight
"Ask not what your teammates can do for you. Ask what you can do for your teammates." – Magic Johnson
"Everything negative — pressure, challenges — are all an opportunity for me to rise." – Kobe Bryant
"Discipline is doing what has to be done, when it has to be done, as well as it can be done, and doing it that way all the time." – Bob Knight
"I accepted the challenge, because I want you to know that we bleed just like you do. We have feelings just like you do. Let us read the same books and we'll understand it just like you do!" – Lenny Wilkens
"Great players are willing to give up their own personal achievement for the achievement of the group. It enhances everybody." – Kareem Abdul-Jabbar
"Obstacles don't have to stop you. If you run into a wall, don't turn around and give up. Figure out how to climb it, go through it, or work around it." – Michael Jordan
"Once you are labeled the best you want to stay up there, and you can't do it by loafing around. If I don't keep changing, I'm history." – Larry Bird
"Create unselfishness as the most important team attribute." – Bill Russell
"I took the game seriously. It was my profession. My teammates also took losing hard. We would all sit in the locker room after losing a big game and talk about how we could have done something differently to change the outcome." – Walt Frazier, The Game Within the Game
"Basketball is a lifelong game. You continue to learn from the game day in and day out, and all along the way, you get better." – Scottie Pippen
"There is a lot of basketball beyond our control, but a player should never let anyone try harder than he does." – Dean Smith
"I really get motivated when I have doubters." – Shaquille O'Neal
"You can't get much done in life if you only work on the days when you feel good." – Jerry West
"As a leader, your job is to do everything in your power to create the perfect conditions for success by benching your ego and inspiring your team to play the game the right way. But at some point, you need to let go and turn yourself over to the basketball gods. The soul of success is surrendering to what is." – Phil Jackson
"If you are afraid of failure you don't deserve to be successful!" – Charles Barkley
"When you're not practicing, someone else is getting better." – Allen Iverson
"Push yourself again and again. Don't give an inch until the final buzzer sounds." – Larry Bird
"Discover your gift, develop your gift, and then give it away every day." – Don Meyer
"Hard work beats talent when talent fails to work hard." – Kevin Durant
"I gave everything I had to basketball." – Allen Iverson