Last Updated on January 24, 2022
Bathroom designs can make or break a home's resale value — particularly in the case of the master bathroom. Beyond resale value, however, you need a bathroom that meets your needs and is aesthetically inviting; the bathroom is, after all, a uniquely personal space.
What follows is a number of bathroom design ideas that will help you achieve both of those things with ease.
Bathroom Design Ideas and Tips
Step #1: Define 'Better'
Making a bathroom 'better' can mean many different things. Don't make the mistake of jumping into overhauling your bathroom designs without carefully considering what it is about the existing bathroom you don't like.
Common complaints include:
poorly-planned (even downright shoddy) installations by a previous homeowner
a bathroom that is too small
impractical material choices
a bathroom that is too dark and gloomy
The following tips should help you solve these problems and more.
Small Bathroom Designs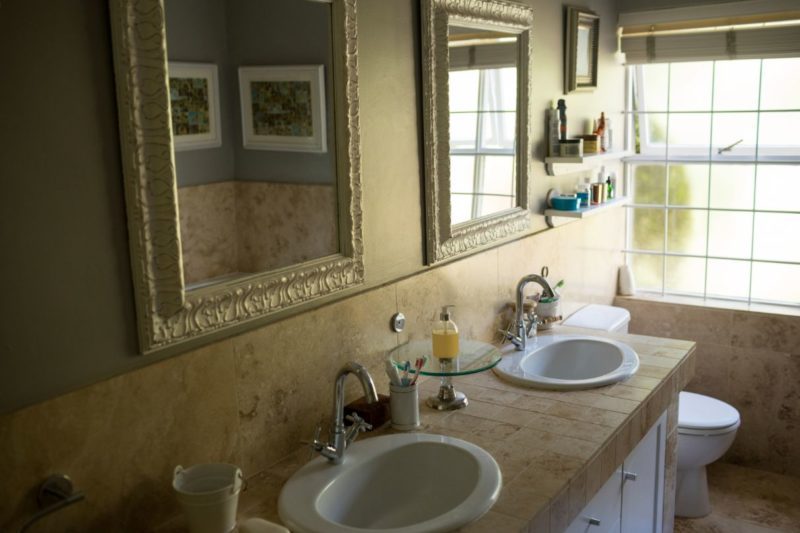 As mentioned above, one of the most common complaints homeowners have about a bathroom is that it feels small. For those wondering how to make a small bathroom look bigger, consider the following ideas:
place a sink in the corner; this frees up space for you to move around by taking advantage of floor space that would otherwise go to waste
lift as many elements as possible off the floor: 'floating' elements, like sinks that aren't rooted to the ground, are very popular modern bathroom design cues that also free up floor space
use larger tiles: large honeycomb tiles are a great example of how to make a small bathroom look bigger; the design draws one's eyes horizontally
use white: every interior designer understands that white makes a room look bigger; it's no different when it comes to small bathroom designs
Modern Bathroom Design Ideas
A modern bathroom comes in many more styles than one might assume. This is because modern design (reminiscent of eras that have passed within recent memory) ought not to be confused with contemporary (design cues that are very much of today, and subject to unpredictable levels of future relevance as a result).
Modern bathroom design elements include:
quartz countertops; produced by manufacturers like Caesarstone and subject to an explosive burst in popularity starting in the 2000s and continuing now
minimalist design; the modern design is pretty well universally minimalist bordering on sparse — a stark contrast against more traditional ornate designs
add a splash of green; plants that don't require tons of sunshine and can withstand the humidity are great to place in a modern bathroom, particularly one where the predominant color scheme is white
throw in some other accent colors, too; if followed the above tip of using white in small bathroom designs, be sure to liven up the space with some bold accent colors like reds and oranges
Lighting is a Key Component of Bathroom Designs
Proper lighting can help you achieve just about any design goal. If you're looking into how to make a small bathroom look bigger, the answer is bright lighting; add additional fixtures or replace existing ones with those that allow for multiple bulbs.
As a general rule for lighting a bathroom of any size, you want to make use of natural light as much as possible. Even if you only have one window, placing mirrors nearby can help reflect the light around and create a refreshing modern bathroom look.
Use Traditional Materials, Too
Quartz countertops are without a doubt the primary surface of choice for most modern bathroom designs. That doesn't mean you can't mix in traditional materials like wood as well, though.
Natural materials tend to never go out of style as long as they can retain a high degree of practicality.
In the case of wood, you'll need to keep a bathroom's inherent humidity in mind. When designing a bathroom on a budget, you may wish to choose wooden elements that can be easily and cheaply replaced.
For more permanent wood decor in a bathroom, you can use linseed or tung oil to protect the grains from soaking up too much moisture.
Bamboo is another great traditional material choice for bathrooms, too. When sealed well, the bathroom is resistant to humidity as well.
Other traditional materials include bronze and brass.
Don't Be Afraid to Go ALL Traditional
While we've provided plenty of tips for designing a modern bathroom above, that's not to say a traditional bathroom doesn't have its merits. After all, this list is all about creating a better bathroom based on what you like.
Decorated wall tiles became popular in the 1870s and although they've given way to more minimalist designs in recent years, you can create an impressive homage to just about any past decade through the use of tiles.
Want to create a 60s-style bathroom? Square tiles (particularly in shades like green and brick red) will suit you well. Perhaps you're more of an 80s person; interesting patterns were all the rage back then and can easily be created by mixing white tiles and ones with bold colors.
If you want to really get traditional, incorporate ornate elements into your bathroom design, such as crown molding and wood-framed mirrors.
Bathroom Design Ideas: Conclusion
To wrap things up, you have many options when it comes to improving your bathroom through design. It all begins with defining what you don't like about your current bathroom design. Once you've established this, refer to the suggestions and ideas above for inspiration as you seek to improve your bathroom design.
Making a small space look larger is easy with lighting and well-thought-out color schemes. You can create a modern bathroom design through the use of materials like quartz, splashes of bold accent colors and minimalism.
A traditional bathroom design can be achieved through decorated tiles or wood paneling.
Last but certainly not least, one of the most crucial aspects of bathroom design is appropriate lighting. Use both natural light and fixtures to add freshness to your bathroom design and enhance your decor.