Bedtime stories can come in all shapes and sizes. For generations, parents have read stories to their children before bed, and it has been a highly successful way of getting restless children to sleep!
Whether your child is afraid of the dark, too hyper to sleep, or wants just to hear a fun and exciting story, there are so many stories out there that range from 2 to 200 pages that will ignite your child's imagination!
10 Classic Stories to Tell your Children
The Ugly Duckling – Created by Hans Christian Anderson, the Ugly Duckling is an excellent story for children with a lovely moral element. The story starts on a farm, where a duck sits on a clutch of eggs to make them hatch. The eggs hatch one by one, and soon, six yellow-feathered ducklings are chirping excitedly. The last egg takes longer to hatch, and a strange-looking duckling with grey feathers emerges. Everybody finds the grey duckling ugly, including its mother. The sad duckling runs away and lives alone in a swamp until winter comes. Seeing the duckling starving in winter, a farmer takes pity on the ugly duckling and gives it food and shelter at home. However, the duckling is afraid of the farmer's noisy children and flees to a cave by a frozen lake. When spring comes, a flock of beautiful swans descend on the lake, and the duckling, which is now fully grown, but lonely, approaches the swans, fully expecting to be rejected. To his surprise, the swans welcome him. After this, the duckling sees his reflection in the water. It is then when he realizes that he is not an "ugly duckling" but a beautiful swan like all of the others.
Midas and the Golden Touch– This ancient story from Greece describes King Midas as a greedy and resentful man, who loved gold more than anything else. One day, a Greek God appeared before him and said that he would grant his desire, so everything he touched turned to gold. However, he became discontent after a while because even his food would turn to gold, so he could not eat it. His daughter even turned to gold when she hugged him. Of course, he would beg for forgiveness and when given a chance, ask for his old life back, vowing never to be greedy again!
The Boy Who Cried Wolf – This story is from Aesop's Fables and impresses the importance of being truthful. It teaches kids an important lesson about being honest from the word go, because if you lie all of the time, when you eventually tell the truth, people won't believe you.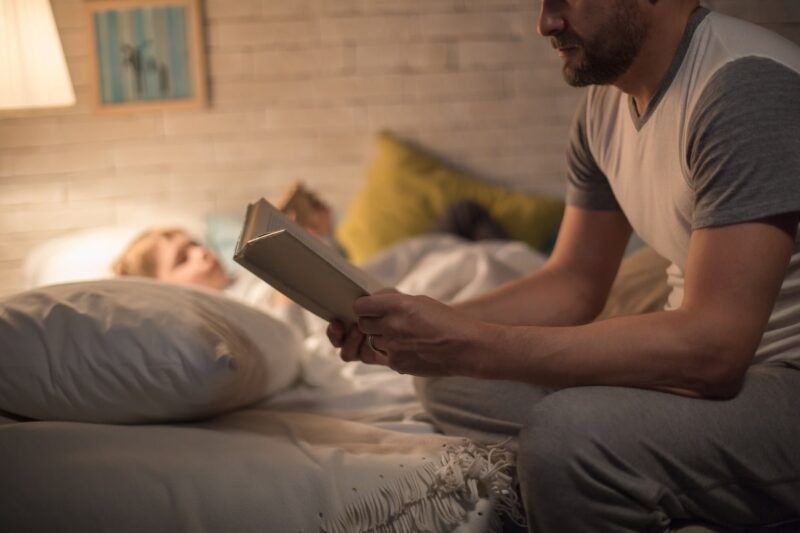 The Ant and the Grasshopper – This is another tale from Aesop's Fables and talks about the importance of hard work and planning for the future. The story tells of a grasshopper that spends the summer singing and idling away his time. Meanwhile, his neighbors, a colony of ants, work hard throughout the summer to store food for the winter. The grasshopper laughs at the ants, but then when it comes to wintertime, the ants have plenty of food, and the grasshopper has none, and the grasshopper goes to the ants asking for food and warmth. The ants share their food with him as long as he promises to work hard during the summer for the nest winter.
Beauty and the Beast– A favorite among little girls, this Disney inspired fairytale encourages people to look past appearances and listen to your heart when it comes to romance or love.
The Hungry Mouse- This is another of the shorter bedtime stories for kids. It talks about greed and how it can be negative. There once was a mouse that was starving and had not eaten in days. He had grown really thin. After a lot of searching, the mouse found a basket full of corn. There was a tiny hole in the basket through which he could just fit in. So, he crept into the basket and ate his fill of corn. However, he did not stop eating. The mouse ate more and more, even though he was feeling full. Now, the mouse had grown larger from all that food and could no longer fit through the hole to get out. This led to panic and taught the mouse a valuable lesson about being too greedy for your good.
Callista and the Puma –This is an Argentinean tale that speaks of a young girl named Callista and her friendship with a puma! She lives in a village and when she went missing after an attack by Spanish soldiers, many feared that she would be gone for good; however the Puma, normally a scary animal, had looked after her.
Eve, the First Princess – This story is about Eve, seen as the first princess in history. She lived with Adam in Eden, and it was a very beautiful place. They had everything that they needed in this beautiful garden. It is a good tale to tell if you want to get your child (little girl mainly) to learn a story from the bible too!
There are Monsters in my Room! – A little girl named Norah is scared of nights. She hugs her bear tight and covers the pillow over her head. With every little sound or shadow, she runs to her mommy. Her mom hugs her tight and tells her to keep calm. But now that she is five-and-a-half years old, she is braver than ever before!! This is a great story to tell your kids if you want them to be brave at night-time. This is because many kids are afraid of the dark!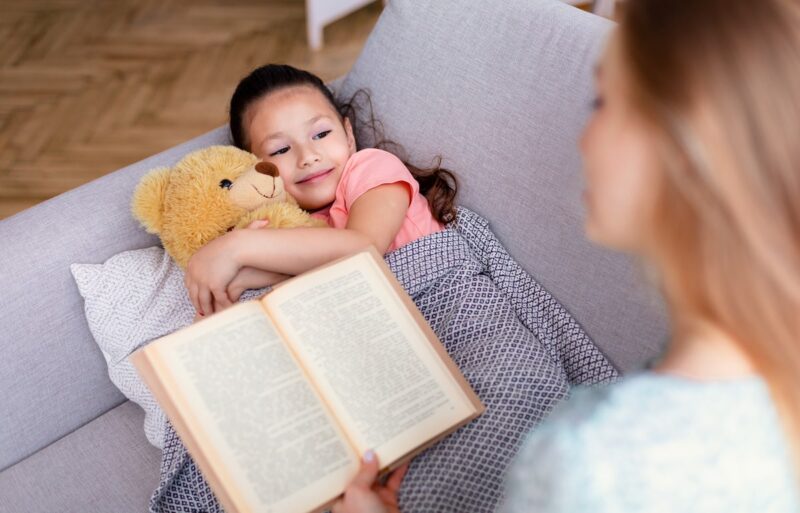 Oops, I wet my Pants! – This is a good story to tell if you want to educate your toddler on not wetting themselves while they play! It even includes a fun rhyme at the end that will help them remember!
It was a pleasant sunny day when the little boy went out to play with his friends. He needed to go to the toilet,  but held it as he wanted to win the game. All of a sudden, his pants turned wet. He ran home to change the pants. It was then he heard a song. 'The bathroom is the only place to pee..'
"If you feel you need to go even while you play, go straight to the bathroom without any delay."
Ten great books you can read at bedtime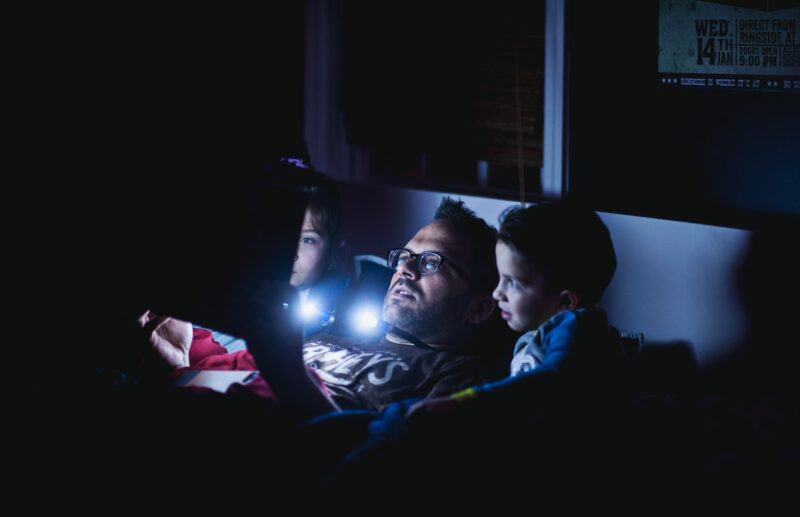 Harry Potter and the Philosopher's Stone by J.K Rowling
BFG by Roald Dahl
Fantastic Mr Fox by Roald Dahl
Pippi Longstocking by Astrid Lindgren
Charlottes Web by E B White
A Bear Called Paddington by Michael Bond
Jumanji by Chris Van Allsburg
Princess Smartypants by Babette Cole
How to Train your Dragon by Cressida Cowell
Werewolf Club Rules by Joseph Coelho
FAQs
What is meant by a "bedtime story?"
Typically, a bedtime story is told to children before they go to bed at night. The stories usually have the same plot, and there should always be a happy ending that sees the good character win so that the child is not scared or afraid.
Can reading a bedtime story to your children be beneficial?
Yes, there are many ways to read a bedtime story to your child that can be beneficial. For one, it can heighten their sense of imagination. It can also help improve their literacy, vocabulary and could get them into reading too!
Do all bedtime stories have to be short and quick?
Not at all! A bedtime story can be two pages long or 200 pages long. Many parents opt to use child-friendly books or adventure books like The Cat in the Hat, or Harry Potter, as a means to broaden the reading horizons of their children. Similarly, you can make up a story or read a short story or two either if you wish.
When should you stop reading bedtime stories to your kids?
This depends; many people will say that once your child can read on their own comfortably, then you should stop reading to them. However, if it is a cherished routine that both you and your child enjoy, there is no harm in continuing on an enjoyed tradition when your child is an early teen.
Who is said to have originated the bedtime story?
It is hard to say, but the invention of the classic bedtime story is often credited to Hans Christian Anderson, who wrote a variety of short stories that kids can enjoy at bedtime. Some of his most famous works include the Princess and the Pea, The Ugly Duckling, and The Little Mermaid, all of which are read across the globe for children over 100 years on.