Last Updated on March 8, 2022
The take-up of simulator racing, or 'sim racing', is on the rise. In fact, the F1 Esports Series garnered a total of 11.4 million views in 2020 – a massive 99% increase on the previous year. So it's clearly a very competitive scene. Sim racing mimics real-world motorsport. It comes with a much lower barrier to entry than what you'd get with sports like Formula 1 or Nascar – hence its popularity. With gamers across the globe getting themselves behind the wheel, we're going to look at what you can do to put yourself above the competition – this is your sim racing guide. 
Games and platforms 
Before you start out in your sim racing joyride, you need to explore the games that are available to you. These will vary, depending on what your motorsport preferences are, and what platform you are most comfortable with. Here are just a few of the many racing games available on the market. 
F1 video game series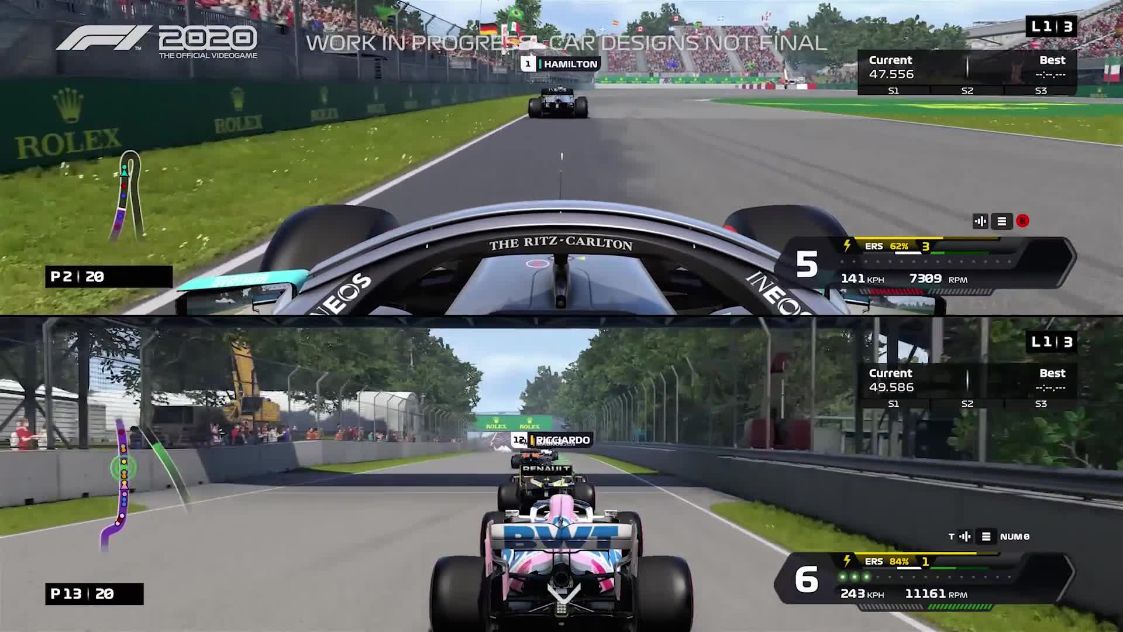 Available on: Microsoft Windows, Xbox, PlayStation, Stadia
Formula 1 fans are blessed with a video game series that releases a new title annually. Developed by Codemasters, who has become synonymous with racing games ever since unveiling F1 2009 in November of that year, the series has risen to huge popularity within the motorsports' community. Each title features all race tracks, 20 drivers, and 10 teams competing for the World Championship that season. For Formula 1 enthusiasts, this is a must-have. 
Assetto Corsa Competizione
Available on: Microsoft Windows, Xbox, PlayStation
Italian for 'Race Setup Competition', Assetto Corsa Competizione is developed by Rome based studio Kunos Simulazioni. Its predecessor, released in 2014, received critical acclaim with some calling it "one of the best simulators [they've] ever tried". So naturally, Competizione had some big shoes to fill. First released on PC back in 2019, console players were able to get their hands on the wheel in June of 2020. Featuring some of the most prestigious motorsport competitions like Total 24 Hours of Le Mans and the Blancpain GT Series, this game has made leaps and bounds in the esports scene. 
iRacing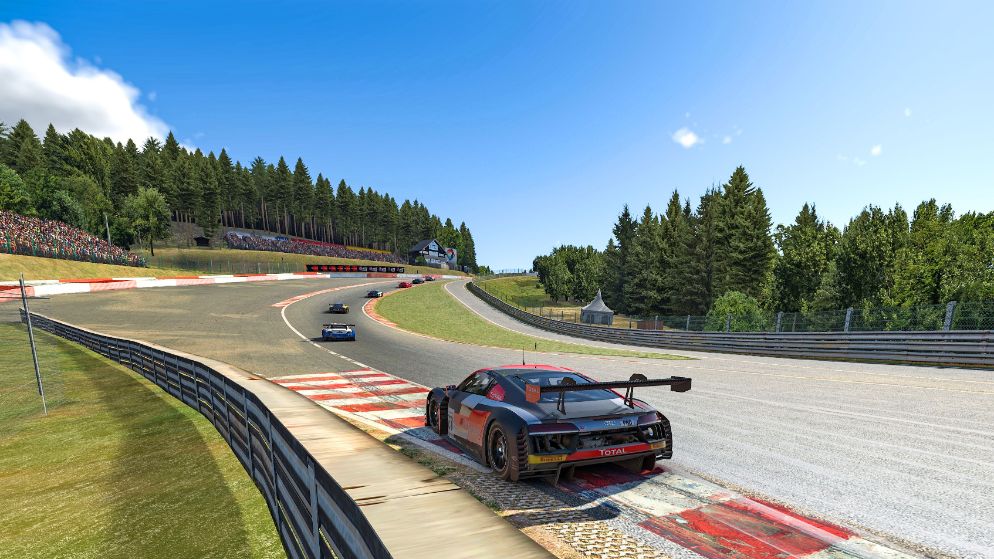 Available on: Microsoft Windows
iRacing is developed by the game's dedicated studio, iRacing.com Motorsport Simulations. A subscription-based video game initially released in 2008, it is exclusively for PC gamers. For over 10 years it has been running a professional esports series and the team prides itself on growing this category of sim racing. It is partnered with some of the biggest names in motorsport such as Nascar and Indycar, as well as some of the world's most infamous tracks such as the Nürburgring and the Daytona Speedway. This is one of the most popular sim racing games in the esports scene. 
Gran Turismo 
Available on: PlayStation
The Gran Turismo series has been a staple of sim racing since it made its debut in 1997. Since then it has gone to sell over 80 million units worldwide, making it PlayStation's highest-selling video game franchise. Each installment comes with a vast array of licensed vehicles; everything from Aston Martins to Lamborghinis. Over the years it has been praised for its excellent attention to detail, accurate driving physics, installments graphics.
Forza 
Available on: Xbox, Microsoft Windows
Exclusive to Xbox and Microsoft Windows (with a mobile version also available), Forza has become one of the platform's most popular series. Its popularity has continued to grow, with the latest instalment, Forza Horizon 4, sharing the highest-rated Metacritic score of 92 (with Forza Motorsport and Forza Motorsport 3). The series has a combination of real tracks like the Nürburgring and fictional circuits, with the most recent game featuring over 700 licensed cars.
Console or PC?
When it comes to deciding what system to go with, you've got to consider how much money you're willing to spend. If you're entirely new to sim racing perhaps it's best with going down the console route. The latest Xbox Series X and PlayStation 5 still have the specifications to offer a very good experience. However, you are limited in terms of the performance you'll get. 
For those fortunate enough to be able to splash the cash, let's consider the best sim racing hardware for you. If money is no objective you'll want a fully specced out gaming PC, with a minimum of 16GB of RAM because these racing simulators require a lot of power. A decent graphics card is a must – something like a GeForce RTX 3070 will offer the best experience. Likewise, for optimum performance, you'll want the best CPU – a Ryzen 5 5600X or Intel Core i7 10700KF will achieve this. 
Sim racing setup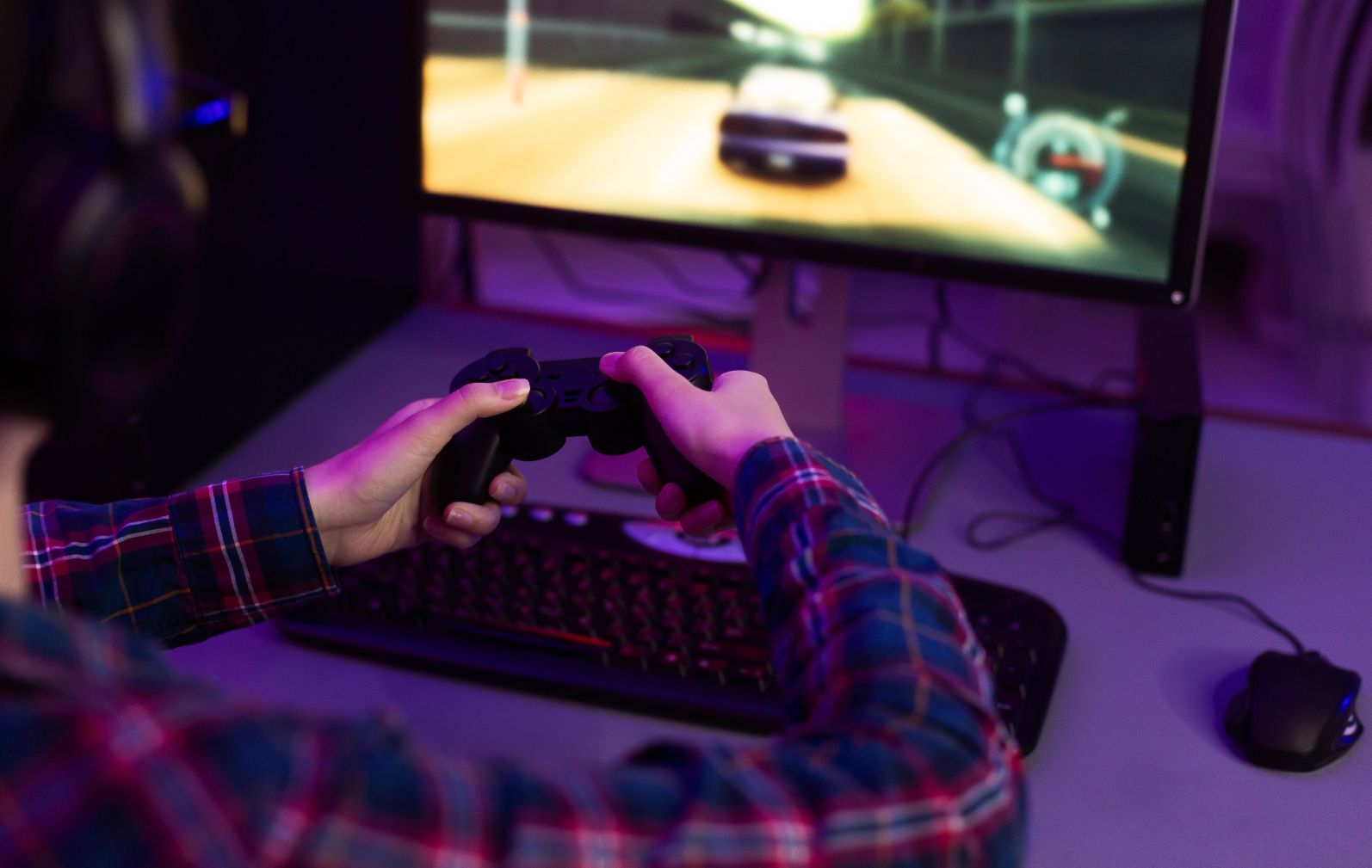 Now for the casuals among us a simple mouse and keyboard or controller will do just fine but if you're looking at taking your sim racing to the next level, you'll need a proper setup.
Steering wheel
A controller or mouse and keyboard will not give you the most control over your vehicle. This is why, whether playing on a console or PC, you'll need to find the right steering wheel. Equipped with pedals and gear shift, this will not only give you the most immersive experience but will also make you a better driver. 
You've got to strike the right balance between value for money and quality. Some really cheap steering wheels are simply terrible and will hinder your performance. On the other hand, you don't want to find yourself spending upwards of £500 if you're new to the scene. A reasonable price stands at around the £200 mark.  
There are so many sim racing entry-level peripherals available on the market that will help you get firmly to grips with the phenomenon of sim racing. Wheels such as the Logitech G920 Driving Force will do the trick with its great build quality, good value, and cross-platform compatibility. 
Sim rig
Simply put, you're going to need something to mount your steering wheel on. A desk will not be able to support it without wobbling all over the place. So you're going to need a rig for the most authentic sim-racing experience. It needs to be strong and adjustable to give you the perfect driving position. If you're just starting out then you should be able to get a decent sim racing rig for between £200 and £300. It may sound obvious, but make sure that you have enough space in your room to fit your rig. 
Sim racing seat 
For both comfort and the best sim racing experience, a good seat is crucial. They can either accompany your sim racing rig or simply be a part of your setup (not attached to your rig). Leading brands like Sparco, who also produce seats for Formula teams such as McLaren and Alfa, are a good choice but will come with a higher price tag. Those on a budget could opt to go with a Motamec – still a decent sim racing seat and you'll find yourself paying less. 
Monitor
Realistically, after buying the console or PC, the steering wheel, rig, and seat you're already looking at close to £1,000, perhaps more. You don't want to put it to waste by having a poor, low-quality screen. One of the most important things to consider when buying a monitor is its refresh rate – ideally you'll want one that is 144Hz or higher. You could also opt to go with an ultra-wide monitor or a triple monitor setup to give yourself the most immersive sim racing experience. 
Summary
So that's it, the ultimate sim-racing guide. Now that you're on your way to becoming a sim racing professional, what game are you going to get hands-on with? Remember, if you're looking to get the driving experience, you're going to need a proper setup – one that will have you weaving through the racing positions and into first place!