Last Updated on March 3, 2023
Who Is Bernie Sanders?
Bernard Sanders, popularly known as Bernie Sanders, is an American politician who's currently serving as the junior U.S Senator for the state of Vermont, a position he has held since 2007. He also served as the U.S Representative for Vermont's at-large congressional district from 1991 to 2007.
Bernie Sanders holds the record for the longest-serving independent in the United States congressional history. But while he is an independent, Mr. Sanders has maintained a close rapport with the Democratic Party. He has unsuccessfully tried to win the party's nomination for the president of the United States twice (2016 and 2020).
Throughout his long and illustrious career in American politics, Bernie Sanders has successfully branded himself as a staunch advocate for social and economic equality. He is an outspoken critic of neoliberalism.
Some of the domestic policies that Mr. Sanders supports include:
• Labor rights,
• Paid parental leave,
• Tuition-free tertiary education,
• Universal and single-payer healthcare, and
• Eco-friendly and sustainable job creation policies
On the international front, Sanders has always been a strong advocate for environmental conservation, enhanced international diplomacy and cooperation, and reduced military spending. Bernie Sanders' socio-economic and political ideologies have earned him incredible popularity, not only within the U.S but also across the borders.
Quick Facts
| | |
| --- | --- |
| Full Name: | Bernard Sanders |
| Popular Name: | Bernie Sanders |
| Gender: | Male |
| Birth Date: | September 8, 1941 |
| Age: | 81 years |
| Parents: | Elias Ben Yehuda Sanders and Dorothy Sanders |
| Siblings: | Larry Sanders |
| Birth Place: | Brooklyn, New York |
| Nationality: | American |
| Ethnicity: | Jewish |
| Education: | James Madison High School, Brooklyn College, and the University of Chicago |
| Marital Status: | Married. Previously married to Debora Shiling (1964 – 1966) |
| Sexual Orientation: | Straight |
| Wife/Spouse: | Jane Sanders |
| Children: | Levi Sanders (with former girlfriend, Susan Campbell Mott) |
| Dating: | N/A |
| Net Worth: | 3 million |
| Source of Wealth: | Politics and Related Activities, Real Estate, and Other Ventures |
| Height: | 6′ 0″ (1.83 m) |
| Weight: | 79 kg; In pounds: 174 lbs. |
Early Life and Career Information
Bernie Sanders was born on September 8, 1941, in Brooklyn, New York City, to Elias Ben Yehuda Sanders and Dorothy Sanders. Sanders attended the James Madison High School before proceeding to Brooklyn College and then the University of Chicago. He graduated from the University of Chicago in 1964 with a Bachelor of Arts degree in political science.
Bernie Sanders became interested in active politics at a very young age. Having lost some of his relatives to the Holocaust, Mr. Sanders began to appreciate the importance of progressive politics.
During his years in high school, Sanders frequently organized protests against racial inequality and violent ideologies. He entered mainstream politics in 1968 after settling in Vermont.
In 1981, Bernie Sanders was elected mayor of Burlington on an independent ticket, and was reelected a record three times. In 1990, he became Vermont's at-large congressional district representative at the U.S House of Representatives.
Sanders held that position for 16 years and in 2006, he was elected the Senator for Vermont. Sanders was re-elected to the Senate twice (2012 and 2018), winning a near-landslide victory each time. He has since vied unsuccessfully for the Democratic Party nominations for the President of the United States.
Bernie Sanders' Net Worth
As of 2023, Bernie Sanders had a net worth of $3 million. He has earned much of his wealth from salaries and book royalties.
The following is a highlight of Bernie Sanders' annual earnings over the years:
• Earned $33,700 annually working as the mayor of Burlington, Vermont, from 1981 to 1989,
• Earned between $90,000 and $140,000 annually working as a U.S Congressman from 1990 to 2005, and
• Earns $174,000 in annual salary working as a U.S Senator from 2005
Bernie Sanders has acquired much of his wealth recently. In fact, as recently as 2016, Sanders was ranked as the 19th-poorest congress member. And going by his 2015 financial disclosure, Mr. and Mrs. Sanders had a total of $750,000 in assets. Collectively, the couple earned between $250,000 and $300,000 annually at the time.
However, Bernie Sanders' fortunes changed significantly soon after he published a book titled Our Revolution in 2016. The book shares his campaign experiences and details his progressive agenda for Americans.
In 2016, Bernie Sanders earned at least $1 million, then another $1.1 million in 2017. In each of these years, Bernie reportedly earned an estimated $800,000 in book advances and royalties alone. In addition to Our Revolution, Bernie Sanders has published two other books that have contributed significantly to his total net worth.
They include:
• Guide to Political Revolution – The book challenges the younger generations to actively fight for a progressive socio-economic, environmental, and racial agenda.
• Where We Go From Here – The book captures what Bernie Sanders has been up to from the 2016 elections to 2018.
In terms of real estate, Bernie Sanders and his wife, Jane Sanders, own three homes. That includes their 4-bedroom home located in Chittenden County, Vermont, that the couple acquired in 2009 for $405,000. The home is currently valued at more than $440,000.
Other properties by the Sanders include:
• A townhouse in Washington D.C that the couple acquired in 2007 at a cost of $488,999 and
• A vacation home located in Lake Champlain, Vermont, purchased in 2016 at a cost of $575,000
In addition to salary, book royalties, and real estate, Bernie Sanders also earns significantly from speaking engagements. The politician is not such a lavish spender, something that fits perfectly within his economic ideologies. Instead of splashing on luxury cars and private jets, the Sanders prefer to donate to charity.
Life Lessons from Bernie Sanders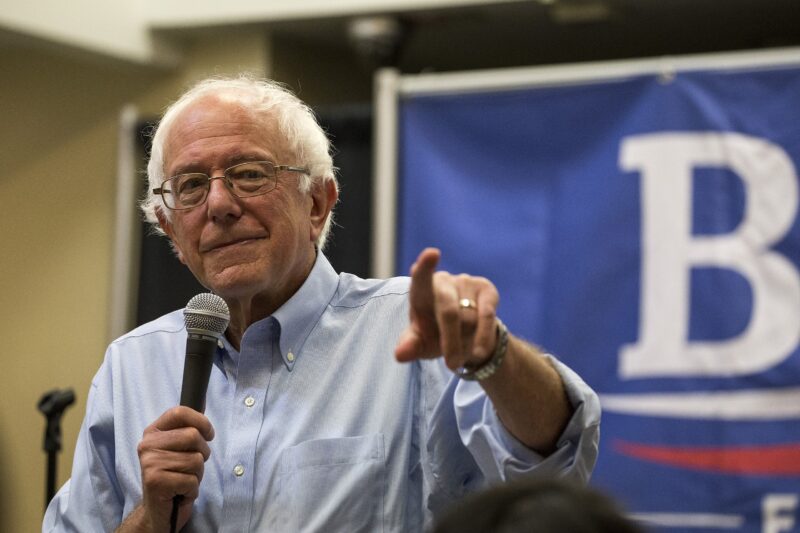 1. Practice what you preach
Bernie Sanders is not only a strong believer in social and economic equality. He actively advocates for these ideologies.
2. You're never too young to call out injustice
Bernie Sanders began speaking out against social injustice during his high school years. And he has never stopped despite being relatively advanced in age.
3. Collaborate with like-minded individuals
Though Bernie Sanders has spent his political career as an independent, he has maintained a close relationship with democrats.
Quotes by Bernie Sanders
"A job should lift workers out of poverty, not keep them in it."
"It's time to make our government work for all of us… and not just the 1%."
"Let us wage a moral and political war against the billionaires and corporate leaders, on Wall Street and elsewhere, whose policies and greed are destroying the middle class of America."
"The rich people are apparently leaving America. They're giving up their citizenship. These great lovers of America who made their money in this country-when you ask them to pay their fair share of taxes they run abroad. We have 19-year old kids who lost their lives in Iraq and Afghanistan defending this country. They went abroad. Not to escape taxes. They're working class kids who died in wars and now billionaires want to run abroad to avoid paying their fair share of taxes. What patriotism! What love of country!"
"There is something fundamentally wrong about the way we [Americans] are moving as a country, when billionaires are able to buy elections as a result of Citizens United. There`s something fundamentally wrong when 99 percent of all new income goes to the top 1 percent."
Conclusion
Bernie Sanders is one of the most inspirational American politicians of his generation. His belief in progressive ideologies is captured both in his personal and public lifestyle.