Last Updated on January 24, 2023
Do you need stunning art for the computer game that you're creating? Or do you want an oil painting to come to life – you have the vision in your mind but you don't have the time or experience to put it onto canvas?
Thanks to free text-to-image generators, you no longer have to hire freelancers to do the work for you. These generators can give you relevant art in seconds. So, what are you waiting for? We found the top ten AI tools that are easy to use and capable of taking your personal art or business graphics to the next level!
Best AI Image Generators
Please note: These tools aren't ranked in any way. We're just showcasing every option available at the moment. Each tool has its own pros and cons. It's up to you to try them all and find which one works best for your needs.
Midjourney is an independent research lab exploring new mediums of thought and expanding the imaginative powers of the human species. Midjourney is, in our opinion, the best AI image generator out there. This self-funded project can be used to generate phenomenal pieces of art. So beautiful that I got carried away and spend about 2 hours playing around with this tool. Midjourney is hosted on a Discord server. So you'll need to create a DIscord account to use this tool. To generate images all you have to do is write command. The only limit is your imagination.
For inspirational purposes you can check out their community showcase to see some of the best images generated using Midjourney.  They offer everybody a free trial version, once that's used up you can upgrade to a paid version. They offer monthly and yearly plans. You will save more money if you go for the yearly plan by the way. 
Examples
Here are a few images we generated using Midjourney. For most of these we used basic prompts like; "luxury tropical villa with a swimming pool during dusk." You can check out this incredible resource of MidJourney styles and keywords references to generate advanced images.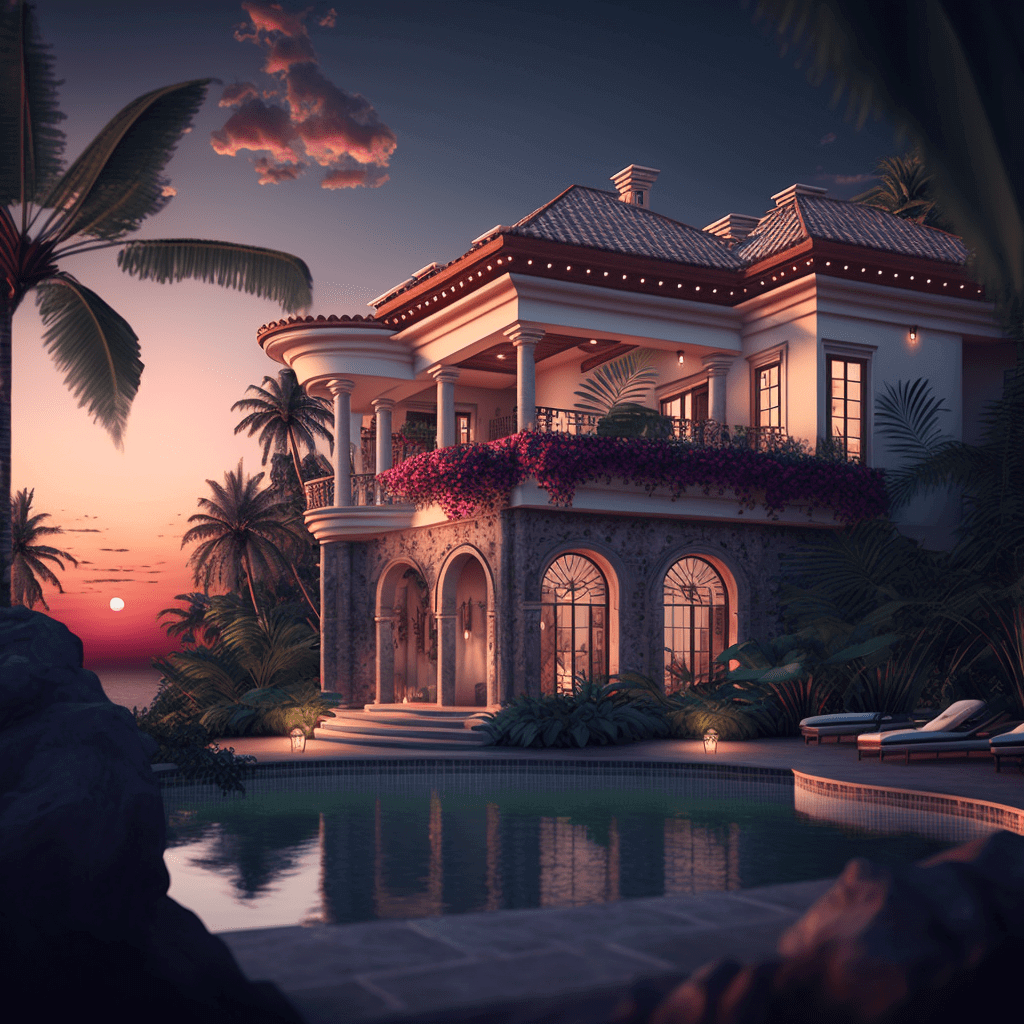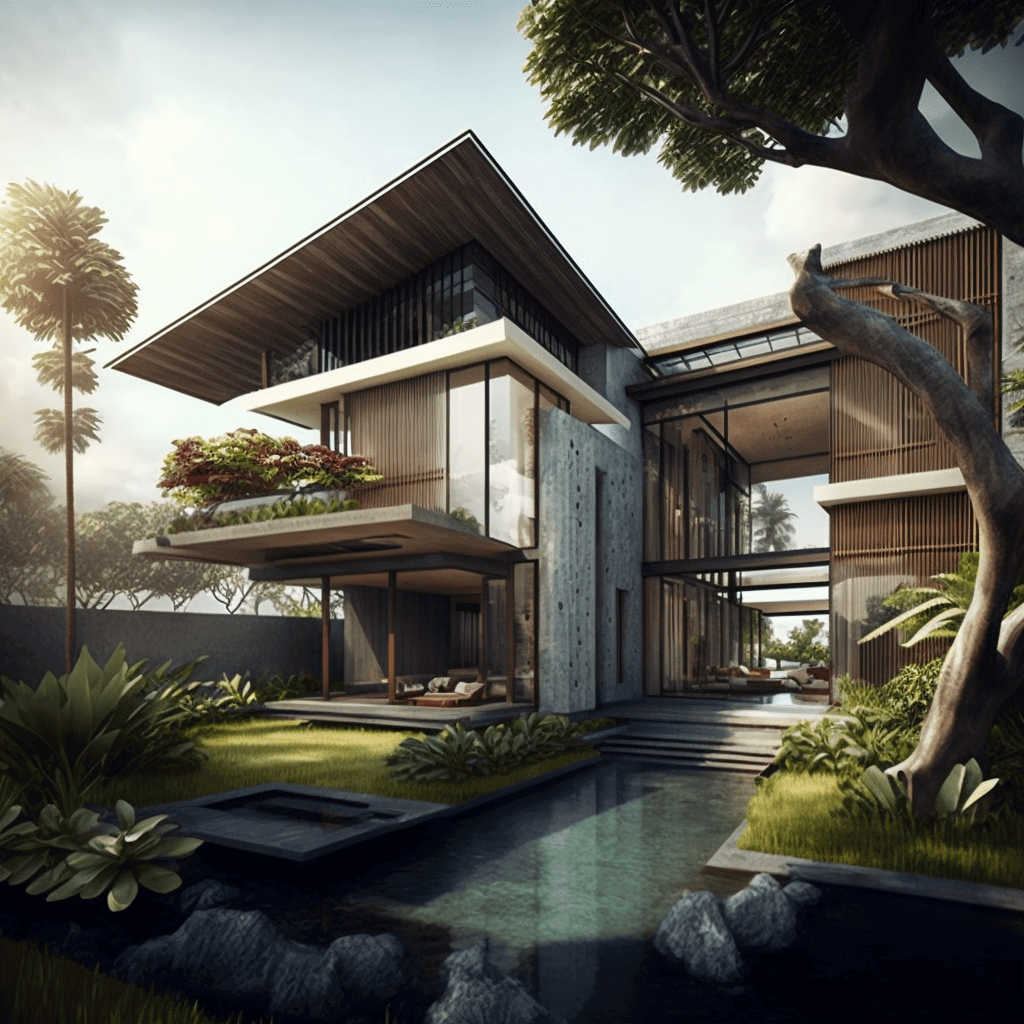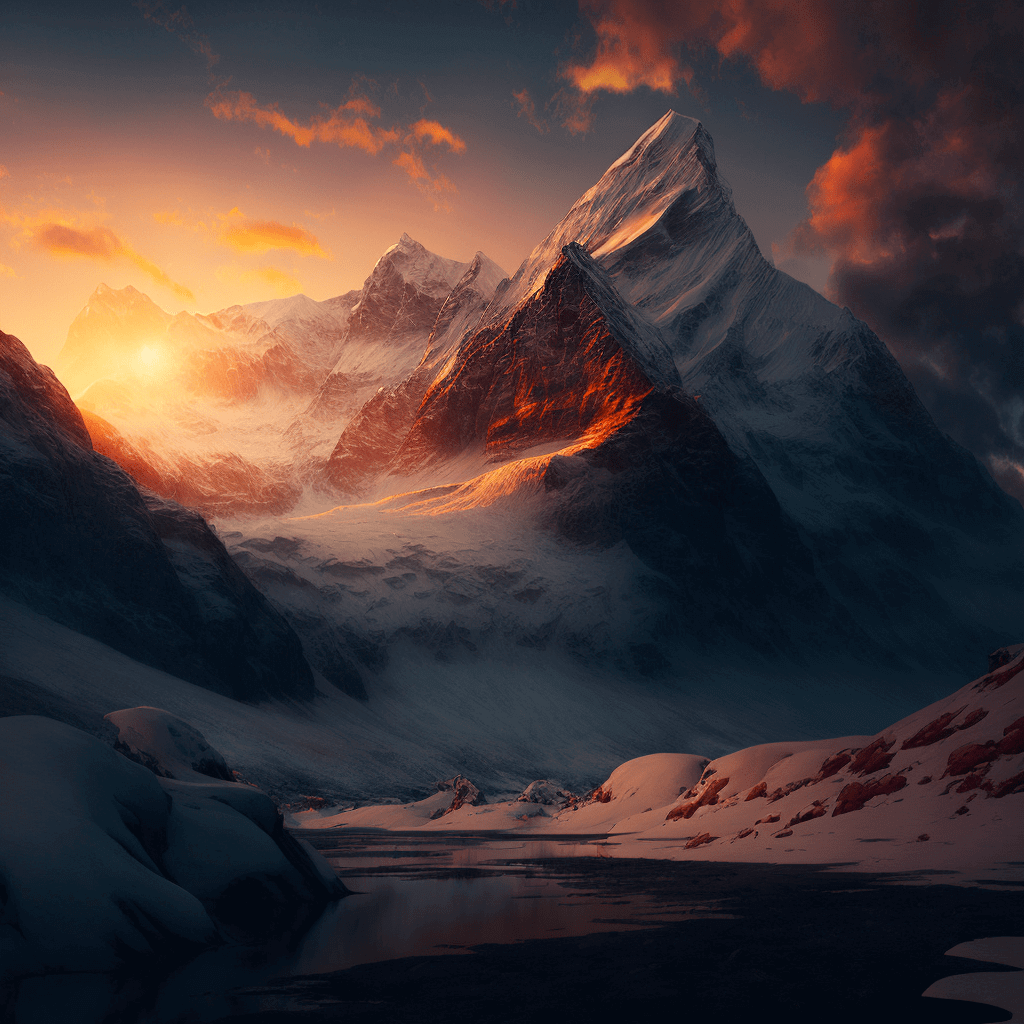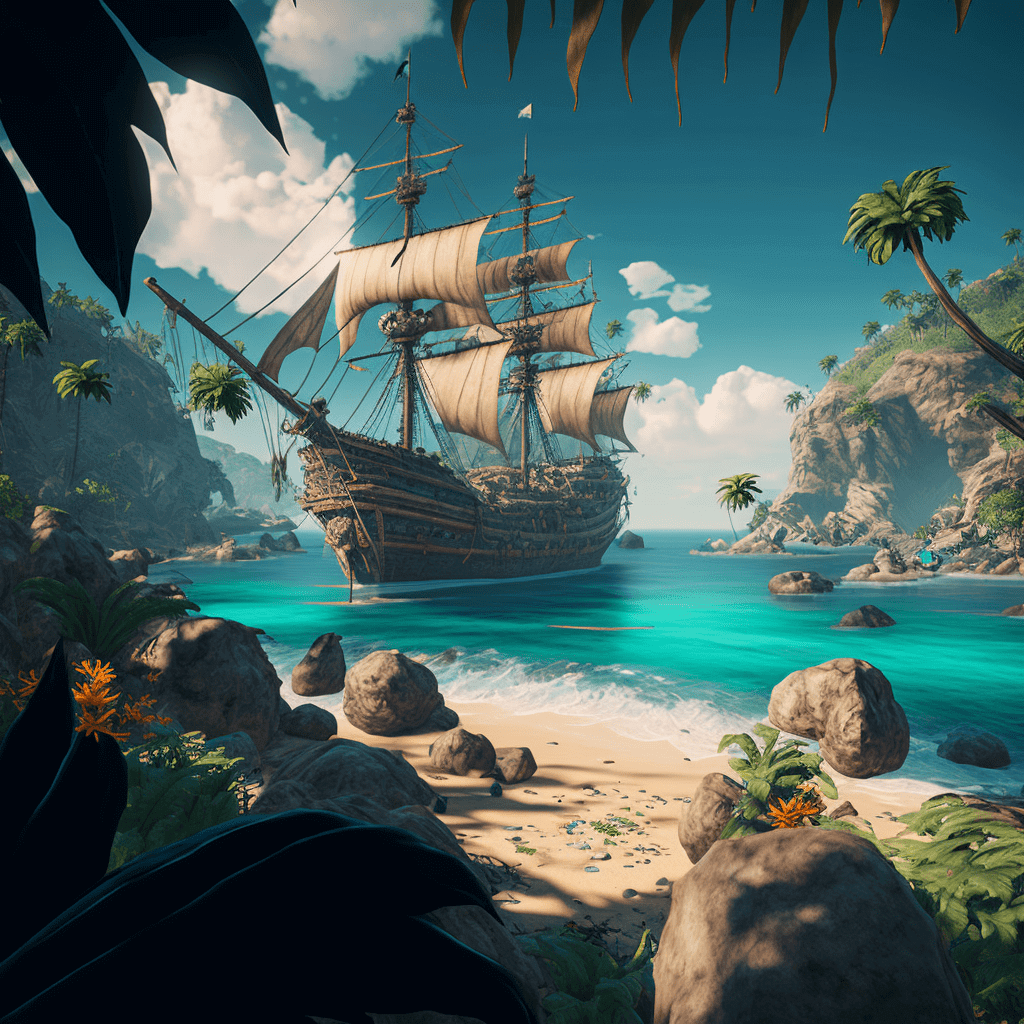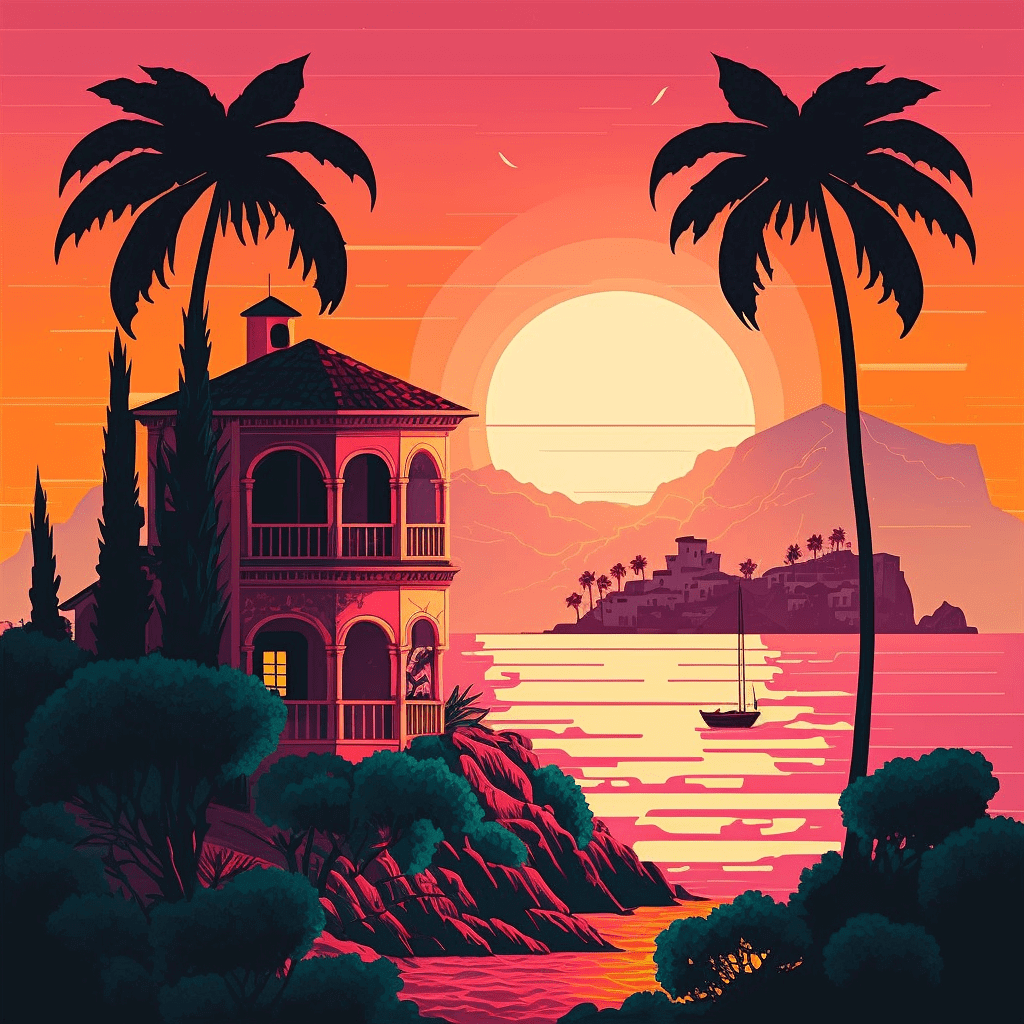 DALL-E 2 is arguably the best ai image generator on the market today. It's developed by the same team behind ChatGPT, a natural language machine learning algorithm, which you may have seen in the news recently.
You can use DALL-E 2 to create mind bending images. Honestly the only limit is your imagination. If you need help generating unique piece of art, there are dozens of forums and special websites where people share custom-made prompts.
Deep Dream Generator provides you with an amazing toolbox to create mind-blowing art pieces. You can choose from famous painting styles, photorealistic images, fantasy art, and even videos – all incredible end results that began as a simple line of text. 
However, Deep Dream Generator has a speed bump that might kill your joyride and that's the interface's steep learning curve. Unlike some of the easiest AI text-to-image generators, where you simply add text and convert it into a picture, this AI platform works a little differently (but we feel it's worth the trouble!). 
Deep Dream Generator is not technically a text-to-image generator. You need to have a photo or visual art piece handy to give the AI something to work with. Together with a text description, you also need to toggle the settings to tell the generator what you want. Even then, be prepared for something that's more abstract than super realistic. That being said, Deep Dream Generator can create truly jaw-dropping art once you get the hang of it.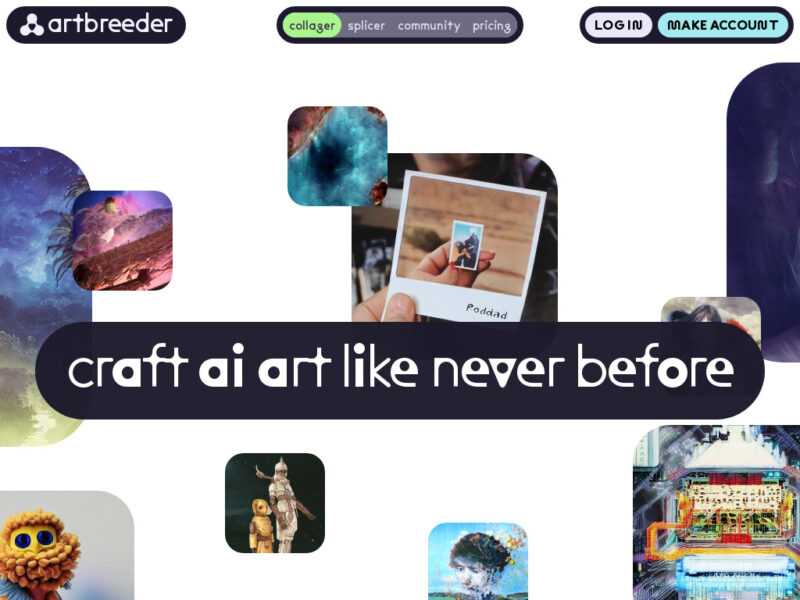 Artbreeder has free and paid options. As a free member, you can create unlimited images! So… what's the catch? Well, paid members experience no waiting time for their images to generate, they get higher resolution, a bigger video creation capacity, and the ability to sync with Google Drive. However, if you just want to create unlimited images and you don't mind waiting for them to generate, then Artbreeder can be an amazing companion to take along on your personal art journey. 
You can choose between different styles including realistic, abstract, and collages. You can even combine two images to get a whole new picture (we guess that's where the "breeding" aspect comes in!). The interface is also exceptionally easy to learn and use, making this AI generator a great first stop for beginners.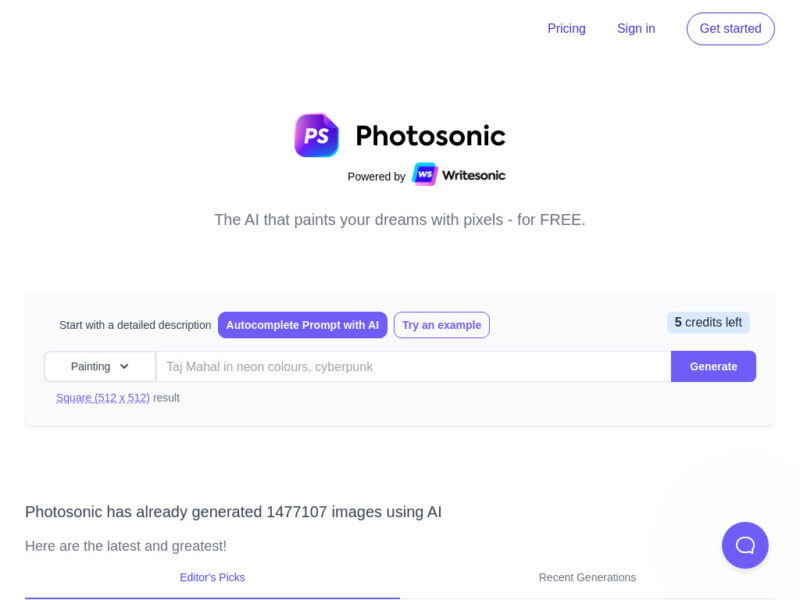 Photosonic is a great option if you don't want to install anything or create an account. You can simply hop onto the site and start using the AI generator straight away! No membership or payment is required. 
This generator can whip up cartoons, abstract images, realistic pictures, and even paintings. Overall, Photosonic creates pretty decent and sometimes spot-on results – two features that make it hugely popular with artists and content creators alike. Perhaps the best thing about this AI generator is how easy Photosonic is to use. There's no steep learning curve or annoying settings that make the results worse (you know the type!)
But sadly, nothing is perfect. One thing that users don't like about Photosonic is that the AI leaves a watermark on all images. There is no way that you can remove this mark, so it's pretty useless for commercial purposes or any other project where you cannot use an image that is watermarked, for that matter. The settings are also limited and you can only save your image in a 1:1 format. This is not ideal if you are looking to create things like banners or posters. 
Craiyon is another superb choice if you hate registrations, logins, and memberships. Using Craiyon is as simple as going to their website, entering the text describing your ideal image into the text box and the AI will generate several images for you to choose from. Some might appear a little wonky, but there are gems that one cannot overlook! If your perfect picture did not appear in the first batch, then you can generate another – or as many as you need. 
Craiyon is also absolutely free, so you don't have to worry about payment, or even waiting. Picture generation usually happens instantly but it can also take as long as two minutes. 
Bear in mind that any images you create via the Craiyon AI generator are only for personal use. You are not allowed to sell the images or use them for your business. If you just want to relax by creating a few images, then make sure to give Craiyon a try!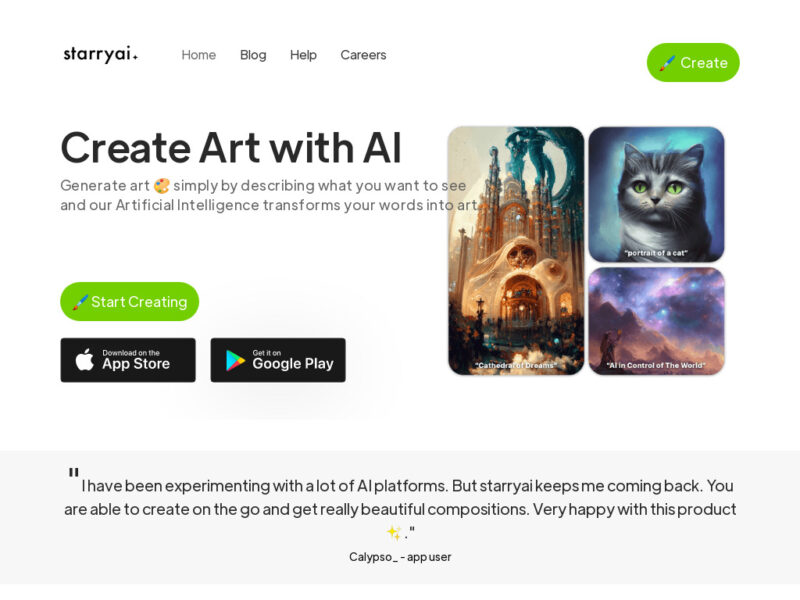 There are a lot of good things to be said about this AI generator. First off, if you are not in the mood for a complicated interface, then step closer! StarryAI is so user-friendly, it's dreamy. But that's not the only good thing that you can look forward to. One of the best perks includes watermark-free images that you are welcome to use for commercial or business purposes! 
You can also choose between different art styles, use the software on your phone (for those days when you are on the go), and select different aspect ratios. The only small drawback with StarryAI is that you can only create five free images every day. This is actually not that bad. But if you like the results as a free user and would like to create more than five art pieces daily, then you can opt for a monthly plan.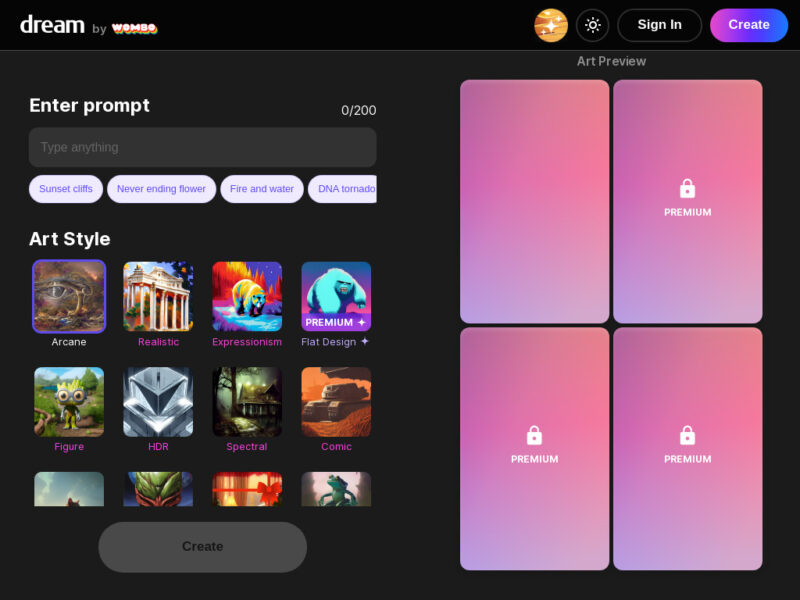 You can create amazing art with Wombo Dream's AI generator. Although you must create an account and log in, the features of this site are very user-friendly. Beginners and more experienced AI artists alike can use this platform to create amazing paintings, abstract images, and more. In order to create an image, you simply enter a description and choose a style (there are currently 26 available). Wombo Dream will do the rest. 
You can also use this AI as an app on your phone or tablet. Although you get unlimited free image generations, if you want a framed print of your picture, then you will have to fork out between $35 and $100. The price variation is based on the size of the print and the style that you chose.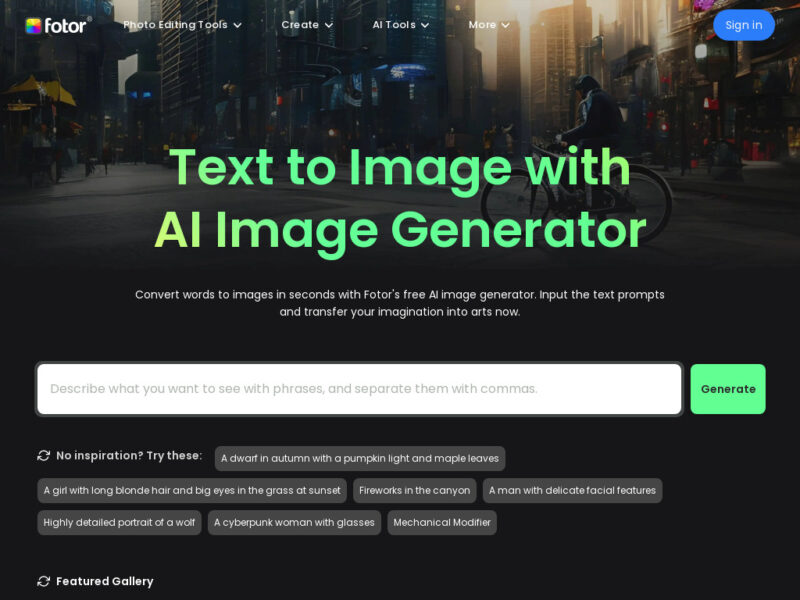 Fotor has been around for a while and offers a host of free services to users. From conversions to photo editing, Fotor offers it all. More recently, it added an AI image generator to its impressive list of free tools. Let's see what you can expect. First off, the interface is quick and easy. Fotor stuck to the popular formula that made other text-to-image generators so successful and that is to provide a text box that almost instantly turns your words into an image. 
Fotor's generator allows you to craft beautiful images that are realistic, fantasy-based, paintings, digital art, and even 3D or anime characters. Here's the best part! You can export any image that you generate in full resolution, meaning that you can create and download the best images one can hope for! Oops, we almost forgot – you can only create ten free images every day. But given the ease and quality of this generator, we're sure that this limit will never be a dealbreaker!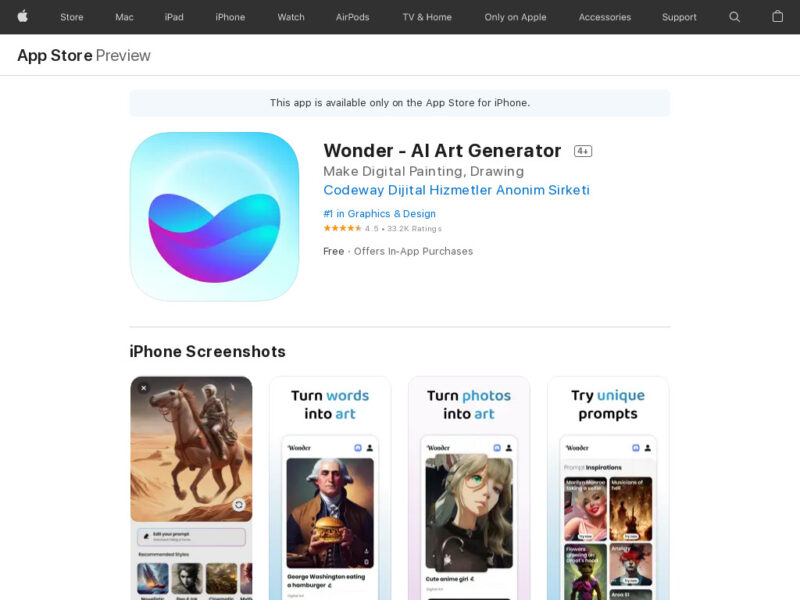 Are you looking for a great app to use on your Android or iOS device? Wonder AI has a lot of fans and it's not hard to see why. Besides giving busy, on-the-go individuals the time to craft art no matter where they are, other features also make this generator worth a try. The creation process is simple. Simply add your text, choose a style, and create. The styles are some of the most artistic out there and include winners like Pen and Ink, Cinematic, and Mythological. 
You are free to create as many images as you wish. But there is a catch (sigh). Before you can make your next image, you have to watch a 30-second ad all the way through. Every time. As annoying as this can be, the quality of Wonder AI makes up for this hiccup in spades. If you simply cannot stand ads, Wonder AI has a premium option that will remove them.
Other great features include an accurate AI understanding of your text, easy installation, and the ability to publish or share your work.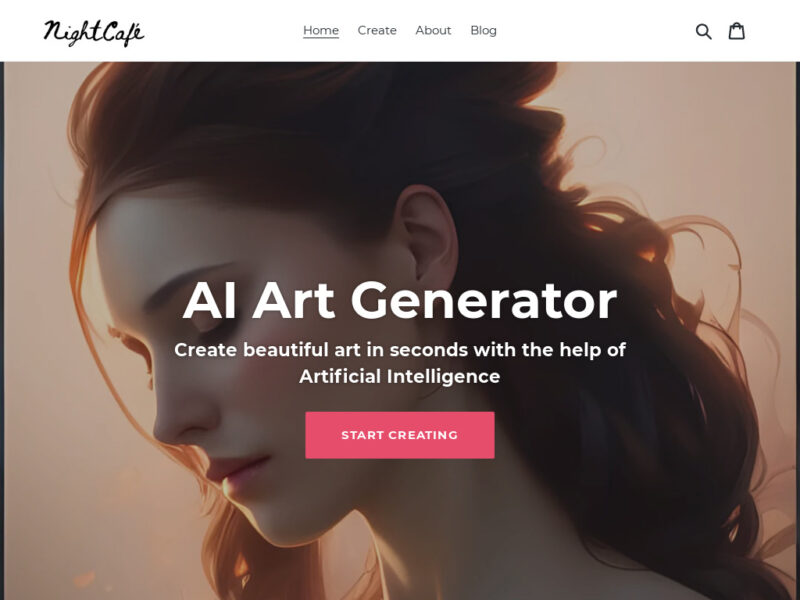 Nightcafe Creator is not exactly free but if you are of the patient sort, you might be able to create all the artwork you need without spending a dime. You see, this platform allows users to create up to five images every day and they won't charge you. The software produces amazing images and even better, there are numerous styles that you can choose from. Nightcafe Creator also allows you to turn your favorite photos into artwork. 
Another perk that this site offers you is printing. Should you desire a physical print of your creation, say, to hang on your bedroom wall, then you can order it from Nightcafe and pay a small fee. At the end of the day, we really liked this generator for its versatility. Indeed, you can use it to create art for fantasy genres, business posters, Van Gogh art, and more. The details of some of the artwork are insanely stunning!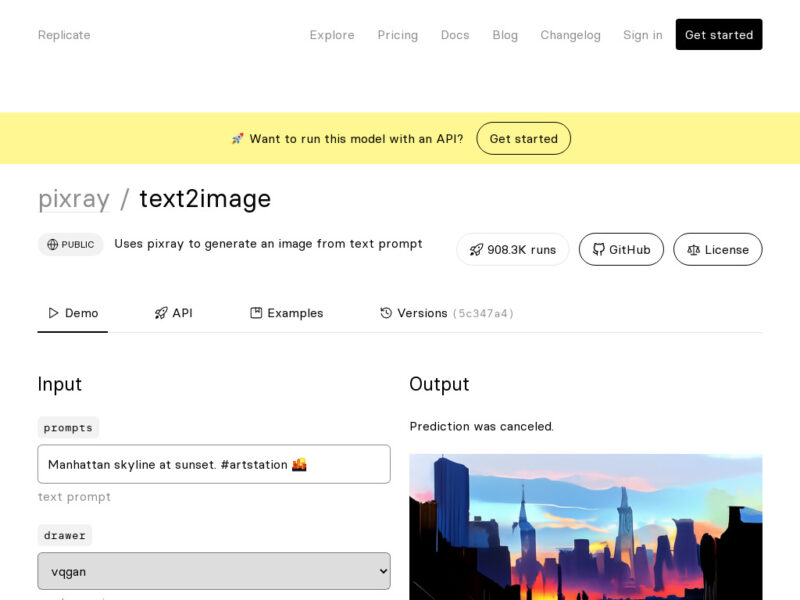 Pixray is a good choice if you are looking for a way to turn your text into art-like photos. However, be warned that this AI is still struggling with a few things. Oh, no! What things, exactly? Don't worry, we'll cover both the good and the bad in this quick review. Let's start with what we like about Pixray. Well, it's free and there is no limit to how many times you are allowed to use it. So, go bonkers! It's also simple to use. You just enter words into the text box and Pixray will instantly create an image for you. But here's where things get hairy. 
Pixray is notorious for not creating good art the first time or even the second time around. Adjusting the settings might help but be prepared to tweak the inputs until this AI gets it right! At the end of the day, if you want a free AI generator that creates attractive paint-style photographs and you don't mind spending five or six minutes getting the image right, then Pixray is certainly worth a shot. 
FAQ
Q: How do text-to-image generators work?
These generators don't all work the same but most are driven by artificial intelligence software or neural algorithms. These generators are also often "trained" by real artists or coding experts who feed them artwork (and other details) in order to make their outcomes more accurate. 
Q: Who uses text-to-image generators?
Contrary to what one might think, these AI generators are not exclusively used by those who cannot create art. Such art platforms are heaven-sent for artists, content creators, and even businesses who need to create beautiful or professional work in the shortest time possible – and in some cases, for free. 
Q: Are all generators free? If not, what's the difference?
No, not all text-to-image generators are free. There are a lot of free options available but many of them are frustrating to work with or produce poor-quality images. Although several free generators are excellent, paid options usually remove annoyances like ads and creation restrictions. Premium generators are also generally known for higher-quality images, making them a better option for commercial purposes. 
Q: Will AI art make real human artists obsolete?
It might seem that way but no! AI artists and software are riddled with glitches and cannot always compare with the skill and personal touch that a human artist brings to the table. Even if AI art generators become flawless, there will always be a demand for art created by people because art lovers appreciate the time, thought, and effort that a living artist put into their work.
Q: Is it legal to pass an AI-generated image off as your own?
The quick answer is yes. However, to avoid future trouble ensure that you do not make false claims. It's fine to sell the image or use it commercially but it's not wholly appropriate to pass the image off as something that took you hours to create in a digital studio. If you're looking to build a good customer base for your images, it might pay off to be honest with them about how the image was created and give them a fair price. 
Q: How do I remove watermarks from my AI-generated images?
There are free platforms online that can remove watermarks but few are actually any good. The best option is not to use a text-to-image generator that stamps all images with a watermark. There are plenty of these generators that do not use watermarks, so pick one of those instead. That way, you can generate a clean image that is suitable for commercial use.