Last Updated on March 9, 2023
Integrating relevant images into your content is considered one of the most effective tips for writing a compelling post.

Photos have a way of boosting user experience and minimizing the scourge of bounce rates. They can also drive a point where mere words wouldn't suffice. And did you know that search engines actually trawl the internet to index images? Therefore, the right photo can improve keyword prominence, thereby assisting your content to rank higher on search engine result pages (SERPs).

But sometimes, you simply cannot find an image large enough to go with your post. When this happens, your first instinct may be to hold down the Ctrl key as you turn the wheel of your mouse outward or the Windows key as you press the plus (+) sign. However, this method may yield a bigger picture but not necessarily a clearer one. What you really need is to upscale the image using an image upscaler tool.

Upscaling is a term for enlarging an image without losing its original quality. Image upscalers ensure that the core details of an image are either kept intact or, where possible, improved. The goal is to make the final outputs presentable in larger formats.

In this post, we introduce the 12 best image upscaler tools that use artificial intelligence (AI) to boost your image's appearance and detail.
Pricing: Paid plans start from $99.99/month; a free trial available

Many AI image upscalers can enlarge photos only up to around 300% of their original size. However, Gigapixel AI has upscale capabilities up to 600%. But that's not all.

Gigapixel is also effective at reducing noise and motion blurs. The tool's AI image upscaler has been pre-trained with millions of online images. As a result, it has learned numerous image-editing concepts like noise and blur, enabling it to create accurate results each time.

The only notable drawbacks to Gigapixel AI are its rather costly plans and the fact that you need to sign up to enjoy the free trial. Also, unlike many AI image upscalers which you can use online, Gigapixel exists primarily as a downloadable application. The app is compatible with Windows and macOS but not Linux.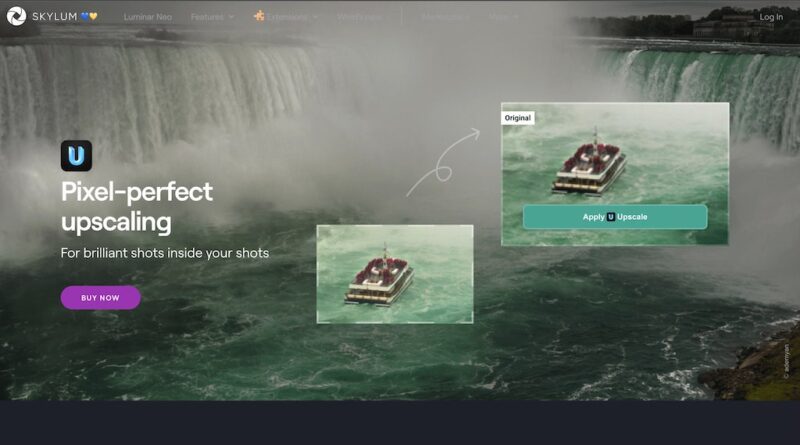 Pricing: Plans start from $49/month; a 30-day money-back guarantee available

Luminar Neo Upscale AI by Skylum doesn't come with a free plan. And the premium bundles start from as high as $49/month.

But before you dismiss this AI image upscaler as too costly, you may want to check out some of its signature offerings. The most outstanding of those features is a host of image-editing tools that ensure your photos maintain their clarity and credibility even in their enlarged forms. Luminar Neo works on multiple devices and operating systems. You can use the photo enlarger on both PC and macOS to upscale images to resolutions up to 6x.

While Luminar Neo has no free plans, there's a 30-day money-back guarantee. This lets you try the program for a month and determine its suitability for your needs before committing fully to it. 24/7 customer support ensures all your queries are addressed regardless of the time of day.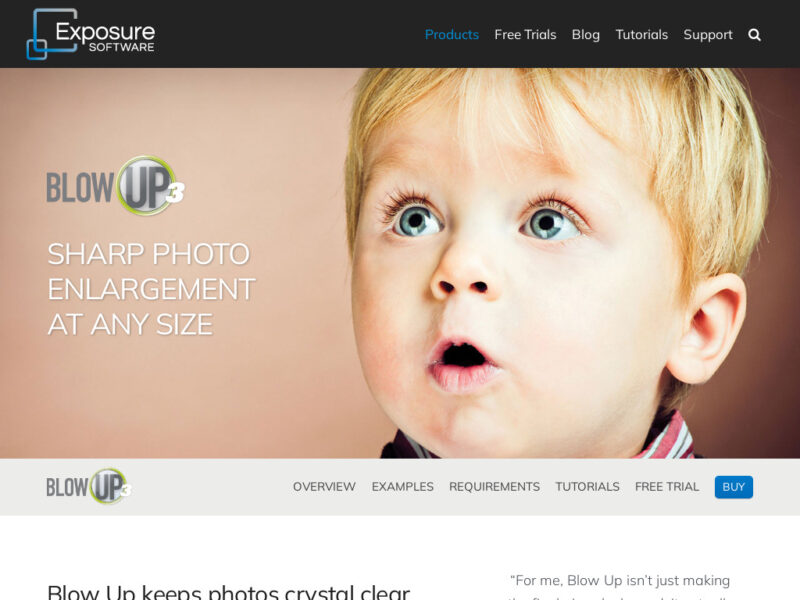 Pricing: Paid plans start from $79/month; a free trial available

If you've used Photoshop before, then you might already have some idea about Blow Up 3. That's due to the near-similarity between the two photo editors.

Blow Up 3 is a product by Exposure Software designed to upsize photos without compromising their detail and sharpness. According to its developer, Blow Up 3 is capable of enhancing image edges without using computery artifacts. Images can be enlarged up to 400% regardless of their original size or resolution.

A clean interface, free editing tutorials, and compatibility with both Windows and macOS make Blow Up 3 an AI image upscaler worth trying out.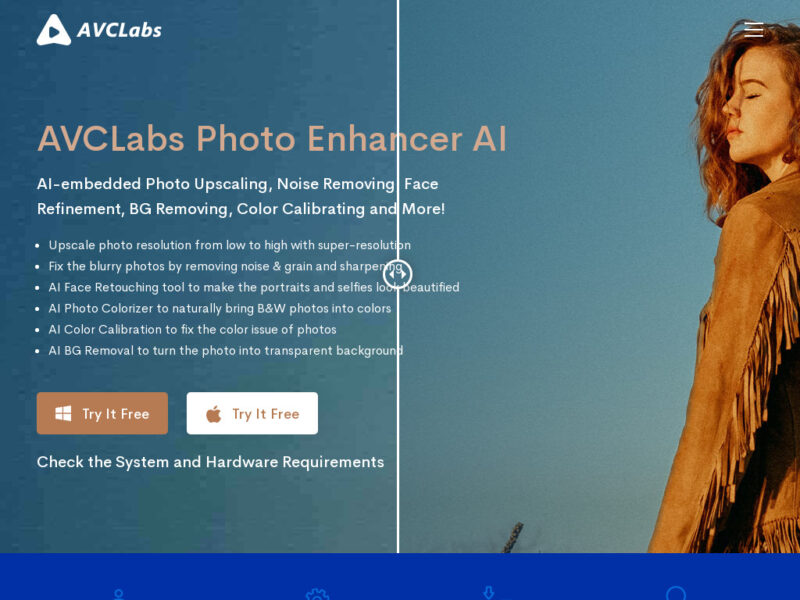 Pricing: Paid plans start from $19.95/month; a free trial available

Very few AI image upscalers beat AVCLabs in terms of photo editing features. This image enlarger comes with many advanced tools, including grain removal, noise removal, and color calibration.

Take advantage of AVCLabs' color calibration to fix color issues while enlarging your photos. There's also a photo colorizer to convert your black-and-white pictures into colored ones. A background removal tool helps strip your images of unsightly backgrounds.

But perhaps the best of AVCLabs' editing features is a face retouching tool for converting portraits and selfies into beautiful pictures. And like Blow Up 3, AVCLabs is compatible with Windows and macOS.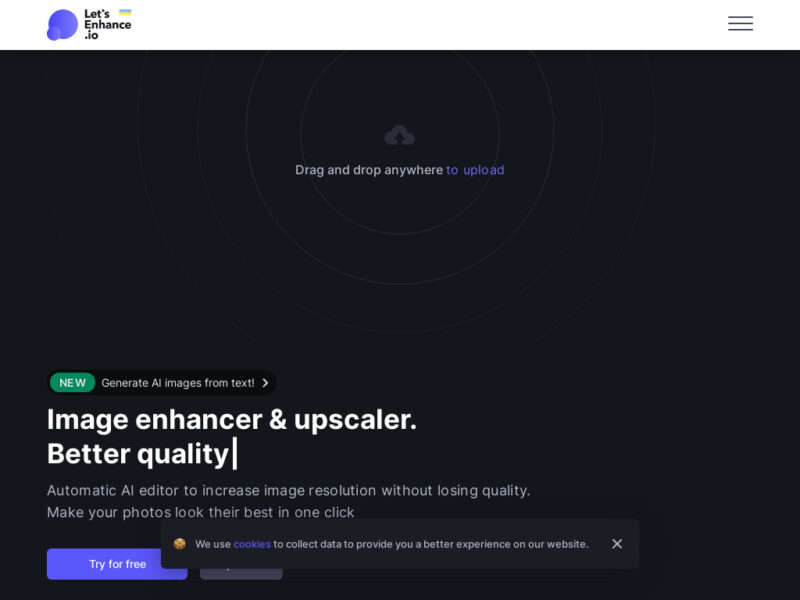 Pricing: Paid plans start from $9/month; a limited free version also available

Let's Enhance provides image upscaling services that are somewhat similar to those offered by Upscale Media. Not only does this program help you enlarge small photos for better presentation. It also maintains a slew of editing features that you can use to remove blurs to enhance the clarity of your images even further without losing its quality.

Let's Enhance maintains an easy-to-use image upscaler that works by a drag-and-drop function. You can upload images directly from your device or import them from the cloud.

The image upscaler has a basic plan that comes free of charge and supports upscale of up to 10 images. There are also several premium bundles as well as a pay-as-you-go plan that starts at $9.
Pricing: Paid plans start from $0.10/image; a limited free version also available

Stockphoto.com uses advanced artificial intelligence to enlarge and enhance photos. It's one of the few AI image upscalers that are remarkable at eliminating motion blur.

The software primarily works online and the upscaler feature is readily available on its website. It's compatible with all major operating systems and browsers, including Windows and macOS as well as Firefox, Google Chrome, and Safari. Besides, you can get your enhanced resolutions in multiple file formats, ranging from JPG and PNG to WebP and BMP.

Like Let's Enhance, Stockphoto.com's free version entitles you to 10 image upscales. Upgrading to the premium plans lets you unlock advanced photo enlarging features.
Pricing: Paid plans start from $2.90/month; a free version also available

Hostinger is a household name in the web hosting industry. Its core offerings include website building and domain resell. In the recent past, the Lithuanian-based company has also become known for its image upscaling product – Zyro.

Zyro by Hostinger enhances the quality of your image in a single click. The process is straightforward and takes place entirely on the software's official website.

Zyro is mostly a premium AI image upscaler. But the tool is highly affordable, with plans starting from as low as $2.90. Some of the common features across all packages include a free domain valid for up to one year, a free custom email valid for three months, and managed cloud hosting. You could also start off with Zyro's free version which comes with limited features. Free users need not sign up for an account.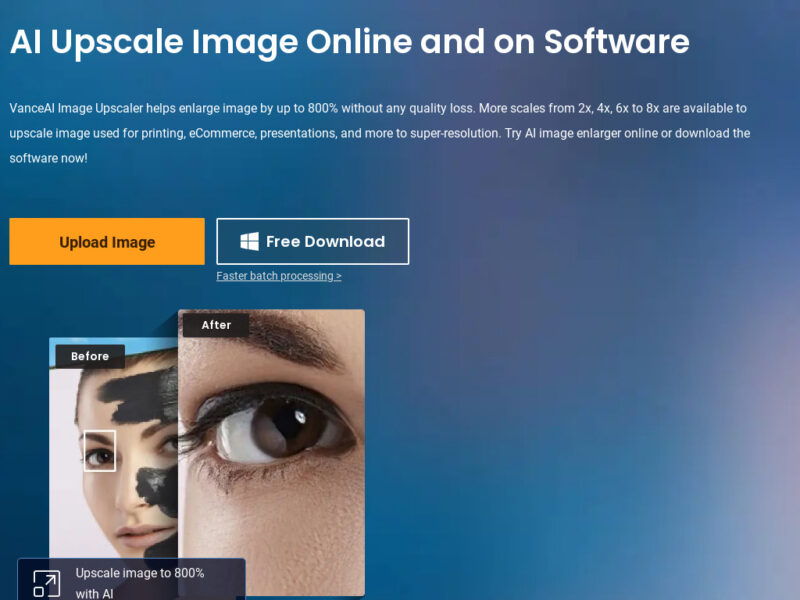 Pricing: Paid plans start from $9.99/month; a limited free version also available

Only a handful of AI image upscalers can enlarge photos to resolutions up to 16x without compromising their quality. VanceAI is one such tool. This program was designed exclusively for magnifying small anime photos into more presentable media. It also boasts several editing capabilities able to convert a low-quality picture into a stunning masterpiece. Whether your images are old or simply rough around the edges, you can trust the upscaler to deliver.

Although VanceAI can magnify images up to 16 times larger, there are different sizes to choose from. These include 2x, 4x, 6x, and 8x.

Another thing that sets VanceAI apart is its compatibility with pictures of any size using its numerous models. For instance, the Art & CG model is for enlarging Computer-Generated (CG), art images, and online drawings. On the other hand, the Text model is suitable for documents with blurred text, such as signatures, scan files, and contracts. There's also the Low Resolution & Compressed model which can upscale images up to 5K from low-resolution ones.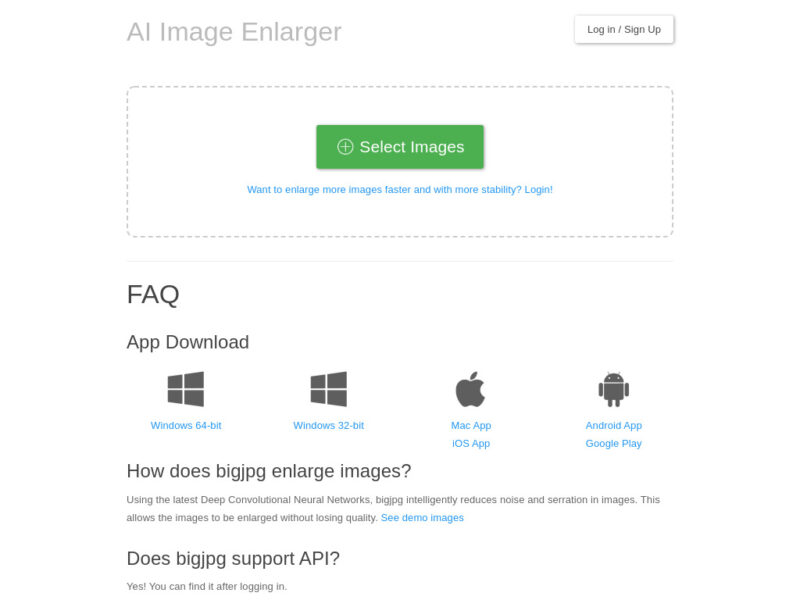 Pricing: Paid plans start from $6/month; a free version also available

BigJPG is an image upscaler and photo editor, all rolled into one. The tool works offline. However, you'll need to sign into your account or keep your browser open to save the enlarged images.

BigJPG uses deep convolutional neural networks in trawling images for noise and blemishes. It can process photos of up to 3000x3000px and 10 MB. The upscaler works on Windows, macOS, and Android devices.

To the top left corner of BigJPG's website is an option for signing in or up for an account. At the middle of the page is the software's upscaler feature. You can click Select Images to add multiple photos that you wish to upscale at once. Note, however, that bulk uploads will require you to log into your account first.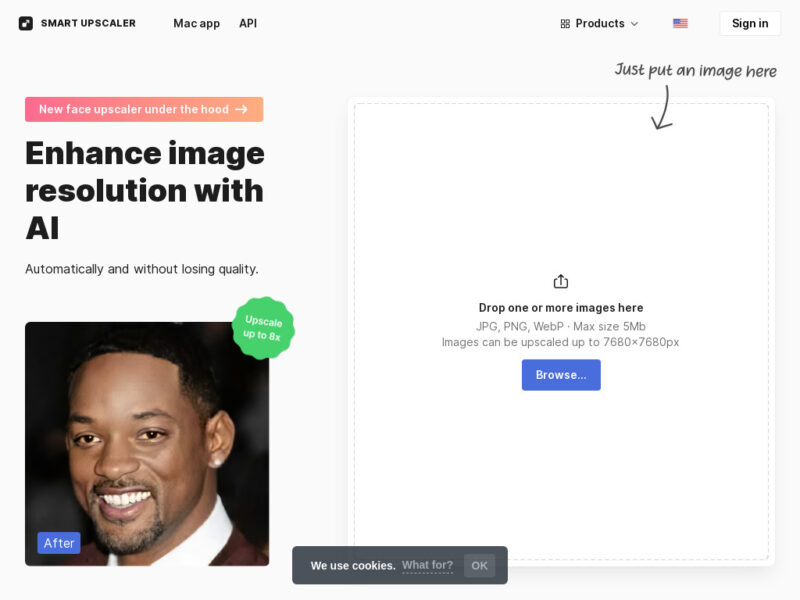 Pricing: Prepaid package starts from $10 while limited subscriptions cost $9/month

Icons8 uses AI to enhance image resolution up to 8x automatically without losing its quality. The tool maintains a neat and intuitive dashboard that uses a drag-and-drop functionality.

To use this image upscaler, simply head to the website and check the section with a downward-pointing arrow that reads "Just put an image here." You can drop one or more images directly from your device's internal storage. Accepted file formats include JPG and PNG while the maximum size is 4 MB. After dropping your image on the box, allow a few seconds for Icons8 to do the magic. In the meantime, you can view the featured images to understand how effective this software is at photo upscaling.

Icons8 has both prepaid and subscription-based plans. The prepaid package starts from $10 for 50 images while the limited subscription plans cost $9/100 images. There's also an unlimited subscription that goes for $99/month.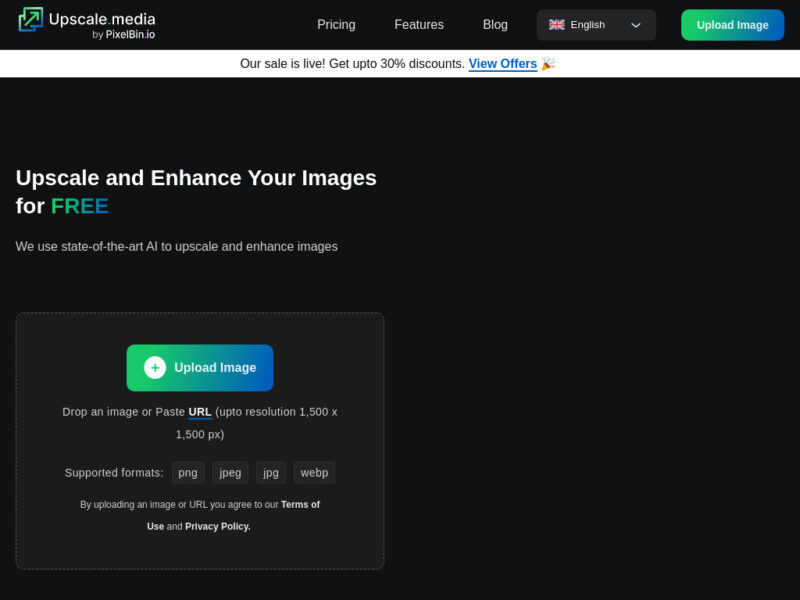 Pricing: Paid plans start from $29/month; a free version also available

Upscale Media is an AI image upscaler owned by PixelBin. The tool supports bulk image enlargement. Therefore, it's especially preferable when you need to get multiple photos enlarged all at once. And the best part is that your photos retain their core details.

Upscale Media implements a user-friendly dashboard that takes the hassles from image upscaling. The process is remarkably fast too. The upscaler feature is clearly visible on the tool's official website so you don't waste time looking for it. You can use the program directly from your desktop or download and install its mobile application. The app is compatible with both Android and iOS devices.

Upscale Media comes in both free and premium versions. The free plan provides an opportunity to enlarge as many as 50 images per month. It doesn't need you to register for an account either. To unlock more image upscaling features, you might consider signing up for any of Upscale Media's premium packages. The cheapest of the paid plans costs $29/month.
Pricing: Paid plans start from $9.99/month; a free trial available

Coming from one of the world's most famous image editing software, it's unsurprising that Photoshop by Adobe featured on this list of top 12 image upscalers.

To enlarge photos on Adobe Photoshop, you simply open your image and head to Image > Image Size. Check the "Resample Image" in the Image Size dialog box that appears and select your preferred interpolation method from the drop-down menu. Next, enter your desired height and width in pixels and hit OK. Your new image should be ready in a couple of seconds.

Adobe Photoshop's premium plans start form $9.99/month. However, there's also a 7-day free trial that comes with Photoshop's full version.
Final Word
Choosing the right image upscaler is never a walk in the park. It requires in-depth knowledge of the range of editing tools a software comes with.

We hope you can use this post as a guide when shopping for your next photo upscaler.